So the iPhone XS launched earlier this month alongside the bigger iPhone XS Max, and the "affordable" iPhone XR. Well, we recently got our hands on an iPhone XS, and here's what you'll find (and what you'll not find) inside the box of the new Rs 99,990 iPhone from Apple.
iPhone XS: What's In the Box?
The iPhone XS comes in the usual iPhone-y box that has remained the same for the last, I don't know how many years, and that's perfectly fine. The Gold variant that we got (which looks gorgeous, by the way) comes in a standard white box with the 'iPhone' text and the Apple logo done in gold — that's a nice touch. I'm not sure if the other colors come with the text and logo in their respective colors as well, but they probably do.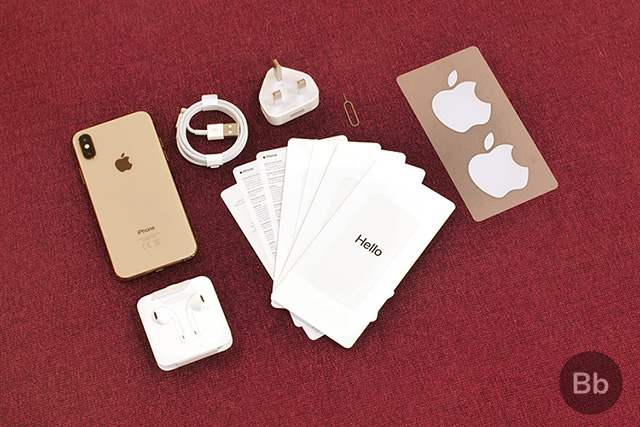 Anyway, opening the box is the usual Apple affair with easy to slide-out lids, a pull tab for the phone, and some in-box accessories under it. Here's what you'll get:
The iPhone XS (because you paid for it)
Lots and lots of manuals and certification cards that you won't ever read.
Apple stickers (whatever you do, please don't stick these on your car? Please?)
SIM ejector tool
Lightning EarPods (because of the courage Apple showed two years back)
USB Type-A to Lightning cable
Charger (not a fast charger, so it takes forever to charge your new iPhone)
No headphone dongle (because apparently it's impossible to include a $9 accessory with a $999 iPhone)
A Small Rant… Probably
Note: You can skip this if you're not interested in reading anything bad about Apple or the way it tries to earn more money from its customers.
So the iPhone XS is an absolute beauty, and I'll not go into further detail about it here because then what will I write in the full review? Heh. Anyway, the issue I have (and so does almost everyone else on the planet other than the Cupertino staff) is with two things. First, the lack of a headphone dongle in the box. That's just really petty from Apple, especially on a smartphone that is priced at a whopping $999 or Rs 99,990 in India. Just for the record, you wouldn't get a dongle even if you bought the 512GB iPhone XS Max for $1,449 or Rs 1,44,990 in India, and it makes no sense.
Of course, there's the argument that if you're spending $999 on a smartphone, you can probably afford to spend $9 extra on a dongle, but that's stupid. The point is, if I'm spending $999 on a smartphone that has no headphone jack, it's almost the moral responsibility of the courageous company to put in a headphone dongle inside it, especially when the company is using a proprietary port on its phone instead of USB-C.
The other thing I'm pissed off about is the lack of a fast charger in the box. I mean, c'mon! That's just downright insane. The battery on the iPhone X isn't huge by any means, it's barely even up there with Android flagships, and it still takes far longer than any other Android smartphone in the market to charge this thing.
So Apple made it possible to charge the iPhone faster, but then thought "I don't think anyone really wants a fast charger… Why not keep your iPhone plugged in the whole day, or leave it on the AirPower mat that we won't launch for a whole frikkin' year."
Anyway, we can't do anything about this, other than buy a headphone dongle, a pair of Bluetooth earphones, and a fast charger on our own, because apparently $999 doesn't warrant good accessories in the box.
That wasn't really a small, quick rant, was it? Let me know if you think Apple took the courageous path once again with the accessories (or lack thereof) in the iPhone XS box.