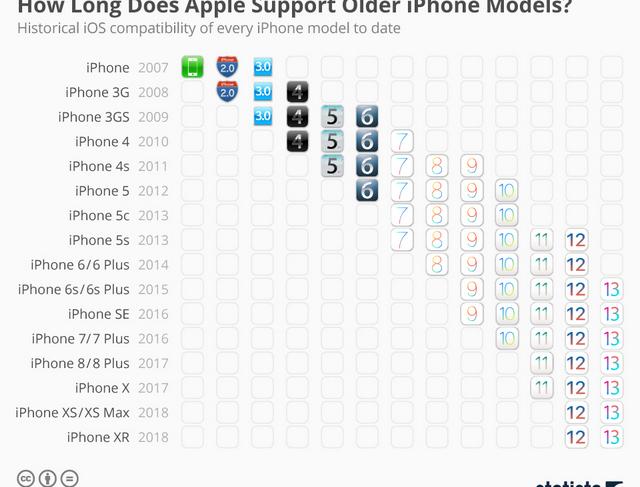 Last month, Apple unveiled iOS 13, the latest iteration of its mobile operating system. The new operating system brings a number of new features, including a new Dark Mode, redesigned apps, native support for swipe-to-type, enhanced voice-control options, an improved photo editor and more. Alongside the iPhone X, XS and XS Max, the software will be rolled out to a number of older iPhones, going right back to the iPhone 6s, which was released in 2015.
The hardware used in iPhones has advanced significantly over the years and the software has also evolved to take advantage of the latest components. As a result, Apple has to leave some users behind every year. For instance, this year the iPhone 6, 6 Plus and 5s, all of which received iOS 12, are set to miss out on the iOS 13 update. Based on data from Apple, Statista has now compiled a chart that shows how long Apple supports its older iPhones:
While it's really heartening for iPhone users to see Apple continuing to provide software support to its older devices years after their release, it is yet another reason why Android users often feel a bit left out when it comes to software support from their manufacturers. Even Google itself largely restricts its official Android updates to two years, although the company recently extended support for the first-gen Pixel and Pixel XL to Android Q because of 'popular demand'.
iOS 13 brings a lot of exciting features, and we have even made a video about the ones that we really want on Android. So check out the video below and let us know what iOS feature you'd like on your device!