Facebook owned photo and video sharing platform, Instagram today launched a tiny, less-resource intensive version of itself on Android. Named 'Instagram Lite,' the app follows in the footsteps of Facebook's 'Facebook Lite' and 'Messenger Lite' applications that have been around for quite some time now.
According to a statement given by an Instagram spokesperson to TechCrunch, the app is currently being tested in Mexico, with plans for expanding its availability to other countries in the pipeline, and expected to happen later this year.
We tried out the new Instagram Lite app (and you can too, without going to Mexico) and in my usage of the app I've come across both features that Instagram Lite has, and features that it doesn't. So, if you're wondering what 'Instagram Lite' is all about, here's a quick comparison between Instagram Lite and the regular Instagram app.
Instagram Lite vs Instagram: What You're Getting
The Instagram Lite app comes in at approximately 500 kB which is absolutely tiny as compared to the regular Instagram app which can be as much as 100MB to install (it's 90.75MB on my OnePlus 5).
At that tiny size, Instagram Lite manages to bring a host of features you'd find in the regular Instagram app.
Instagram Stories
Instagram Stories have no doubt managed to catch on much better than Facebook Stories ever did, and the company isn't about to let that go in it's bite-sized variation of Instagram. The Instagram Lite app comes with support for Instagram Stories so you can watch stories posted by everyone you follow.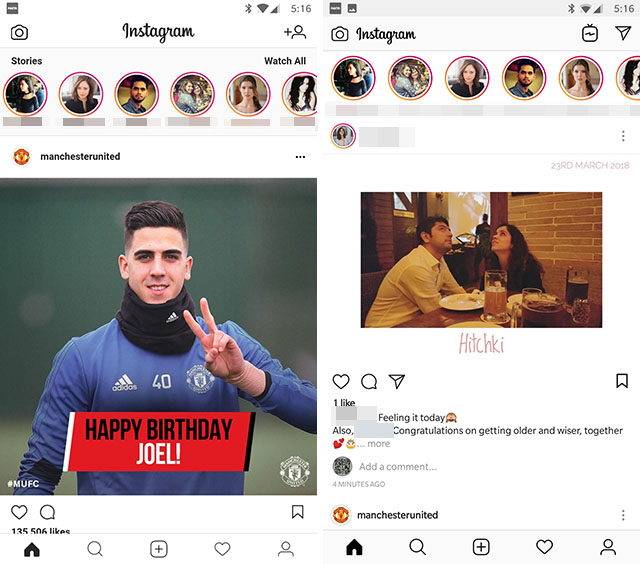 The app lets you post stories yourself as well, but is currently limited to posting only images. These can be images you take from within the Instagram Lite app, or images that are already in your gallery. Videos are currently not supported, although you'll still be able to see videos posted by others on their feed, and in their Instagram Stories.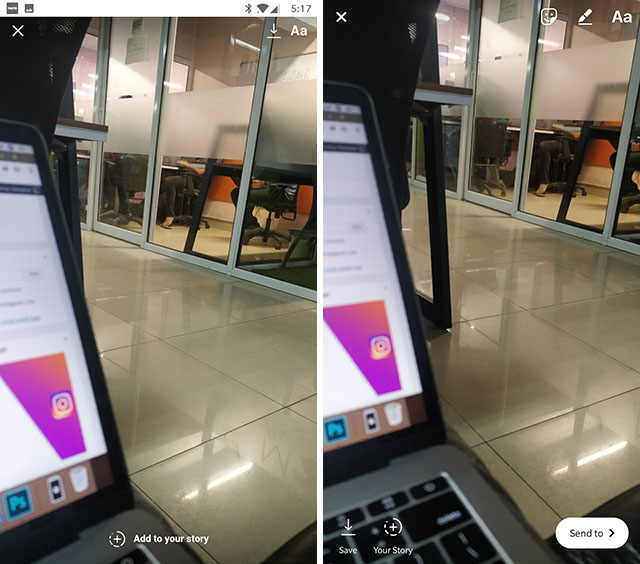 Support for videos should be coming soon, and the app mentions as much. However, seeing that the app isn't yet available anywhere outside of Mexico, it leads me to think the feature will take some time to arrive.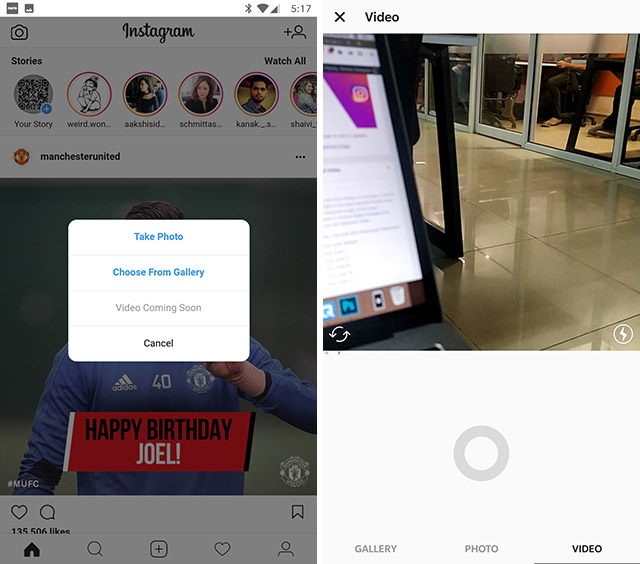 Uploading Posts
Obviously, the Instagram Lite app lets you post images to your profile. However, here too, apply a number of restrictions, including, most prominently, the fact that you can't yet post videos from Instagram Lite.
That decision makes sense, considering the whole point of the app is to save data, and uploading videos is counterproductive in that regard.
Other than that, images posted using Instagram Lite use the same amount of data as images posted using the regular app. However, the company mentions that viewing photos and videos on Instagram Lite will consume less data than on the regular app.
The Explore Section
The Explore section, which was recently overhauled in the regular app, is still here, though in a very bare bones look. There are no categories such as the ones you'd find in the regular Instagram app, and the search itself doesn't come with a search history of any sort and looks decidedly outdated in its design.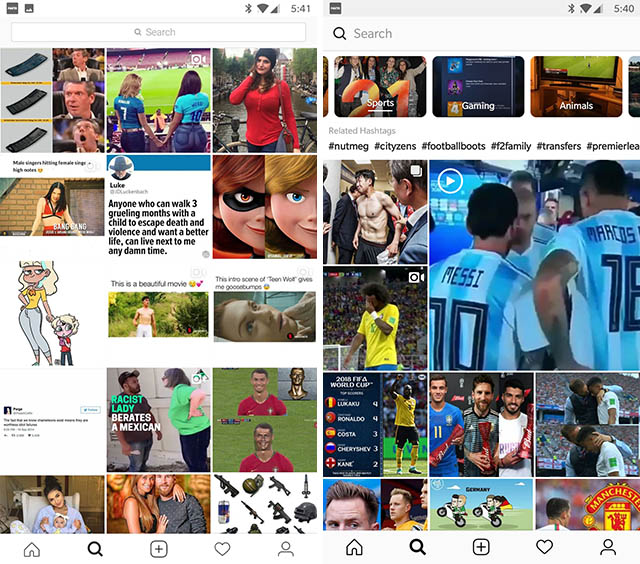 It does work pretty much the same way, though. You can search for people, and you can search for hashtags, similar to the capabilities of the regular Instagram app.
Activity Feed
The lightweight Instagram Lite app comes with the 'Activity Feed' as well, where you'll receive (as you would in the regular Instagram app) all the updates about new followers, likes, comments, and more.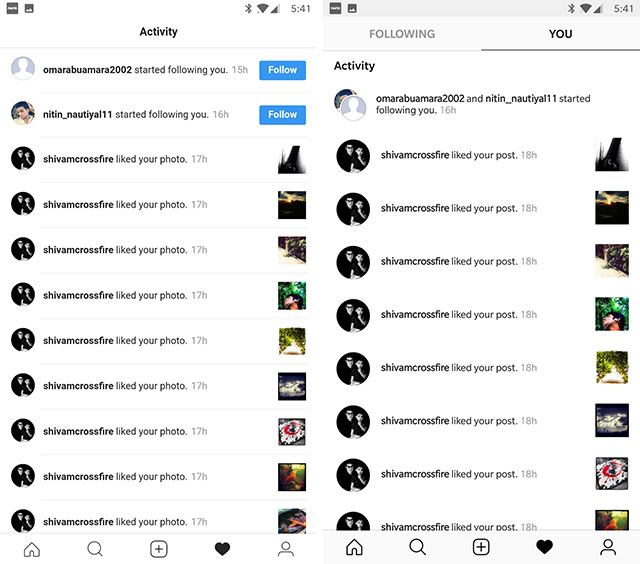 However, one difference I noticed here was that while in the regular Instagram activity feed, you can see when someone who has liked your post has an active story. You can tap on their profile to directly watch their story in that case. However, Instagram Lite doesn't do that. You'll have to open their profile and then tap on their profile picture to check out the story they've posted.
Profile
There's also the profile page which brings in the basic functionality one might need from their profile. You can see all the images you've posted, and the images you've bookmarked. Story Highlights are available as well. There's no section for IGTV videos, which makes sense, since the app doesn't support IGTV anyway.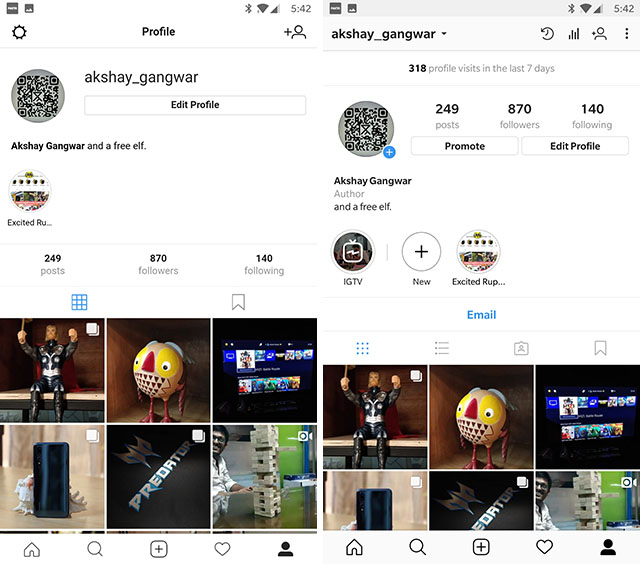 Instagram Lite vs Instagram: What You're Missing out On
It's pretty obvious that the Instagram Lite app brings a lot of the most important features from the regular Instagram app. However, there are a bunch of things that it misses out on. So let's take a look at what you'll miss if you switch over to Instagram Lite.
No Auto-playing Videos
Videos on your feed in Instagram Lite don't auto-play. This is obviously meant to further save data. However, since videos now only play when you tap on the play button, the volume is on by default, which makes sense but is something you should know.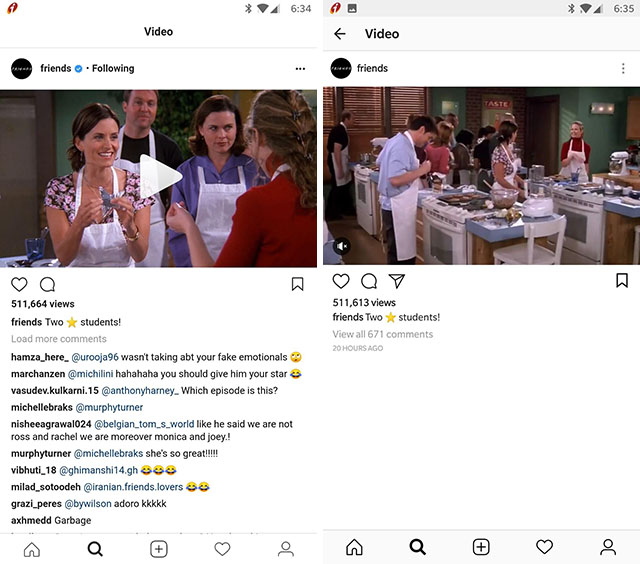 Sharing Options are Missing
In the regular Instagram app, if you come across something that you want to share with people, you can tap on the three dot menu icon and choose to share the post via WhatsApp, Messenger, and in some cases, post it to your Story as well. However, in Instagram Lite, all of these options are missing. The three dot menu icon now only surfaces the very basic of options such as reporting a post, unfollowing the user who posted it, and a couple other things… none of which are very interesting.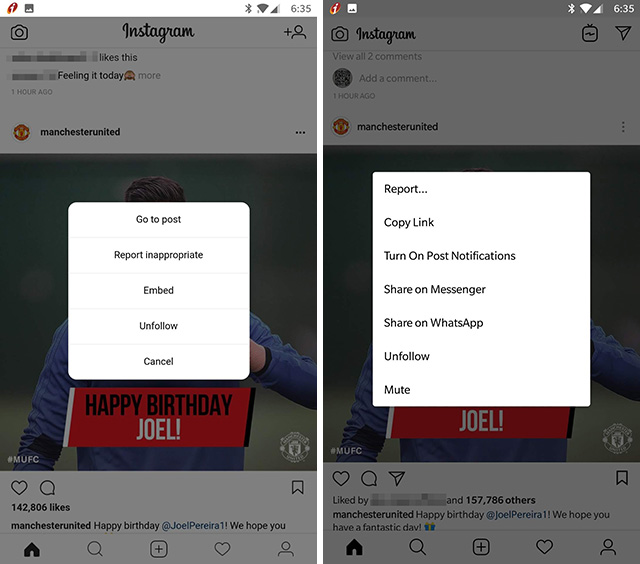 Search Is Pretty Bare Bones
Like I mentioned earlier, the search functionality in Instagram Lite is pretty bare bones when compared to the search you get in the regular Instagram app. There are no recommended categories to check out, there's no search history, and while searching you can't choose to search just people, or just places, or hashtags. It'll search everything in that one place.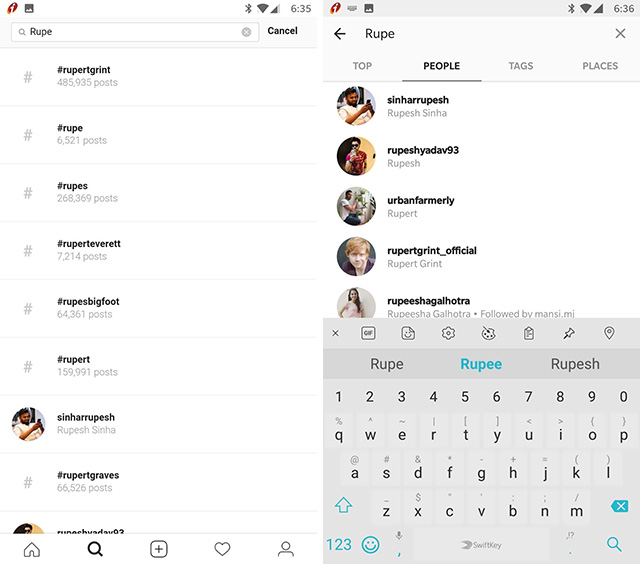 No Editing Options
Instagram has always been known for the easy and effective editing options in the app. In fact, a lot of people used Instagram to edit photos regardless of whether they were going to post them or not. In Instagram Lite, editing options are all but gone.
True, the filters are still there, but you can't adjust their intensity.
Similarly, there's an 'Edit' tab at the bottom, which is basically just for rotating an image as compared to the regular Instagram app which brought along a swiss-knife of tools for editing images easily and effectively.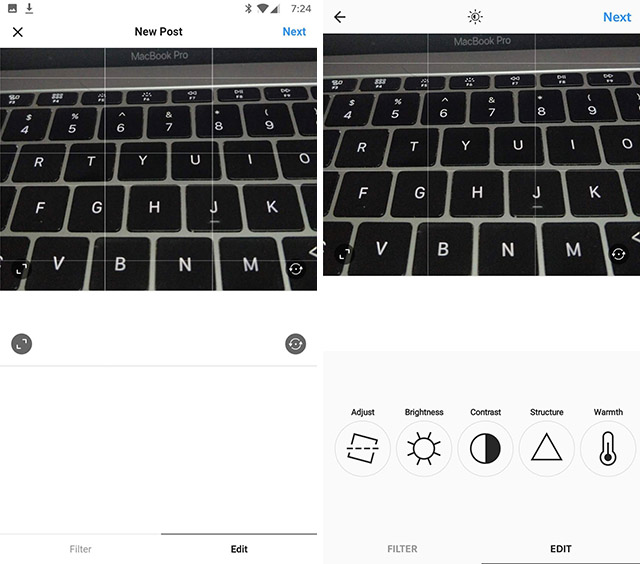 That reminds me, in Instagram Lite you also can't drag and drop filters in the order you like.
No IGTV
The regular Instagram app is integrated with IGTV, and you can watch IGTV videos by just tapping on the icon in the top right. However, in Instagram Lite, IGTV doesn't make an appearance. There's no icon for IGTV, and if you've ever posted an IGTV video, it doesn't show up on the profile page either, the way it does on the regular Instagram app.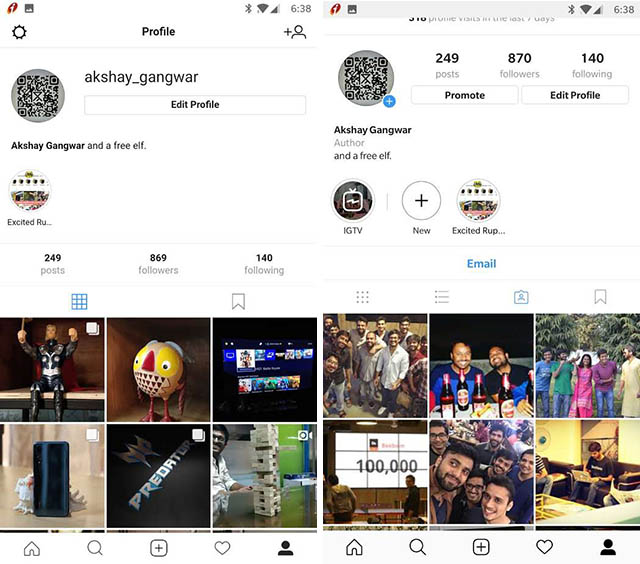 No Direct Messages
Instagram Lite doesn't support direct messaging; so you can't really send messages to people, you can't share posts and videos with anyone over personal messages — all things that you can do in the regular Instagram app.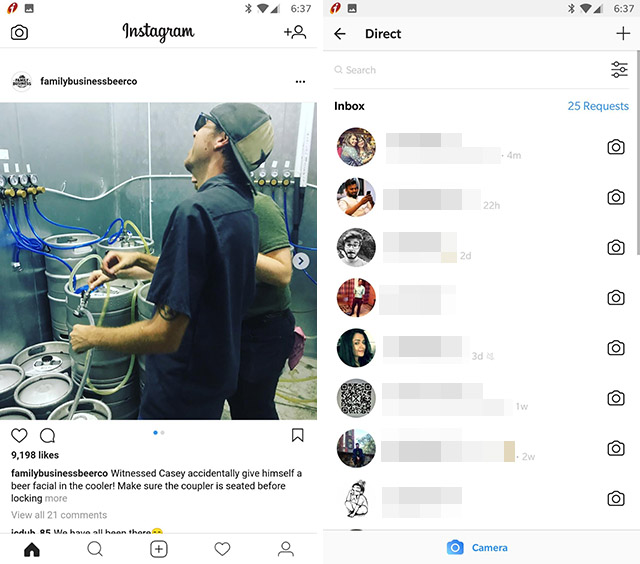 This is one feature that I expect Instagram to add to the app in the near future, because direct messages shouldn't really cause a lot of data usage. However, as of now, the feature is missing from Instagram Lite.
You Can't Post Videos Anywhere… Yet
Instagram Lite currently doesn't support sharing videos yet. Whether you're trying to upload a post to your profile, or add something to your story, you'll currently only see two options 'Take Photo' and 'Choose From Gallery.'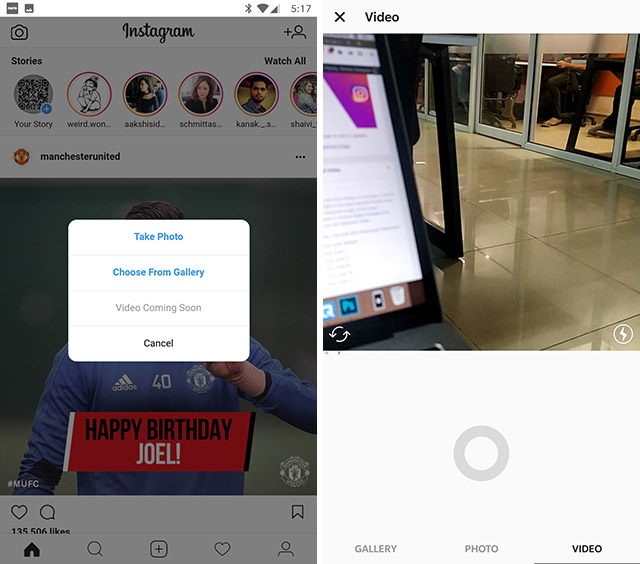 However, videos will be coming soon. In fact, Instagram Lite even shows a third, greyed out option that reads 'Video Coming Soon.'
You Can't Post Multiple Photos
The regular Instagram app comes with a feature that lets you share a group of photos in the form of a carousel that you can then swipe across to check out all the pictures. This makes it easy to share a bunch of related photos without having to create multiple posts for them.
However, in Instagram Lite, you can't post multiple photos in the same post (at least not yet). You can, however, check out carousels that others have posted without any issue.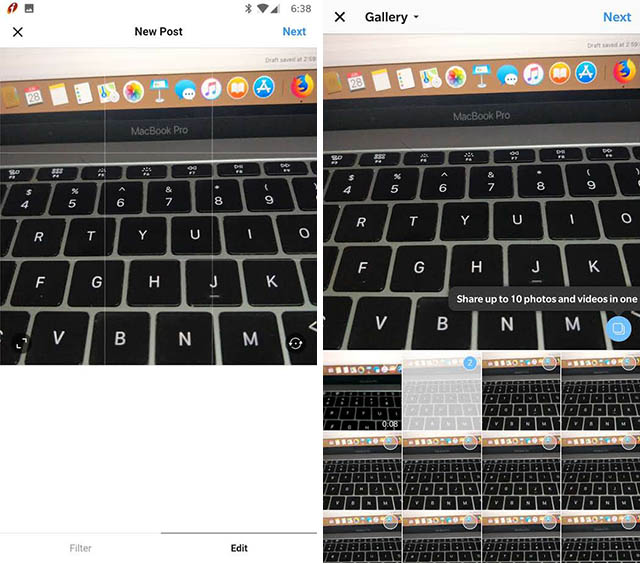 Once again, I'm not entirely sure as to why this feature was left out, but we might see it make an appearance sometime later.
'Photos You're Tagged In' Is Missing
The regular Instagram app comes with a section in the Profile tab that shows all the photos you've been tagged in by someone else. This is not only great to check out photos that your friends tag you in, but also to ensure that no one tags you in a post you want nothing to do with.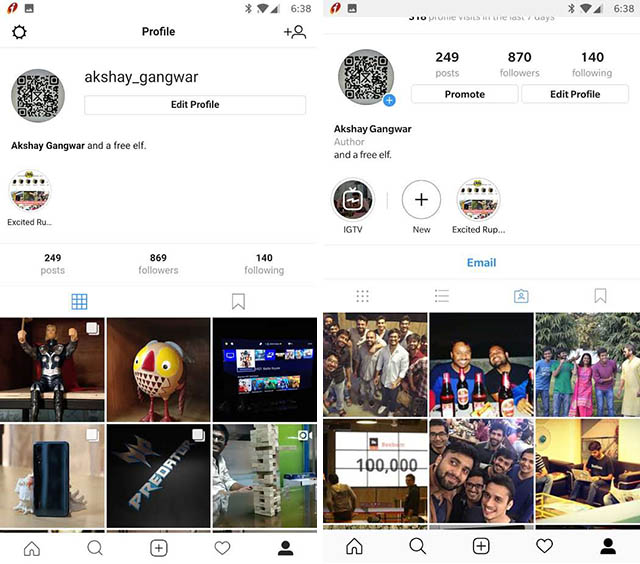 However, in the Instagram Lite app, this section is missing, which means that not only will you not be able to check out photos your friends tag you in, but you won't be able to see if someone tags you in a random post that you don't like.
Instagram Lite: A Great App with Some Issues
In conclusion, the Instagram Lite app is a really great first step from Instagram towards making an app that's data friendly and will be able to function well on budget-smartphones as well (it's no secret that the regular Instagram app can be quite heavy). While I understand the reason behind a number of features that didn't make the cut in Instagram Lite, there are some features that I think could've been added to the app to make it a more viable Instagram alternative for low-end phones, and for users in regions with a poor internet connectivity. Direct Messages and the ability to post multiple photos in a group are the features I think Instagram Lite needs to have.
Have you used Instagram Lite yet? If you have, and you think there's something else that I should've mentioned, feel free to drop a line in the comments. If you haven't tried it out, let me know if you're going to, after reading about the differences between the two apps.