Instagram shut down Instagram Lite – the lightweight version of its app in May this year. When the company discontinued the old Lite app, there were reports suggesting that the social media giant is planning to launch a new version of Instagram Lite. After months of silence, Instagram finally reintroduced the app in India again, much to everyone's surprise. So, if you're once again faced with the question of using Instagram or Instagram Lite, well we're here to help. We pit Instagram Lite vs Instagram and find out all the differences between the two apps, so read on.
Instagram Lite vs Instagram
In this article, we will be taking a closer look at what has changed, what you should expect from the app, and how it compares with the main Instagram app. By the end of the article, you will get an idea if Instagram Lite is something that you should use. You can utilize the table of contents section below to jump right to specific sections you might be interested in.
Basic Differences
| Features | Instagram | Instagram Lite |
| --- | --- | --- |
| Size | 80MB | 2MB |
| Indian Languages | Hindi | 9 Indian languages |
| Reels | Yes | Yes |
| IGTV | Yes | Limited Viewing Support |
| Autoplay | Yes | Yes |
| Instagram Stories | Yes | Yes |
| Direct Messages | Yes | Yes |
| Live | Yes | No |
| Available on Android | Yes | Yes |
| Available on iOS | Yes | No |
Why Instagram Lite?
Before proceeding further, it is important to understand the need for Instagram Lite. Instagram Lite started out as an initiative to help users in emerging markets gain access to the platform and use its features. The company has been testing the app in select markets and with the latest app revamp, the app has landed in India. Instagram Lite is the perfect app for those who want to use the app on their budget phones while saving data in the process.
Availability & App Size
As mentioned earlier, Instagram was originally testing Instagram Lite in India. However, it has since rolled out to almost every country, and you can download it from Play Store.
Although not as lightweight as the old Instagram Lite app which was just 573 KB, the newer version manages to stay light in terms of app size. After installing on my OnePlus 7T, the app's size was 4MB excluding app data and cache. To put that in perspective, the main Instagram app comes around at 82MB.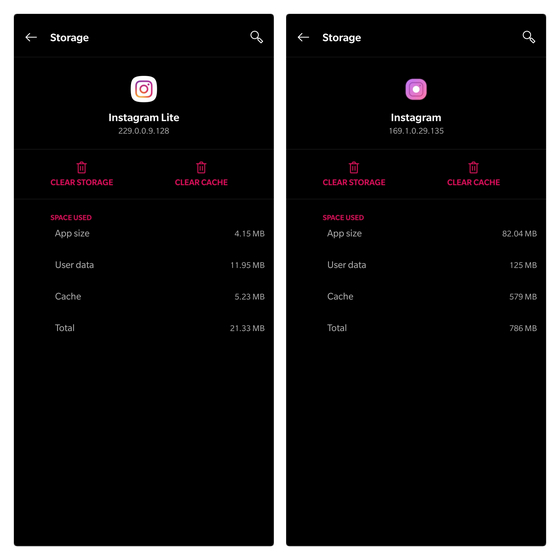 Language Support
One of the key selling points of the new Instagram Lite app in India is the support for regional languages. Instagram's push for regional languages puts it on par with other tech giants like Google and Reliance Jio who have been investing resources for digital inclusion in the country. With the new Instagram Lite app, you can experience the app in a total of 9 Indian languages namely Bengali, Hindi, Malayalam, Tamil, Kannada, Gujarati, Marathi, Punjabi, and Telugu. Of the newly added Indian languages, it is worth mentioning that Hindi is the only regional language available on the main Instagram app. Apart from these, Instagram Lite supports the following languages:
English
Afrikaans
Indonesian
Malay
Danish
German
Spanish
Filipino
French (Canada and France)
Croatian
Italian
Hungarian
Dutch
Norwegian
Polish
Portuguese
Romanian
Slovak
Finnish
Swedish
Vietnamese
Turkish
Czech
Greek
Bulgarian
Russian
Serbian
Ukranian
Hebrew
Urdu
Arabic
Persian
Nepali
Sinhala
Thai
Traditional Chinese (Taiwan and Hong Kong)
Simplified Chinese
Japanese
Korean
Data Usage
If you're someone who's concerned about data usage limits, here's what I found based on my usage. Unlike the old Instagram Lite, the newer version comes with media autoplay. In other words, videos will automatically start playing when you browse the feed. It goes without saying that the app will consume more data if you keep watching videos. However, the app's data usage is on par with what you get on Instagram app's data saver mode for the most part.
Available Features
Instagram Stories
Instagram Lite preserves the same interface for viewing stories from the home page. While the app previously limited story uploading to images, the latest refresh comes with the option to upload videos. In the Story interface, you can long-press the camera button to record and post videos. You can also tap on the file picker to choose existing images and videos from your gallery.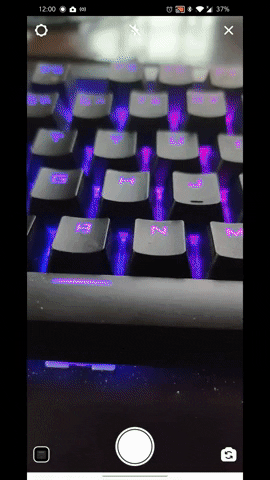 Direct Messaging
One welcome change on the new Instagram Lite is the availability of Direct Messaging. The option to access the DM section is present in the top-right corner of the app, much like the main Instagram. However, you don't have swipe controls and will have to manually tap on it. And yeah, don't expect fancy features like vanish mode and customizable chat themes that are part of Messenger-Instagram Direct integration here.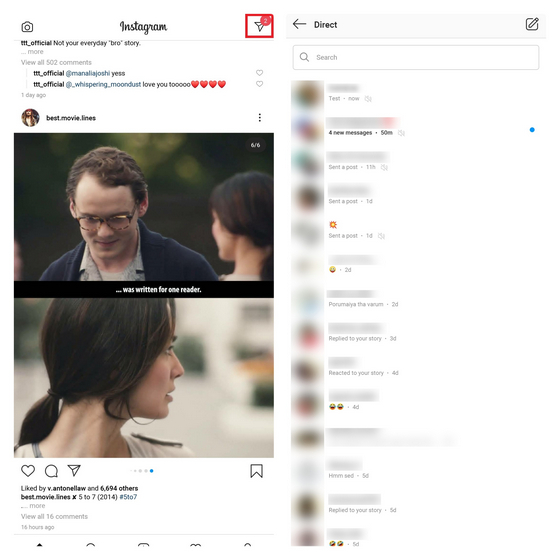 In the chat interface, you can send and receive messages, images, GIFs, stickers, and videos in personal and group chats. Although stickers might look larger on your end, it should appear in the usual size for the recipient. Below is a comparison for your reference (Message unavailable text was for a message sent via vanish mode from the main Instagram app).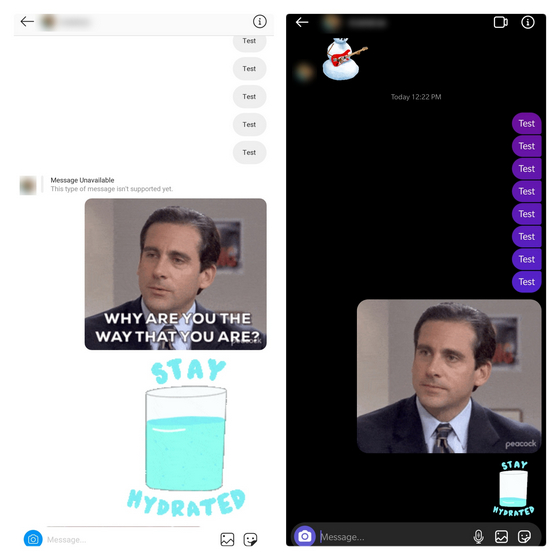 Post Images, Videos
The major issue users had with the old Instagram Lite was that it didn't support videos. Well, not anymore. You can post images and videos from Instagram Lite. The best part is that you can access the '+' button from the bottom navigation bar without messing with your muscle memory. However, do keep in mind that you can't choose multiple images or videos. The ability to upload Reels or IGTV content isn't present either.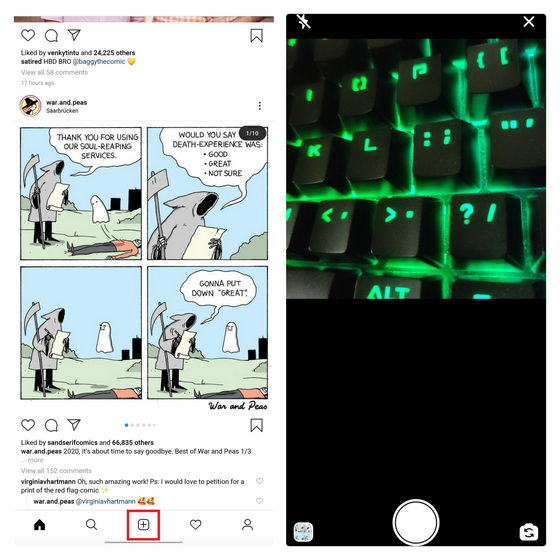 Reels
In a recent update, Instagram Lite has gained the Reels tab. To accommodate Reels on the home page, the company has moved the Activity tab to the top-right corner, next to the DM section. However, it is worth mentioning that you can't upload Reels through the Lite app. If you're looking for a way to upload short videos to the platform, you should be using the regular Instagram app.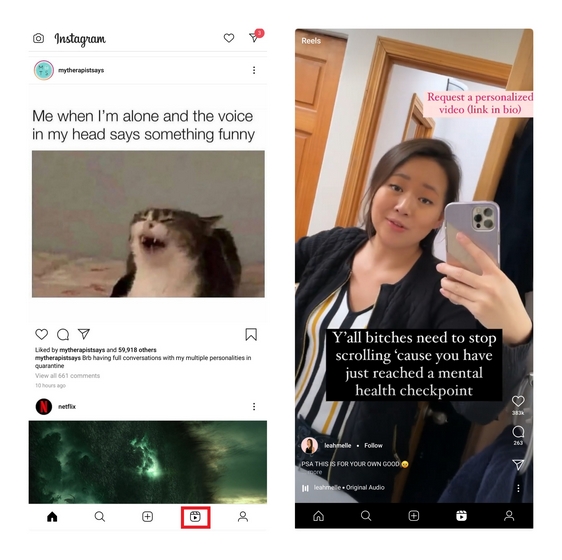 Missing Features
Dark Mode
Let's address the elephant in the room. Instagram Lite doesn't support dark mode. If you're someone like me who prefers to enable dark mode everywhere, I feel you. It is disappointing to see the lack of dark mode. Although you can force-enable dark mode from your phone's Developer options, I won't recommend doing it since it may break the color scheme of other apps.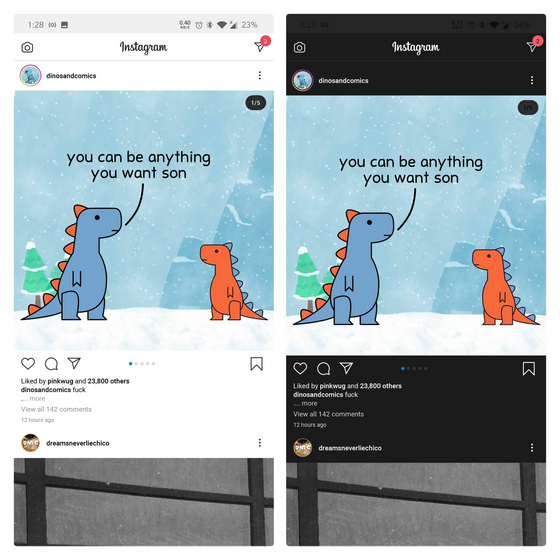 Shopping Tabs, and IGTV
Although Instagram Lite doesn't have a dedicated IGTV tab, you can still watch IGTV videos. That's because Instagram Lite treats IGTV content as a regular video. What this means for users is that you can't continue watching IGTV videos after watching one. One aspect I didn't like with this implementation is that you miss finetuned controls for seeking through IGTV videos. Much like regular videos, you can't skip to the middle and will have to patiently watch the entire IGTV video (or move on to the next post). You also don't get a Shopping section on Instagram Lite.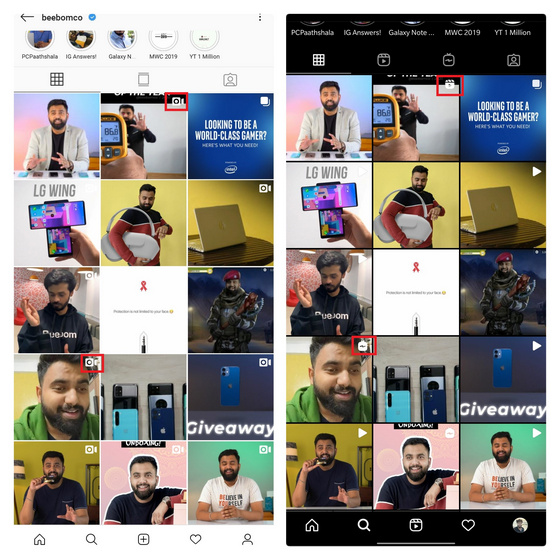 Sharing Songs/TV shows to Instagram Stories
A part of the joy in discovering new content comes from sharing them with your friends and family. Whether it is a new show on Netflix or a song that you just found on Spotify or Apple Music, there is an option to post them to Instagram Stories in the main app. Unfortunately, Instagram Lite misses out on that. On a similar note, Instagram Lite doesn't let you add songs from Instagram's music library to your Stories. If you are using the regular Instagram app, you can learn more about sharing songs to Instagram Stories and sharing song lyrics to Instagram Stories from our linked guides.
Going Live
If you are an aspiring creator or just prefer going live on Instagram often, it is worth noting that you won't find that feature here. Instead, you should be looking at the primary app that now lets you go live for up to 4 hours.
Advertisements
If you're annoyed with the number of ads in the Instagram app, you'll be glad to know that Instagram Lite doesn't contain ads. In case you haven't noticed yet, Instagram shows an ad after viewing three (sometimes four) stories from different people. The same happens when you're scrolling through your Instagram feed. For the sake of clarity, here's what happens when you're scrolling through your Instagram feed in the main app (look out for the Ad banner in the right portion or the Sponsored tag below the username):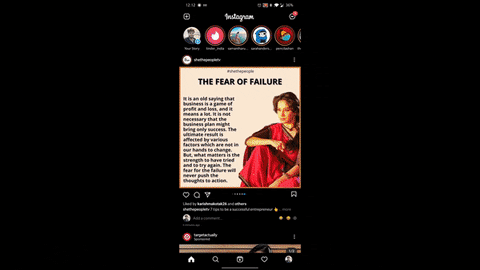 And here's what you get with Instagram Lite: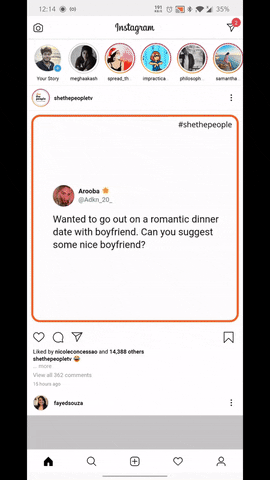 As you can see, Instagram Lite doesn't pester you with advertisements when all you want to do is peacefully catch up with your feed. Since Instagram doesn't offer a way to purchase a subscription for an ad-free experience (something Twitter is planning to do in the future), Instagram Lite is the way to go if you don't want to see ads.
That being said, this might only be for now. As the app grows and gets a big user base, I am sure that Instagram will start monetizing it by displaying ads.
Should you use Instagram Lite?
Instagram Lite is no longer an app just for low-end phones. It is capable enough to be a viable alternative to the Instagram app. If you're okay with the lack of IGTV section, dark mode, and want an ad-free experience, you should certainly check out this app. On the other hand, if you're a creator or a power user, you might be better off with the primary app.
Will I be using Instagram Lite?
Instagram Lite helps me strike the balance between staying updated with friends & other creators and making sure that I'm not wasting a lot of time on the platform. And the app is really stable and doesn't crash like the regular Instagram app. That said, I'm not a huge fan of the lack of dark mode and the inability to share songs to Instagram Stories.
To be fair, my younger self wouldn't have been okay with the absence of dark mode. Another problem I found with the app is that the feed refresh may be unreliable at times where it just refreshes the page but doesn't show new content. Given that I no longer spend hours scrolling through Instagram and can spend that precious time on other tasks, using Instagram Lite is a compromise I'm willing to make.
Pros and Cons
Pros:
No ads
Lightweight and distraction-free
DM support
Can watch Reels, IGTV content
No fancy features like vanish mode and chat themes
Cons:
No dark mode
Can't post Reels and IGTV content
Can't share multiple images or videos
Feed refresh is unreliable at times
Can't share songs to Instagram Stories
Frequently Asked Questions
1. What's the difference between old and new Instagram Lite?
Instagram discontinued the old Instagram Lite in May of 2020. The new Instagram Lite offers additional features including direct messages, support for Indian languages, and more.
2. What's the difference between Instagram and Instagram Lite?
Instagram Lite is the lightweight version of the Instagram app. It offers the essential features of the app and is best suited for entry-level phones. You can install Instagram Lite to use most features offered on Instagram.
3. Is there a dark mode for Instagram lite?
No. Unfortunately, Instagram Lite doesn't support dark mode at this moment.
4. Where is Instagram Lite available?
Instagram Lite is currently available in India. If you're seeing the "This item is not available in your country" error, you can follow our guide to unlock the app right here. The easiest solution is to sideload the APK from trusted sources like APKMirror.
5. What's the size of Instagram Lite?
According to the Play Store listing, the size of Instagram Lite is 2MB. When I installed the app on my phone, it used almost 4MB.
6. Can I use Instagram Lite on my iPhone?
No. Instagram Lite is not available for iPhones right now. Stay tuned as we will be covering if Instagram ever plans to launch a Lite version for iPhones. You can consider installing the PWA of Instagram from the browser for a similar experience.
7. Can I watch stories in Lite version?
Yes, you can watch stories on Instagram Lite. The app also lets you upload stories to Instagram.
8. Can I use IGTV in lite version?
You can watch IGTV videos on the app, but you can't upload them. Moreover, you can't seek the video when you're watching IGTV content in the Lite version.
9. Can I use Instagram and Instagram Lite on the same device?
Yes, you can use both versions on the same device. This is possible because both apps use different package names.
10. Can I watch Reels in Instagram Lite?
Yes, Instagram has recently added a Reels tab so that users can watch short videos. However, you can't upload videos to Reels using Instagram Lite.
Instagram Lite: Cutting the Right Corners
The latest revamp of Instagram Lite has cherry-picked the essential features of Instagram while managing to stay light. Although a dark mode would've made it a complete package, it manages to deliver what most users would expect from the app. If you're still not convinced or prefer using the primary app, you might as well check out our dedicated articles on the best Instagram tips and cool new Instagram features to use the main app to the fullest.
---
Load More