Instagram is one of the most popular social media platforms out there. It has become even more prominent after TikTok was banned in India and Reels got added to Instagram. As an aside, you can read our Instagram Reels vs TikTok comparison here. Coming to the issue at hand, despite its popularity, Instagram seems to have many bugs that cause the app to crash frequently. Many users have complained that Instagram keeps crashing on both Android and iOS. Apart from that, most users encounter Instagram crashing while uploading stories or opening DM. All these issues have led us to this guide. In this tutorial, we bring you several fixes to Instagram crashing issues.
Resolve Instagram Crashing Issue
Here are the solutions that we have provided to fix the Instagram crashing issue on both Android and iOS. You can simply click on the link below and move to the solution seamlessly.
Solutions to Instagram Keeps Crashing Issue
1. Clear Cache
1. Clearing cache is the easiest way to fix many problems including crashing issues on Instagram. Just press and hold on Instagram and open "App Info". Next, tap on "Storage and Cache".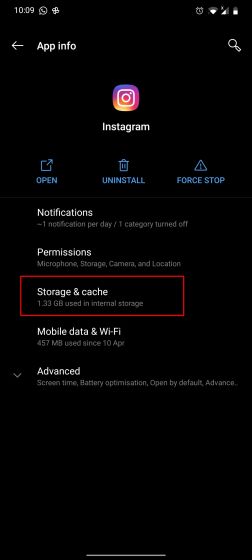 2. Here, simply tap on "Clear Cache" and then re-open Instagram. Now onwards, Instagram should not be crashing.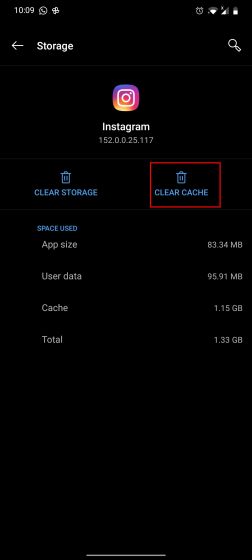 1. On iOS, you can't clear the cache separately so you need to uninstall the app from the Settings page. It will delete related data (cache) of Instagram as well. To do so, open Settings and move to General -> iPhone Storage.
2. Here, scroll down and open Instagram. Now tap on "Delete App" and you are done. Finally, open the App Store and reinstall Instagram. After you log in, Instagram won't crash again.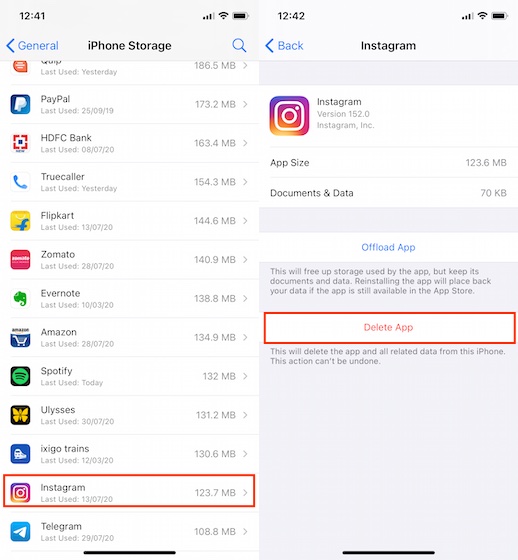 2. Update the Instagram App / System Update
1. If the above method did not fix the issue then check if you have an app update pending. Tap and hold on Play Store and open "My Apps". Here, look for Instagram and update it.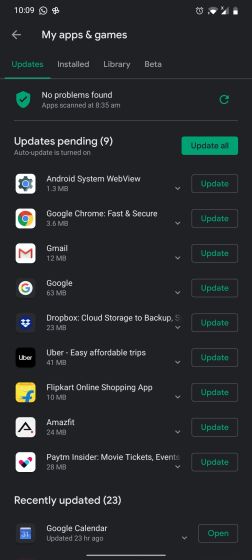 2. Next, you should also check if you have a system update pending. System updates come with many fixes and can resolve crashing issues on Instagram. Open Settings and move to System -> System Updates. Now, check for updates and install them right away.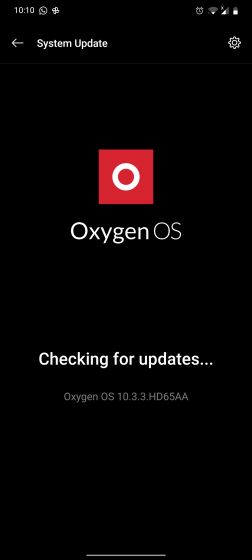 1. Similarly, on iOS, open App Store and then tap on "Today" at the bottom of the screen. Here, tap on your profile icon. Scroll down and check if Instagram has any pending updates. If so, tap on Update. After the update is done, open Instagram and see if it's still crashing.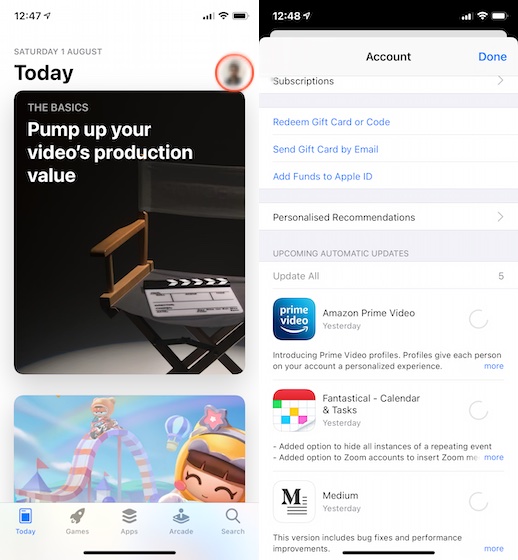 2. Apart from that, you can check for system updates on iOS. Open Settings -> General -> Software Update. If there's an update pending, download and install it.
3. Reinstall the Instagram App
If the above methods didn't work at all then you can straight up uninstall the app and reinstall again. However, keep in mind, you will need to re-login again so remember your password before uninstalling the app.
1. Press and hold the Instagram app and tap on "Uninstall". After that, open the Play Store and install Instagram. Now, log in to your account and the crashing issue should be gone.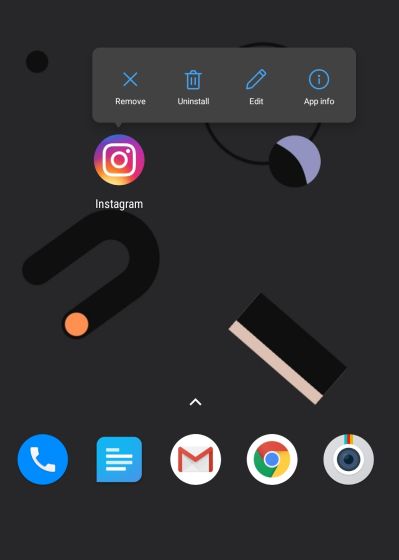 1. Tap and hold the Instagram app and choose "Delete App". Once you have done that, open the App Store and reinstall Instagram. Finally, log in to your Instagram account and see if you are still facing crashing issues on your iPhone.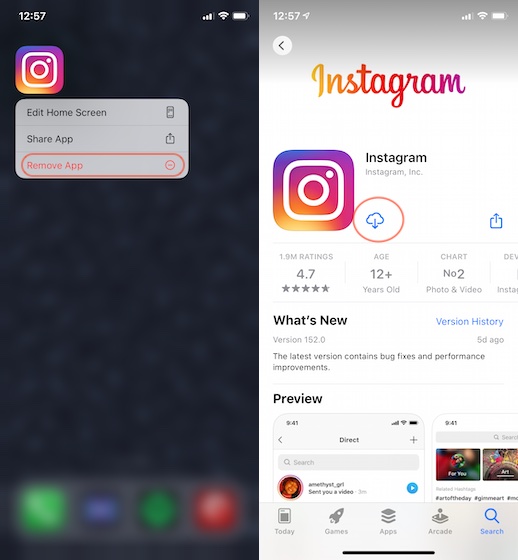 4. Quit the Beta Program
1. Sometimes users are enrolled in the Instagram beta program and we are not aware of it. Beta versions are generally unstable and are prone to crashing issues. So to quit beta testing, open the Play Store, and open Instagram.
2. After that, scroll down and you would find "You are a beta tester" if you are enrolled in the program. Now, tap on "Leave" and you are almost done.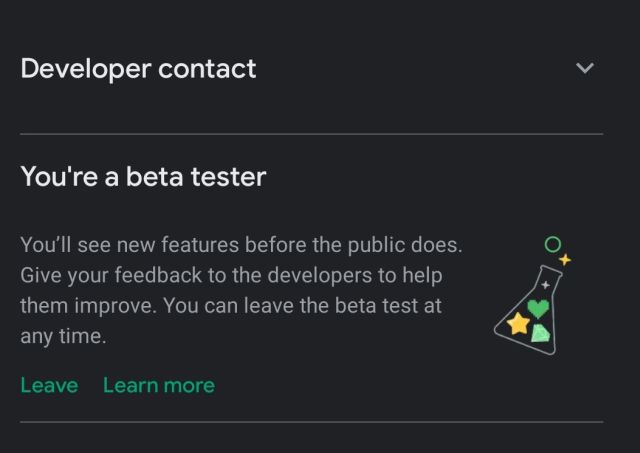 3. Close the Play Store app and re-open it after a while. Now, open Instagram again and update the app. Now, you will receive stable builds and won't face crashing issues.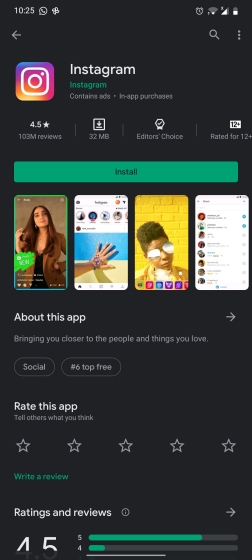 1. On iOS, if you are enrolled in beta testing then you must be having the TestFlight app. If so, then open it and unenroll from the Instagram beta program. If you don't have the TestFlight app then don't worry, you are not into the beta program and you can go through other solutions mentioned below.
5. Wait Out
I know this sounds like a weird solution to Instagram crashing issues, but believe me, waiting for a few hours may fix the issue. Let me explain. Instagram uses the Facebook SDK on its app (SDK allows seamless login and deep integration). In the past few months, the Facebook SDK has been notorious for crashing apps including Instagram, Spotify, Tinder, and more. And the issue has been widespread especially on iOS.
There's another facebook SDK issue that lead's to our iOS app to crash on launch again along with major apps like Spotify & Pinterest 🔥 @fb_engineering

— Peter Juras (@peterjuras) July 10, 2020
Facebook, in its statement, said that due to some code changes the crashing issue was triggered. Later, the bug was fixed and Instagram and many other apps started working without any crashing issues. So, when nothing works, wait it out and let the developers fix the crashing issue on Instagram.
6. Check If Instagram is Down
In addition to waiting for bug fixes, meanwhile, you can also check if Instagram is crashing just for you or for everyone around you. On DownDetector, you can check the real-time status of Instagram around the world. It has an outage map where you get a glimpse of Instagram having issues all over the globe. So go ahead and check if Instagram is down in your region from the above-mentioned website.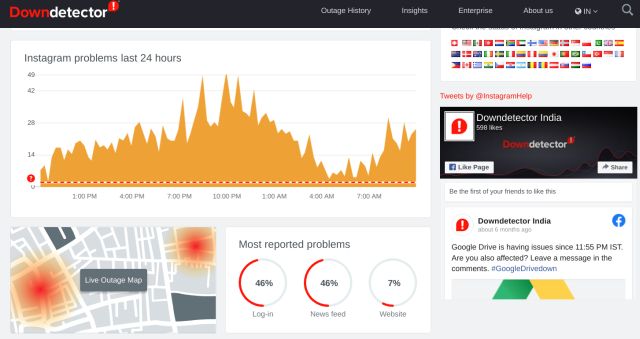 7. Instagram Crashes When Uploading Story?
If Instagram is crashing while uploading Instagram stories then the issue might be with the media file. I have faced this issue many times and one thing has fixed the issue. If it's a video and it's encoded using some new codecs then convert it to a common one that Instagram is compatible with.
For example, if your video is shot at 4K60FPS, try to convert the video to 1080p@30FPS and change the format to MP4/H.264. This is the best video compatible format for Instagram. You can use these video converters for Android and iOS.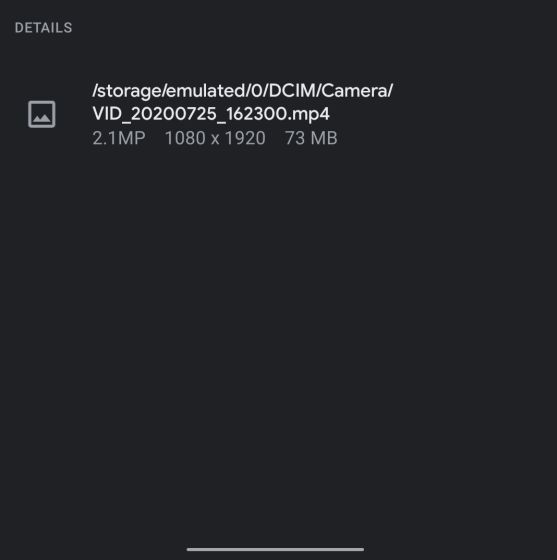 And if it's a HEIC/HEIF image then convert it to JPG or PNG for better compatibility. You can learn how to convert HEIF/HEIF image to JPG on Windows PC from the linked article. In addition, you can disable the HEIF format on iOS for better compatibility with Instagram.
8. Instagram Crashes When You Open DM?
If Instagram crashes when you open a DM then it might be caused by multiple logins on different devices. To clear all your past logins, open Instagram's login activity page on the web and click on your logins. After that, click on "Log out" to remove the device authentication. Now, manually log out from the Instagram app on your smartphone and re-login again. This time, you should not be facing crashing issues on Instagram.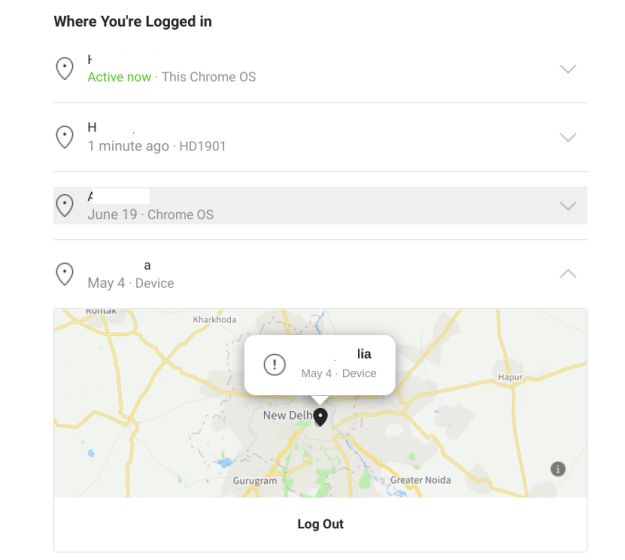 Instagram Crashing Issue Solved
So that is how you can fix Instagram crashing issues on both Android and iOS devices. We have tried to include common methods and some advanced tips as well so that you can get the whole idea of why Instagram keeps crashing on Android and iOS. Anyway, that is all from us. If the issue is still persisting then do comment down below and let us know the specific problem you are facing. We will surely try to help you out.