Since its launch, Instagram has become the biggest photo-sharing social media service on the planet. One of the biggest reasons behind the success of Instagram over its competitors was the fact that it was extremely easy to use. However, as it always happens with any service, to stay ahead of its competition, Instagram had to keep on adding new features which have made the service a little bit complex over the years. What that means is that many of Instagram's cool powers are hidden and most users have no idea how to access them. Well, we want to change that for our readers, as we bring the 15 cool Instagram tips and tricks that you all should definitely know:
15 Cool Instagram Tips and Tricks
I will be using the Samsung Galaxy S8 to showcase all these tips and tricks but rest assured all of these tips and tricks work on both Android and iOS devices. So, in no particular order, here are the best Instagram tips and tricks:
1. Post Instagram Photos Directly to Twitter, Facebook, Tumblr, and, More
If you are someone who is posting the same picture on Instagram, Twitter, Tumblr, Facebook, or any other social media website for that matter, instead of posting pictures on each website individually, you can set up your Instagram in such a way that whenever you post a picture on Instagram, that picture is automatically posted on all your other social media accounts.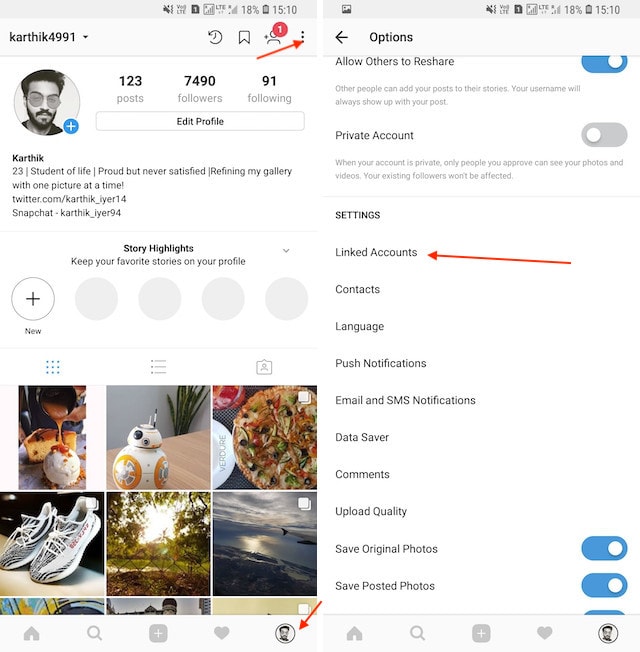 To do that, all you need to do is go to Profile -> Options -> Linked Accounts, and link your social media accounts. From next time, whenever you post a photo on Instagram, you can select the social media platforms on which you want to share that photo, just as shown in the picture below.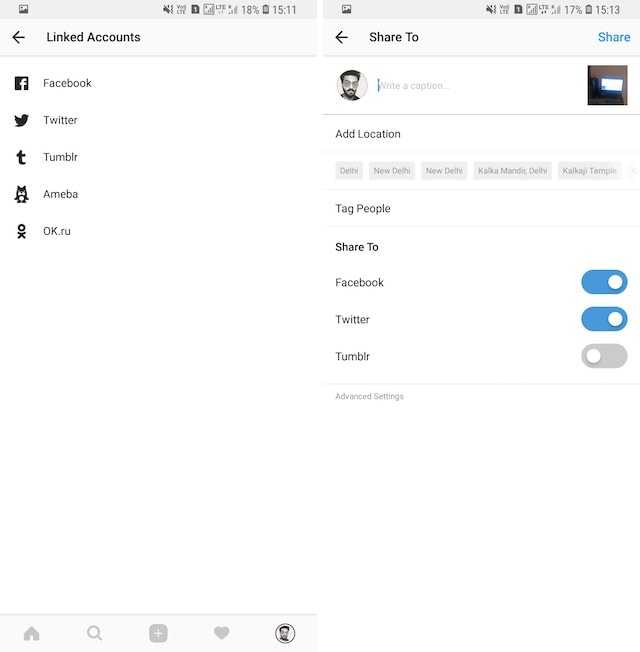 2. Disable Activity Status For Direct Messages
About a month back, Instagram added a new activity status feature which allows users to see when you were last online inside Instagram's Direct Messaging or DM. The feature is quite similar to WhatsApp's last seen feature and allows users to see when you were last online.
However, if you are like me and hate this feature, thankfully there is a way to turn it off. All you need to is go to Profile -> Options -> Show Activity Status and disable it. However, remember that just like on WhatsApp, it's a two-way street. If you don't want others to see your activity status and disable this option, you also won't be able to see anyone else's activity status.
3. Long Press on Android to Preview Photos
Just like iPhone allows you to use 3D touch functionality to quickly view Instagram photos without opening them, on Android you can do the same thing by using the long-press action. It really helps in quickly scanning all the photos without having to open the images. The best part is that the long press action works for videos too.
4. Add GIFs to Instagram Stories
One of the newest addition to Instagram Stories was the ability to share GIFs. However, not many people still know how to do that. Well, it's fairly easy. Just swipe left to right to activate the Story Camera. Now take a picture and swipe upwards from the bottom. Here select the GIFs option which will open a Giphy integration. Now you can search for GIFs and upload it to share on your stories.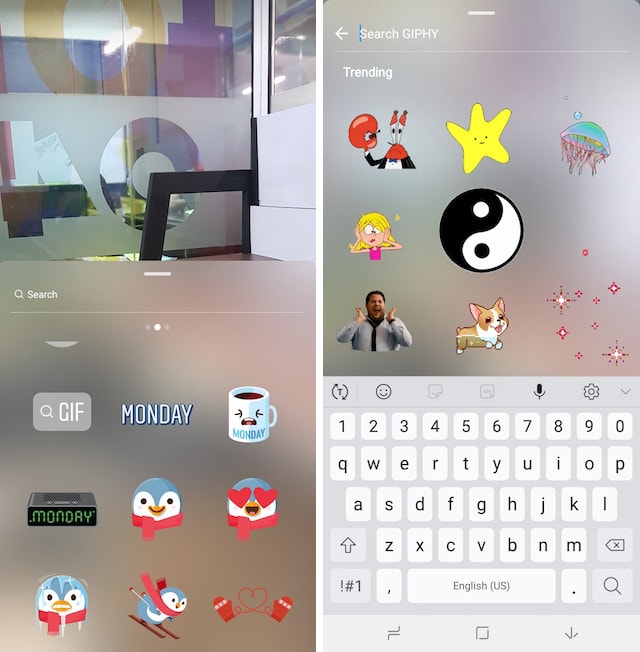 5. Story Highlights and Story Archives
We all know that Instagram Stories by design are ephemeral in nature. However, in December 2017, Instagram introduced a new feature which automatically archives all your Stories after they expire. To access all your archived Stories, just tap on the Profile button and then tap on the Archive button present at the top of the page (marked in picture). Here you can access all your expired stories which you can view or share as a new story if you want to.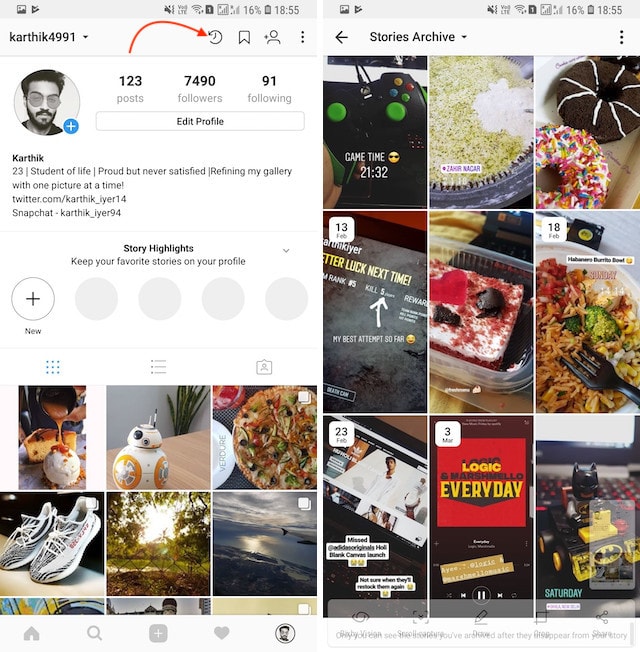 With Story Archives, Instagram also introduced a new Story Highlights feature which allows a user to share their most important stories on their profile page. To create a Story Highlight, visit the Profile page and then tap on the New Story Highlight button. Here, you will get an option to select Stories from your Stories Archives, which you can share on your profile. Remember that Stories Highlights are not removed after 24 hours and you will have to manually remove them.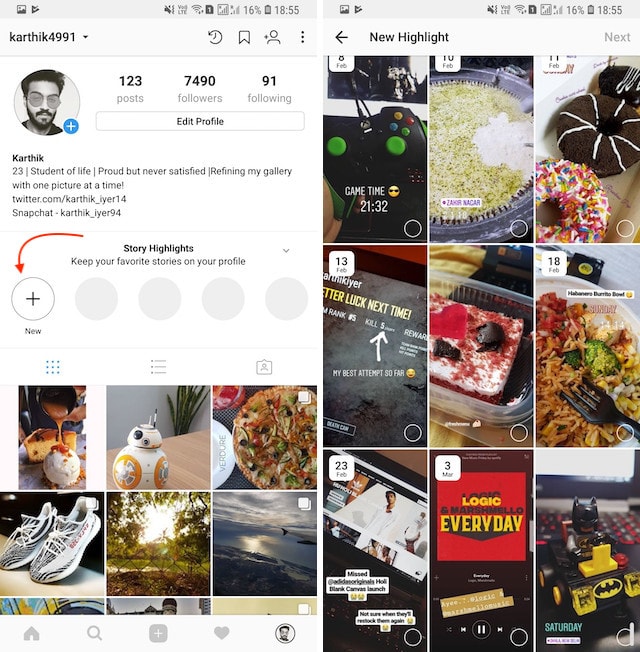 6. Muting Stories
Another cool feature that came to Stories was the ability to Mute Stories from certain users. If there is a user you follow whose stories you don't want to see in Stories Feed, the Mute function will allow you to do that. To Mute a user, just long press on their Story and select the Mute user option.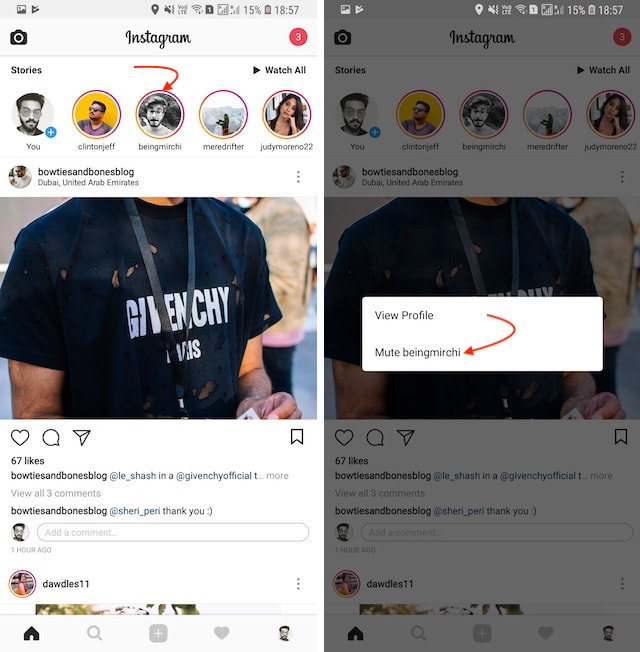 7. Hide Stories From Users
One nifty feature that Instagram introduced for Instagram Stories is the ability to hide them from certain users. If there are users who follow you but you don't want them to see your Stories, you can do that by opening their profile and then taping on the three-dot menu and selecting "Hide Your Story" option.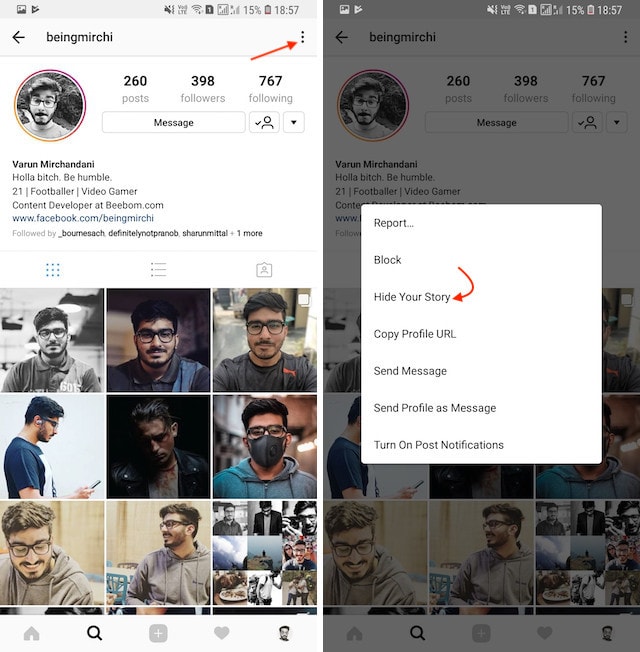 8. Pause, Rewind, Fast-forward and Skip Stories
If you don't know how to pause, rewind, fast-forward or skip stories, watching Instagram Stories might become a big chore for you. Since most of the Stories have multiple cards, there will be times when some of them will be boring and some of them will be so interesting that you might want to rewatch them. In such situation, the above-mentioned tricks come in really handy. It's also really easy to perform all these actions. Just hold to pause a story, tap on the left-edge to rewind, tap on the right-edge to fast-forward and swipe left to right to skip the entire story.
9. Saving Instagram Stories
If you have been using Instagram for a while, you know that the service doesn't allow you to save Stories or even take screenshots without notifying the user. However, there's a workaround that you can use to save Stories from Instagram easily. To do that on your Android device, first download the Story Saver for Instagram, and then login with your account. Now, the app will show all the Stories which is present on your profile and you can tap on anyone to download them.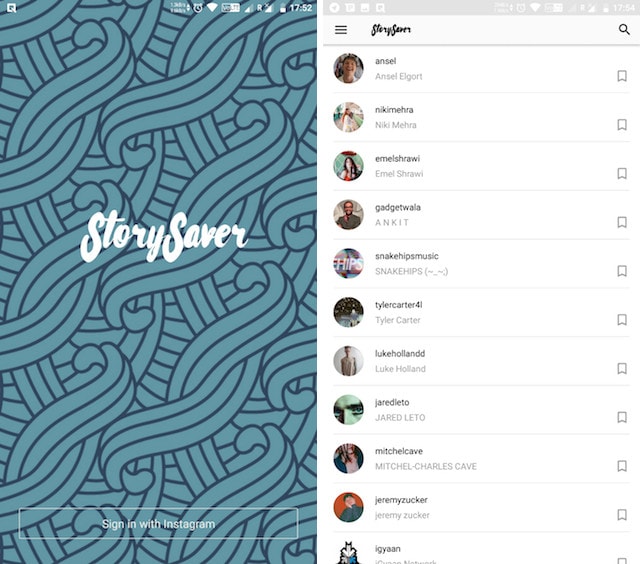 For iOS devices, the process is a little bit different. First, you will need to download the Story Reposter app on iTunes. The app allows you to search for users by their Instagram username and then download any story which is active on their profile.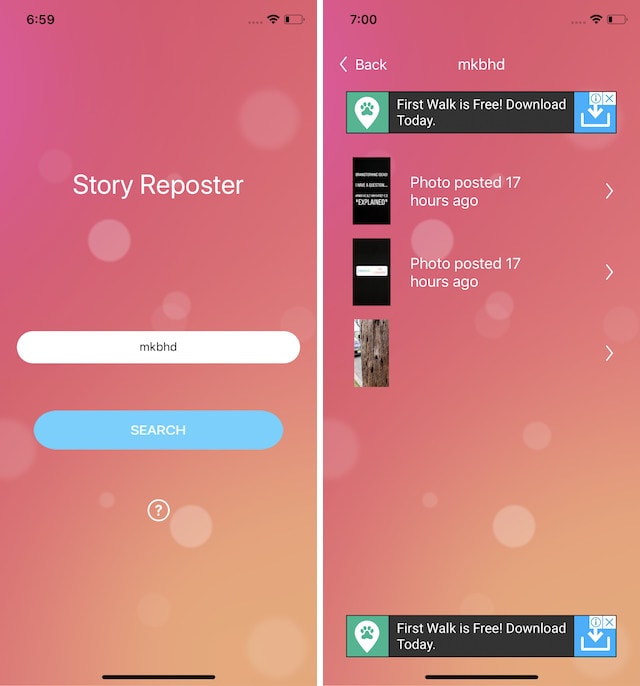 10. Share Links on Instagram Stories
Instagram also allows users to share links inside their Stories which comes in handy if you are promoting any product or services. That said, this feature is only available for verified business users right now. If you are one, you can add the link by tapping on the link button after recording your Story.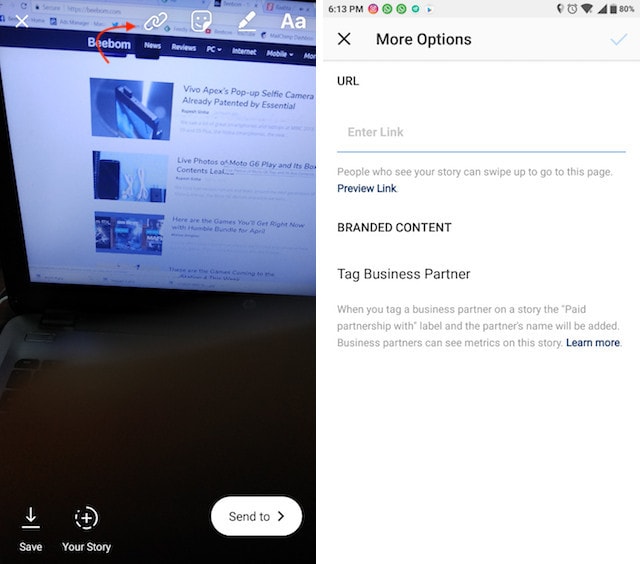 11. Use Instagram Live
Instagram also allows you to go live and share live recordings with your followers. The best part about using Instagram Live is that service makes it really easy to do that. Just swipe left to right on your home screen to access the camera mode and select the Live option from the different modes present at the bottom of the camera interface.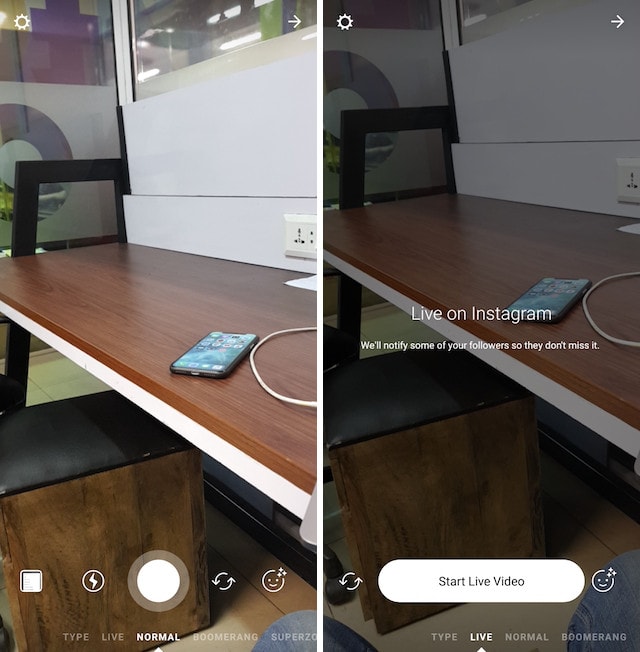 12. Manage Multiple Accounts on Instagram
Instagram also makes it really easy to manage multiple accounts. This is extremely important for users like me who have different work and personal accounts. To add accounts, tap on your name in the top left section of your profile tab and then tap on "Add Account" button. This is also the place that you will use to switch between multiple accounts.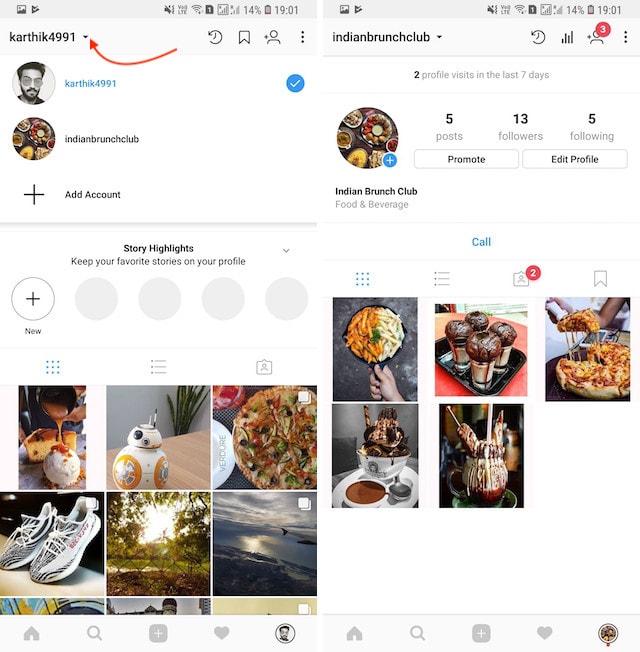 13. Get Free Analytics, Direct Call and Email Buttons and More
Instagram has a very nifty feature called Instagram Business which once activated not only gives your free insights into your accounts analytics but also allows you to add direct call and email buttons, promote your posts, and more. To do that, just go to Profile -> Options and then tap on the "Switch to Business" option. Here, follow the steps to activate your business account which will give you access to all the above-mentioned features.
14. Enable Post notifications for Specific Users
This is a really handy feature if you never want to miss posts from certain specific users. When you allow post notifications for specific users, every time they post, you will get a notification on your app. To do this, just visit a user's profile and tap on the three-dot menu. Here select the "Turn On Post Notification" option and you are done.
15. Untag Yourself From Photos
Social media has many ways of shaming us and one of the biggest tools in its arsenal is the tagged photo feature. Your friends can tag you in embarrassing photos which you might not want anyone else to see. That's why it's better to untag yourself from those photos. However, untagging might be harder than you think. To untag yourself, first, you will have to open your profile page and then tap on the Your Photos button.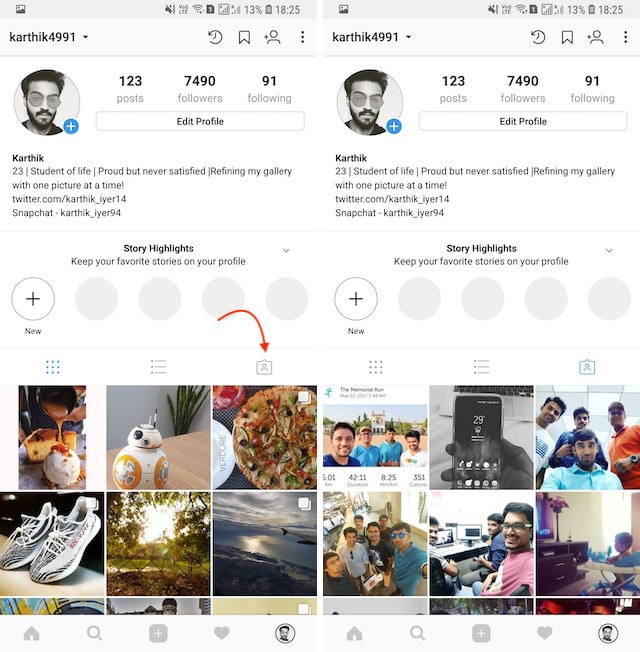 Now tap on the photo you want to untag yourself from and tap again to reveal your username. Now, tap on the username and then you will get the option to untag yourself. Here all you need to do is to select the "Remove Tag" option and you will be untagged for the picture.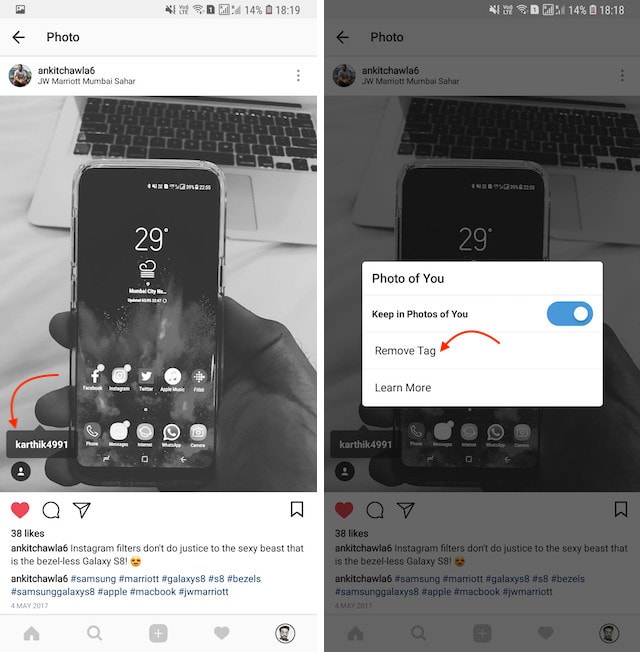 SEE ALSO: 15 Best Twitter Tips and Tricks You Should Know
15 Instagram Tips and Tricks You Should Use
I hope that you learned something new from these Instagram tips and tricks. If you did, do share with us your favorite tip of the article in the comments section below. My favorite tricks are the ability to untag myself and Instagram Business Accounts feature. Lastly, if you have an Instagram trick which is not on the list, but you think that it deserves to be there, do share that trick with us and the Beebom community.