There are times when we want to install a cool new trending app or game, only to find out that the app is not available in our country. This can be pretty infuriating because there are many great apps not available in all countries. So, you must be wondering if there's a way on Android to install apps not available in your region. Well, on Android, there's always a way. And in this article, we bring the best and easiest way that you can use to install Android apps that are not available in your country.
Install Android Apps Not Available in Your Country
Rooting your Android device does give you access to these apps but that's not a feasible method for everybody. Well, there's a very simple way for this and not many people are aware of it. If you are one among the lot, here's how you can install Android apps that are not available in your country. But before that, let me apprise you in the very beginning that the Android VPN method no longer works on the Play Store. And that's why we are taking a different approach to installing apps that are not available in your region.
1. First of all, create a secondary Google account without using a VPN. To do so, tap on Settings -> Google -> Tap on your current email address. Here, choose "Add another account". At the bottom-left corner, tap on "Create account" and follow the on-screen instructions. Finally, the account will be created and added to the Google Play Store.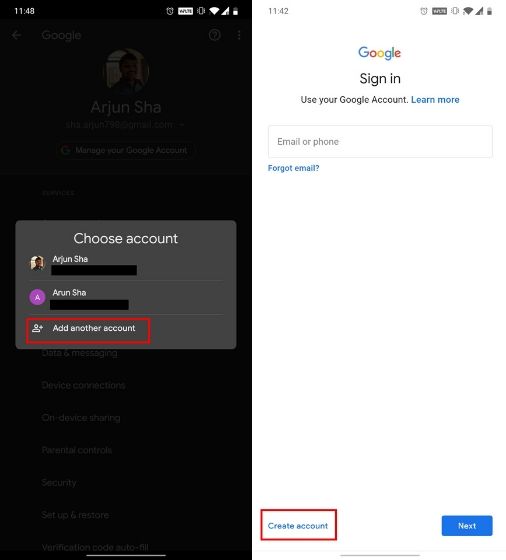 2. After that, open a VPN of your choice and connect to a US server. If you are confused about which VPN to choose then I would recommend ProtonVPN (Free, offers in-app purchases). You can also head over to our article on the best free VPN services and find a suitable one based on your preferences.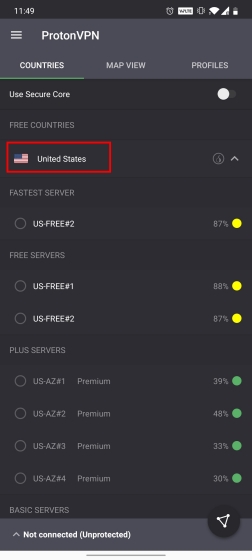 3. Once connected, open the Google Play Store and tap on the hamburger menu on the top-left corner. Here, tap on the new top-right icon to switch to the new account on the Play Store.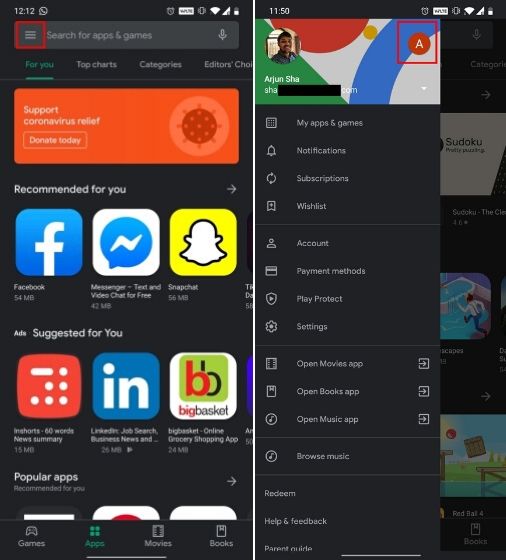 4. After switching to the new account on the Play Store, open the hamburger menu again and go to "Account". Here, you will find "Switch to the United States Play Store" and underneath an option to add credit or debit card. Tap on it.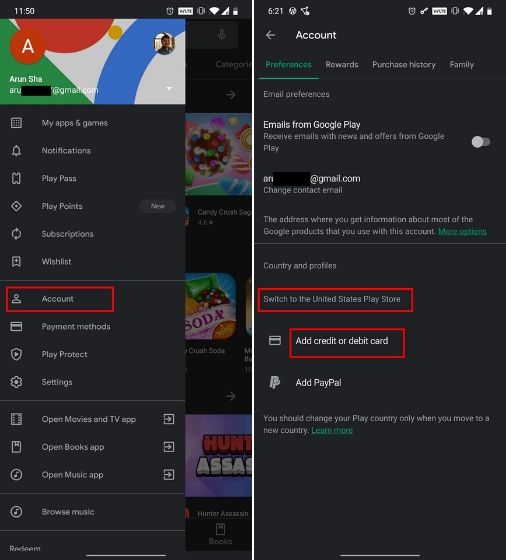 5. After doing so, tap on "Continue" to add a credit or debit card. You can add a domestic card if you want or just cancel the prompt straight away. In any case, you will be moved to the US Play Store. However, keep in mind, it might take 48 hours to switch the region. To confirm if you have moved permanently, go to the "Account" section again and check if it shows "Switch to India/Your Region Play Store". If so, you have switched successfully.
Note: Once you move to the US Play Store, you will be locked in for one year. And that's precisely why I have recommended using a secondary account so that you don't lose your active subscriptions, payment methods, family sharing benefits and more on your primary Google account.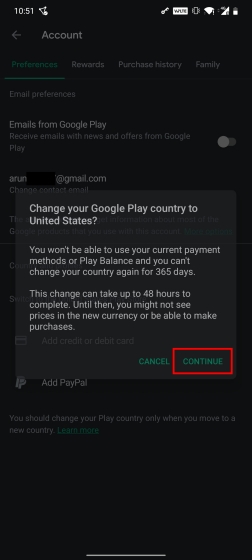 6. Finally, your secondary account will move to the US Play Store and now you can search and install any Android app without any issue. Once you have switched the region, disconnect the VPN and now onwards, you don't need to use a VPN to search and install apps.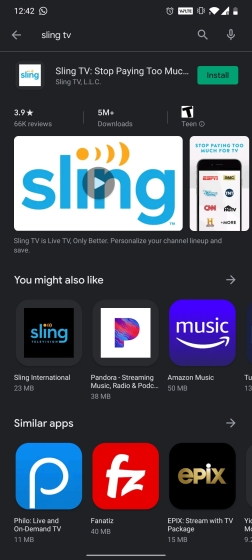 7. Whenever an app throws up "not available in your country" error, just switch to the secondary account on Play Store from the hamburger menu and you will instantly have access to the app. Here, for example, TIDAL is not available in India, but after switching to my secondary account, the app becomes available. Sure, the whole setup process is a bit lengthy, but it's a permanent solution and you will not have to download APKs from shady sources.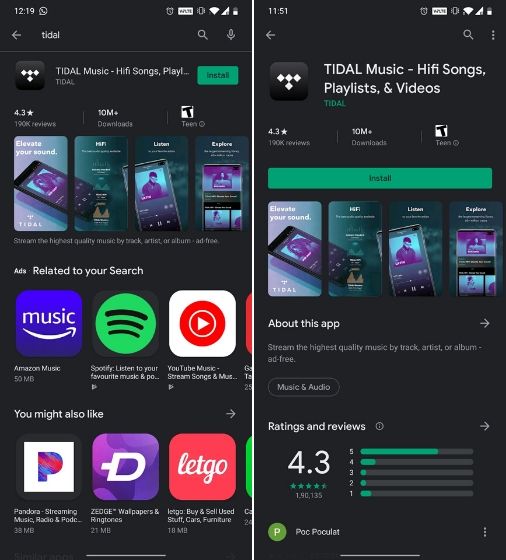 Alternative Methods: Install Android Apps Not Available in Your Country
1. Evozi
If the above method is too cumbersome for you then you can use Evozi. It's a website where you can just paste a Play Store link and it will extract the APK for you. Yes, it's that simple. So go ahead and search for the app on Google and copy its link. Further, paste it in the Evozi box and it will generate the download link. On the security side of things, it fetches the APKs directly from the Play Store so there is no third-party interference with the packages.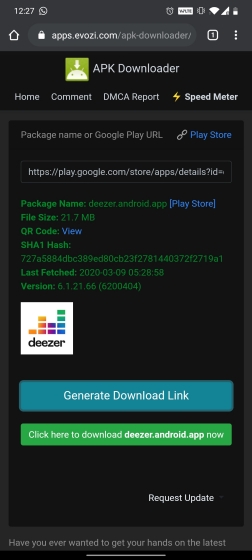 2. APKMirror
APKMirror is one of the most popular and easiest ways to install Android apps that are not available in your country. Similar to Play Store, it allows developers to upload their APK packages directly on its platforms. And APKMirror scans all the APKs for security checks using signature verification, cryptographic signatures for new versions of existing apps, MD5 checksum, and other protocols. Be assured, you will get secure and up to date Android APKs on APKMirror.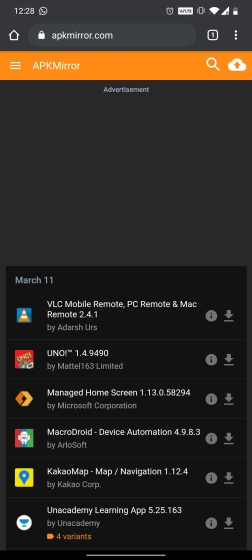 3. Aptoide
If you don't find an app in Google Play Store for any reason — be it the non-availability of the app in your country or violation of Play Store policies — you will probably find all those apps on Aptoide. Aptoide is a third-party app store for Android smartphones, tablets and TVs. It's considered among the serious competitors of Google Play Store and rightly so. If you wonder about its security, the APK packages are directly uploaded by popular developers and publishers and further verified by Aptoide through many security checks. So to sum up, if an app is not available in your country, you can certainly find it on Aptoide.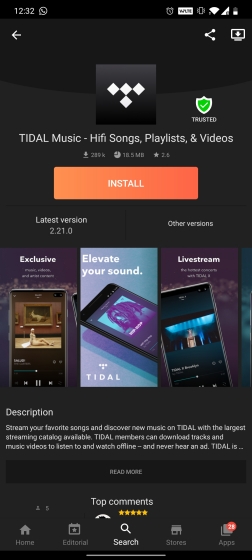 Download Aptoide (Free)
Install Apps Not Available in Your Region Easily
The steps are pretty easy, right? So, if you have been waiting to try apps, which aren't available in your country, here's your chance! So, go ahead and install your favorite apps and let us know, if you face any issues with the method. If you ask me, the lengthier yet permanent Play Store process makes more sense if you install a ton of apps that are not available in your country. But your mileage may vary. Let us know your preferences in the comments below.
---
Load More