With the huge increase in smartphone use, losing a phone has become a normal thing. Everyone loses their phone sometime. And with the higher end devices, smartphone theft is also becoming widespread, so much so, that you can actually buy insurance for your phone. When you suddenly lose your phone, sometimes it becomes hard to take the right steps quickly. How do you find a small lost or stolen android device if it is not responding to phone calls?
If you are an Android user, here is a list of things you can do if you have lost your phone, or if your phone has been stolen. You may also have undergone the 'lost phone experience' in the past, so continue reading to learn how you can use the latest tools to help you protect your phone in the future, be it loss or theft.
General Tips:
Try remembering where it was that you last used your phone and search the place thoroughly.
Inform all your contacts that your phone has been lost. Being an android user, you most probably have your contacts safely backed up with Google.
Use the 'Logout of all devices' feature on Facebook and any other social network whose app you had installed on your phone.
As an added measure change all your passwords too.
How to locate your lost Android device
1. Call your phone.
There might be chance someone has found the phone and is looking to return it to its owner.
2. Using Android Device Manager.
Log onto the Google Play Store on a computer and go to the Android Device Manager. (Click on the Gear icon in the navigation bar and then click on 'Android Device Manager').
This would show you your device's last detected location, the time it was last detected. If you have the Android Device Manager App already installed on your phone and made system administrator (See Below), you can also erase, lock or ring your phone from the browser window itself.
The only prerequisite is that your android device is still signed into your Google account, so if your device is stolen, and someone has signed out of your account, this method is not really effective.
3. View your Google location history.
This will help you identify where your phone was last seen, and if it still is signed into your Google account, it will be updating its location information to Google. This is a possible alternative in case android device manager fails.
4. Remotely install a security application.
To do this, your device must be signed into your account, and be connected to the internet. There are many great apps for this, but Android Lost is the one that stands out. It can remotely control nearly every aspect of your phone (And shows up in your launcher as Personal Notes). Full details given in the section below.
5. Inform the police.
Law Enforcement Agencies can track down a phone, provided you have its IMEI (International Mobile Station Equipment Identity) number. If you don't know your phone's IMEI number, it can be found on the box the phone came in.
Bonus Tip: Find Your Phone with Android Wear Smartwatch
If you own an Android wear smartwatch then you can try calling your lost/misplaced phone by installing Google Device Manager in your smartwatch. All you have to do is to say is 'Ok, Google. Start. Find my phone, and your phone will start ringing.
Note: This feature is not yet available in all Android wear devices but it will be made available to every android based smartwatch within a couple of weeks.
Best Apps To Find Stolen/Lost Android Phone
1. Android Device Manager (official)
Most phones come pre installed with ADM these days, but if your phone does not have this app, do install it immediately. Android Device Manager is a Google App which lets you remotely lock and track your phone. It also has a handy feature to force your phone to ring.
After installing Android Device Manager, add it to your list of system administrators, so you can use it for magical things like erasing your phone if it has been stolen. We have already discussed on how to use ADM to find/erase your device.
Steps:
Go to the security tab of settings.
Click on device administrators.
Select the check-box for 'Android Device Manager'.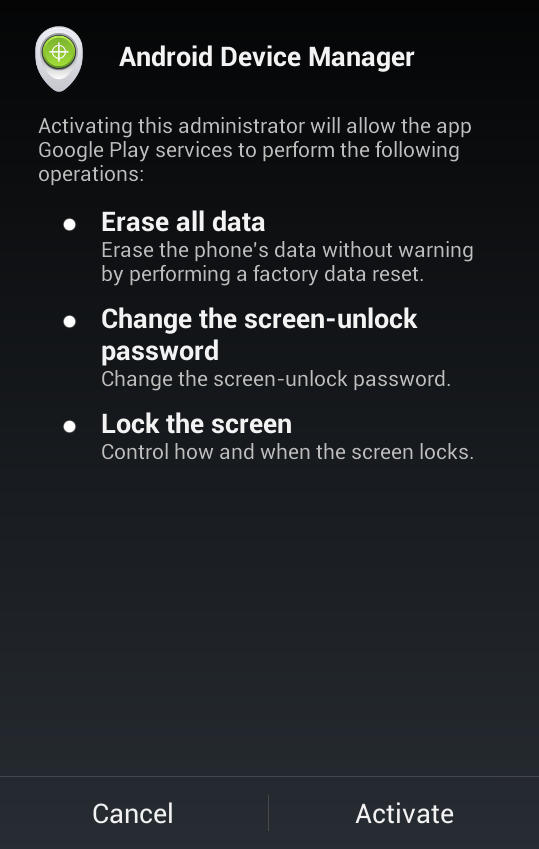 Note: By doing this you give ADM full control of your device. It now has full access to do nearly anything with your android smartphone/tablet.
2. Android Lost / Lost Android (Install)
This is an all-in-one app for securing your phone against theft or loss. Feature-wise, it beats ADM hands down. Most features are fully free, but you will need to pay for using the remote shutdown/restart feature as well as to take remote screenshots. As of now, Android Lost lets you try the Premium features free for a week.
You can fully control a lost phone by browser, or by SMS. Here is a (small) list of everything Android Lost boasts to do, remotely:
GPS tracking
Read/Delete SMS conversations, and send new SMS's via browser
Take pictures with your phone camera, and record through your phone's mic
Start/Stop phone services like Wi-Fi, Data Connections, GPS
Get notifications when your phone SIM has been changed
Play any audio message from your phone
Hide the app from the launcher
Needless to say, if you can trust Android Lost enough to install it on your phone, locating a lost phone becomes child's play.
Although there are ways that even Android Lost can fail, if, for instance you lose a phone that is out of charge and no one finds it. Also, If your phone has been stolen, and you have NOT hidden this app, you can wave goodbye any chance of using Android Lost to recover the device.
How to use Android Lost:
Android Lost can be controlled either through the web interface, or by SMS. Just log into the web interface with your Google account and go on ahead to the Controls tab.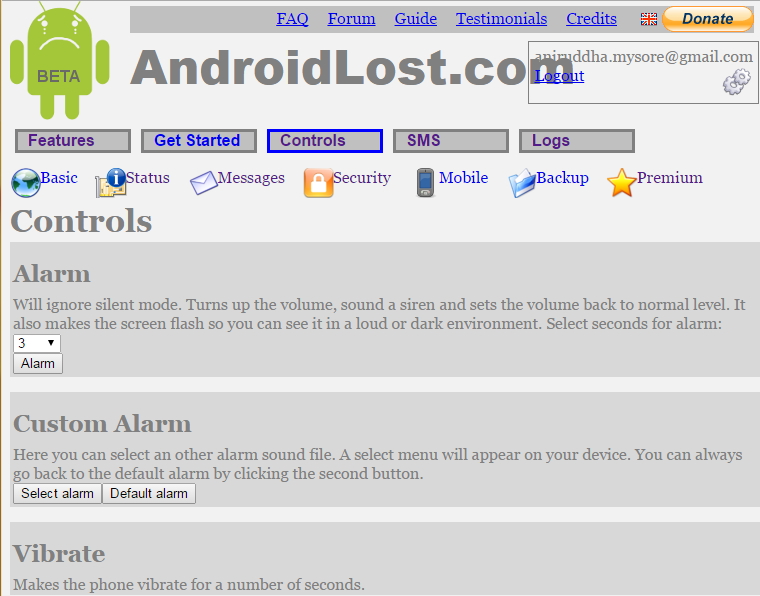 The interface clearly does not win any points for design, but it does pack several powerful features. The custom alarm is very interesting for sure. You can also set an overlay message as well as a boot message  for your lost phone 'in-case a friendly guy finds the phone' as the Android Lost website puts it.
3. Where's My Droid (Install)
A plethora of excellent features, but ultimately requires you to pay for the pro version if you actually want to use any of the more useful features like remotely locking/wiping your SD card, or taking pictures with your device camera. This app has most of the features Android Lost has, although it cannot turn off the phone's Wi-Fi connections or GPS.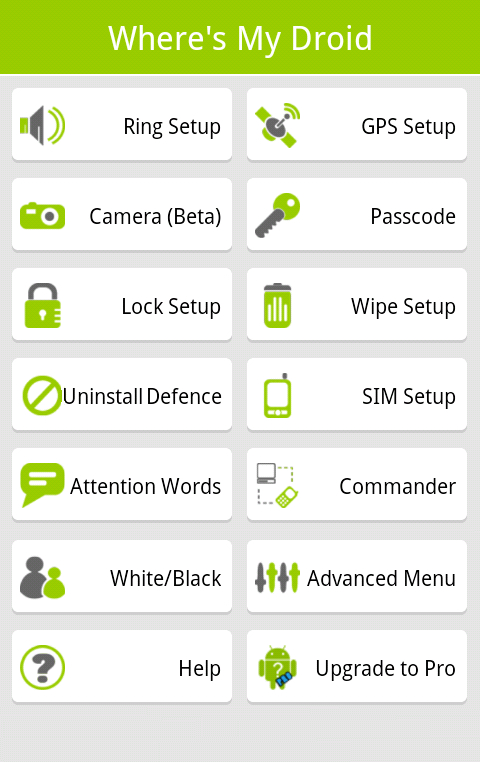 4. Find My Phone – Security (Install)
A free app to help locate your android smartphone. It tends to work better with older versions of android than some other apps. The developer also has a Pro version of the app called 'Find My Phone – Anti-Loss Pro' which offers an ad-free experience with some extra features like remotely tracking the phone battery usage.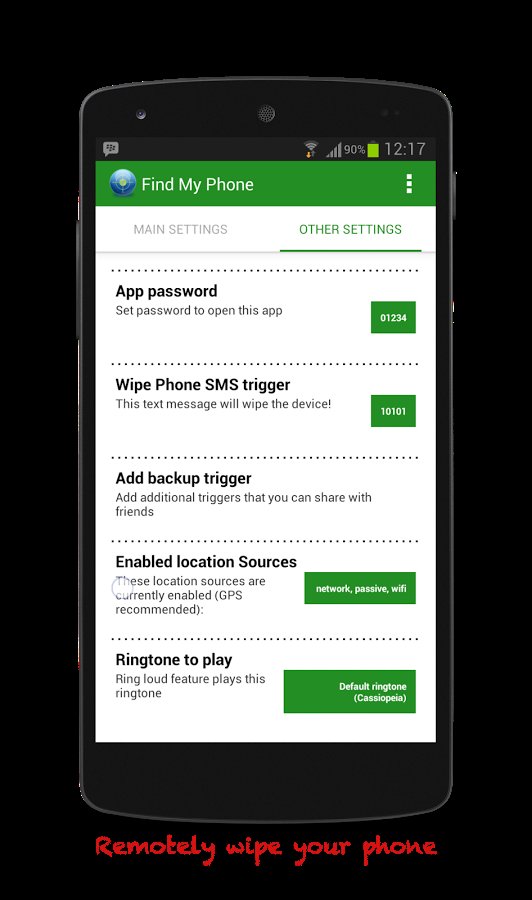 5. Most Antivirus apps
Most Antivirus and phone security apps also include features to help track, and erase a stolen phone. These are mostly paid apps which claim to be all-in-solutions for all your phone security issues. If you're interested in this category, only use apps which have been released from trusted companies, because after all, the best way for a hacker to spy on you is by having you install an app that claims to protect you. We will not go into these apps here as they form an entire app category on their own.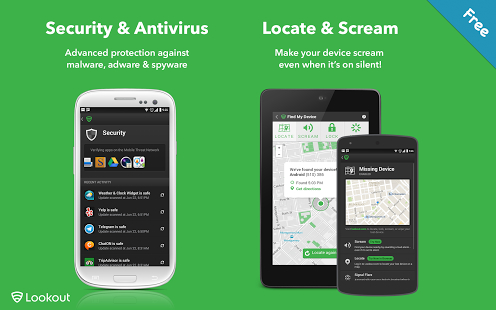 SEE ALSO: 10 Best Antivirus Apps For Android Devices
In the end, luck plays a big part in recovering a lost or stolen phone. If your phone has been stolen, it is usually not wise to directly confront the thief, or so most law enforcement agencies say.
Below, we have listed some of the most frequently lost android smartphones.
| Android Phone List | |
| --- | --- |
| Samsung Galaxy S4 I9500 (16GB) | Sony Ericsson Xperia Arc S |
| Samsung Galaxy E7 | Nokia Lumia 920 |
| Micromax Canvas Knight A350 | Samsung Galaxy S4 Zoom |
| Sony Xperia C3 | Sony Xperia P |
| HTC Desire 816G Dual SIM | Samsung Galaxy Mega 2 |
| Samsung Galaxy Note 3 Neo N750 (16GB) | Nokia Lumia 925 |
| HTC Desire 820 | HTC One M8 Eye |
| Samsung Galaxy A5 | Nokia Lumia 800 |
| Samsung Galaxy S5 SM-G900H (16GB) | Samsung Galaxy Mega 6.3 i9200 |
| Sony Xperia Z Ultra | LG Google Nexus 5 32GB |
| Samsung Galaxy Note 3 N9000 (32GB) | HTC One Dual SIM 802D (CDMA + GSM) |
| Samsung Galaxy Note 4 | Sony Xperia ZL |
| Micromax Canvas Gold A300 | Sony Xperia S |
| Sony Xperia Z1 | Samsung Galaxy Golden |
| Sony Xperia Z3 | Nokia Lumia 820 |
| Samsung Galaxy A7 | HTC One Mini |
| Sony Xperia Z2 | Sony Xperia Ion |
| Samsung Galaxy Alpha | LG G2 (32 GB) |
| HTC Desire 816 | HTC Desire 600 |
| Sony Xperia T2 Ultra | HTC Desire 601 |
| HTC Desire 816G Octa Core | LG Nexus 4 |
| Samsung Galaxy A3 | Samsung Galaxy S2 Plus |
| HTC Desire 820Q | HTC Butterfly |
| Samsung Galaxy Note 2 GT-N7100 (16GB) | HTC One Dual SIM |
| LG Google Nexus 5 D821 | HTC Desire X |
| Sony Xperia T2 Ultra Dual | LG G Flex |
| Nokia Lumia 830 | Samsung Galaxy Mega 5.8 I9152 |
| Sony Xperia Z C6602 (16GB) | Samsung Galaxy S3 I9300 32GB |
| HTC One (M8) | Nokia Lumia 900 |
| Nokia Lumia 1020 (EOS) | HTC Desire 500 |
| Samsung Galaxy Note Edge | LG G Pro 2 |
| Sony Xperia Z1 Compact | HTC Desire 600C Dual SIM |
| Samsung Galaxy S2 I9100 | HTC One Max |
| Nokia Lumia 930 | HTC Sensation |
| Sony Xperia Z3 Compact | HTC One S |
| HTC One E8 Dual SIM | HTC Evo 4G (16GB) |
| Sony Xperia M2 | Samsung S Advance I9070 |
| HTC Desire 820s | HTC 8X |
| HTC One | LG Flex 4G |
| LG G2 | HTC Desire SV |
| Nokia Lumia 720 | HTC One X+ |
| Samsung Galaxy Note | HTC ONE (M8) Dual-SIM |
| HTC Desire EYE | HTC Sensation XL |
| Sony Xperia ZR C5502 (8GB) | LG Optimus G Pro |
| Nokia Lumia 1520 | HTC Radar |
| LG G3 32GB | LG Optimus Vu |
| HTC Desire 700 | LG Optimus 3D P920 |
| LG G3 16GB | LG Optimus G |
| LG Optimus 4X | LG Optimus G E988 (16GB) |
| LG Optimus 3D Max P725 | Motorola Nexus 6 |
| Samsung Galaxy S6 | Motorola Moto X 2ng Gen 32GB |
| OnePlus One 64GB | Xiaomi Mi4 |
| Samsung Galaxy S6 edge | Gionee Elife S5.1 |
| Motorola Moto Turbo | Lenovo Vibe X2 |
We hope our tips help you find your precious smartphone.
Please share this article if you found it useful, and do comment below if you any queries.