Firefox Quantum represents a sea-change in how our favorite open source browser works, making it faster and less of a resource hog than ever. However, while some people have been critical of the change because of the dropping of XPCOM and XUL support in favor of WebExtensions, others, who have embraced the bold new Firefox, seem to be having issues with the deep integration of Pocket, now that the service is owned by Mozilla. So if you're not exactly enamored with constant pop-ups from Firefox urging you to start using Pocket, here's what you need to do disable those prompts.
Note: Pocket has been a part of Firefox for the past couple of years, but what has changed with the introduction of Quantum is the way you can remove the service from your browser.
Remove Pocket Button From Address Bar in Firefox Quantum
To remove the Pocket button from the address bar, just right-click on it and choose "Remove from Address Bar". That's it. The Pocket Button will now be gone from your address bar.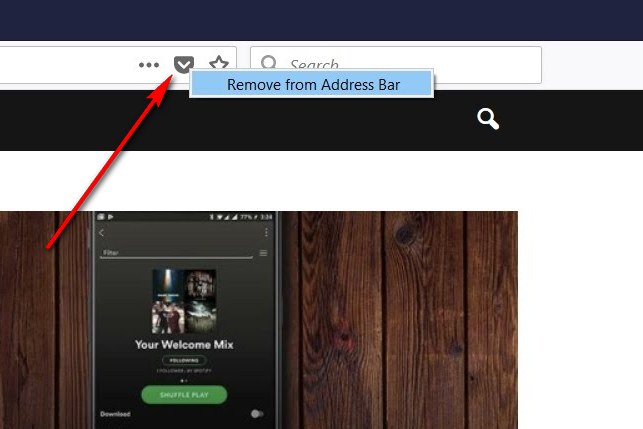 While the aforementioned action will get rid of the Pocket button from the address bar, it won't get rid of Pocket's browser integration, so you'll need to do the following to achieve that:
Disable Firefox Quantum's Pocket Integration
Fire up Firefox Quantum and type about:config into Firefox's address bar. Then press 'Enter'.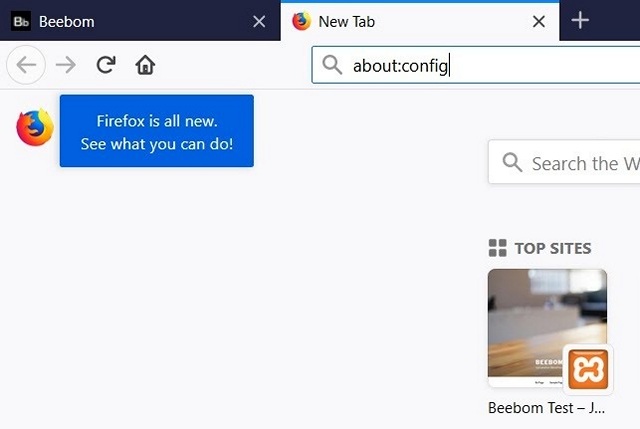 If you haven't used about:config earlier, you will see a "This might void your warranty!" warning. Click on "I accept the risk!" to proceed.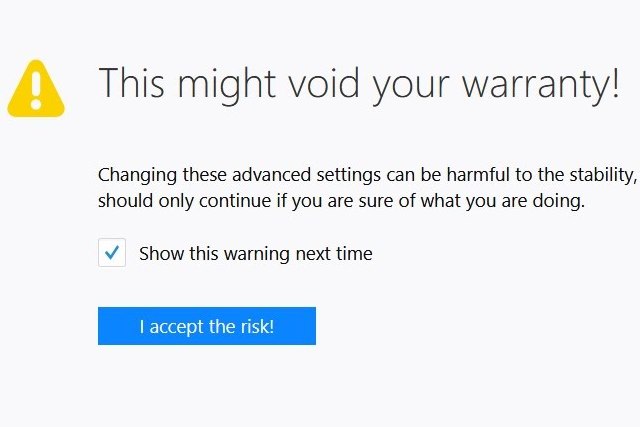 In the search box at the top of the about:config page, type "pocket" to find all the Pocket-related preferences. Double-click the "extensions.pocket.enabled" option here to change it to "False". You will no longer have any Pocket-related references in Firefox's address bar and Library view.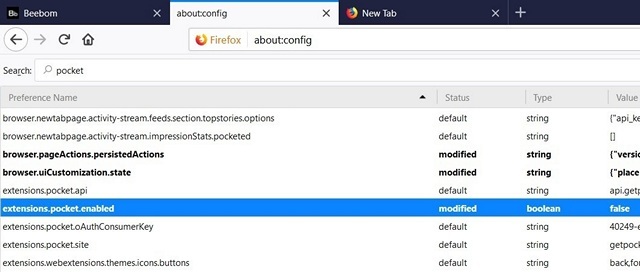 You have successfully disabled Pocket integration, but you can always re-trace your steps and double-click on the same option to set it to 'True' if you ever felt like using Pocket on Firefox.
Disable 'Recommended by Pocket' Articles
To disable the "Recommended by Pocket" feature, open a new tab and then click on the cog-shaped icon at the top-right corner.

Now just uncheck the "Recommended by Pocket" option (may not be available for all) and click on "Done" to save your changes.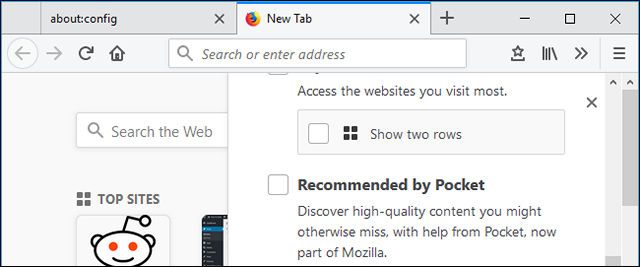 Note: Neither I nor any of my colleagues I spoke to is getting the 'Recommended by Pocket' feature on our computers, but that could be because we haven't used Pocket on our Firefox. Between us, we checked a Windows 7 desktop and two Windows 10 laptops without luck, although, the feature does seem to exist, going by all the chatter on Mozilla Forums. So it looks like you might need to use the integrated Pocket services on your Firefox for this 'feature' to kick into action.
SEE ALSO: How to Use Firefox Send to Send Self-Destructing Files
Do Away With All Pocket-related Popups From Firefox Quantum
While Pocket is a much-loved cross-platform reading tool, not everybody has a lot of use for it and, even if you do, the last thing you need is constant badgering from your browser when you're trying to get some job done. So in case you want to stop Firefox from nagging about Pocket, now you know how to, so just go ahead and do away with all Pocket-related notifications from your super-fast Firefox Quantum.