In June 2021, Discord made it possible to send and receive stickers on Discord servers. Made available for Discord servers with at least two server boosts, stickers are yet another medium of communication when you can't find the right emojis or GIFs to share with friends. In this article, we have explained everything you need to know about how to create and use Discord stickers.
Create and Use Stickers on Discord (2022)
What is a Discord Sticker?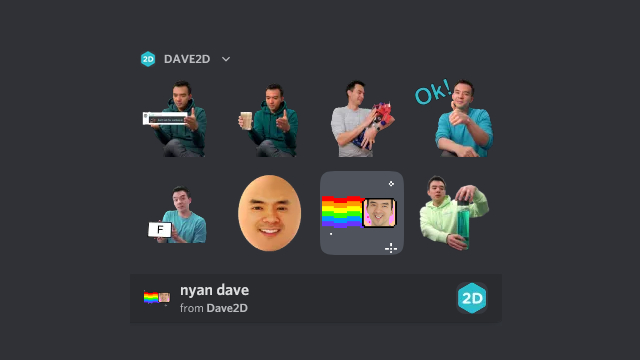 Discord recently added stickers support to its messaging platform. Discord Stickers (not to be confused with Discord emojis) are available as static and animated. Servers require at least two server boosts to add or use stickers. Level 1 servers have a total of 15 sticker slots, while Level 2 and Level 3 servers have 30 and 60 sticker slots, respectively.
To add or remove custom stickers in a Discord server, you will need the "Manage emojis and stickers" permission. It's worth noting that server members can use stickers on boosted servers even if they don't have a Discord Nitro subscription.
Things to Remember When Creating a Discord Sticker
Animated File types: APNG and Lottie (Partnered and Verified servers)
Static File type: PNG
Max File size: 512KB
Dimensions: 320px x 320px
Background: Transparent (optional)
Matching Unicode Emoji for Sticker Suggestions
Description text to improve accessibility for screen reader users
How to Create Your Own Discord Sticker
As mentioned in the section above, you need a PNG file with 320 x 320 resolution to use it as a Discord sticker. In case your image is larger than that, you can use any photo editing software to resize it. For example, I am using Faststone Image Viewer to resize the image for this demonstration.
1. To make sure that the image has equal dimensions, you should first crop the image in a 1:1 ratio. This way, you can easily resize the picture to 320 x 320 resolution without missing the parts you want in the image.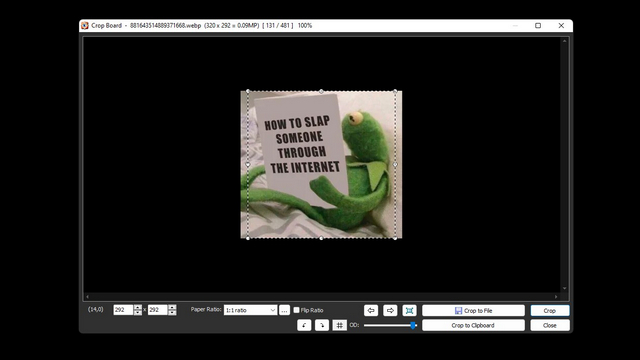 2. Now that the image is in a 1:1 ratio, you should resize the image to 320 x 320 pixels resolution.
3. Finally, save the image as a PNG file. Now your sticker is ready to be uploaded to Discord.
Online Discord Sticker Maker Website – Kapwing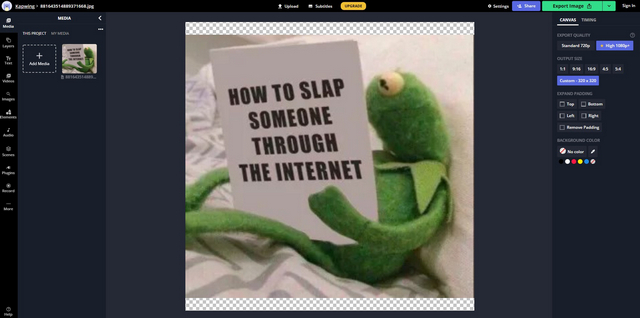 If you are looking for an online editor to easily make your Discord sticker, Kapwing is your best bet. Much like the company's Discord emoji maker, Kapwing has created a template that you can use to resize your image and add text or change the background colors if you like. The template is already set to 320 x 320 resolution, and you just need to upload your image to get started.
Visit Kapwing Discord Sticker Template
How to Upload Stickers to Your Discord Server
1. Open your Discord server and click on the server name at the top-left corner to expand the menu. From the list of options that appear now, click "Server Settings".
2. From the left sidebar of the server settings page, choose "Stickers".
3. Up next, if your server has been boosted twice, you will see an "Upload sticker" button to pick the Discord sticker you created earlier. If not, you will need to spend $9.99 to give your server 2 boosts and unlock Level 1 perks, which includes the ability to upload 15 stickers.
4. Choose the Discord sticker's PNG file and set its name, related emoji, and description. Do note that Discord suggests your sticker to server members when they type the assigned emoji in the chatbox. All server members can start using the sticker soon after you click the "Upload" button.
Remove Custom Stickers from Your Discord Server
1. Open your Discord server and click on its name from the top-left corner. From the drop-down menu, click "Server Settings".
2. Switch to the "Stickers" tab from the left sidebar to access the stickers page.
3. You will now see all the stickers you have uploaded to the server so far. Hover your mouse pointer over the stickers you would like to remove and click the red 'X' button to remove the sticker from your Discord server. Server members will no longer be able to use the sticker, and you can use the slot for other stickers.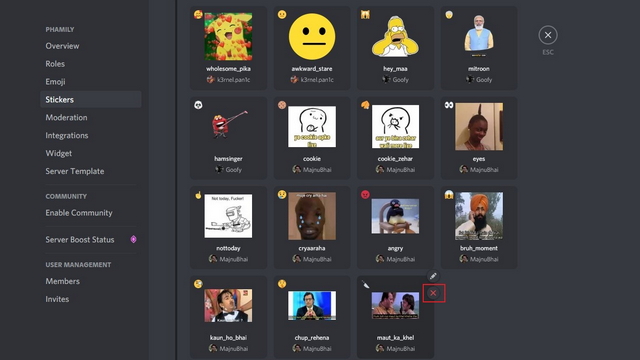 How to Use Discord Stickers Without Nitro
In case you are on the lookout for ways to use custom stickers on Discord servers without 2 server boosts, here are your best options:
NQN is a popular Discord bot to use animated Discord emojis without Discord Nitro. However, the bot also has an option that lets you send stickers with predetermined keywords. Here's how to set it up:
1. Invite the NQN bot to your Discord server (link) and create a new sticker after uploading the image using the command "!sticker create". If you do not know how to invite a bot, read our guide on how to add Discord bots to your server.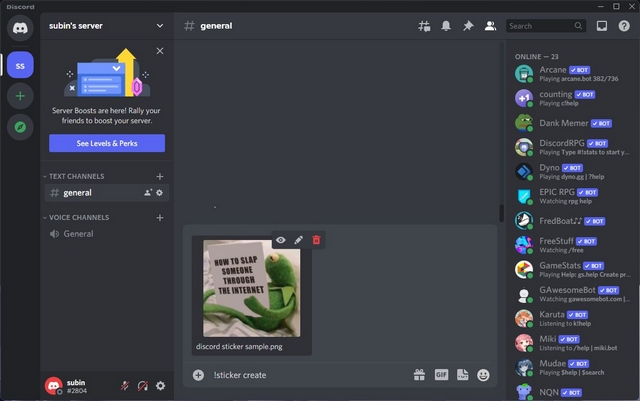 2. Once you have uploaded the file, you can use :file_name: to access it. In case you would like to rename the sticker, you can use the command "!sticker rename old_name new_name".
3. As you can see below, the NQN bot will send the image as a sticker whenever you type the command. To help others identify that you sent the image, NQN will send the sticker with a bot tag alongside your name.
Another Discord bot worth considering for sending stickers without Nitro on Discord is Sticker Surge. You can use Sticker Surge to share community-supported sticker packs or create stickers on your own. To get started, all you have to do is invite the Sticker Surge bot to your Discord server (link) and add popular sticker packs listed on the website.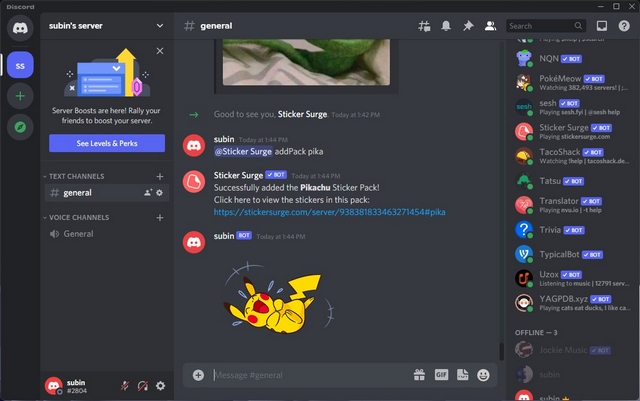 Frequently Asked Questions
Q: How many stickers can a Discord server have?
A Discord server can accommodate a total of 60 stickers. However, the server will have to be on Level 3 (14 boosts) to unlock all those slots. Meanwhile, Level 1 servers have 15 slots and Level 2 servers have 30 slots.
Q: How do you use stickers on Discord without Nitro?
While you can't use stickers on servers that are not boosted to unlock at least Level 1 perks, you can use stickers on servers even without having a Nitro subscription. Besides, you could use bots like NQN and Sticker Surge to use stickers on servers without Nitro.
Q: How to add stickers on Discord mobile?
The option to add or remove stickers is not available on Discord mobile at the moment. You will have to use Discord's desktop or web app to manage stickers.
Try Stickers on Your Discord Server
Although not as ubiquitous as Discord emojis, stickers are gradually finding a place of their own in chats. If you were wondering what Discord stickers were all about, we hope this guide offered clarity and helped you get acquainted with the feature. In case you are not familiar with Discord emojis, feel free to check our in-depth guide on how you can create custom emojis for your Discord server.
---
Load More