Discord is the most popular gaming chat app, enabling free and hassle-free communication. One of its most well-known features is the ability to take a look at your friends list and see what game everyone is playing at that moment. However, that could quickly become annoying. We are here to help you avoid this situation and take control of your privacy, hiding what games you are playing on Discord.
In this guide, we have included the steps to disable game activity for your Discord account on desktop and mobile. Also, we explain how you can stop showing the game you're playing on certain servers, so let's dive right in.
Stop Showing What Game You're Playing on Discord (Windows)
First, we will explain how to stop Discord from showing the game you are playing across the platform, be it your friend list or servers. This method works on the Discord web app as well as the Windows, Mac, and Linux apps. Here are the steps you need to follow:
1. Open Discord and click the cog icon at the bottom left corner, next to your username, to open Settings.
2. Under Settings, scroll down and click the "Activity Privacy" option in the left sidebar.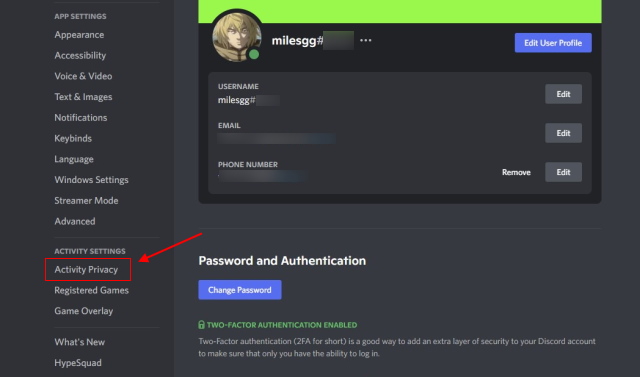 3. Next, disable the "Display current activity as a status message" toggle in the right pane to hide what game you're playing right now from others on Discord.
Note: If you turn off this feature, Discord will also stop showing the activity status for Spotify, public Discord Stages you join, and other apps that support Rich Presence. If you didn't know, you can connect Spotify and Discord to show what song you're listening to users on servers you're a part of.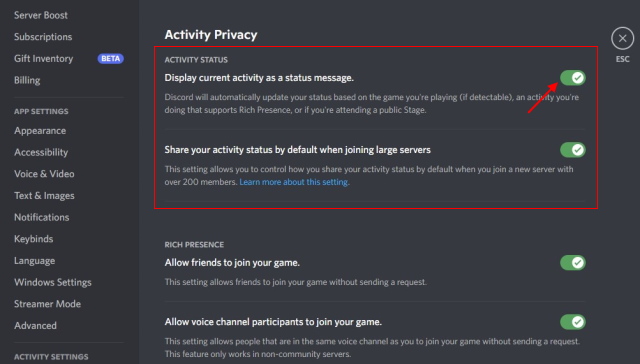 4. In addition, you can set whether your game activity should be visible on large Fortnite or Minecraft Discord servers you join in the future. If you don't want everyone to see what you're playing, you can disable the "Share your activity status by default when joining large servers" on the same settings screen.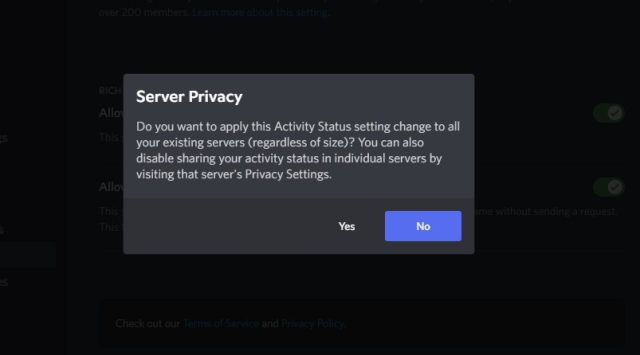 You will see a "Server Privacy" confirmation prompt, asking you whether you wish to apply the new setting to existing servers or not, select the option as per your liking. And that's it. You have successfully changed your privacy settings to stop showing what games you're playing on Discord.
Remove Games from Showing in Discord Status Manually
Now, in addition to changing the privacy settings, you can choose to remove the games that were previously shown in the activity status on Discord. Here's how that works:
1. Navigate to Discord settings and select "Registered Games" from the left sidebar.
2. Then, hover over the game you wish to remove and click the red "X" icon that shows up at the top right.
Don't Show the Game You're Playing in Individual Discord Servers
Now, there's a possibility that you only want to disable the game activity feature on select servers and not across the platform. Well, you can do that easily and stop showing what game you're playing on that particular server. Your friends and users on other servers you have joined will still be able to see your current activity.
If this interests you, here's how you can hide the game you're playing from your Discord status on individual servers:
1. Go to the server for which you wish to disable your activity status and click on the server's name at the top left.
2. From the dropdown menu that opens, click the "Privacy Settings" option.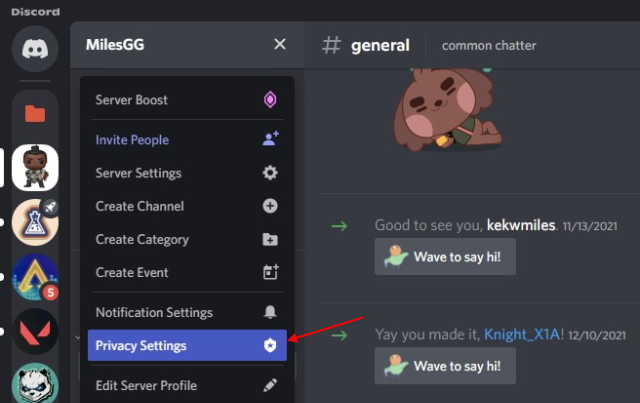 3. Now, much like we did in the first section, disable the "Activity Status" toggle. This will stop sharing what game you're playing on the selected server. Your activity will be visible everywhere else in the chat app.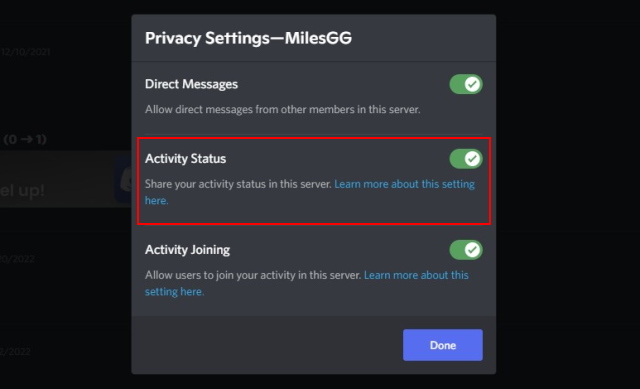 Stop Sharing Your Activity on Discord Mobile (Android and iOS)
If you have Discord on your iPhone or Android phone and use it to talk with friends while gaming, the app doesn't show the mobile game's name in the activity status. That only happens on Samsung Galaxy phones, where users need to set up and make use of an exclusive Discord integration. Yes, your friends or users in servers you're a part of cannot see the mobile game you are playing.
But if you join a public Stage to listen to a lecture or conversation from your mobile, it will show as a status to other users on Discord. If you want to remain private on the platform, you can hide this status. Here's how:
1. Open the Discord mobile app and tap on your profile icon in the bottom navigation bar. Then, select the "Privacy & Safety" settings option.
2. Under the Privacy & Safety settings page, turn off the "Display current activity as a status message" toggle. And that's it.
Note: If you have followed this guide to hide your activity status on the Discord desktop or web apps, the same setting will automatically apply to your account on mobile as well. You don't need to disable this feature individually on both platforms.
These are all the methods to hide the game activity on Discord. This is a great privacy feature that allows you to not only keep nosy players at bay but also safeguard you against cyberstalkers. You could use this app for several other purposes such as streaming Netflix on Discord to watch TV shows and movies with friends or making custom stickers on Discord. That's all for this guide. If you have any doubts, let us know in the comments below.
Frequently Asked Questions
Does Discord show what you are doing on the Internet?
Discord shows what games you're playing or what software you're using (if you add it manually) on your computer automatically. However, Discord does not show what website you are browsing on the internet. Your privacy is intact while browsing the internet, even when you're talking in a voice channel or have the Discord app open in the background. You don't need to worry about other Discord users seeing what websites you visit on your computer.
Does Discord show what you are doing on Chrome?
No, Discord does not automatically show what you are browsing on Chrome to your friends and users on a server. However, you can choose to show you are using Google Chrome in the activity status. You need to manually add the app using the "Settings -> Registered Games -> Not seeing your app? Add it!" option. Discord will then show your status as "Playing Google Chrome" to users.
Does Discord show what game you're playing on mobile?
No, Discord does not show what mobile game or app you are using on your phone. But, whenever you join a public Stage channel on Discord, the app shows you are participating. Moreover, you can use our guide to learn how to set a custom status on Discord.
Does Discord show what game you're playing when invisible?
As confirmed on Twitter, the app won't show the game you're playing if you set your status as invisible. So yeah, you could easily go invisible and play the games you like peacefully.
---
Load More