Imagine jumping into a Minecraft server only to see a bunch of similar-looking players running around the world. That chaotic image has been the case for the majority of the lifespan of Minecraft. But not anymore. With nine amazing options for Minecraft's default skins, you can now set yourself apart in the game. But which option suits you best? Or rather, which one should you use? Let's figure it out!
Minecraft Default Skins Overview (2022)
We will go over each default skin separately to help you decide which one suits your style the most. But our list isn't ranked in any way, so use the table below to explore all the skins in-game.
Note: Our guide features skins from the official Minecraft blog post, along with official images. Based on your game's version, shaders, and graphics settings, the skins can appear slightly different in-game.
Complete List of Minecraft Default Skins
As of October 2022, Minecraft has a total of nine unique skins. Each skin is diverse from the others in terms of hairstyle, fashion, and even skin color. They are a major part of Minecraft's attempt to bring inclusiveness to the game while making it more interesting to play with new mobs and biomes in the Minecraft 1.20 update.
With that said, here's a complete list of all the default skins in Minecraft:
Steve (old)
Alex (old)
Noor
Sunny
Ari
Zuri
Makena
Kai
Efe 
Interestingly, except for Alex and Steve, all the other default skins were unveiled recently at the Minecraft Live 2022 event. The new default skins have been added to Minecraft more than 10 years after the game's official launch. However, the huge collection of the best Minecraft custom skins has kept players covered till now.
1. Steve
Steve is the most popular default character skin in Minecraft. He is the main character that was introduced as the protagonist with the game's launch back in 2011. Steve wears a sky blue t-shirt and blue jeans while rocking a smart goatee. Even as the protagonist, Steve lacks an official backstory, allowing players to imagine it as they want.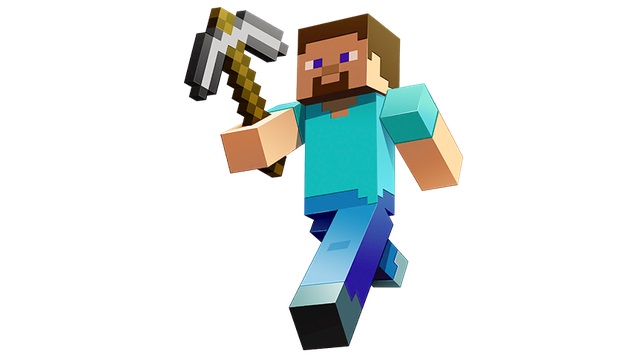 This open plot has led to a lot of new characters originating from Steve. The most popular one is the Herobrine, who became popular as a meme in the early 2010s. People believed that Herobrine, the evil clone of Steve, came around and destroyed your builds when you weren't looking. More often than not, we still find Herobrine fans in major Reddit communities, Minecraft Discord servers, and even our comment section.
2. Alex
Alex was introduced to the game in 2014 as a female equivalent to Steve. She rocks an orange ponytail, green eyes, and wears a light-green shirt alongside brown pants and long gray boots. Similar to the new skins, Alex's introduction to the game was an attempt to make it more inclusive.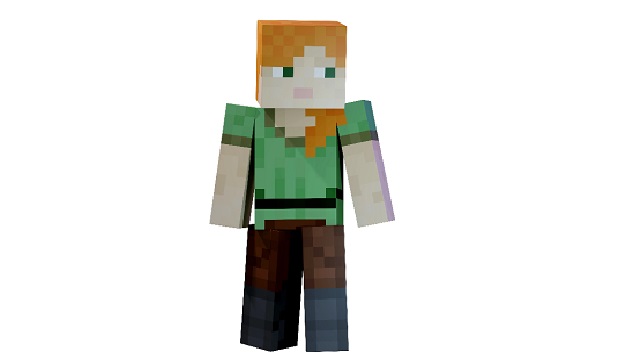 Thanks to their popularity, Alex has found her way into other video games, including Super Smash Bros Ultimate and Minecraft Dungeons. At the time of her introduction, it was made clear that the game will randomly assign the default skin to players irrespective of their gender or age. The same randomly-assigned character system has continued since then.
3. Noor
From this point onward, our list is going over all the new default skins added to Minecraft in October 2022. These skins aim to make all players feel welcome in the game, irrespective of their real-world background.
First up, we have Noor, who has short brown hair that matches their brown eyes. They wear a reddish jacket on top of a black t-shirt that's tucked in teal pants. Not to forget, "Noor" is the Urdu word for "light" and is a common name in families originating from Southeast Asia and Middle Eastern countries.
4. Sunny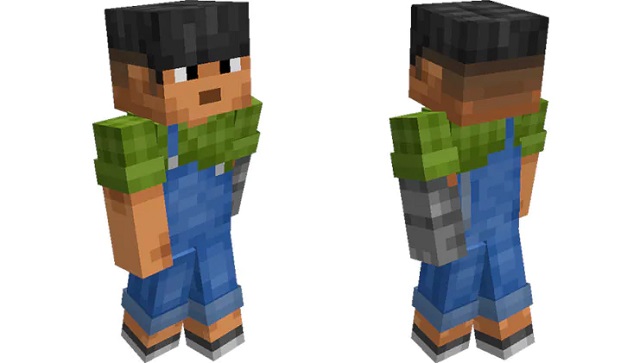 Sunny has short greyish black hair with matching deep black eyes. They wear sneakers and a green shirt with rolled-up sleeves. And to top off the look, they also wear shoulder strap jeans with one strap unhooked. Not to forget, from the looks of it, Sunny seems to have a grey prosthetic arm.
5. Ari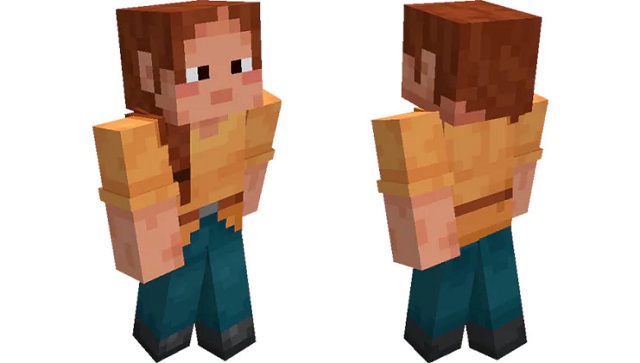 Irrespective of how you pronounce their name, Ari has the cutest face among all the default Minecraft skins. They have pinkish cheeks, a brown ponytail, and black eyes. Ari wears a yellow top over blue jeans and black sneakers. They also have a distinct belt over their waist, which matches their hair.
6. Zuri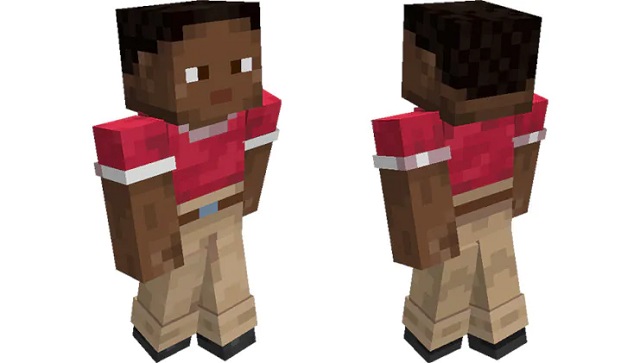 Zuri has a hairstyle similar to Sunny featuring short black hair. They have a darker complexion and brown eyes, which perfectly match the brown belt that's tied over Zuri's khaki pants. Then, to level up this subtle look, they wear a bright red t-shirt with a white collar and sleeve ends. Overall, Zuri has the most subtle look in the entire group of Minecraft default skins.
7. Makena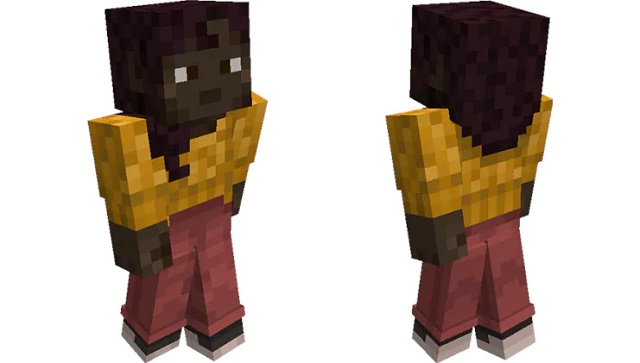 Channeling a happening vibe, Makena wears a yellow shirt that can easily blend in with the gold armor in Minecraft. They have dark brown hair that falls over their shirt and features the same color tone as their eyes. Matching the hair and eyes of default skins seems to be a trend in these new skins. And well, Makena is definitely the leader in that. Finally, to complete their look, they have soft red pants that are curled over at the bottom, allowing the brown and white sneaks to peak out.
8. Kai
Kai easily has the most distinct look in the crew. They have blonde hair and a beard that wrap around their head. These hair are tied up together with a purple rubberband at the back. The color of their rubber band fits perfectly with their purple rob that has a block-like shape on the back and lavender sleeve ends.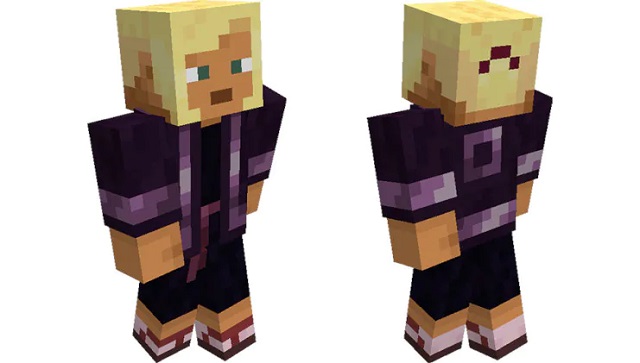 For the bottom part, Kai wears dark purple trousers and purple-white shoes. Not to forget, they also have a purple band tied to their waist that's subtly visible through the rob. At first glance, Kai looks like someone who knows the secrets of the Nether portal in Minecraft, which has the same color scheme as Kai's outfit.
9. Efe
If the variety of options makes it hard for you to choose one, we suggest you go for Efe as your default Minecraft skin. They easily have one of the most detailed appearances, offering royal vibes. Efe has a gold belt buckle, gold bracelet, gold earrings, and even a touch of gold in their shoes. This golden fashion matches well with Efe's whitish sea-green shirt and dark purple pants.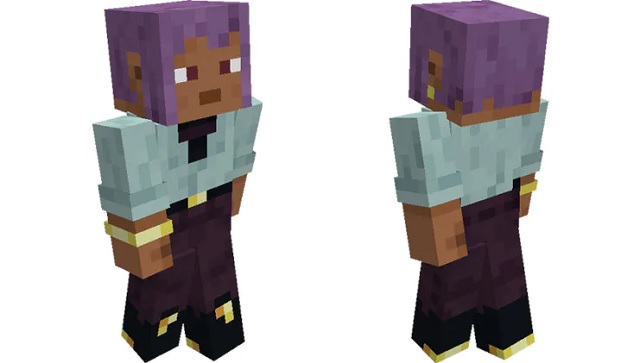 They also have a smart-looking dark purple bow tucked into their shirt. Efe's purple hair and purple eyes match well with the rest of their appearance. And the gold in their clothes only makes their style stand out more.
How to Use Default Minecraft Skins
Whether you want to use the default Minecraft skins or custom ones, the option is readily available in the game for the Bedrock edition and in the Minecraft Launcher for the Java edition. You can use our dedicated guide to learn how to install Minecraft skins to make the most of them with ease.
Complete List of Minecraft Default Skins
Just like that, you are now familiar with the entire library of Minecraft's default skins. Now, all that's left for you to do is equip them and make a name for yourself in these survival Minecraft servers. However, if you are someone who wants more character customization, we suggest you try out these best Minecraft girl skins. There are some truly unique options in that guide. With that out of the way, which is your favorite default Minecraft skin? Tell us in the comments below!