Today, an iPhone has become an inevitable part of every user's life. Right from recording your favorite moments to saving important documents, an iPhone can be your ultimate companion. To keep things going and stay away from iPhone storage full alert, you would sometimes want to get more iPhone storage, isn't it? After all, you need space for everything like apps, high-quality photos, files, and more. Many users have a common question- how do I buy more storage for my iPhone? If you also have this question in your mind, you've landed at the right place. In this article, we'll discuss how to buy more storage on an iPhone. No more waiting, let's get started right away!
Can I Expand my iPhone Storage?
You cannot expand your iPhone's internal storage. Wondering why? This is because iPhones do not have any SD card slot that can be found on some Android smartphones. Every iPhone has a built-in high-speed physical storage capacity, which cannot be modified once the unit has shipped. Therefore, if you've bought a 128 GB iPhone model, you cannot increase this storage to 256 GB in any situation. This is why you must carefully consider storage options while buying a new iPhone. The low storage options may tempt you with comparatively affordable price tags, you may have to make additional purchases later on to compensate for that low capacity.
While you cannot expand your iPhone's physical storage, you can buy more iCloud storage to keep all your important data at your fingertips. This way you can free up space on your iPhone without losing any of your important data. We've discussed this below in detail.
How to Buy More Storage on iPhone with iCloud+
You can buy more storage on an iPhone with an iCloud+ subscription. When you create an Apple ID, you get 5GB of free iCloud storage space to store photos, videos, app data, and more. You can access your iCloud data on any Apple device where you've signed in with your Apple ID. Although this helps keep some of your data safe, a mere 5GB of storage space isn't enough for your photos, videos, documents, and other data. To escape such issues, you can choose a monthly iCloud+ storage plan. You get to choose from 50GB, 200GB, 2TB, 6TB, or 12 TB of storage options. Here's how to upgrade your Apple iCloud account on an iPhone:
Open the Settings app on your iPhone and tap on [Your name] at the top of the screen.
On your Apple ID page, tap on iCloud.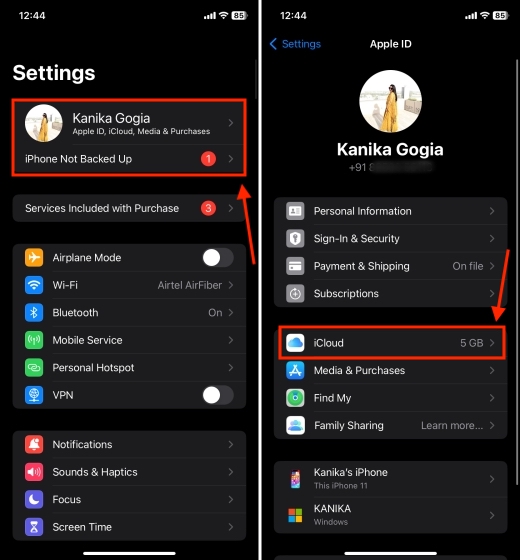 From here, scroll down and tap on Upgrade to iCloud+.
If you haven't subscribed to iCloud storage yet, choose an Apple iCloud storage plan and tap on Upgrade to iCloud+.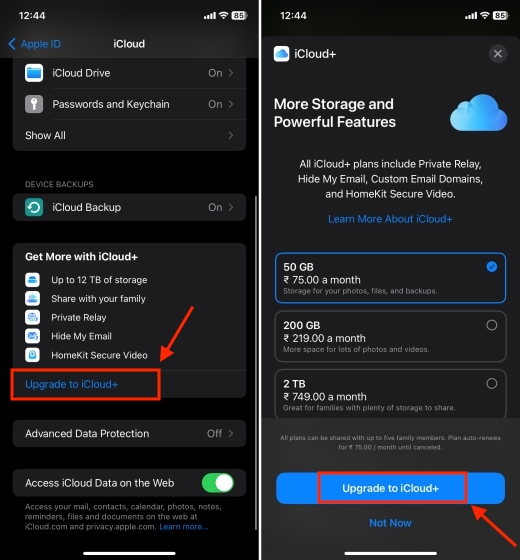 If you already have an iCloud subscription, tap on Manage Account Storage and then tap on Change Storage plan.
Then, follow the on-screen instructions and verify your Face ID or enter your Apple ID password to confirm the subscription.
While iCloud+ is Apple's proprietary cloud service, you can opt for third-party cloud storage options like OneDrive, Google Drive, DropBox, and more. Compare the prices and storage options, and then go for the one that suits your requirements.
Other Ways to Get More Storage on an iPhone
1. Free up space on your iPhone
If you don't want to pay for an iCloud+ subscription and want to get more iPhone storage for free, here are a few things that you can do.
You should erase data that you don't need or delete apps that you don't use. So, browse through the photos, videos, apps, documents, and other data on your iOS device and delete unwanted stuff.
If you have a lot of important data and don't want to delete it, you should back up your iPhone data. Fortunately, there are many ways to keep your data safe. You can use your Mac, Windows PC, or free cloud storage services.
Another way to get more iPhone storage for free is to ensure you're making the most of the free iCloud space. For example, you can delete photos from iCloud to get rid of older photos and ensure that you always have space for data that's actually important to you.
2. Get a portable storage device
If you can't purchase more storage on your iPhone and still want the liberty to have all your important data at your disposal, you can get yourself a portable storage disk. It's worth knowing that modern iPhones support external devices that have HFS+, FAT32, AFPS, or exFAT file systems. You can easily find flash storage drives which you can connect to your iPhone and keep your important content safe. This way you can always have additional backup storage to free up internal memory on your iPhone.
3. Trade in your iPhone and get a model with more storage
In case you're holding onto an older iPhone with low internal storage space, maybe it's time to get rid of your existing phone and get yourself a new one. As you know, Apple lets you trade in an older device to buy a new iPhone. If you're satisfied with the exchange value that Apple is offering you, great. If not, you can sell it on a third-party platform or a nearby store that offers a great deal. This time, make sure you get an iPhone with sufficient storage space.
Frequently Asked Questions
1. What is the difference between device storage and cloud storage?
Device storage (also known as physical or internal storage) is a finite amount of storage your device comes with. You can view the saved data on that device only. The iPhones come with internal storage options of 64 GB (iPhone 12 or older only), 128 GB, 256 GB, 512 GB, or 1TB. Once this storage space gets full, you can't add more photos, videos, or files on your device. You can either remove older data or upgrade to an iCloud subscription.
On the other hand, cloud storage means the data is saved on the company's cloud servers and typically requires you to go for a subscription. You can upload data to cloud storage using your phone and then access that data on any device using your account. Some popular cloud storage services include iCloud, OneDrive, Google Drive, DropBox, and more.
2. Why can't I buy more storage on iPhone?
You cannot buy more storage on an iPhone because there is no SD card slot to expand your iPhone's internal storage. So, your iPhone will always have the amount of storage space that it initially came with. The only way to get more internal storage space on the iPhone is to delete messages, documents, photos, and other older data. Before you do it, make sure to back up your important data so you can restore the iPhone data on purpose.
3. Can I buy more storage on my iPhone with Google One?
Yes, you can expand your iPhone storage using Google Drive. You can browse through Google One plans and pricing, and then choose the one that best suits your requirements. Besides, you can go for other cloud storage services like DropBox or OneDrive subscription.
4. How to buy iPhone storage for free?
You can back up your iPhone and delete older data to get more iPhone storage for free.
That was all from our side on how to buy more storage on an iPhone. Hopefully, this article helped to understand all the basics so you can easily manage and get more iPhone storage. In case you have any doubts, you can always reach out to us in the comments below. Also, how are you planning to get more phone storage on your iPhone? We'd love to hear your thoughts!
---
Load More