Whether your iPhone storage is close to being exhausted, or you just have a lot of useless apps making your iPhone slow to respond, deleting apps is a practice you should adopt and make a frequent habit. Fortunately, deleting apps on iPhone is fairly straightforward and simple. So, here is how to delete apps on iPhone running iOS 15, iOS 14, or any other version of iOS.
Uninstall/Remove Apps on iPhone and iPad (2022)
There are a bunch of ways to uninstall apps on iPhone. What's more, depending on the iOS version you're using, there are slight differences in the process as well. That is why we have divided this guide into sections based on iOS versions, so you can easily get started with the process of deleting apps on your iPhone. We have also discussed how you can delete apps without deleting their documents and data.
As always, you can use the table of contents below to learn how to delete apps on iPhone for your iOS version.
Which Built-in Apps Can You Delete on iPhone?
Apple allows you to delete several first-party apps. So, if you find them useless, you can get rid of the unwanted ones. Here is the complete list of the built-in apps that you can delete on your iPhone running iOS 12 or later.
Books
Calculator
Calendar
Compass
Contacts
FaceTime
Files
Home
iTunes Store
Mail
Maps
Measure
Music
News
Notes
Podcasts
Reminders
Shortcuts
Stocks
Tips
Translate
TV
Voice Memos
Watch
Weather
Note:
Do note that even after you have deleted the Contacts app, the contact information will remain available through Phone, Messages, Mail, FaceTime, and other apps.
Note that if you delete a built-in app, it will affect the related system functions or information on your Apple Watch.
In iOS 10, Apple allows you to remove built-in apps only from the home screen on your device since you can't delete them.
Even after you have deleted the FaceTime app, you will still be able to make and receive FaceTime calls in Contacts and Phone app.
If you delete Apple Maps, Apple Music, Apple Books, and Apple Podcasts, you will no longer be able to use them with CarPlay.
If you delete the Apple Music app, you won't ble able to play audio content in its library using Apple apps or third-party apps on certain car stereos or stereo receivers.
If you try to delete Watch app on your iPhone that's paired with the Apple Watch, you will be prompted to first unpair your Apple Watch.
Delete Apps on iPhone Running iOS 14 and iOS 15
If you're running iOS 14, or the latest iOS 15 on your iPhone, you have a couple of ways you can uninstall apps. The first, and easiest one is obviously via the home screen directly. Let's take a look at that first, and then we will discuss the other ways in which you can remove apps from your iPhone.
Delete Apps from the Home Screen
On your home screen, touch and hold the icon of the app you want to delete. In the context menu that pops up, tap on 'Remove App'. Then, tap on 'Delete App'.
Tap on 'Delete' in the confirmation pop-up, and that's it. The app will be deleted from your iPhone.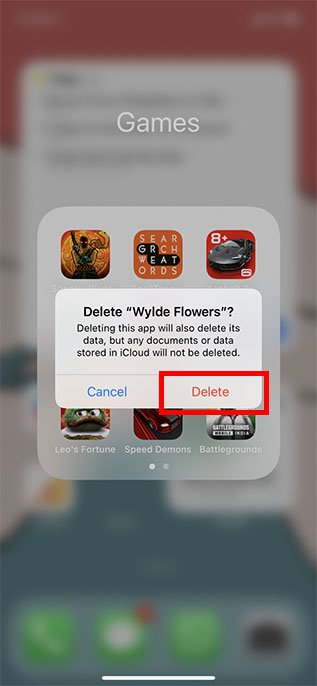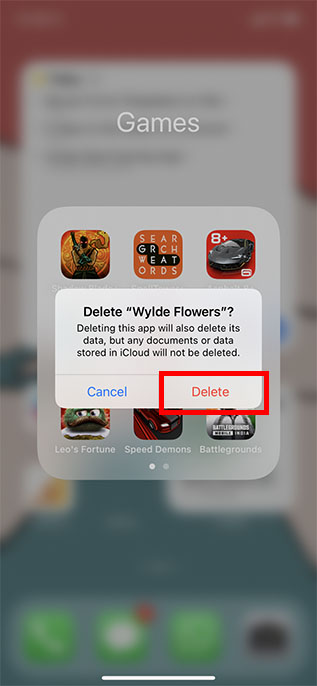 Delete Apps from App Library
If the app you want to delete is not available on your Home Screen, you can delete it directly from the App Library as well. Here's how.
Navigate to the App Library on your iPhone and locate the app you want to delete. Press and hold on the app icon and choose 'Delete App' from the context menu.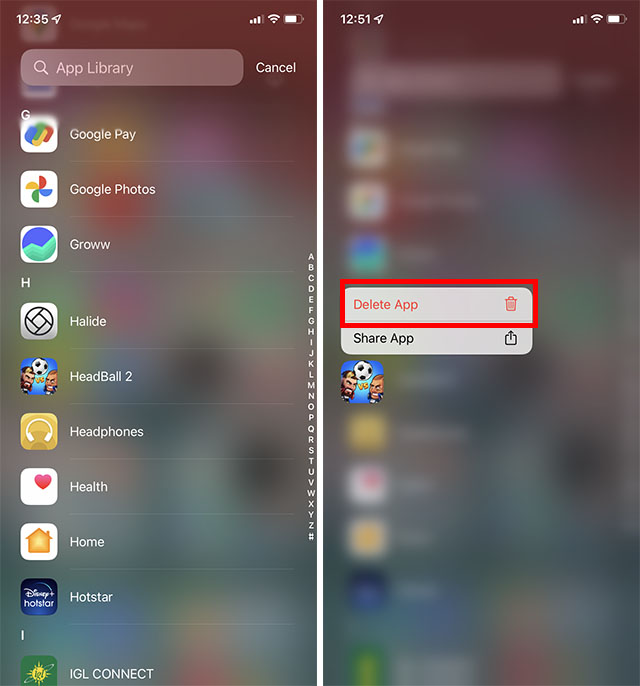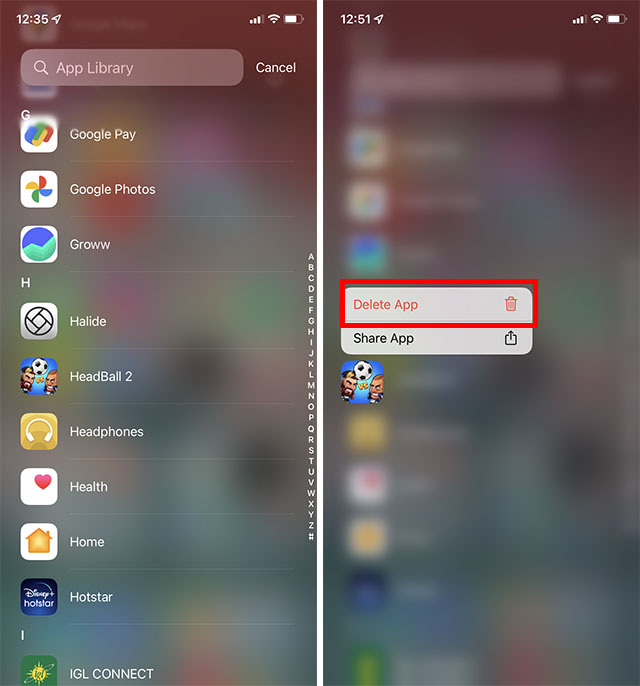 In the confirmation pop-up, tap on 'Delete' again to delete the app from your iPhone completely.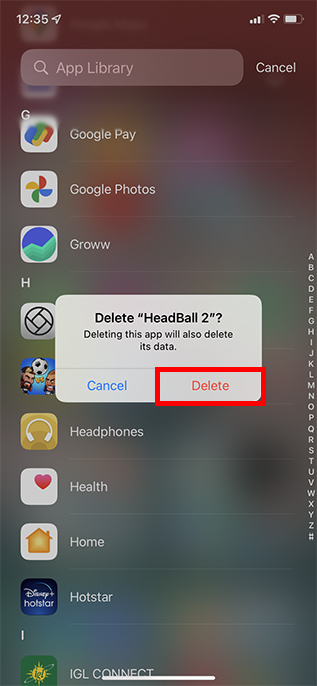 Delete Apps on iPhone Running iOS 13
On your home screen, head over to the app you wish to delete. After that, touch and hold the app icon and choose Rearrange Apps in the menu.
Now, all your apps will enter the jiggle mode. Tap the "X" button at the top of the app and hit Delete in the popup menu to confirm.
Uninstall Apps in iOS 12 or Earlier
If you are running the older versions of iOS like iOS 12 or earlier, you would be glad to know that deleting apps is even easier.
Head over to the home screen on your iPhone and find the app you wish to delete. After that, long-press the app you want to delete and hit the "X" that shows up at the top of the app.
In the pop-up menu, tap "Delete" and confirm.
Delete iPhone Apps from Settings
You can also delete apps on iPhone through the Settings app. This can come in handy when you're looking through your iPhone storage status and notice an app that you no longer require, because you can directly delete it from Settings instead of going to the home screen and uninstalling it. Here's how to do this.
Open the Settings app and tap on 'General'. Next, tap on 'iPhone Storage'.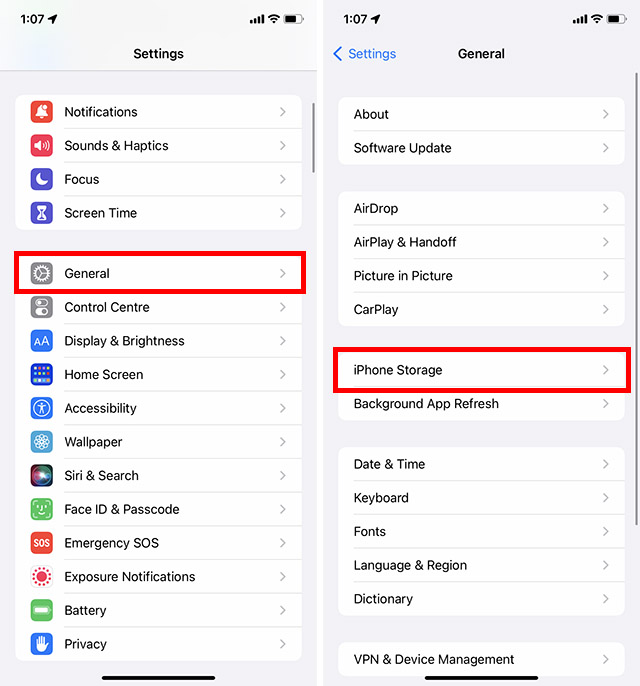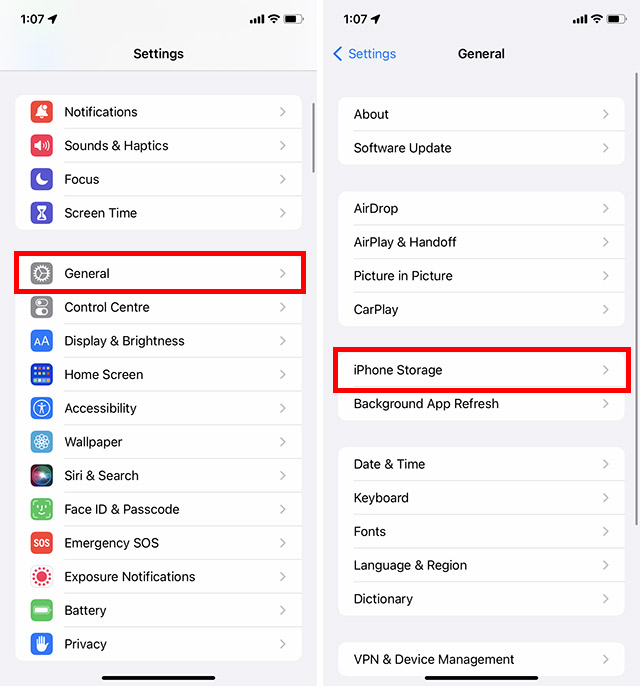 Scroll down to find the app you want to delete and tap on it. Then, tap on 'Delete App'.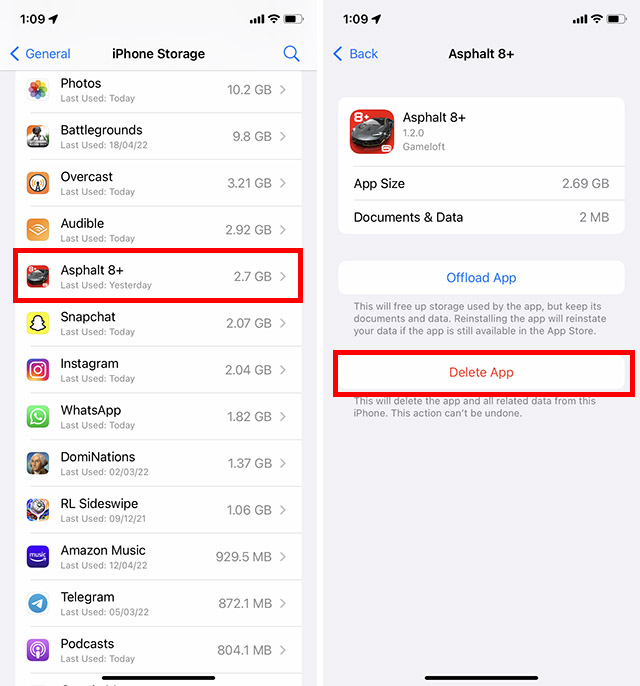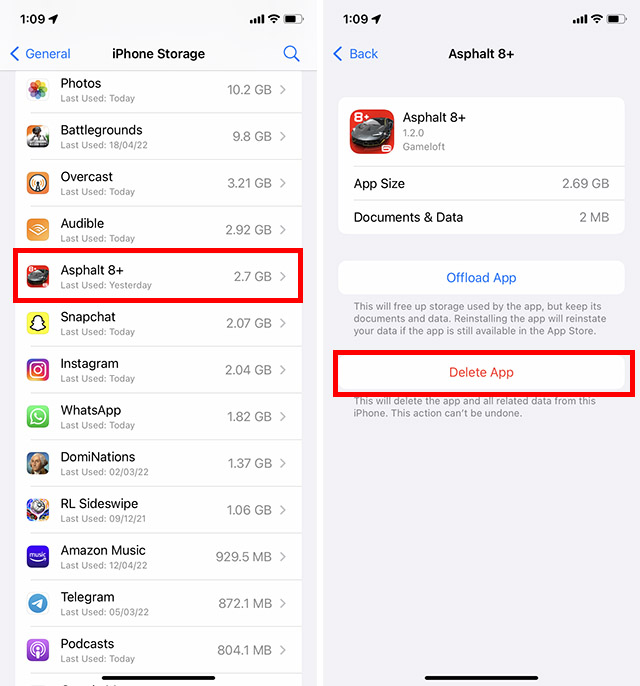 You will get a confirmation pop-up. Tap on 'Delete' here, and the app will be removed from your iPhone.
Offload Apps from iPhone
What if you want to delete an app but wish to keep the associated documents and data? Don't worry, this is where the "Offload" feature comes into play. First introduced in iOS 11, this handy storage management feature allows you to automatically/manually delete apps while still keeping their data. Hence, when you reinstall the offloaded apps, your data returns allowing you to use them as before.
1. On your iOS device, open the Settings app and choose General.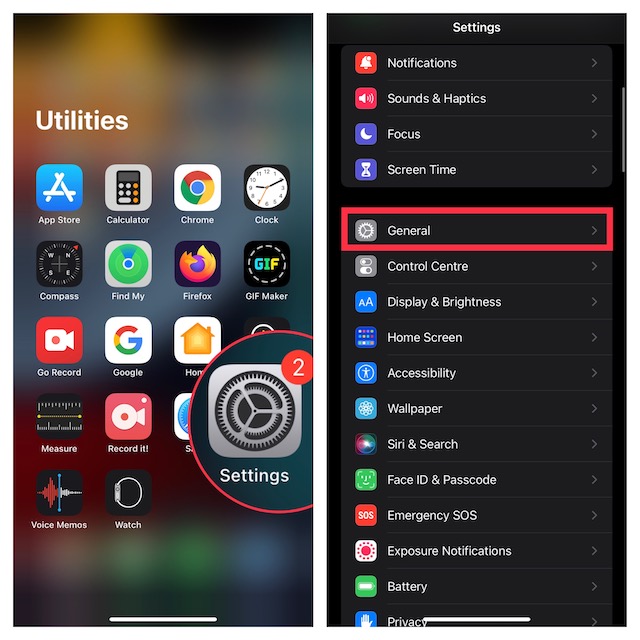 2. Now, tap the iPhone Storage option.
3. Next, select the app you would like to offload and hit Offload App. Make sure to confirm the action by tapping Offload App again in the menu.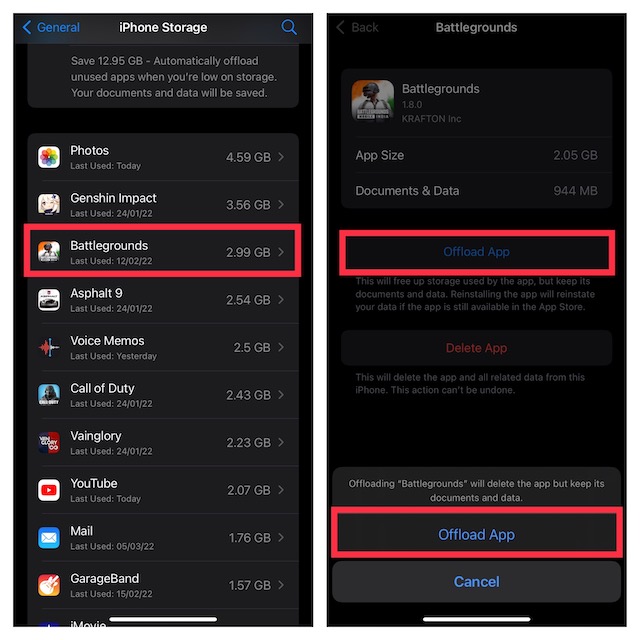 4. If you want to automatically offload the unused apps on your iOS device, you should take advantage of the automatic offloading feature. Under the Recommendations section right below the storage consumption bar at the top, you should see the total amount of storage you can save by offloading the apps that you hardly use. To bring this smart storage management feature into action, tap Enable.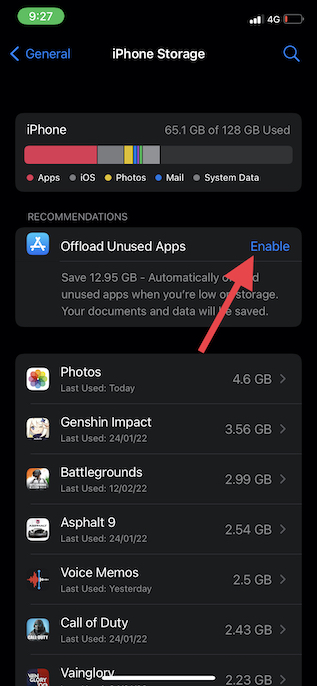 How to Re-Download Deleted Apps on Your iPhone
If you ever want to re-download the deleted apps, you can do so with ease.
1. Open the App Store on your iPhone. Then, tap the search button and enter the name of the app you are looking for in the search bar.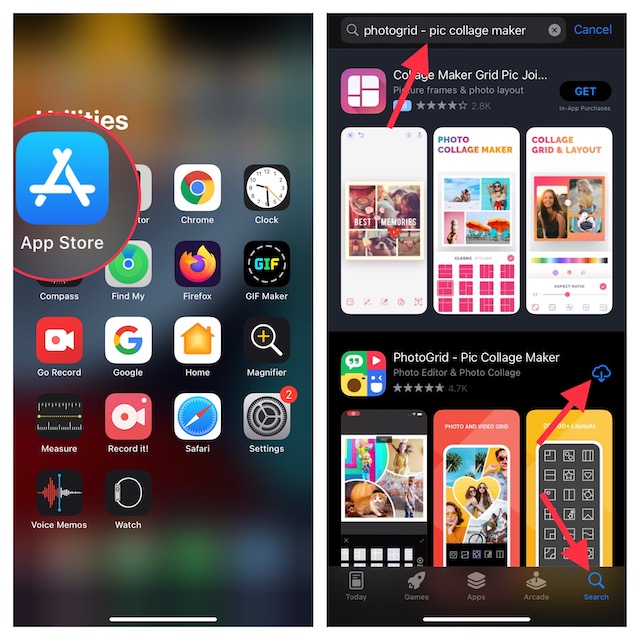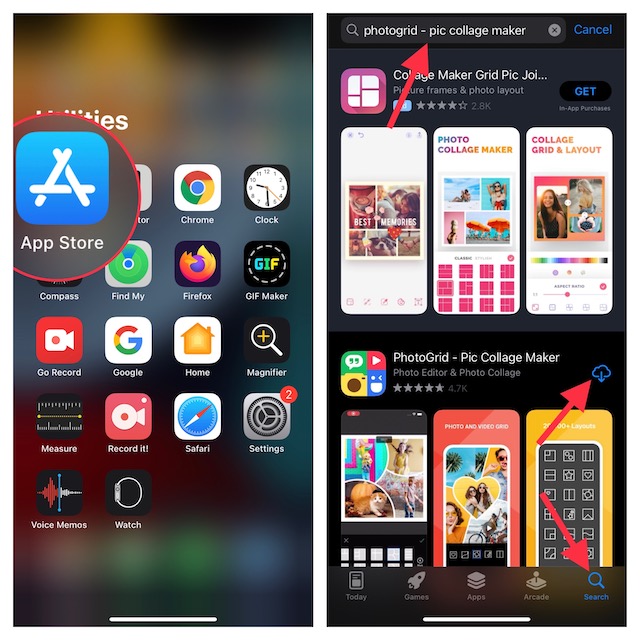 2. Once the app shows up, tap the download icon located right next to it.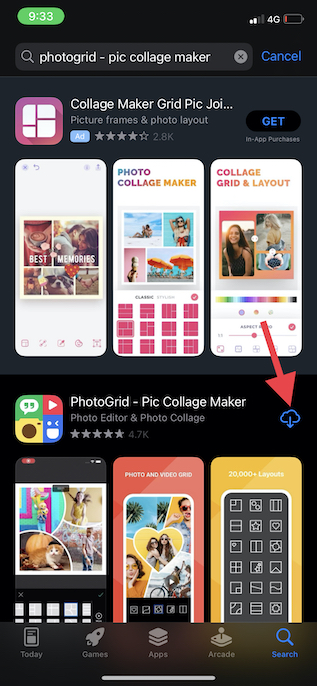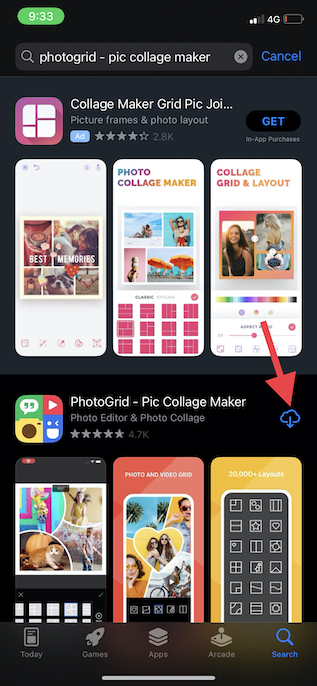 Stop Anyone from Deleting Apps on Your iPhone
If you often hand over your iPhone to your kid, you may want to ensure that they do not delete apps accidentally. Considering how easy it is to trigger the jiggle mode and delete apps, it's better to restrict the deletion of the app. Fortunately, Screen Time, the built-in parental control feature, will let you prevent apps from being deleted accidentally.
1. Open the Settings app on your iPhone and choose Screen Time.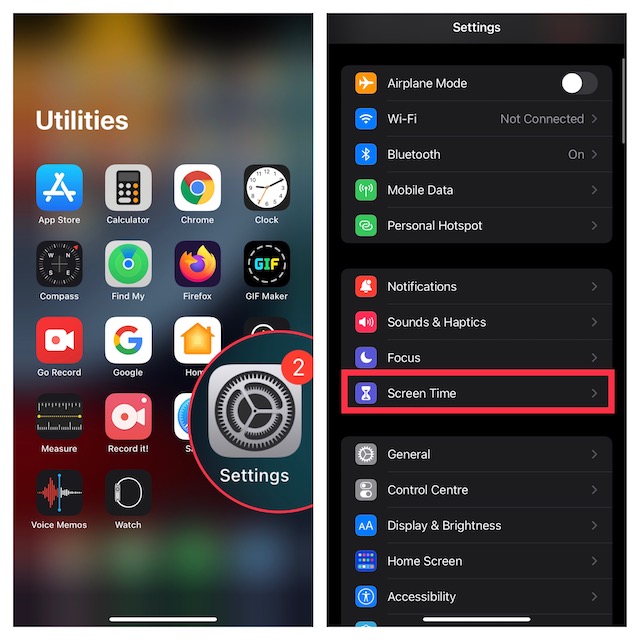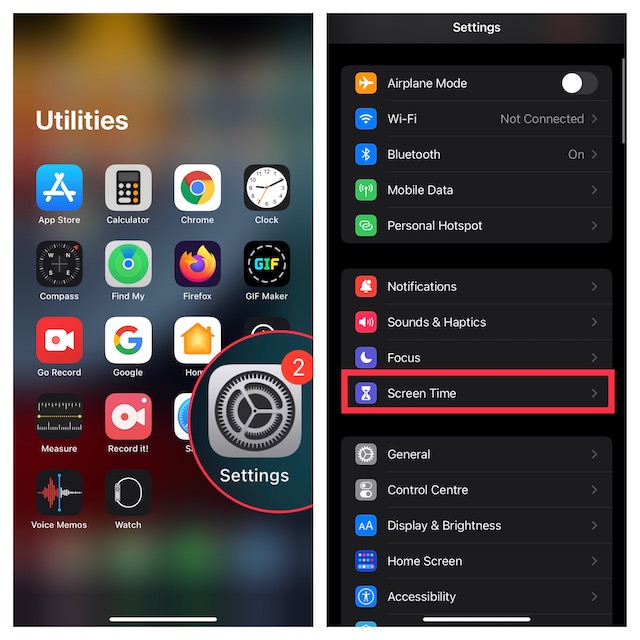 2. Now, scroll down and tap "Content & Privacy Restrictions".
3. Turn on the toggle next to "Content & Privacy Restrictions" and tap iTunes & App Store Purchases.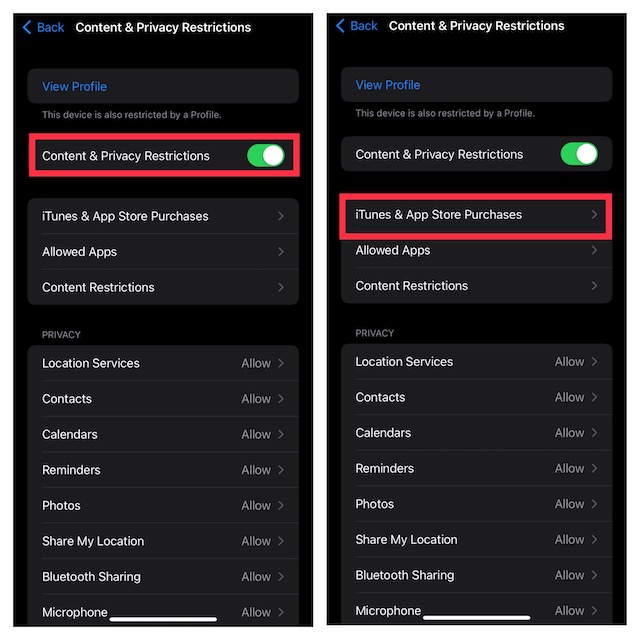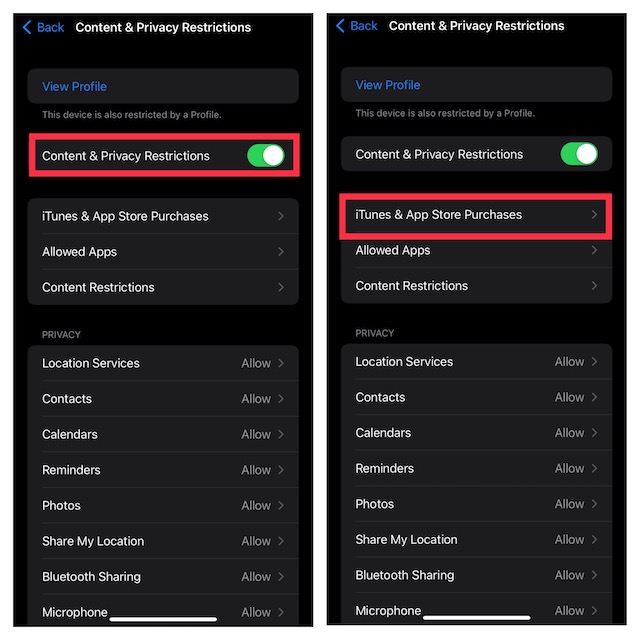 4. Next, tap Deleting Apps and choose Don't Allow.
Easily Delete Apps on iPhone and Save Storage Space
Well those are the ways you can delete apps from your iPhone, whether you want to do so through the home screen, the App Library, or the Settings app. Offloading unused apps is also a great way to ensure your iPhone doesn't run out of storage. However, if you're still unable to recover enough storage on your phone, you should check out how to remove system data on your iPhone to recover even more space on your iPhone. Also, if there is any other way of deleting apps on iPhone that we've missed out on, let us know in the comments.