Apple has always kept music playback as one of its top priorities and the iPod family is one of the most fascinating examples of its music-related innovation. While iPods have become more-or-less obsolete, their philosophy has carried through iPhones and services like Apple Music. But, if you want to play local music files or want a more personalized music experience on your iOS device, we have listed out some of the best iPhone music player apps that you must try. These apps let you not only enjoy your own offline music but also support host of cloud-based sources. They also support most of hi-res music file formats, to give you the best listening experience. So, if you are interested, here are the 12 best iPhone Music Player apps that you should use in 2020.
Best iPhone Music Player Apps of 2020
Before we begin, I should reiterate that this article is for people who are looking for offline music players. If your are looking for music streaming apps for iPhone, click on the link to the check them out.
1. Vox Music Player
Focussing on a fluid and intuitive interface, Vox Music Player is among the best offline music player apps for the iPhone, iPad, or other iOS devices. Interaction with the music player relies on swipe gestures, thereby eliminating basic playback buttons from the interface. While play/pause works by tapping anywhere on the player window, while you can swipe left or right to change tracks. Swiping up open the queue whereas swiping down can close the current window and take you to the penultimate menu.
Additionally, Vox Music Player has an inbuilt equalizer with a score of presets and a graphical interface to suit the sound according to your taste as well as a dedicated option for gapless playback. Besides playing locally saved music files, you can also link your SoundCloud, LastFM, and Spotify accounts in Vox Music Player to enjoy all your music in one place. Lastly, Vox also offers a phenomenal Mac app for playing offline music, ensuring you get the same experience across devices.
Install (free)
2. Radsone Hi-Res Player
Radsone Hi-Res Player promises analog-quality audio and has a score of options to enhance the playback quality over other iPhone music player apps. One of the key highlights of this music player is Distinctive Clear Technology (DCT) which optimizes sound to suit different music listening scenarios by eliminating the losses due to digital compression. You can choose from different presets for earphones, car infotainment systems, or external speakers, and change the values as per your preferences. Apart from this, the music player has a very minimal interface and supports basic swipe gestures. Overall, it's a really good offline music player app for your iPhone.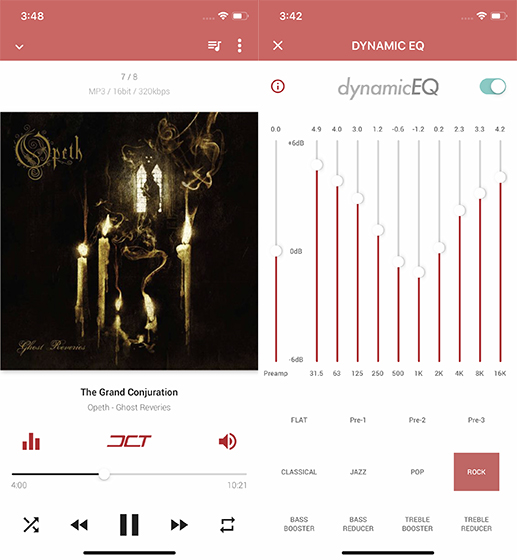 Install (free)
3. Flacbox
Flacbox is perhaps the most versatile music player apps for iOS and among the handful that let you play downloaded music files directly, without going through the usual route of synching your music library with your iPhone, iPad, or iPod. Flacbox features support for multiple high-quality audio formats like FLAC, MP3, AAC, OGG, M4A, WAV, AIFF, and many more and you will be able to seamlessly browse music stored on your cloud storages including Google Drive, OneDrive, Dropbox, Box, MEGA, and a few more. At the same time, you can also use Flacbox to play music from storage or computer casting media over DLNA protocol.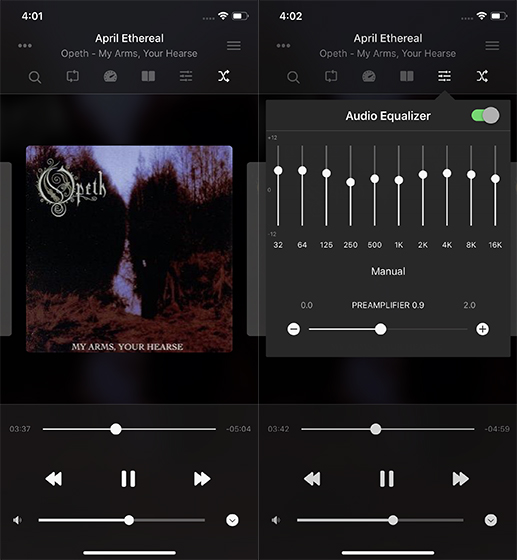 The player interface is powerful, too, and gives you options like an inbuilt equalizer, playback speed control, and a unique feature to bookmark your favorite part of a particular track (at a particular timestamp). Flacbox will especially be admired by new iPhone users who have recently switched from Android because of the flexibility it offers.
Install (free)
4. jetAudio
Another great player for iPhone users seeking various options to tweak playback, jetAudio is developed by the South Korean company COWON which manufactures portable media players. The jetAudio music player app on iPhone shows the majority of playback options within the main player screen itself and each of the options can be accessed by tapping on the respective icon. Besides this, the player supports a host of tap gestures including a single tap on the album art to toggle lyrics, double tap for play/pause, triple to cycle between shuffle or loop modes of playback. Besides an extensive equalizer, the music player also features a sound enhancer to improve the bass, depth, pitch-shifting, as well as other reverb options.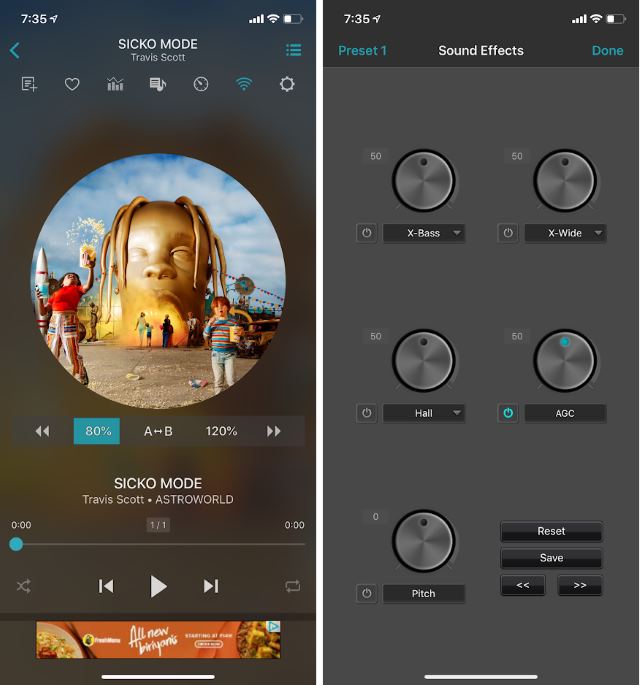 You can also buy the paid version of jetAudio for $3.99 to remove ads and unlock the theming options or purchase additional sound-enhancing plugins to refine your experience.
Install (free with ads, paid version for $3.99, in-app purchases starting $2.99)
5. Onkyo HF Player
Onkyo HF Player is designed to offer you the best hi-res music playback experience, which it achieves by optimizing the sound based on the make and the model of headsets. The player supports a bunch of popular headsets from Philips, Pioneer, and Onkyo itself, apart from Apple EarPods. While the player interface is very minimal and designed for utility, it scores big when it comes to the customization options, including a 10-band equalizer and the option to download EQ presets based on different artists. For those who want superior audio quality, the HD Player Pack can be unlocked for $9.99 which adds the support for up to 24-bit files and high-quality formats like FLAC, WAV, etc. Furthermore, the paid version also eliminates ads, even though they may not be as intrusive as jetAudio.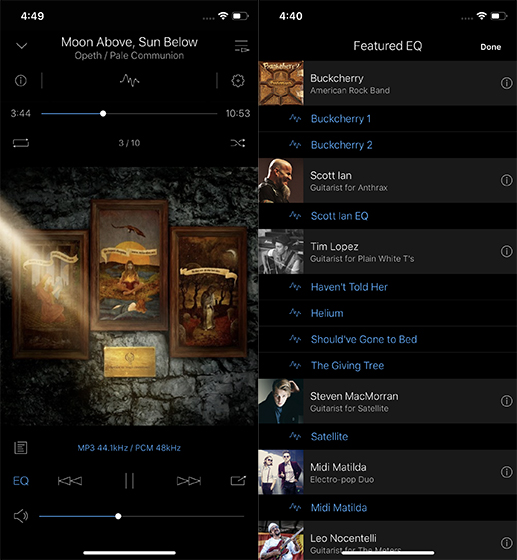 Install (free with ads, paid version for $9.99)
6. Foobar
Offering support for a vast array of music file formats, Foobar gets full points for both simplicity and utility. The playback interface only features the essential options alongside a rich settings interface. In Foobar, you can either sync your library or add a variety of high-resolution music file types including MP3, MP4, AAC, Vorbis, Opus, FLAC, WavPack, WAV, AIFF, Musepack. The Settings page lets you customize playback through a score of options including a comprehensive DSP effects manager for features like crossfade, an 18-band equalizer, the ability to downmix channels to mono or stereo, and much more. If you want a multifarious music player with a clean interface, then Foobar is definitely one of the most flexible iPhone music player apps.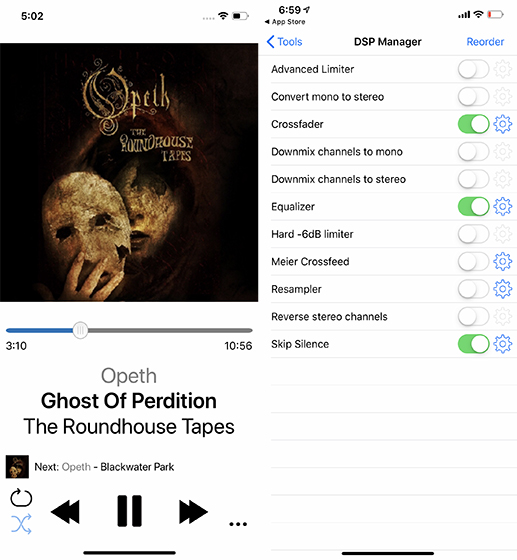 Install (free)
7. ARIIA
Road trips are incomplete without music but any distraction while driving can often be disastrous. As a solution to this problem, ARIIA music player offers an immersive experience, which only works in the landscape mode and includes only the most basic music playback option. The simple interface allows you to move back and forth in your library by swiping left or right across the display. By swiping upwards from the bottom, you can change the volume of the playback and by swiping downwards with two shows information about the current track. Furthermore, play and pause can be toggled simply by tapping anywhere on the player interface, making ARIIA a convenient music player for the iPhone and other iOS devices, and possibly the best one for on-road voyages.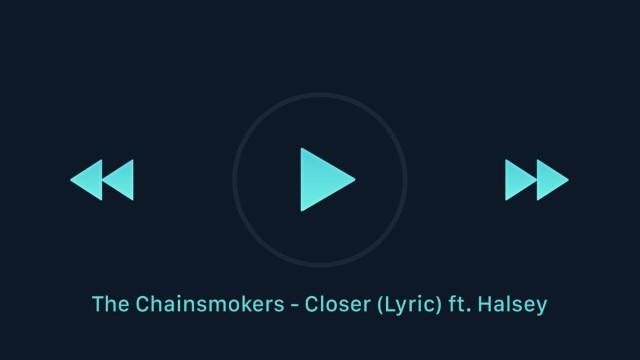 Install (free)
8. New Monaural
New Monaural is a clean and simplistic music player with a quirky feature for aurally-impaired users who can hear with only one of the ears, or unequally from both. The music player converts stereo (or binaural) tracks into monaural ones by smartly layering both the channels over each other, letting the specially-abled enjoy stereo tracks with just a single ear. Alternatively, it can also be handy if you want to (or have to, for any reason) use only one side of your earphones or headphones and leave the second ear open to sounds from the surrounding. Moreover, this feature can also be used to provide a surround sound experience on wired or wireless speakers with a single driver.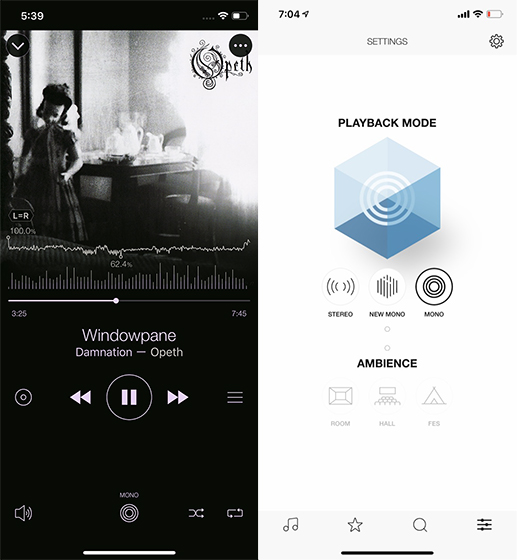 Install (free)
9. Jams On Toast
Jams On Toast is a music player app for iOS with an emphasis on organizing music in the form of individual records and albums. Inspired by the age of vinyl records, Jams On Toast shows you an album-wise layout, and also lets you tidy up the interface by stacking albums on top of each other. The entire stack is played in the order of the track numbers with no shuffle option, and while that might irk you, the idea is to make you recall the era when gramophones were the only means to play music. There are little visual elements including a rotating album art icon to add a sense of nostalgia to your music listening experience.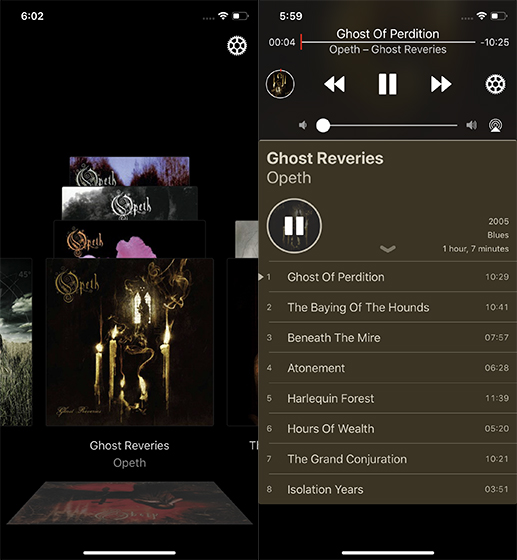 Install (free)
10. Cesium
A nifty combination of attractive looks and ease-of-use, Cesium lets you take control of your iCloud library seamlessly, grouping tracks based on albums, artists, or simply showing a list of all the tracks. When it comes to navigation, Cesium aces with its swipe gestures. You can either play an album, artist, or playlist or shuffle it by swiping from left to right and doing the same on a track reveals the metadata associated with it. By swiping left on a track, you can add it to the queue. Besides these intuitive gestures, you can also choose between day and night modes – or set it to change automatically – and use RGB sliders to change the default accent colors.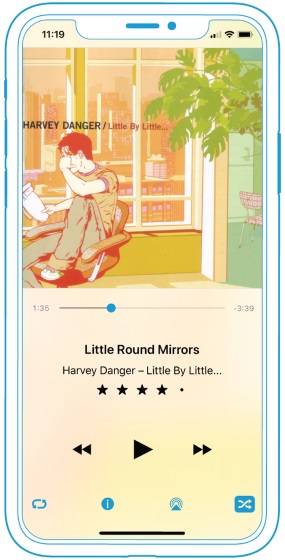 Install ($1.99)
11. Stezza Music Player
For keeping all of your music perfectly organized, Stezza Music Player could be a fine option. This app is more geared towards offering a simplified experience thanks to an intuitive interface coupled with easy-to-use tools. Beyond simplicity, Stezza is also quite good at customization. You can use the adaptive album themes to make your albums look pleasing to the eyes. One of my favorite features of this app is a color theme that adds a touch of elegance to the music library. Long story short, Stezza Music Player is what you should use to manage your iPhone and iPad music without getting into complexity.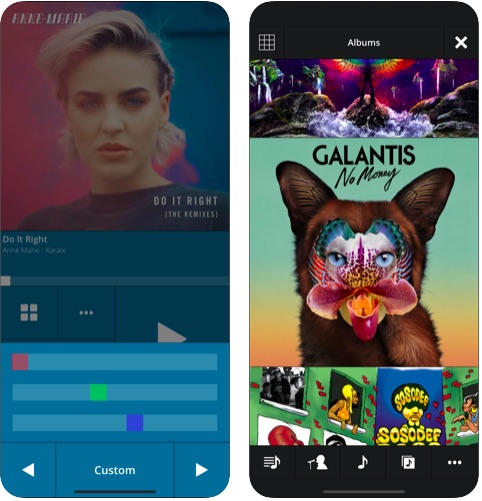 Install: ($2.99)
12. Ecoute
Claiming to be a beautiful music player, Ecoute has got all sorts of tools to warrant attention. But unlike most of its counterparts, it has kept the user-interface minimal so that there is less amount of learning curve. Aside from the clutter-free UI, the app features several cool gestures that let you control your music fast. For a customized experience, you can add different options like "add up next" "shuffle by albums", "play next", and even manage the now playing queue just the way you want. With the support for AirPlay, you can even beam your music from your iPhone/iPad to the compatible devices. On top of all, Ecoute is integrated with Twitter and Facebook so that you can share your favorite tracks with your buddies.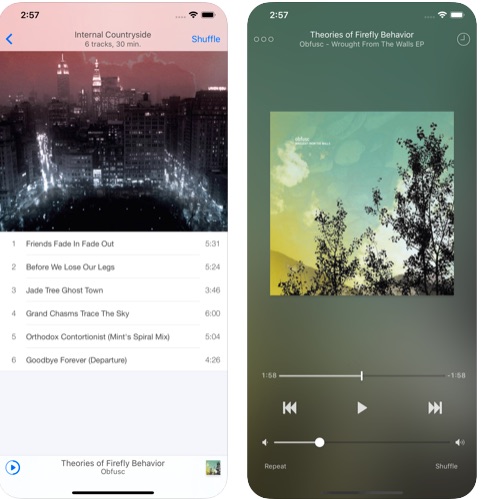 Install: ($0.99)
Best iPhone Music Player Apps You Should Use
We hope these music players will enhance your experience of listening to music on your iPhone or other iOS devices. These apps will not only widen the gamut of file formats that you can access on your iPhone but should also inspire you to further enrich the quality of audio by tweaking the equalizer and other sound enhancement settings.
One thing to note here is that macOS Catalina has killed iTunes. So, if you are having any syncing problems, you should check out our list of iTunes alternatives. Okay, that's all from us, go ahead and try out some of these apps and let us know which among these is your favorite music player for iOS in the comments below.