While Apple bundles a music player right inside every iPhone they sell, most people don't really like it. Honestly, I'm not one of them. I don't mind that the Music app tries to do a whole lot of things; because while it does attempt to fulfil a lot of requirements, it does it quite well. At least, well enough for me. However, that's not to say it's the best that a music player can be. The App Store is full of music players for iPhone that far surpass Apple's own offering. So, we have compiled this list of the 10 best music players for iPhone. If you dislike the Music app on your iPhone, we're sure you'll find an app that you love, right here, in this list. So read on.
1. Cesium
Cesium is probably the only third party music player that almost everyone seems to recommend to everyone asking for a music player app; and for good reason. The app is great. It automatically hooks into your Music library (including your iCloud Music Library, if you use it), and shows all of your songs in a simple, yet appealing interface. Songs that are not available on your device, locally, but are added to your iCloud Music Library are available to be downloaded. If, however, you only want to see your local music, you can simply turn off "Show iCloud Items" in the app's settings.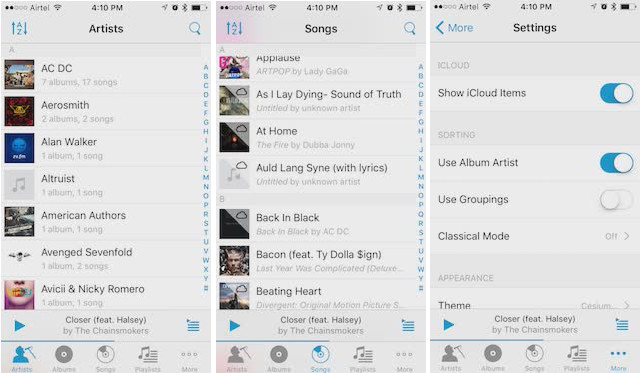 Apart from that, the app offers some neat swipe gestures. You can swipe left or right to explore a variety of functions for the swiped item. For example, if you swipe left-to-right on an Artist, you will be shown options to play songs by that artist, or to shuffle them. Similarly, swiping right-to-left, exposes options to "Play Next", or "Add to Queue".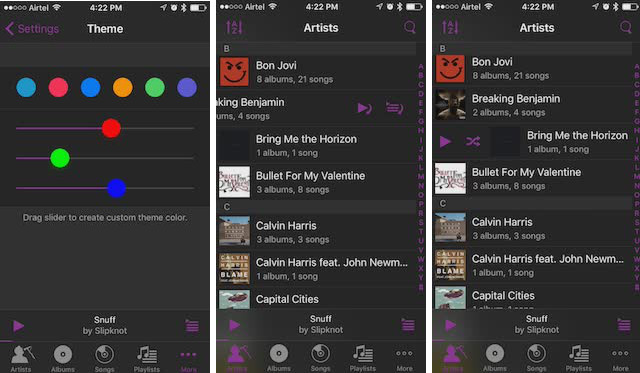 The app also comes with a night mode, and personally, I love the dark UI that Cesium offers. The settings offer a lot of customization, including the brightness at which Cesium automatically switches between Night and Day modes, as well as an option to set the UI of the app to a custom colour, by adjusting the RGB sliders inside "Settings -> Themes".
Install (Paid, $1.99)
2. Marvis Music Player
The Marvis Music Player is another really nice music player for the iPhone. Except for the list of songs on your device (local, as well as those from iCloud Music Library), everything is displayed in a nice 3 columned view, with album or artist images as the cover. The song list is just that – a list. The app also allows swiping between screens, which is definitely a plus, considering that the navigation icons are just way too small to be accurately tapped all the time. The app has a dark theme by default, and a light theme can be unlocked via an in-app purchase.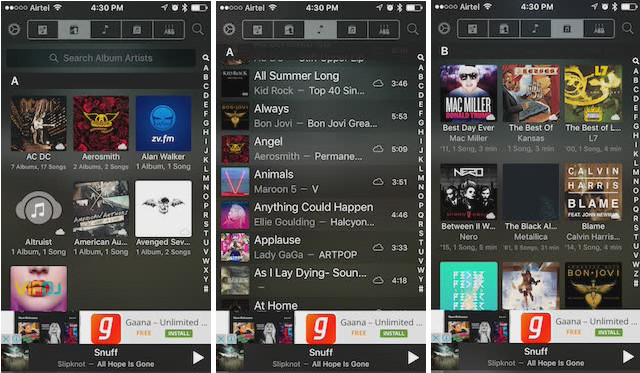 The app also uses a rather unique way of displaying views. Instead of segueing to a new view when you tap on, say, an album, the app expands the album contents right below it, which looks very graceful. However, the app is ad-supported, so get ready for some really intrusive looking banner ads on the bottom of the page. The good news is, you can get rid of the ads with an in-app purchase.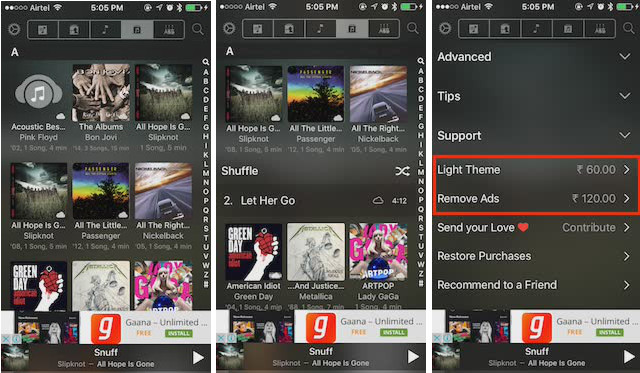 All in all, the app is definitely worth a try if you're looking for a free replacement for the Apple Music app, which does everything a music app should do, and looks good, albeit a little cluttered at times, probably because of the ads.
Install (Free, with in app purchases)
3. Boom: Music Player
If I was to talk about customisability, Cesium would take the crown, and Marvis is one of the best free music players, however, Boom is one music player that brings something completely new to the table. Boom is a music player that offers a variety of really cool predefined equalizers, along with a fully customisable 5.1 surround sound feel to any pair of headphones that you might want to use, including in-ear earphones, over the ear headphones and more. You can choose the type of headphones you're using in the settings for the app.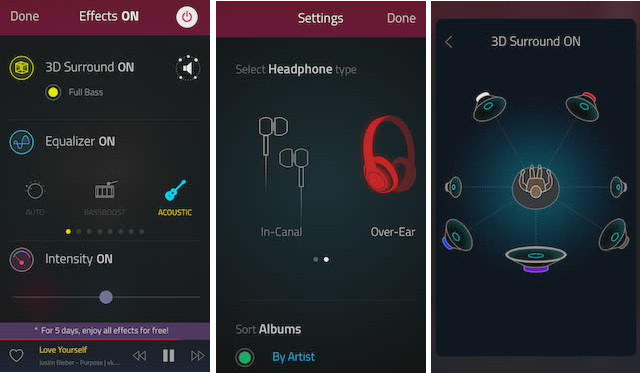 The devs claim that "Extensive use can cause addiction", which is actually kind of true. That level of customisability in the sound quality is addictive, especially if you listen to music for prolonged periods of time. The interface of the app is clean, and while it is not really "intuitive", the app walks the user through the major UI elements, so you can get started off really quickly. I especially loved the way Boom displays playing music, and also allows to swipe left and right to change between tracks. The app's sound effects are free to use for 5 days, after which they can be purchased, should the user want to continue using them.
Install (Free, Sound effects at $4.5)
4. ARIIA
Personally, I love an app with a good UI and ARIIA hits the bullseye with its clean and minimal UI, tasteful colour profiles, and a really nice dark and light mode. ARIIA also happens to be a gesture controlled music app, designed specifically to help you listen to your music while you're driving. That's where the gestures come in handy, because you can't really look at your phone screen while driving; or you shouldn't, at least. ARIIA comes with really easy to use gestures to control your music, so you can swipe left to go to the next song, right to go to the previous song, swipe up with one finger to increase the volume, and swipe down to decrease the volume.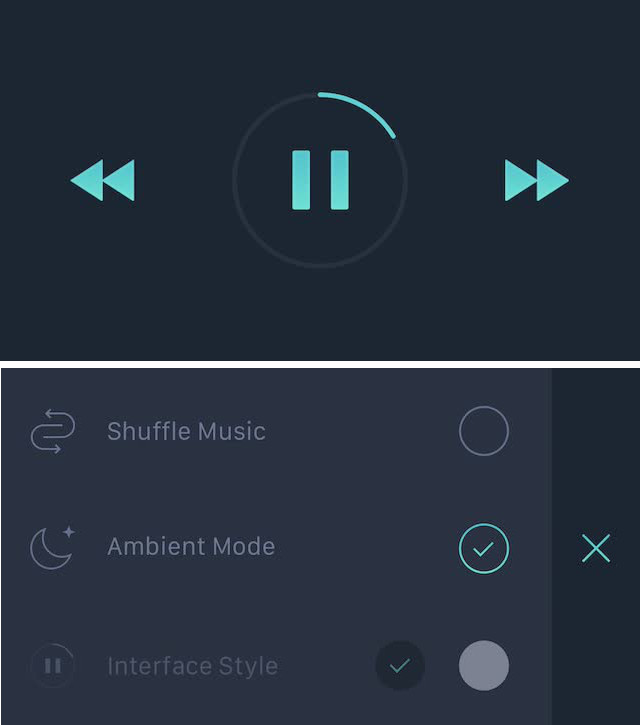 The only drawback I can see with ARIIA, is the lack of ability to choose a playlist that you want it to play – that is, unless you first launch the Music app, play a playlist, and then switch over to ARIIA. So, yeah, a bit of a workaround, but otherwise the app is great.
Install (Free)
5. jetAudio
jetAudio is a free music player for iPhone that has a lot of cool features not available in other apps. The app automatically hooks into your music library, including songs that are in your iCloud Music Library, and is ready to go the moment you launch it. There's a dark interface, which is decent enough, and the Now Playing view has some great options on the top of the screen, including things like an equaliser, customisable sound effects, as well as a sleep timer so that you can set your music to stop automatically after a particular amount of time.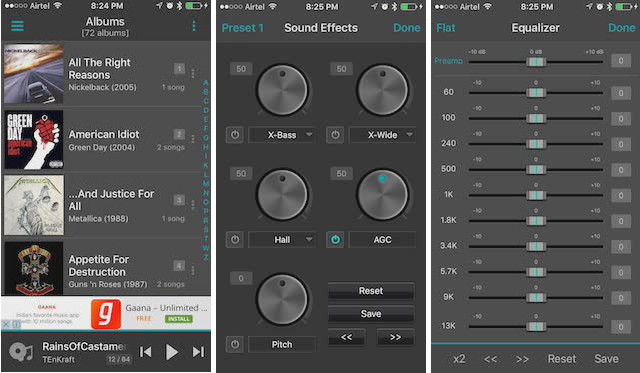 One really cool feature offered by the app is the ability to create a server that you can access on your computer (over the same network), to upload files directly to your iPhone. However, this does not use any passwords, and anyone who knows your iPhone's IP Address can easily upload anything they want onto your device, so be careful. The app is free, but you'll have to put up with banner ads on the bottom of the screen, which are rather annoying.
Install (Free)
6. Taptunes
Taptunes is another really great music player for iPhone. The interface is great and has a lot of different views for the way albums are displayed on the home screen, including some really cool (albeit, not useful unless you have a very small music library) views for your albums. The only issue with the app is that it only displays the albums; sure, you can search for artists, and songs, but Taptunes provides no way to look for playlists, or even to create one.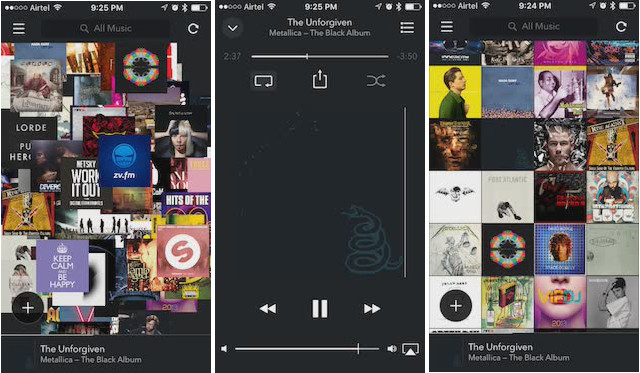 That said, the app is great in every other way. It even has some really nice gestures to control playback, including gestures for swiping between songs, playing or pausing music, and controlling the playback volume. It also supports AirPlay.
Install (Paid, $2)
7. Ecoute
Ecoute is another really great music player for your iPhone. It offers a plethora of features such as compatibility with AirPlay, ability to stream podcasts, as well as support for Last.fm. But that's not all there is to love about Ecoute: The app offers a simple UI,  and a very beautiful Now Playing screen. The app also comes with light and dark themes, and you can change the settings to automatically switch between light and dark mode depending upon the brightness of your screen.
Note: The settings for the app can not be found inside the app, instead, they are accessible through the Settings app, by going to Settings -> Ecoute.
Overall, the app is very smooth in performance, and the animations are really nice. Users can also choose between a grid or a list display for the app.
Install (Paid, $0.99)
8. Listen: The Gesture Based Music Player
Listen is another gesture based music player. Compared to the only other gesture based music player for iPhone in this list (ARIIA), Listen has a decent UI, and falls down on some of the gesture choices. The app does offer some really good features, such as the ability to show or hide songs in the iCloud Music Library, as well as a toggle for "Shake to Shuffle", and is better than ARIIA in just that – It lets users decide what song they want to listen to, from right within the app. Overall, the app is decent enough and worthy of a shot, however, if you're used to ARIIA, the gestures in Listen might feel awkward.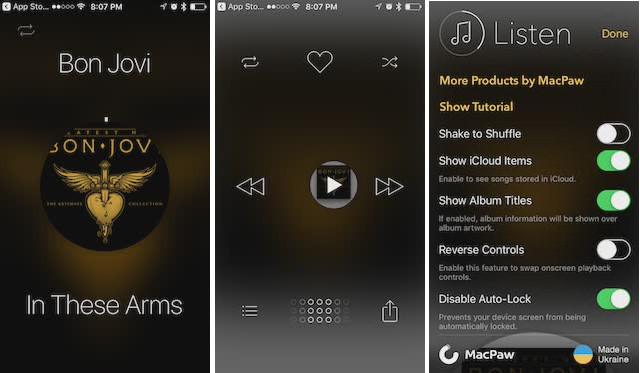 Install (Free)
9. Songbucket
Songbucket is another great free music player for iPhone. The way it works, is that you can add songs, or albums to buckets, which you can fill out, or completely empty according to your mood – kind of like a playlist. The app has a decent UI, and the dark theme used by the developers looks good. There's a box on the bottom that can pulled up to reveal the currently playing track. However, the basic play/pause, shuffle and repeat controls are right there to be accessed without having to pull the now playing tab up.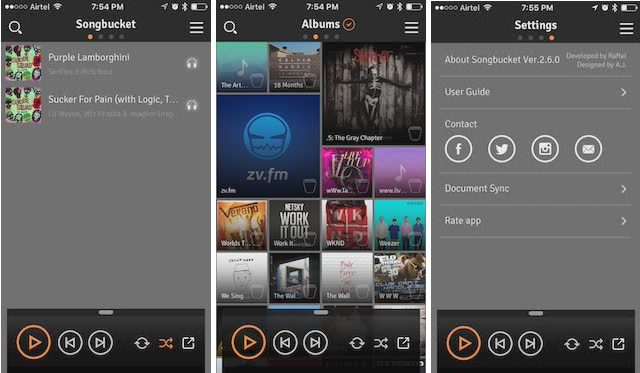 Install (Free)
10. Beat Music Player
Beat music player is a really minimal music player for iPhone. It has all the basic features one expects from a music player, all packed into a really great design. Not only that, the app has a lot of gestures that can be used to control playback on the app, as well as adjust the volume, change the views between songs and artists, and my personal favourite, pinching on the Now Playing screen to go back to the playlist. It really gives the app a feeling of depth. There are also some really great themes available in the app, along with some other locked themes that can be purchased.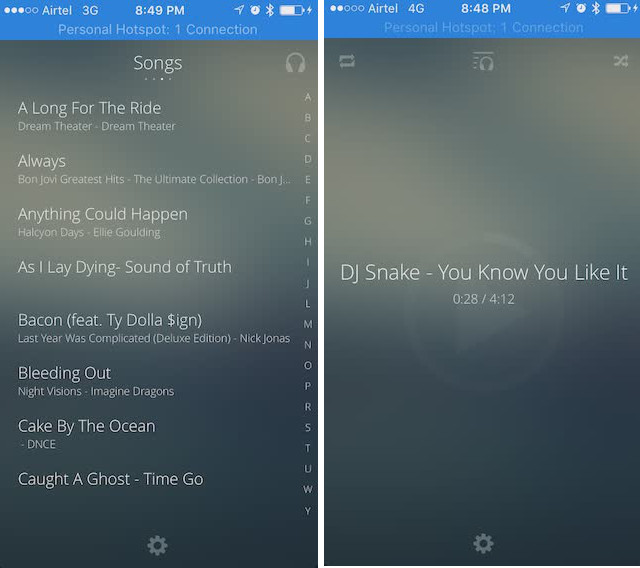 Install (Free)
SEE ALSO: How to Set Sleep Timer for Music on Android and iPhone
Music Players for iPhone: Listen to Music on the go
We've done the hard work for you, and all you need to do now, is pick your favourite out of this list, and start playing your music. There are a lot of other apps out there, but in my opinion, these were the 10 best apps to play music, offering different features, and some really important ones. If you think we missed out on an iPhone music player that deserves to be on this list, do let us know in the comments section below. We would also like to know about your favourite music players for iPhone, and what features do you use and like the most.