Whether it's the authorities wanting to keep tabs on you, advertisers keeping track of your activities for target ad delivery or more nefarious third parties trying to steal data, there is always someone watching wherever you go online. These five software tools will help to protect your privacy online , and they're all free too.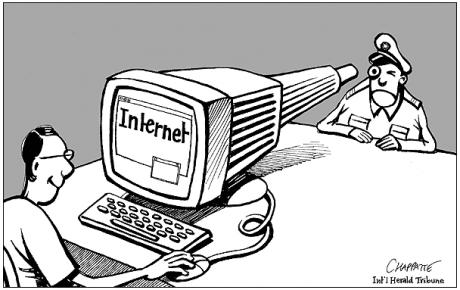 1 – Hotspot Shield
This is a free VPN service which encrypts all your internet traffic to make it more difficult for eavesdroppers to intercept your communications. Use of a VPN is highly recommended if accessing sensitive information such as email or bank accounts on a public internet connection.
There are a ton of VPN services out there but Hotspot Shield is particularly handy for two reasons: it's free, and the application itself is a no-brainer. It couldn't be simpler to use. The downside is that being free means you'll see the odd advert and it is going to be a bit slower than a paid VPN link, but if you just need something for occasional use this is the perfect solution.
2 – Microsoft Security Essentials
Bank details and account logins are a prime target for hackers using trojans so anti-virus is a must to protect your privacy online. Microsoft might not have a brilliant track record when it comes to security but the MSE tool is actually a brilliant anti-virus and anti-spyware app. It integrates smoothly with Windows and has a minimal impact on performance.
Alternatives are AVG, Avast and Avira. Worth noting that all of these are free – you do not need to pay for a Norton or McAfee license to protect a computer from viruses. In fact Norton and McAfee often rank lower than the freebies in virus tests.
3 – CCleaner
Web browser cookies and history can reveal a lot of information so you need to keep a handle on this data. CCleaner is not strictly an 'online' privacy tool, but this Windows app scans your hard disk for cookies, browsing history, application history and other tidbits, then deletes them all in one fell swoop. As well as freeing up some hard disk space this also helps to protect your privacy when web browsing.
CCleaner also has some advanced functionality which includes the ability to securely delete files, wipe empty hard disk space and set up custom folders for scanning and erasing.
4 – SUPERAntiSpyware
While you should be running a proper anti-virus suite it's not a bad idea to use a second anti-spyware tool. The two will coexist quite happily and often the dedicated anti-spyware apps are far better at catching stuff missed by AV programs, including all those tracking cookies.
The silly name doesn't help, but SAS is actually an extremely efficient anti-spyware tool which will catch sneaky bits of malware others miss. The basic version is free as well, though if you want real-time scanning and on-schedule scans you'll need to pay for the Pro edition.
5 – Tor Browser Bundle
The Onion Router network (Tor) was designed from the ground up to offer users anonymity. It routes traffic through servers spread all over the world, protecting it with layers of encryption (hence the onion moniker). Tor is a popular choice for whistleblowers and citizens of countries with restricted internet access. The Browser Bundle was created by the Tor organisation and provides an all-in-one security package with no user configuration required, simply unpack the compressed file and run the .exe, it loads up a portable version of Firefox which automatically connects to Tor.
In order to best protect your privacy when using Tor you should try to connect only to sites within the Tor network (indicated by an address ending .onion), avoid logging in to email or other services and be careful when accessing sites which use Javascript, Flash and other scripting as this can leak your identity.
---
Load More