Instagram Stories has long offered a 'swipe up' feature to help influencers, businesses, and verified accounts share links with their followers or anyone who views their Story. However, the Facebook-owned social media platform has now retired its popular swipe-up links feature in favor of a new approach — Link Sticker. Yeah, instead of swiping up, you will now need to tap on a link sticker to check out the content shared in Instagram Stories. In this article, we will teach you how to add links to Instagram Stories using Link Stickers.
Add Links to Instagram Stories: A Step-by-Step Guide (2021)
Instagram was initially testing Link Stickers to let everyone add links to Stories, but it looks like the feature will remain exclusive to influencer/ business accounts with over 10,000 followers or verified accounts. Hence, if you previously had swipe-up links, you will automatically see the link sticker while editing a story.
We have added instructions to get started with Instagram Stories 'Link sticker' along with details on why Instagram removed swipe-up links in this article. There's also a quick comparison between swipe-up links and the new link sticker, so dive right in!
What is a Link Sticker in Instagram Stories?
As of August 30, Instagram has deprecated swipe-up links and moved its functionality to Link Stickers. Link Stickers is essentially a new way for influencers and eligible accounts to share links with their followers through Instagram Stories. Instead of swiping up, users will now have to tap on the link sticker that creators add to their Stories. For example, take a look at the new Instagram Link Sticker below, from a viewer's perspective: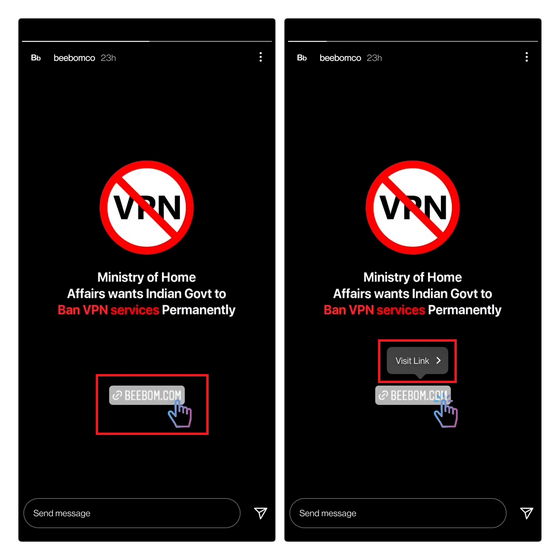 You will see the link sticker with the domain name and top-level domain in the preview. To visit the link, you will have to tap on the link sticker twice. Tapping it for the first time will reveal a 'Visit Link' button. Then, you need to tap on 'Visit Link' to open the linked website in your favorite web browser. It's worth mentioning that the total number of links you can add through the 'Link sticker' in your Instagram Story is one.
Add Link to Instagram Stories Using Link Sticker
1. To get started with link stickers, open the Instagram app and swipe left from the home feed to enter the Story creation UI. Here, pick an image from your gallery or choose the 'Create' (Aa) option for a colorful background. Then, press the Sticker icon at the top of the screen.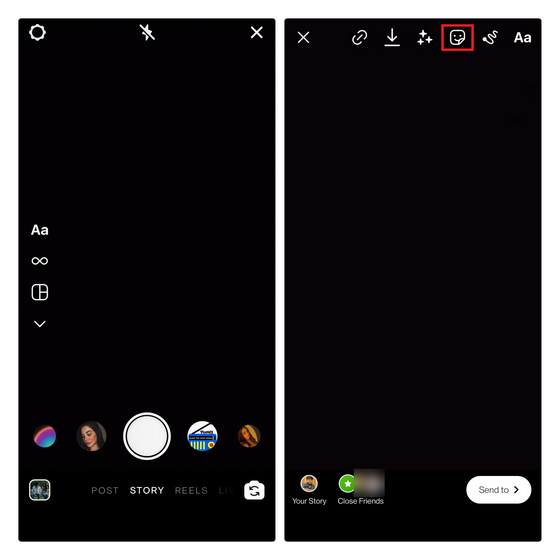 2. When the Stickers panel opens up, you will notice there's a new Link sticker. Tap on it, and you will see a textbox to add the URL of the website you would like to share with your viewers.
3. After pasting the URL, tap 'Done' at the top right corner to add the Link sticker to your Instagram Story. Then, you can place the sticker anywhere in your Story and add a call to action GIF to highlight it.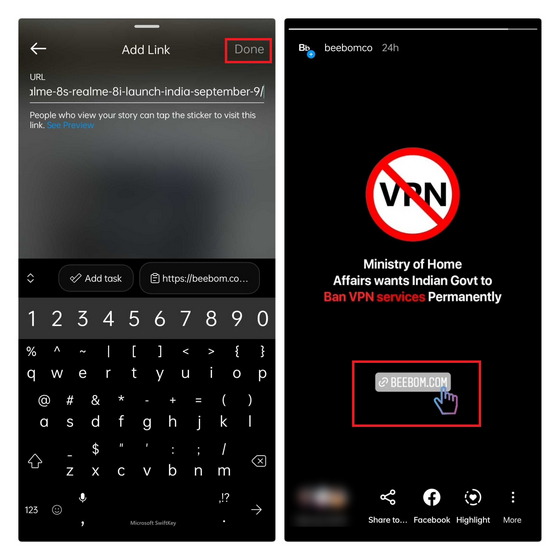 Add Links to Instagram Stories Without 10K Followers
If you don't have 10,000 followers or a verified Instagram account, use this nifty IGTV trick to direct users to your desired website. So let's see how you can add links to your Instagram Stories without 10,000 followers:
1. As mentioned above, the trick to share clickable links in Instagram Stories involves posting an IGTV video. You can post videos that are between 59 seconds and 15 minutes long on IGTV. Press the '+' icon at the top right corner of your profile and choose 'IGTV Video' from the pop-up menu to upload a new IGTV video.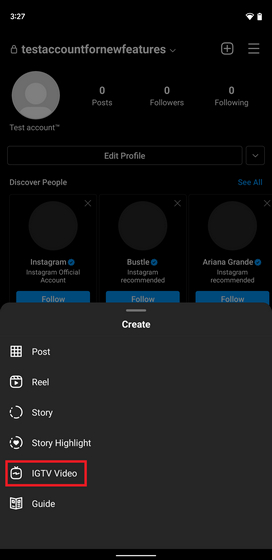 2. Before posting the video, add the link to the website you would like to share in the description. This is important because the swipe-up link will direct viewers to the IGTV video, and you will then have to clearly ask followers to check the description for the website link. Once you have added the link in the description, hit the 'Post to IGTV' button to share the video.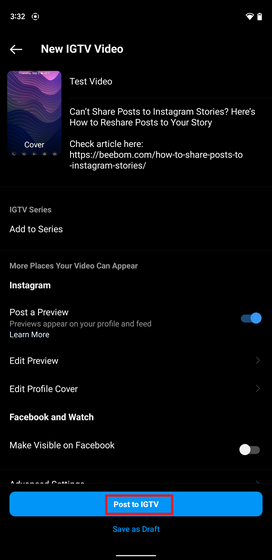 3. After posting the video, you need to share it on your Instagram Story. Follow this nifty guide to learn how to share posts, reels, and IGTV videos to Instagram Stories using the new 'Reshare' sticker.
4. Your viewers can now tap on the IGTV video in your Instagram Story to see a 'Watch IGTV video' option. Tapping on the 'Watch IGTV video' option will take them to the video. Now, when your viewers check the video's description, they will see a clickable link that they can tap to visit the website. While this process is not as convenient, it's a clever workaround, especially if you would like to boost organic reach on Instagram.
Why Did Instagram Remove Swipe Up Links?
If you are wondering why Instagram chose to remove the tried and tested swipe-up links from the platform, here's what the company said. In an interaction with The Verge, Instagram points out that swipe-up links are being retired to "streamline the stories creation experience" and offer more "creative control".
So, what additional feature do you get with link stickers? Well, there are two key benefits. Unlike swipe-up links where you can't decide where the swipe-up action should appear (at the bottom by default), you can choose to place the link sticker anywhere in your Story. You can also resize the stickers so that it's fairly visible to the viewer.
Another advantage of link stickers is the ability to reply to Stories with links. Viewers can't directly DM the creator from a Story with swipe-up links because the swipe-up link UI replaces the DM text bar. However, that's not the case with link stickers. You can still send the creator a message while viewing the Story, as you can see in the comparison below: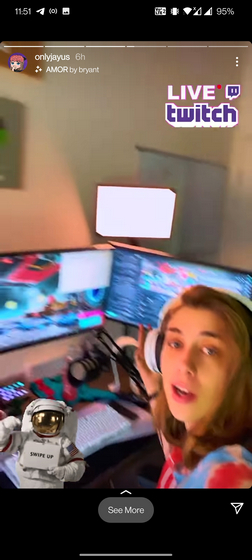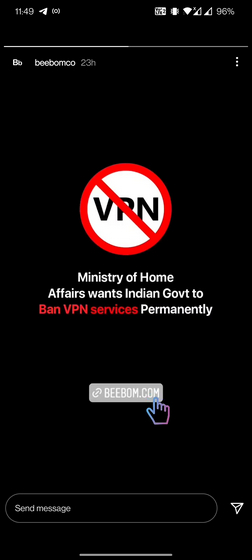 Instagram Swipe up Links vs Link Stickers: Which Is Better?
Comparing swipe-up links to link stickers, it's evident that swipe-up links are more user-friendly. It's popular, everyone is used to it, and it offers a neat way to navigate to links. However, it comes at the cost of directing users to a third-party website. By replacing swipe-up links with link stickers, it seems like Instagram is making subtle changes to retain user engagement.
For example, instead of visiting the website and asking a query in the support chat there, viewers could directly contact the creator through Instagram, which is again time spent within the app. As a content platform that's no longer a photo-sharing app, Instagram's move to retire swipe-up links seems like a conscious decision to make users stay longer on the platform.
Now that you know why Instagram removed swipe-up links in favor of link stickers for Instagram Stories, which one do you prefer? Let us know in the comments section below.
Use Link Stickers on Instagram to Share Links with Followers
So that brings us to the end of our guide to add links to Instagram Stories using the new Link sticker. Meanwhile, if you are not seeing the option to share posts to Instagram Stories, check out our latest guide to reshare posts to your Instagram Story. For more such tips, check out our article on the best Instagram tips and tricks.