Have you recently noticed that the option to add a post to your Instagram Story is now missing? If yes, you are not alone. Instagram is intentionally making the process of resharing posts to Stories more complicated. It is now testing a new "Reshare" sticker, so you are more conscious about what you choose to reshare on the platform. If you are part of this test, you will not see the post-sharing option you are used to. So we will walk you through the new method to share posts to your Instagram Stories in this article.
Reshare Posts to Instagram Stories (2021)
Even though Instagram's new test for sharing Instagram Stories is annoying, some lucky folks are still seeing the old option to share posts to their story as well. In this article, we will cover how to share Instagram posts to stories using both of these methods. You can use the table of contents below to skip ahead to the method you want to learn about.
Share Instagram Posts to Stories Using the New 'Reshare' Sticker
The new method of sharing posts to Stories includes a new 'Reshare' sticker. When you access this sticker, you will see the posts you have viewed in the past hour. You will also see dedicated tabs to view saved posts and your own Instagram feed. With all that said, here's how to use the Reshare sticker to share posts to your Instagram Story.
1. Open Instagram's Camera by swiping right on the home feed and tap on 'Create' under the Story section. Once the text editor appears, press the Sticker icon at the top of the screen.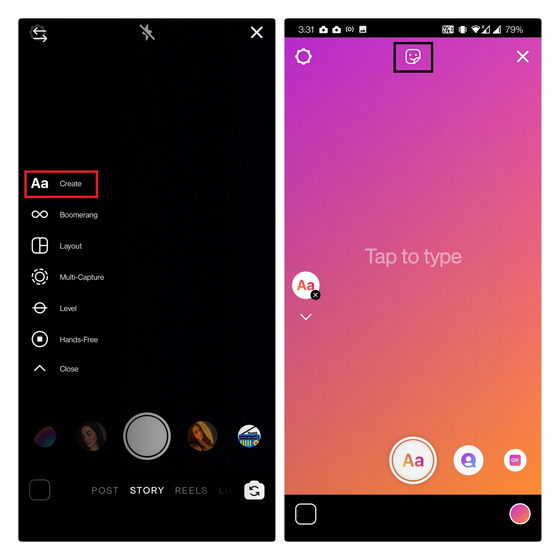 2. From the list of available stickers, select the 'Reshare' sticker. You will now see all your recently viewed posts, IGTV videos, and Reels. Pick the one you would like to reshare on your Instagram Story.
3. You can then choose to change the background color of the Story by tapping on the color icon in the top-left corner. Pick the color you like and tap on 'Your Story' to add to your Instagram Story or 'Close Friends' to share it with your close friends list.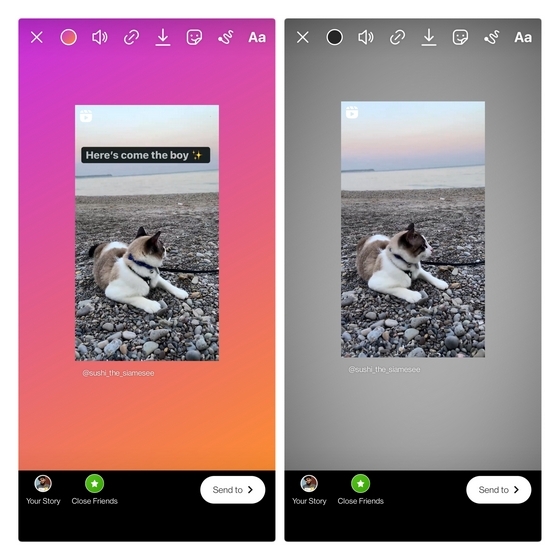 Share Instagram Posts on Stories Using the Original Method
Instagram's tests for the new story sharing mechanism don't seem to be very widespread. So, if you're not seeing the 'Reshare' sticker on Instagram, here is how to share posts to your story using the original (less complicated) method.
While viewing an Instagram post, tap on the 'paper airplane/share' icon on the bottom of the post.
In the list of friends that pops up, you will see the 'Add Reel to Your Story' option, simply tap on it.
You can now add text, stickers, and pretty much anything else that you want to add to the story. Once done, just tap on 'Your story' or 'Close friends' depending on where you want to share the story.
That's it, the post will be shared to your Instagram story, and your followers can watch it right from there itself. Personally, I think this is the best way to re-share Instagram posts to story, and hopefully Facebook decides to end the 'Reshare' sticker that's showing up for a lot of people.
Share Posts and Reels on Instagram Stories with Ease!
Although it takes a couple of additional steps to reshare posts, the new sharing feature is not entirely impractical. We will have to wait to see if Instagram rolls out the new Reshare sticker to all users. If you recently found that the post sharing feature is missing and are wondering how to share posts to Instagram Stories, this guide will come in quite handy. You can now reshare posts and your favorite Instagram Reels to Instagram Stories. For more such Instagram tips, go through our article on the best Instagram tips and tricks.