PlayerUnknown's Battlegrounds, better known as PUBG, is all the rage among the gaming community and it has broken numerous records over the previous year. Earlier last week, Tencent launched the much-awaited mobile port of this fiercely popular FPS survival game for Android and iOS devices. But, there's a catch.
The PUBG mobile game is currently exclusive just to China and you're free to install it on your Android or iOS devices. But as my colleague Akshay points out, the Chinese port of the game can be 'equal parts fun and frustrating' due to language constraints. Hence, we have compiled a list of 10 PUBG-style battle royale games you can enjoy on your mobile devices right away:
Best Battle Royale Games Like PUBG Mobile
Note: I tried all the PUBG alternatives on my OnePlus 5T, running Android 8.0 Oreo, and iPhone 8 Plus, running iOS 11.2.1. The games ran quite smoothly and it was a really fun experience.
1. Rules of Survival
If you've tried out the PUBG mobile game, then you will find that Rules of Survival hits close to home and is quite similar to this battle royale phenomenon. In this game, you drop on a massive 8 x 8 km island with 120 other players and have to be the last man standing as the zone pushes you to a center.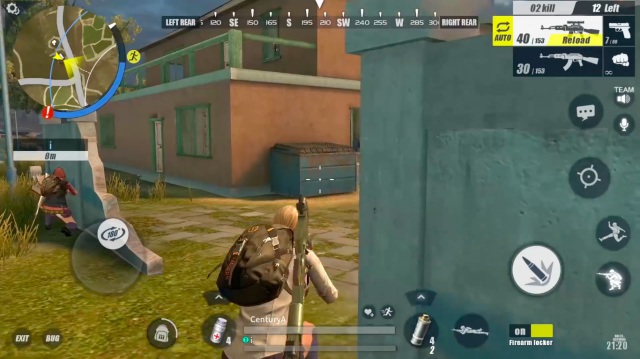 With over 100 million downloads, this is possibly the most popular alternative to PUBG on mobile and I've enjoyed playing this game over the past couple months. The controls are quite simple and the experience is pretty smooth worldwide, thanks to the presence of three different servers across Asia, America and europe.
Download: Android, iOS (Free, in-app purchases start at $0.99)
2. Free Fire – Battlegrounds
If you're not yet comfortable jumping into a high-capacity fight, Free Fire – Battlegrounds could be the game you'd like to try out first. The controls are all on the screen and simple to navigate, but the highlight for you is that only have to go against 49 other users in a 10-minute window to survive until the end. That's a quick game to hone all your skills before an intense battle.
The basics of the battle royale mode all remain the same. You'll drop on a remote island and will have to find good weapons, as well as medkits, and stay inside the safe zone to win the battle. You could also form 4-man squads and talk amongst yourselves to devise a strategy with in-game voice chat. Their graphics are smooth, so you wouldn't necessarily face any lag during the gameplay.
Download: Android, iOS (Free, in-app purchases start at $0.99)
3. Pixel's Unkown Battle Grounds
Any Minecraft enthusiasts in the house? Well, if you're a true fan of pixel-style retro visuals then Pixel's Unkown Battle Grounds could be the perfect opportunity to enjoy battle royale fights on your mobile. You again need to outlast the wrath of the enemies in a block city, where your block figure can shoot with an AK, Pixel Gun, SMG, multiple-barrel, and other weapons to end the deathmatch.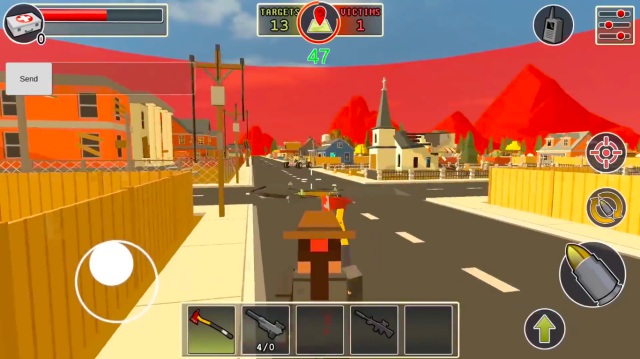 This game is currently under development, so you may encounter a few glitches here and there. I sure did while trying to enter/ exit houses or aiming for a shoot, but all other functions are smooth as butter in the crazy 3D block city. The developers have also tried to simplify the game mechanics by resorting to an auto-shoot mode to help you take down enemies.
Download: Android, iOS (Free, in-app purchases start at $0.99)
4. Black Survival
Adding its own flair to the much-hyped PUBG-style games, Black Survival has now built a cult following among mobile users. This is a fast-paced action title, where you select an anime character and are dropped on an island with 22 different areas including hospital, beach, forest among others. These locations are then locked as the battlefield narrow, so it pushed you to take charge and fight for the top spot in a roughly 20-minute game.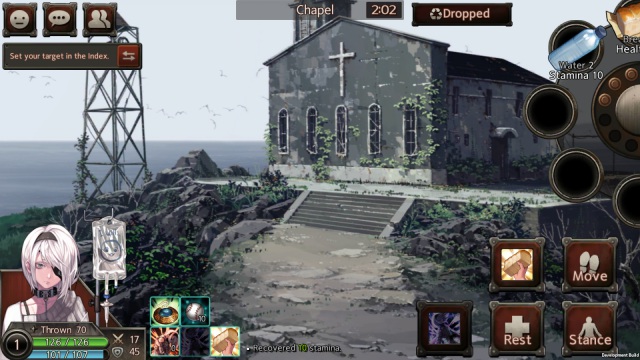 Its unique gameplay can be challenging for some as you will need to be quick on your feet. The different types of characters will render you special abilities and weapons, but you'll also have to memorize recipes that'll enable you to craft about 600 types of weapons, tools, and foods — that's a plus for sure. Overall, it can be a crazy action-packed adventure.
Download: Android, iOS (Free, in-app purchases start at $0.99)
5. Bullet Strike: Battlegrounds
Coming back to the basic premise, the title of Bullet Strike: Battlegrounds says it all. You are dropped on a deserted island with up to 20 players and the last-man-standing is going to take home the crown. You get high-quality 3D graphics, a hefty arsenal, and a chance to test your combat skills in a quick intense battle for survival.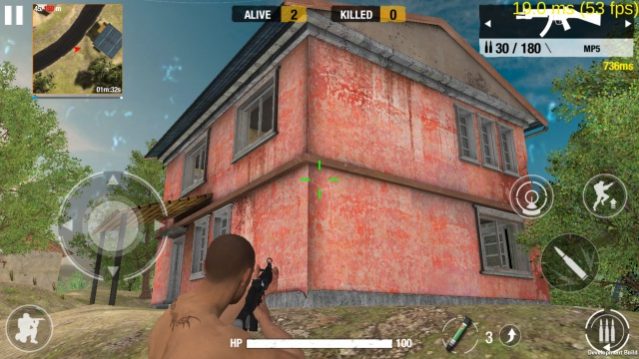 While the gameplay may appear quite similar to every other battle royale game title for mobiles, it was the placement of controls that pulled me in. Some of the most commonly used buttons are well-oriented but the gun changing mechanism can be better. Also, it isn't as fun with just 20 people to fight against and the same should be increased.
Download: Android, iOS (Free, may include in-app purchases)
6. Survival Royale
Not to side with the creators of Rules of Survival, but NetEase Games has managed to bank on all the hype surrounding PUBG in a huge way. Survival Royale is one of the better battle royale experience I've played on my smartphone but the similarities to their original creation are uncanny. There's not much difference here, apart from the large new demographic, 100 players to fight against, and the arsenal of weapons.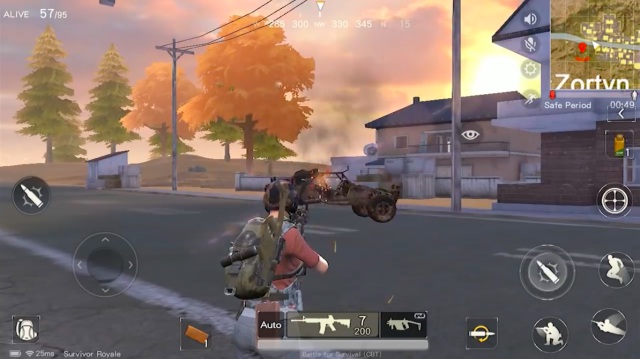 Survival Royale has some stunning graphics, live action-packed combat, and great controls — no matter how small the buttons are. You also get additional modes, such as Fireworks Night where you only firework weapons (duh, so simple) and prop-shields that give you temporary protection against attacks. There are events organized on regular basis, such as the one scheduled for Valentines's Day. So, who you're going to play duos with that day?
Download: Android, iOS (Free, in-app purchases start at $0.99)
7. Knives Out
Knives Out is yet another intuitive and stunning game like PUBG alternative NetEase. To make all their battle royale games differ from each other, it has added unique locations such as snow-capped mountains and train tunnels to its maps. All controls and action will remain quite similar and you're free to do anything (expect cheat) to survive the wrath of the closing arena and enemies.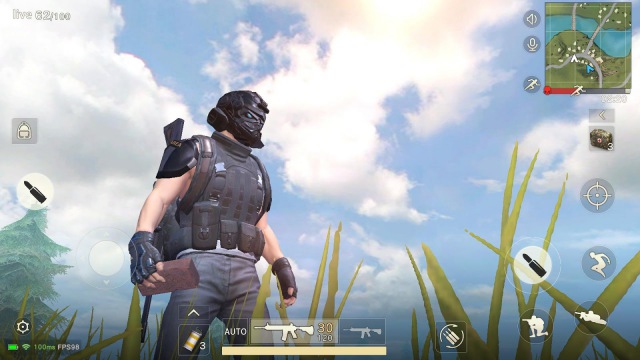 The aesthetics of the game, as you can see in the screenshot above, would surely be the one thing that pulls you into playing the title over the others. It currently has over 10 million installs, but I'd pick outlandish masks and futuristic jackets over all regular ones any day. This doesn't undermine the graphics or gameplay in any way though.
Download: Android, iOS (Free, in-app purchases start at $0.99)
8. Mini DAYZ
The battle royale mode has garnered immense limelight since the launch of PUBG back in early 2017, but it's been around for quite some time. It all started with an ARMA mod, so nostalgia strikes back with the Mini DAYZ game with all the retro elements you'll need in your life. You're left to survive in a randomly generated post-apocalyptic map and scavenging for food, weapons, and other supplies to keep yourself going.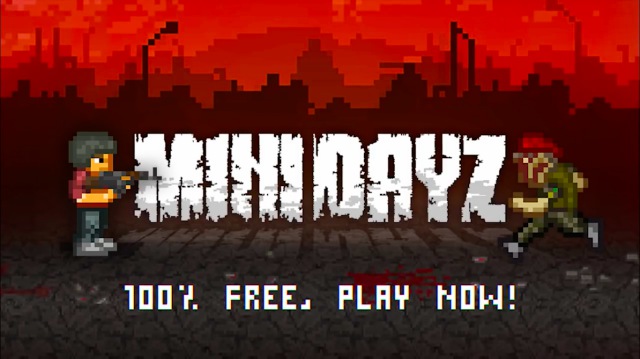 You'll not only meet AI zombies, infected with ghastly diseases, and killing them is your only option to survive. Not just that, you will also find other friendly and hostile AIs that you'll have to fight out, prevent blood loss, and keep moving ahead in a deranged world. The best thing about this Mini DAYZ game is that it is absolutely free, with no in-app purchases of any sort.
9. Vast Survival
As the name suggests, Vast Survival puts you at the center of an expansive 3D world and the only task you have is to endure the hardships and survive. The game title is currently in alpha testing and offers you just an open world, where you can scour for goods in rusty old towns, forests and military bases.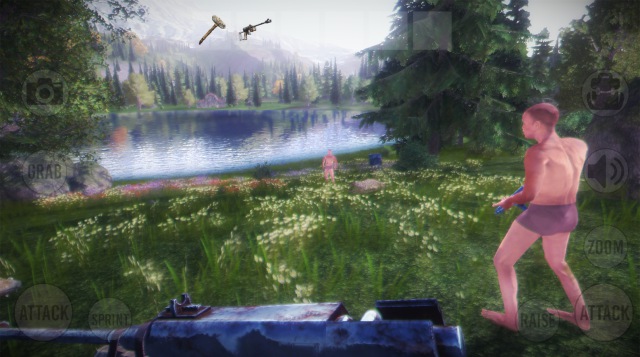 You can also craft and build things according to your needs, but a battle royale mode is in the works right now. It'll then pit up to 26 players in the first-person or third-person mode to use the open world to your advantage, fight out battles and survive until the end. That's a common goal for this game style. You can expect serious lags and crashes as the game is currently in alpha, which I can confirm.
Download: Android, iOS (Free, in-app purchases start at $0.99)
10. Unknown Royal Battle
I'm a huge fan of pixel art and when you see a mobile game title with the same cover as your favorite multi-player FPS survival game, you're instantly attracted to it. This was the case for me and the game turned out to be just okay- nothing extraordinary. It can be seen as a look-alike of the aforementioned pixel-style PUBG game, but is more modern.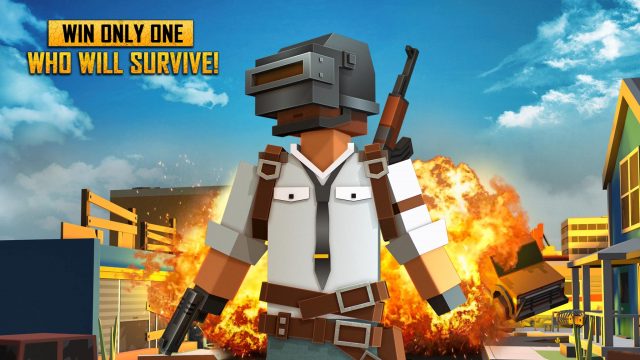 However, there's a lot lacking in the gameplay and controls, which the developers need to address immediately if they want to attract more mobile players. It's on the right path to becoming a great time killer but the obtrusive controls and ads littered across the app need to go away for me to adopt this game over PUBG mobile.
Download: Android, iOS (Free, in-app purchases start at $1.99)
SEE ALSO: How to Install PUBG on Android and iOS in Any Country
10 Best Games Like PUBG on Android and iOS
If you're not looking to exercise yourself over the workaround and installation process of the Chinese PUBG mobile variant, then you can definitely give one of the aforementioned alternatives a try. Several game studios have banked on the hype surrounding the battle royale genre and there are some great games available for both Android and iOS. So, do tell us which game title you tried and fancied the most in the comments below.