There's a phrase that goes like this, "Education is one of the most important things in life". I bet every one of us has heard this phrase at one point of time in our lives. While I don't deny this statement, let's be honest, studying can get boring at times. That's why you shouldn't focus on studying hard, rather what you should focus on is studying smart. However, this statement begs a question, which is how to study smart? While there are a number of ways to go about it, what I like most is using studying apps on my smartphone. But, that will only work if you can use them without getting distracted by other apps. If you are wondering which apps make that list, here are the 23 best apps for students to help them study efficiently in 2023.
Best Apps for Students to Help Them Study in 2023
Below, we have enlisted apps from different genres like note-taking, app blocker apps, planner apps, and more. You can navigate to the desired section by expanding the table of contents below.
App Blocker Apps
As I mentioned earlier, using the best apps for students on your smartphone will be worthwhile only if you can avoid the distraction from other apps, I understand that it's easier said than done. In case you find it difficult to abide by this rule, you can use some app blocker apps to avoid opening certain apps for a particular duration. To help you out, here are the best apps that can do that:
1. Stay Focused
Kicking off the list is an app called Stay Focused which will help you stay focused while you're studying and not get distracted by all the other apps on your smartphone. The app is capable of blocking all apps on your smartphone unless you whitelist them and it even allows you to set daily/hourly usage for apps, after which they'll be blocked. The app also gives you daily insights into your usage patterns, which will help you figure out which apps you're wasting the most time on. Stay Focused even allows you to set a default motivational text which will pop up every time you use blocked/restricted apps and might help you reconsider your priorities.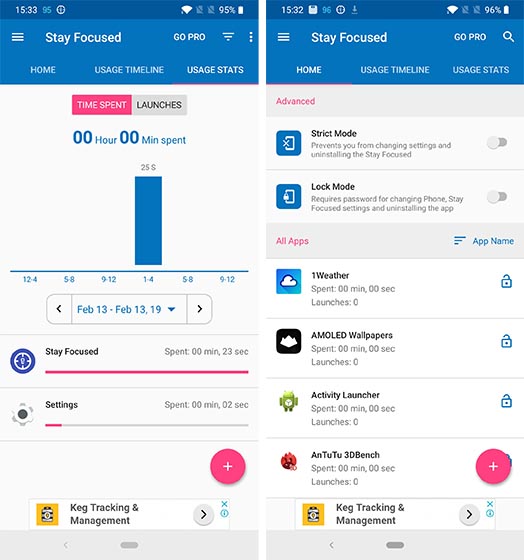 While most of the features offered in the app are free, premium users also get access to different modes that help them get even better control of the app usage. The app is quite useful if you often find yourself being distracted by social media apps like Instagram and is a must-have for all students using an Android device. In case you're using a Pixel device, you don't need the Stay Focused app as you get access to Google's Digital Wellbeing app which does pretty much the same thing. iOS users also get similar functionality with Screen Time, however, there are no other third-party apps on the App Store that offer the same functionality.
Install: Android (Free with in-app purchases)
2. AppBlock
Albeit being a simple app, AppBlock does the task of blocking apps for a certain duration very well. To start off, you can create and name profiles that define the days and times for which they are active, along with the apps to be blocked. Like (OFFTIME), you can also block notifications for the blocked apps. These notifications can later be viewed from the "Blocked notifications" section of the app.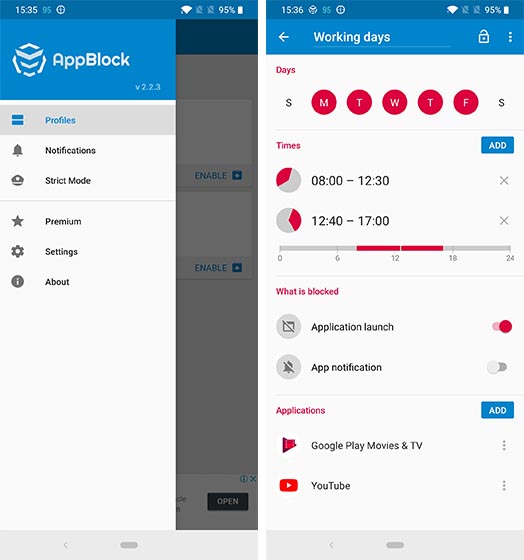 As all this works only when a profile is active, it may seem pretty easy to turn off the profile and use the blocked apps. Well, not really. You get the option to lock the profiles which, in turn, can only be unlocked when your device is connected to a power source. Furthermore, you can enable a PIN code to protect the app's launch. To use the app to its full potential you can buy the pro version with an in-app purchase that lets you create more than 3 profiles, stores all the blocked notifications, allows you to set unlimited time intervals and unlimited apps in profiles, and even removes ads.
Install: Android (free, in-app purchase)
If you don't want to use third-party apps, both Apple and Google have introduced built-in tools for restricting your app usage. To learn how to do that follow our article to set up Screen Time on your iPhone and Digital Wellbeing on your Android devices.
Best Planner Apps
Once you have your distracting apps blocked, you can go on to use your smartphone for studying efficiently. And what better place to start with than planning? There are some really good apps that can help you plan your study schedule so that you are never late for any class or test. To help you get started, here are a couple of apps that you can use:
1. myHomework Student Planner
myHomework Student Planner is one of the best planning apps that you can use as a student. With this app, you can store your homework and class schedules, all in a single place. You can add your class names to the app, so you don't have to type them again and again. You can also choose the homework type from a list that includes tests, study, lab, projects, etc., and set a due date. Depending on the importance of your homework, you can also set a priority from high to low.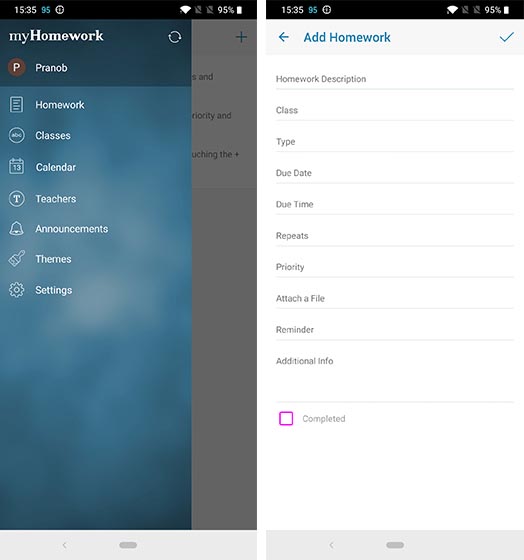 If you create an account on the app, you can access many other useful features too. For starters, myHomework Student Planner supports cross-platform synchronization and hence enables you to access your data from anywhere. You can also attach files and set reminders for your homework when you are signed in. Once your homework gets completed, you can mark it done by long pressing on that particular entry. You also get a calendar view that makes it very easy to view your schedule over a period of time.
Install: Android, iOS (free with in-app purchases)
2. Google Calendar
If you are looking for an app that not only stores your study schedule but also that of your whole day, then Google Calendar is the app for you. With its seamless integration with other Google products and cross-platform synchronization capabilities, it hardly matters which platform you use it on. With the app, you can create an event, set a reminder, or even set a goal. You also get notifications for all your events, reminders, and goals which makes it a really handy tool.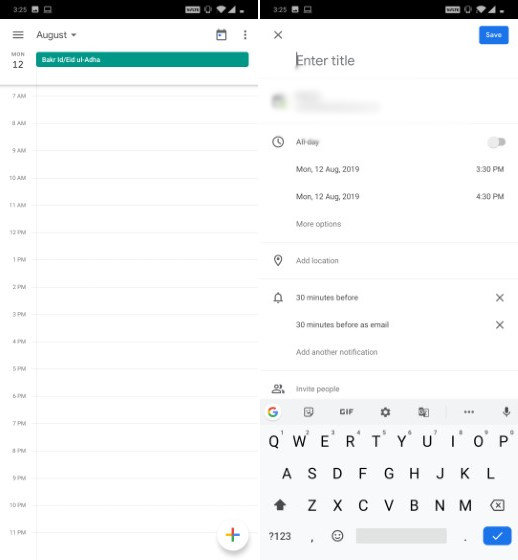 Google Calendar can also identify all the events or bookings for which you ever received an email on your Gmail account, and automatically add them to your calendar. This comes in very useful when you have a busy schedule and can't remember what appointments you have at any given time. It can further help you plan better as you can be sure that no two tasks overlap at the same time. Lastly, the app allows you to search from your entries, thus making it very convenient and hassle-free.
Install: Android, iOS (free with in-app purchases)
Best Task Managers
Often fail to carry out a specific task before the deadline? Well, you need a smart task manager to keep you in sync with everything you have to do. With real-time reminders and some inputs, they ensure you are able to not only get your work done in time but also boost your productivity.
1. Todoist
Whenever I think of to-do list and task management apps, the one familiar name that instantly strikes my mind is "Todoist". And rightly so as it's long been one of the highly-rated apps for managing tasks. What I have always loved in this app is the flexibility to customize tasks as per a specific goal. So, you can set up everything as per your workflow and go about doing them with the desired consistency.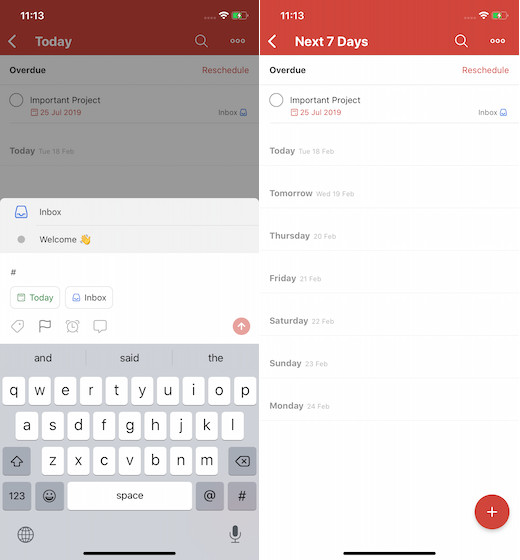 Depending on your needs, you can prioritize tasks so that urgent ones get immediate attention. Thanks to the reminders and due dates, the app doesn't let any important things slip away from your mind. Besides, it also comes with an intuitive collaboration feature so that you can invite your buddies and work with them on a project. As it's integrated with several apps and services like Gmail, Google Calendar, Slack, and Amazon Alexa, Todoist ensures you have all the essential tools to manage your to-dos right from one spot.
Install: Android, iOS (free with in-app purchases, $4.99/month)
2. Microsoft To Do
If Todoist claims to be a feature-rich task manager, Microsoft's offering is not behind either. The app has got an elegant interface and also offers a range of customization options so that you can take control of all of your to-dos at your own will. And with timely reminders, it makes sure you don't forget to carry out a specific task in time. But what has appealed to me the most in this app is the seamless collaboration that enables users to team up with their friends to work in sync.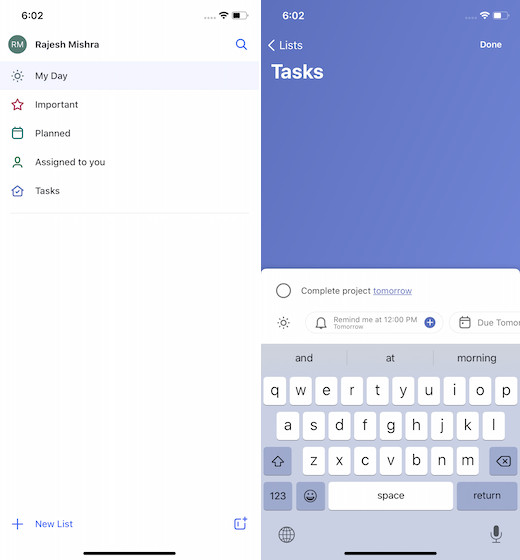 "To Do" has also got a built-in calendar so that you can plan events and also keep a track of them with ease. For those looking for more personalization, an ever-growing library of emojis appears to be right on the money. Not just that, the app has also got a host of colorful themes that play a vital role in giving a cool look to your to-dos. Everything considered; Microsoft To Do is what you need to bolster your productivity by completing your tasks on time.
3. Any.do
This task management app is perfect for procrastinators who often fail to stick to the tasks at hand due to the lack of a schedule. Any.do combines task manager, calendar, and a reminder in a single app. You can add tasks or simply connect the app to other tools like Slack, Gmail, and your calendar to get a schedule prepared for you in the morning. The app also allows you to share your task list with others so that you can study in collaborationThis task management app is perfect for procrastinators who often fail to stick to the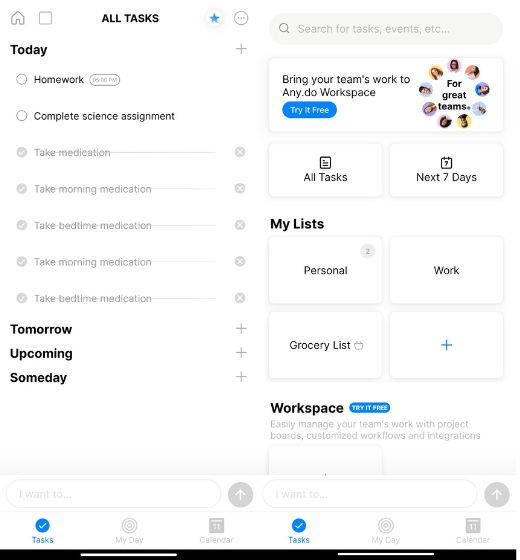 You can integrate Any.do with more than popular apps like WhatsApp, Slack, and other apps to get reminders and other events right on the dashboard of the app. Moreover, students can add a to-do list straight from their mailbox by forwarding it to do@any.do. Any.do is one of the best apps for students who often skip things due to busy schedulesYou can integrate Any.do with more than popular apps like WhatsApp, Slack,
Best Note-Taking Apps
Now that you have everything planned out, it's time to take action. The most important thing that you are supposed to do in a lecture is to take proper notes. While your laptop is your best friend when you are frantically taking notes in a lecture, sometimes you need to jot down some quick points, and taking out your laptop every time for that is not productive. The best way to do that is to note down those points on your smartphone. So I tested a few note-taking apps and found the ones below to be the best of the lot.
1. OneNote
The same OneNote that you love using to take notes on a computer can also be used on your smartphone (Android and iOS). Since the notes are synchronized, you can be sure that all your notes will be available to you on whichever device you are using it. Most of the features that you will find in this app are the ones you are already familiar with, that is, if you've used OneNote before. One important thing to note here is that unless you are signed in using a Microsoft account, you can only take a quick note and the synchronization will not work.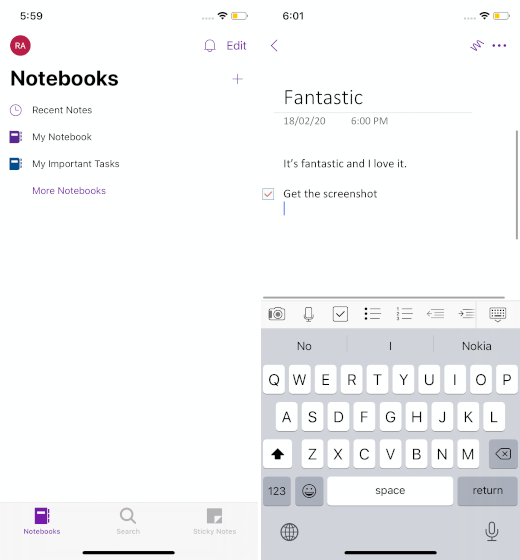 Coming to the app, it is one of the best note-taking apps available on both platforms. You can create different notebooks to organize your notes. Each note can further have different sections to help you organize your notes in a better way. In a note, you can create different pages where you can either type using the virtual keyboard, add pictures, add a voice recording, draw using your finger or a stylus, or even create checkboxes. The OneNote app also has a search feature that can be used to find the exact note that you are looking for.
2. Google Keep
If you are looking to take short notes, then Google Keep has you covered. Having said that, while you can take long notes as well, I'll suggest you still use OneNote for that. Talking about Keep's features, you can take a simple note or create a list. Like OneNote, you can also use Keep to take notes using your finger or a stylus, add voice recordings, and add images. In addition to this, you can add different background colours to your notes to differentiate one from another. If you want to categorize them, you also get the ability to add custom labels. To top all of it, the app also features cross-platform customization.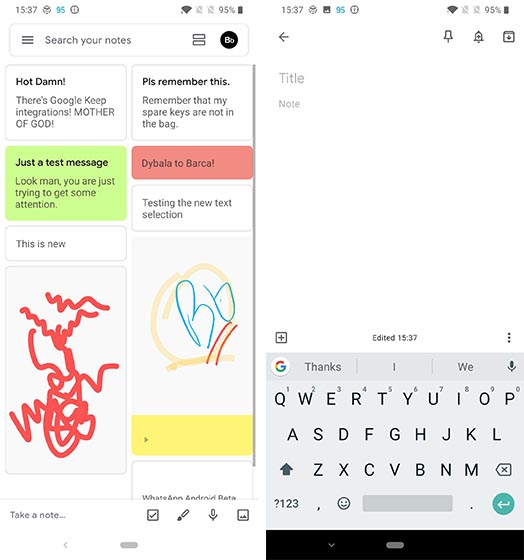 There may be some notes that you don't want to see every time you open the app, yet you don't want to delete them. In that case, you can archive those notes and they'll be gone from the main view. For the notes that you end up deleting, they can be found in "Trash" where they live for 7 days before they are gone forever. You can also set reminders for your notes. Last but not the least, you can even share your notes with your friends from right within the app.
3. Evernote
Evernote is one of the most popular note-taking apps in the world and students can really benefit from it. Its note-taking ability is at par with other apps in the same category. You can create a to-do list to get reminded of assignments and connect to Google Calendar to get real-time notifications about upcoming exams, assignment submissions and more. You can create notebooks for different subjects or tasks and scribe notes on the go. Available for desktop, iOS, and Android, Evernote syncs your notes, tasks and reminders across devices.
If you use iPad or any other tablet for studying, Evernote features an excellent user interface where you can also use Apple Pencil or another stylus to jot down notes instead of typing them. There is also a feature to lock notes in the Evernote app. One of the main reasons why Evernote is considered to be a must-have app for students is the level of organization you can achieve through the app.
Install: Android, iOS (Free, in-app purchases) (https://play.google.com/store/apps/details?id=com.evernote) (https://apps.apple.com/app/evernote/id281796108)
Best Word Processor Apps
If you are writing a report, a note-taking app doesn't offer enough formatting options to do that. If that is the case, you can download a word processor app that will not only let you type and edit files but also let you format them to a great extent. While there are many great word processor apps out there, I have selected two of the best ones among them.
1. Google Docs
Being a Google product, Google Docs offers seamless integration with Google Drive. The work that you do in the app is saved in real-time, so you don't have to worry about saving it every few minutes. You can format texts with many formatting options that include font, font style, font size, text color, highlight color, indentation, and paragraph spacing among many others.
In addition to creating new files, Google Docs also allows you to edit existing Microsoft Word or Google Docs files. By default, all the files are saved in Google Docs format, but you can choose to create a copy in DOCX format as well. Lastly, you can choose to save these files for offline use and share them with your friends. If for some reason you don't want to use it, you can check out some of the best Google Docs alternatives from the linked article.
2. Microsoft Word
Just like you can use OneNote on your mobile device for note-taking, you can use the Microsoft Office app as a word processor. If you sign in to your Microsoft account in the app, your documents get synced automatically over OneDrive. For typing, you can either open an existing file, or create a new one inside the app. Just like its desktop version, you can choose from a series of templates like journal, newsletter, research paper, etc. or continue with a blank document.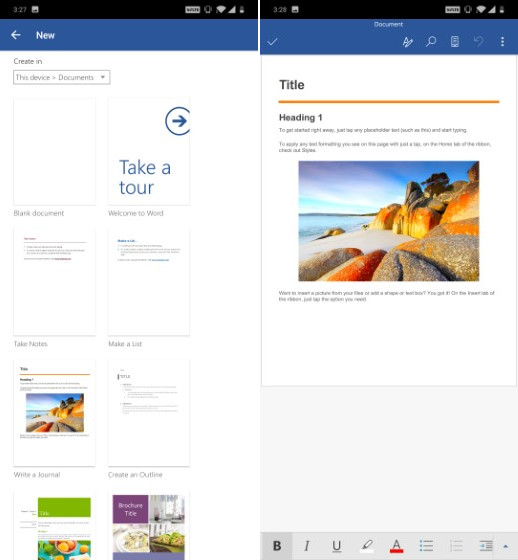 The formatting options in Microsoft Office don't need any introduction. Just for the sake of naming a few, they include font, font style, font size, font color, paragraph formatting, etc. Just like Google Docs, the Microsoft Word app allows sharing either using OneDrive or as an email attachment.
Install: Android, iOS (free with in-app purchases)
Best Dictionary Apps
Just like a student's life is incomplete without a dictionary, this list would be incomplete without the mention of a dictionary app. While there are many great dictionary apps available for download, I am including only one which is more than enough for all intents and purposes.
1. Merriam-Webster Dictionary
Just like you would expect from any dictionary, the Merriam-Webster Dictionary app shows you the meaning of words. In addition to this, you can hear a word's pronunciation, see some examples, and learn a little history about the word's origin. Your recent search history is stored in the app so that you can revisit them. If you find it difficult to remember the meaning of any word, you can mark it as a favorite and it will then appear under the "Favorites" section of the app that you can visit later.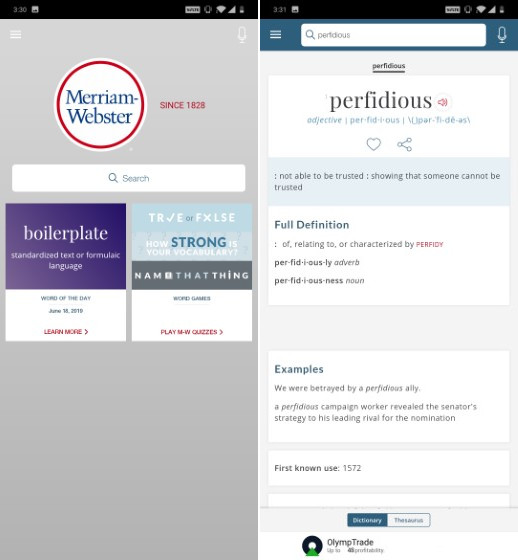 The app also shows you a "Word of the Day" which helps you increase your vocabulary. To make learning more interesting, the app has a few word games that you can play while testing your vocabulary at the same time. Though there are a few ads that appear on the screen, you can remove them by buying the premium version for $3.99 only. With this version, you also get access to premium content which includes graphical illustrations.
Install: Android, iOS (free with in-app purchases, $3.99)
2. Oxford Dictionary of English
Boasting a massive catalog of words (over 350,000 words and phrases), Oxford Dictionary remains one of the most popular dictionary apps for iOS and Android. The app has also got a large collection of regionally specific entries which can help you learn a regional language. Just in case you are trying to enhance your pronunciation or speak correctly, you would find the audio pronunciations of both common and rare words quite helpful. Another notable feature of this app is the option to create custom folders with a list of words, which can play a vital role in assisting you to build a strong vocabulary.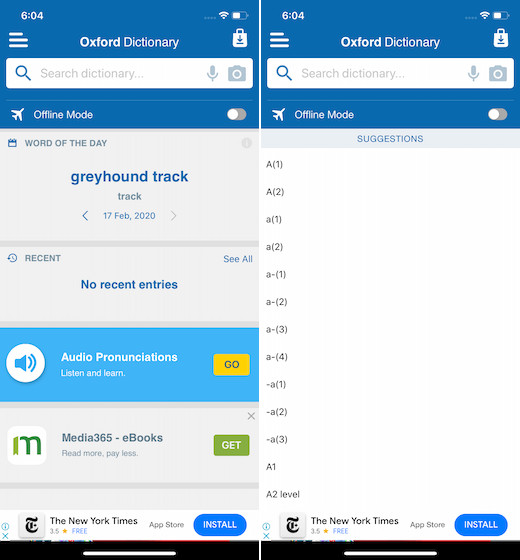 On the customization front, I think the Oxford Dictionary has a clear edge over many other noted rivals. Based on your convenience, you can fine-tune the app to make learning fun. What's more, it also comes with a handy offline mode (premium) so that your learning won't come to a halt even if you don't have an internet connection. Should you want to get a comprehensive dictionary app, look no further than this one.
Install: Android, iOS (free with in-app purchases, $9.99)
Best Learning Apps
It is not always easy to learn everything in the classroom. On the other hand, learning alone at home may get boring. For most people, the best way to learn actively is with their peers. So here is an app that can help you learn along with other people just like you around the globe:
1. Khan Academy
For passionate learners, Khan Academy is undoubtedly one of the best apps for iOS and Android. Whether you are trying to enhance your soft skill or improve your command your Maths, this learning app has got you fully covered. It features more than 10, 000 videos with clear explanations so that you can easily learn anything that interests you. That's not all, it's also got a huge collection of interactive questions that you can practice at your own pace to get rid of shortcomings.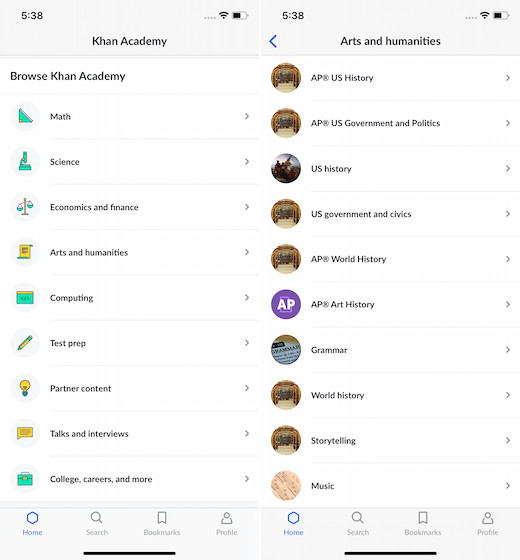 With the quick feedback, the app not only keeps you guided but also helps you figure out the areas which require more attention. To ensure your learning remains on the right track, the app also offers personalized recommendations. That means you won't have to spend a lot of time to find out the content that you need to boost your knowledge.
2. Google Translate
Whether you aspire to be multilingual or learn a new language, you shouldn't miss out on "Google Translate". What makes this Google app ahead of the curve is the ability to translate between 103 languages by typing. Furthermore, it comes with a conversation mode that provides two-way instant speech translation which can come in super handy in letting you chat with foreigners.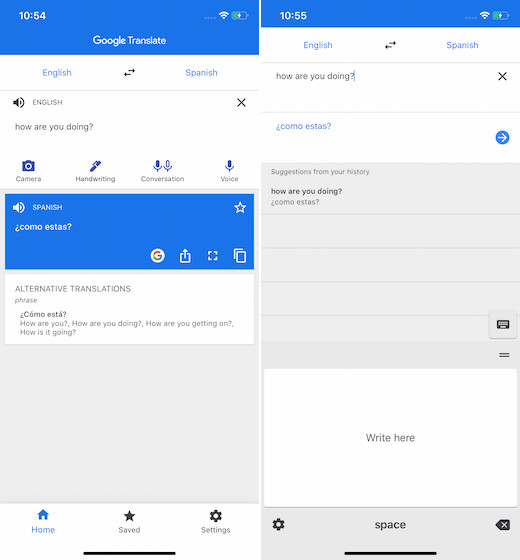 One of my favorite features of this app is the offline support that allows me to translate languages even without internet connection (59 languages). Aside from this notable feature, I also find the instant camera translation quite helpful as it lets me use the device camera to translate text quickly. As for UI, I think Google Translate has a got minimalist look which makes it familiar right from the beginning. Even on the customization front, this Google's offering has looked up to the mark to me.
3. Duolingo
Planning to learn a new language? Duolingo is the best app you can use to learn any language using just your smartphone. The fun app turns the ordeal of learning a new language into fun. With more than 40 languages to learn, the app is intuitive and its interface with quick lessons makes it perfect for a beginner or even someone who is not much versed with apps. You can monitor your progress and unlock new achievements while learning lessons. With more than 300 million users, Duolingo is one of the most downloaded study apps across the globe.
Moreover, it is free to learn languages on the Duolingo app and you can buy a subscription to unlock an ad-free experience and get additional perks. Duolingo can help students who are planning to study abroad or to clear exams. The language learning app can help you develop a basic knowledge of a language in a fun and interactive manner.
Install: Android, iOS (Free, in-app purchases)
Best Organizer Apps
Once you have all the notes that you need to study, the next challenging thing is organizing them. Given that most of us are not as good at organizing as we want to be, there are certain apps that can help us become better. With the plethora of such apps available, I shortlisted a couple of organizer apps that can help you make your organizing game strong.
1. Office Lens
It is not always possible for everyone to attend each and every class. For some or other reasons, each of us will miss a class at some point in time. In that case, it becomes really difficult to cover all the notes by copying them down, so most of us usually click pictures to keep them in a digital form. But when we have to review them, all of it looks like a mess. Well, that can be avoided if you use Office Lens.
Office Lens does one simple thing which is clicking pictures. But not the normal ones that you can take using your smartphone camera app, rather it has been developed specifically to take pictures of documents. Irrespective of the angle that you click a picture from, the result would be great. The app has options for clicking images of different sources like documents, whiteboards, or business cards. You can organise the pictures right within the app and create a PDF for all your pictures. For example, you can create a pdf that might represent a lecture or a chapter. These features are really helpful. Finally, you can easily share these pictures with anyone else who needs them.
2. Adobe Scan
As a student, scanning notes, assignments, and documents must be a routine business. Adobe Scan is one of the best document scanning apps you can use for the task. The app comes with excellent OCR capabilities that can detect text from a scanned document sot hat you can simply copy-paste your handwritten notes. Documents scanning is quite easy on Adobe Scan. The app is smart enough to detect the document and scans it precisely by skipping the background around it.
Adobe Scan app on iOS and Android also offers tools to crop, preview, reorder, and even add color touchups to scanned documents. Click photos of your notes and the app will automatically detect documents in your smartphone's gallery to turn them into PDFs instantly. Additionally, you can save the scanned PDFs to Adobe Document Cloud and access them anywhere by logging in your Adobe account.
Install: Android, iOS (Free, in-app purchases)
Best Cloud Storage Apps
As the technological world is slowly moving towards cloud technology, it only makes sense that you use that to your advantage. You can save all your notes and documents on the cloud, ensuring that they can be accessed from anywhere. This way, you won't have to panic even if you forgot to bring your primary device, as all your notes can be accessed using any browser. So here are a few cloud storage apps that you can use:
1. Google Drive
If you are an Android user, you are already using Google Drive. It has some really useful features. In addition to uploading files and folders to the cloud, you can also create them within the app. Also, you can scan images and upload them as well. This makes it a great scanning app too. Google Drive has a section called "Quick Access" that smartly shows you the files that it thinks you'll be needing at a given point in time based on the time and your location. If you want, you can turn it off in the app's settings.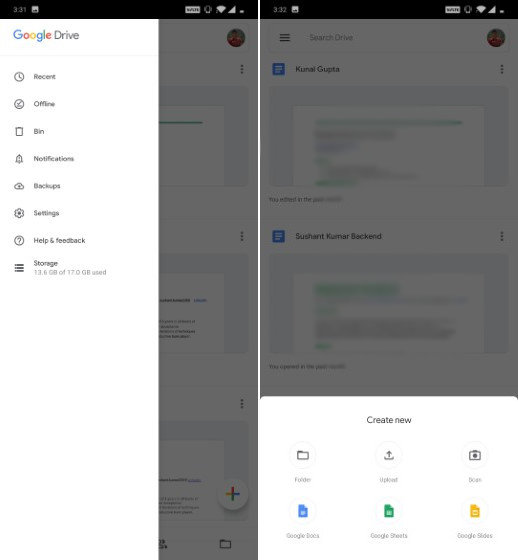 If you use Google Photos as well, you also get the option to add them to a folder in Google Drive. By default, you get 15 GB of free storage with your Google account. If you want more space, you can buy that with an in-app purchase. To give you access to your data anytime, it also has a desktop client that works on all platforms.
Install: Android, iOS (free-15GB), (Paid version starts at $1.99/month for 100GB)
2. Dropbox
Just like Google Drive, Dropbox is another great cloud service that you can use. When you create an account for the first time, you get 2 GB free storage. This can be increased by upgrading to Dropbox Plus that gives you 1 TB of storage at $9.99/month or $99/year. Another way to earn data is by inviting your friends to install Dropbox. For every friend that joins with your reference, you get 1 GB of extra storage for free.
Like Google Drive, you can create or upload new files and folders, scan documents, and install the desktop client. Irrespective of which gallery app you use, you can choose to upload all images to your Dropbox from within the app's settings. Lastly, you can secure your Dropbox account using a built-in passcode feature. Once you set that up, you can also enable the security feature which erases all your data after 10 failed passcode attempts.
Install: Android, iOS (free, Dropbox Plus starts at $9.99/month for 1TB)
Best Calculator Apps
After covering every possible thing that a student needs, the only thing that remains is a good calculator app. If you are wondering what's wrong with the stock one, then let me tell you that the following two apps are not simple calculator apps. They can complete tasks that the stock calculator apps can only dream of (if they could dream).
1. GeoGebra Graphing Calculator
If geometry is not your forte, you may find it really difficult to plot graphs from given equations and vice-versa. While there are many different ways in which you can check your answers, most of them are time-consuming. On the other hand, if you have GeoGebra Graphing Calculator installed on your device, that task shortens to a matter of seconds.
You can input an equation of up to 3 variables and the graph for that will be plotted in mere seconds. The equations can also be inequalities and can have absolute or exponential values. In addition to this, you can also draw graphs, either using your finger or using various software tools provided inside the app like lines, circles, tangents, etc.
2. RealCalc
If you are looking for a good scientific calculator app that doesn't take up much space on your phone, then look no further than RealCalc. It does everything that a good scientific calculator can do. In addition to the basic calculator features like calculations, percentages, and 10 memory states, it offers features like trigonometric functions, unit conversions, permutations and combinations, and hyperbolic functions. You can also customize the look of the calculator with a few tweaks in the app's settings.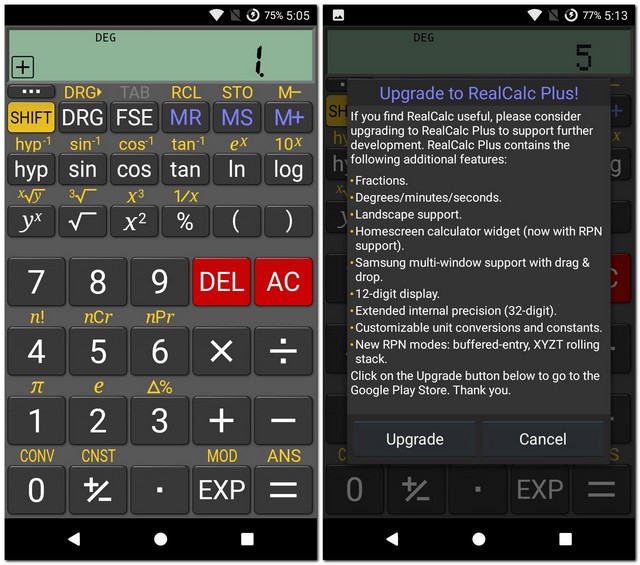 While most of the features that you will need are available in the free version, you can get more features like fractions and customizable unit conversions and even a widget with RealCalc Plus that costs only $3.49 on the Play Store.
Install: Android (free, $3.49)
Bonus App: Mathway
Mathway is a great app for solving problems. Though I do not recommend using it straight away, it is very useful if you find yourself stuck on any math problem. It can solve problems related to many topics including algebra, trigonometry, calculus, statistics, etc. All you have to do is type in the problem, and the app will automatically ask you for the type of answer you are looking for. For example, if I were to type in a cubic equation under algebra, I would be asked whether I want the factors, roots, graphs, or intercepts. These options may vary depending on the equation and the topic selected. While I did not get any wrong answers for the time I used it, I suggest that you don't take the answer provided by the app for granted.
Install: Android, iOS (free with in-app purchases)
Best Study Apps To Use In 2023
Now that you know some of the best studying apps for students that you can use, you can study more efficiently without it getting boring. As long as you can control yourself from being distracted by other apps on your smartphone, you can take advantage of all the great apps which are on this list. So which app in the list did you like the most? Do let me know in the comments section below.
---
Load More