Going by the looks, the euphoria surrounding iOS 14 customization has taken over the internet. While developers seem to be in a tight race to launch cool home screen widgets, creative iOS users have sort of put on a show, showcasing their beautifully crafted home screen with custom app icons and eye-catching themes. Whether you are a little late to the party or wish to amp up your customization game, these are the 10 creative iOS 14 home screen design ideas using widgets and app icons lined up for you.
Creative iOS 14 Home Screen Design Ideas with Widgets
When it comes to customization, a variety of tools along with the freedom to set your own rules plays a vital role. So, what sort of tools do we need to craft eye-catching iOS 14 home screen themes?
Well, we need a solid collection of wallpapers, backgrounds, and widgets. Besides, we also need app icon changers for a more personalized experience. To make your task of creating themes a tad easier, I have mentioned all the ingredients that I have used to make a specific theme.
Also, note that instead of downloading icon packs from different sources, we have selected an icon pack that lets you customize the app icons with different colors and themes. So, they will work with almost all the themes that we have mentioned. However, if you want different set of icons, we have also mentioned a list of icons packs and websites that you can use to download different sets of icons.
1. Dark Theme
Being fond of dark mode, I wished to deck up my iOS 14 home screen with a theme that could not only look pleasing but also soothe my eyes. And that's what led me to create a dark theme. In a nutshell, it's one of the very few themes that offer the best of both worlds: ramping up the style statement and enhancing the viewing experience.
To create a dark theme, I have used the Black Lite wallpaper app, App Icon Changer, and Weather Widget, WidgetBox, and Health Widget. Give it a shot and I bet you would love every bit of it.
Wallpaper: Black Lite (free)
Icons: App Icon Changer (free)
2. Vibrant Theme
Times when you want your iPhone home screen to look attractive, vibrant themes come into play. So, make sure to save them for the times where you want the home screen to catch eyeballs with ease.
To create this vibrant theme, I have used Wallpaper HD & 4K Backgrounds, Widgets Go, App Icon Changer, and Color Themes & Widgets Custom. Once you have got a vibrant looking wallpaper, creating a theme that can look eye-catching isn't a big deal, so long as you are able to craft befiting icons and widgets.
Wallpaper: Wallpapers HD & 4k Backgrounds (free)
Icons: App Icon Changer (free)
3. Funky Theme
The funky theme never goes out of fashion. And if you are willing to raise the style quotient of your home screen, you shouldn't fail to try it out. To decorate my home screen with the funky theme, I have used 99 Wallpaper.s of Love, Stack Widget, icon changer, and Health Widget. Oh yes, I have also brought the cool Watch Out widget into the mix.
Wallpaper: 99 Wallpaper.s of Love (free)
Icons: App Icon Changer (free)
4. Nature Theme
For more than one reason, nature theme is considered to be evergreen. One of the reasons why I make sure to pick it in my collection of special themes is that it never fails to impress.
To make this nature theme for my iOS 14 home screen, I have used the Natural Wonders wallpaper app, Clock Gallery, stock photo widget, and icons8 that boasts a huge library of icon packs. As for the tip to create an appreciable nature theme, I would recommend you to keep simplicity at the top, while ensuring noise stays away.
Wallpaper: Natural Wonders (free)
Icons: Icons8 (website)
Widgets: Clock Gallery (free) and stock photo widget
5. Abstract Theme
When you want to have complete peace of mind or wish to make the home screen appear pretty calm, an abstract theme can seamlessly fit into the scene. And that too without exhausting your design ideas.
So, if you wish to try an abstract theme, take a peek at the one that I have created using Abstract Wallpapers & Background app, App Icon Changer, Clock Face, as well as Usage: Activity & Data Widget. Be sure not to overkill as it may take away the central aspect of the theme.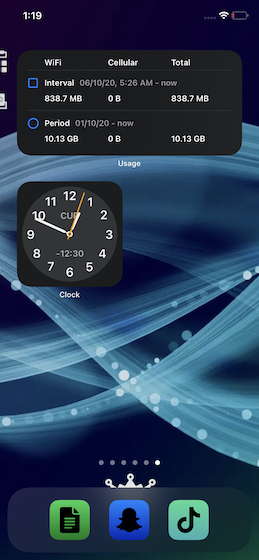 Wallpaper: Abstract Wallpapers (free)
Icons: App Icon Changer (free)
6. Love Theme
A love theme doesn't need to give ample reason why it deserves a safe spot in your kitty of special themes, does it? Well, if you want your home screen to appear lovable, you would be glad to know that creating love themes for iOS 14 home screen isn't a big ask. To get going, all you have to do is get a nice-looking wallpaper and then adorn it with hearts/flowersand of course lovely messages right on top.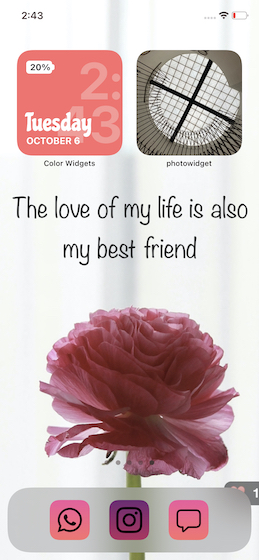 Wallpaper: Love Quotes" Daily Sayings (free)
Icons: App Icon Changer (free)
7. Superhero Theme
Well, I have specifically crafted this one for the folks who never seem to get enough of superheroes. If that's you, the superhero theme is for you. Thanks to the presence of superhero wallpaper HD and the handy icon changer, creating a theme that can showcase superheroes in their top-flight is quite straightforward. Just make sure that your icons and widgets are able to complement your superheroes.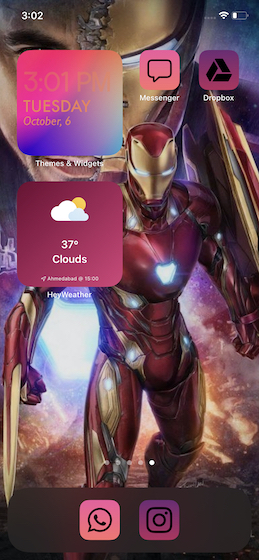 Wallpaper: Superhero Wallpaper HD (free)
Icons: App Icon Changer (free)
Widgets: Clock Gallery (free) and stock photo widget
8. Winter Theme
I am a huge fan of the winter theme. What appeals to me the most in it is the cool feeling that it tends to offer. The beautiful scenery coupled with the ageless ice makes the entire sight appear fascinating.
If you wish to adorn the home screen with a theme with a touch of winter, I would like to tell you that making a winter theme had never been so simple before. Keep in mind, winter themes demand matching icons to look at their very best. Therefore, make sure to keep the noise at bay without sacrificing the appearance of the scenery.
Wallpaper: Winter Wallpapers (free)
Icons: App Icon Changer (free)
Widgets: Battery Widget & Usage Monitor (free)
9. Offbeat Theme
As the name itself makes it crystal clear, the offbeat theme is a little different from the rest. So, just in case your home screen is desperate for a different appearance, you shouldn't miss out on this one.
As to how you can create an unusual looking iOS 14 home screen, pick out a suitable background, and then design it with unconventional stuff. It's one of the smartest ways to steal attention.
Wallpaper: WOW Pixel (free)
Icons: App Icon Changer (free)
10. Christmas Theme
When Christmas approaches, I like to decorate everything – from my phone to home screen – in line with the festival. It kind of makes the countdown more exciting. If you also belong to the same school of thought, the Christmas theme would be a great pick.
Crafting a theme that can amp up your Xmas euphoria is much easier than you think. So, if you are willing to get into the Xmas swing a bit early, either pick this ever-ready theme or craft a new one based on your own taste.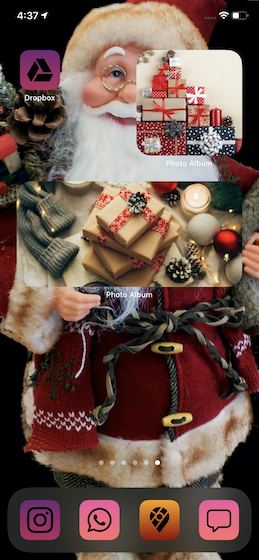 Bonus: Halloween Theme
As Halloween is just around the corner, I thought creating a Halloween theme would be great. So, whether you are already into the Halloween mood or preparing to give your home screen matching quotient, you would be pleased to have it at your disposal.
As for designing a Halloween theme, I have used a Halloween wallpaper and then decorated it with matching app icons and widgets.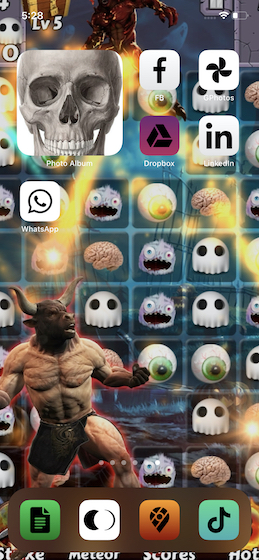 Wallpaper: Monster Mash Mania Halloween (free)
Icons: App Icon Changer (free)
Widgets: Photo Album (free)
List of App Icon Packs for iOS 14
While we have used App Icon Changer for most of our themes as it reduces the work for users and prevents them from installing dozens of apps, getting specific icon packs for specific themes is recommended if you want to create a truly custom home screen. So here are some of our favorite icon packs that you can download.
Choose the Top Creative iOS 14 Home Screen Design Ideas Widgets
There you go! So, these are the top creative iOS 14 home screen design ideas that can let you decorate your home screen with the needed flair. With a long list of cool ideas vying for attention, I hope you have found the right bet for your iPhone.
But before you get deep into the customization, don't forget to share your top picks. Besides, also let us know the name of the designs that deserve to find a permanent spot in this collection. 
---
Load More