Android has evolved to become a juggernaut mobile platform, both in terms of market share and in terms of number of apps. The Google Play Store boasts of more than 2.2 million apps, which is a massive number. This means, a number of new apps arrive on the Play Store almost everyday. While not all of them are great, some apps do bring in something new and intuitive. However, we tend to miss out on most of these new Android apps, unless of course, you are an app discovery aficionado. Thus, we decided to explore the latest Android apps that have made their way to the Play Store recently and here are the 10 cool Android apps we found:
1. Torchie
There are numerous occasions like a power cut or when we are travelling to a remote area, when we use our smartphone as a torch. However, activating the torch on our Android smartphone isn't as simple as one might expect. You either have to switch it on via Quick Settings from the notification shade or install a dedicated app, which brings a shortcut to the homescreen. To fix things up, the cool new Torchie app lets you activate an Android device's flash light by just pressing the volume button. Also, if your smartphone does not happen to have a flash, it will activate the screen flash. The open-source app also prevents activating the torch when it's in your pocket. Overall, it's a pretty handy app that you should install and the good news is, it works like a charm even on non-rooted devices.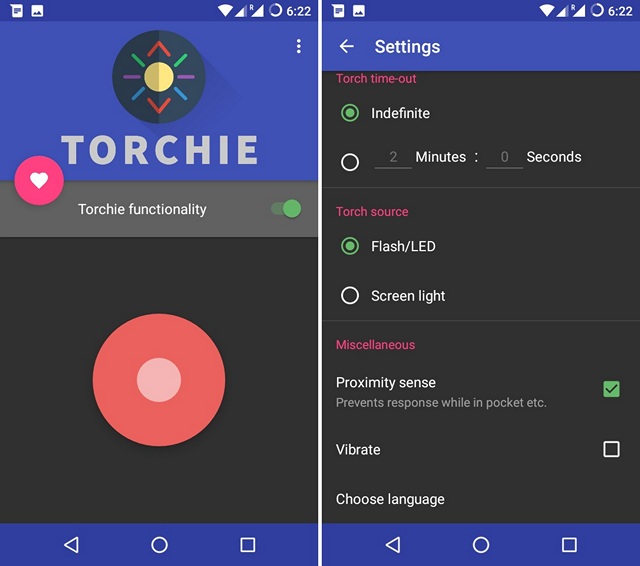 Install: (Free with in-app purchases for donation)
2. Navbar Apps
The navigation bar featuring the back, home and multitasking keys on Android can be quite bland, when you compare it to other elements of Android and this is where Navbar comes in handy. The app lets you add widgets, colors and more to the Android navigation bar. You can even set the navigation bar to have colors that match an app. There's also the option to set a custom picture on the bar but that requires you to get the premium version of the app. We have already talked at length on the different ways to customize the navigation bar and Navbar is arguably the best solution for non-rooted devices.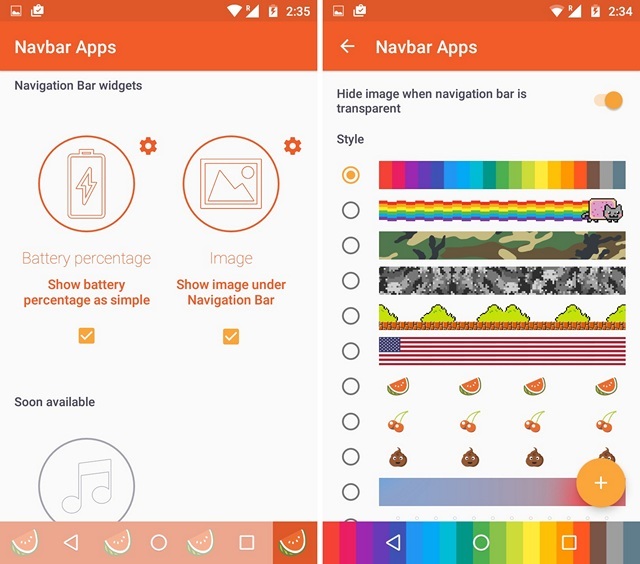 Install: (Free with Premium version at $0.99 in-app purchase)
3. Hermit
Apps are cool but if you have a ton of them installed on your Android smartphone, chances are, you are not getting the best performance. Well, that's because some apps are a CPU and battery hog. In that case, you can use Hermit. The app lets you create lite apps for your favorite portals and services. Simply put, it creates a lite app with the web version of a service or platform. For instance, you can create a Facebook lite app from Hermit and it will simply be a web wrapper for the mobile web version of the platform. Also, you can endlessly customize every lite app to make sure you get the best performance and a streamlined look. There are options to block malware, popups, choose a theme for the app, search & share integration and more.
Plus the app is free and there are no ads, so what's not to like. Having said that, the free version only lets you create two lite apps and you will have to get the Premium version for unlimited apps.
Install: (Free with Premium version at $4.99 in-app purchase)
4. Radon
If you've ever wanted to share simple links, apps or smaller files without going through the hassle of turning on WiFi or Bluetooth, well, Radon has you covered. The app uses your phone's WiFi, Bluetooth and Ultrasound signals to let you easily share links or smaller data. While it does turn on Bluetooth, it does not bother you with prompts. You can just hit the share button anywhere on Android and from the share options, select Beam with Radon, after which the app will start beaming the links to other devices with Radon installed. The recipients will simply have to open Radon on their phones and the shared links or files will be automatically opened.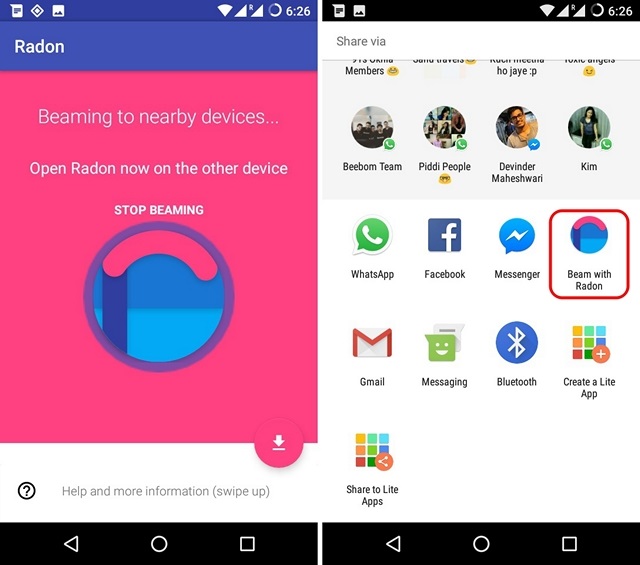 While Radon does not handle large files, it works fine when it comes to sharing text, links or smaller data. Keep in mind though that the devices need to be in close proximity for Radon to work.
Install: (Free)
5. Fluenty
New messaging apps like Allo and the likes of iMessage bring support for smart AI based replies for messages. Smart replies are nothing but AI-based automatic reply suggestions to a text message. From what we've seen, it seems incredibly handy. Well, as you might guessed, Fluenty brings the feature to any Android device and moreover, it is integrated into the notification center, so you can reply to messages in-line. How cool is that? Once you've set up the app, any message that arrives will have two options in the notification. One to type in a reply or use Smart Reply. You can simply tap the latter option to get in the various responses based on the message. The app works with the likes of SMS, Hangouts, WhatsApp, Facebook Messenger and KakaoTalk.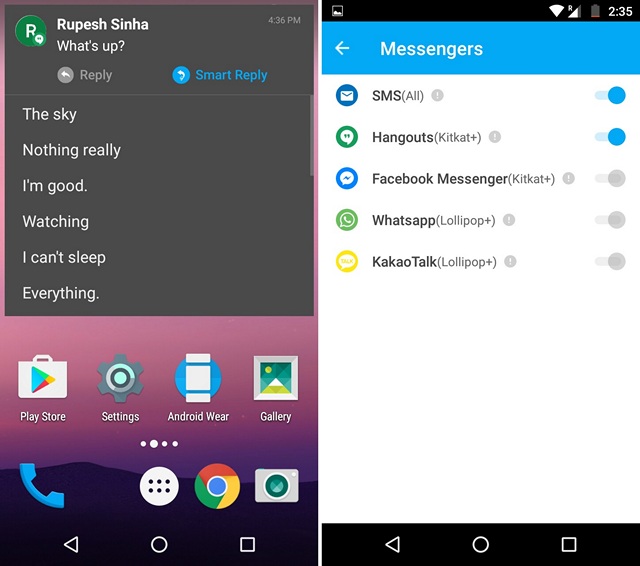 It even works with Android Wear smartwatches, which should come in quite handy. In our testing, we found the app to work pretty well and the automatic reply suggestions are also pretty natural and something you can definitely use. If you would just like the ability to reply to messages in-line like Nougat, you can also check out the quickReply app.
Install: (Free)
6. KinScreen
KinScreen is another very cool Android app that deserves a mention on this list. The app does not feature a great interface but it brings some very cool features. KinScreen lets you decide when you want your device's screen to be turned on and off. For instance, you can make sure the screen is turned on by just detecting a motion, tilt, waving over the proximity sensor and more. This comes in handy when you are doing something and you don't want the screen to time-out on you. It even lets you turn the screen off or on by simply covering the proximity sensor along with more such options.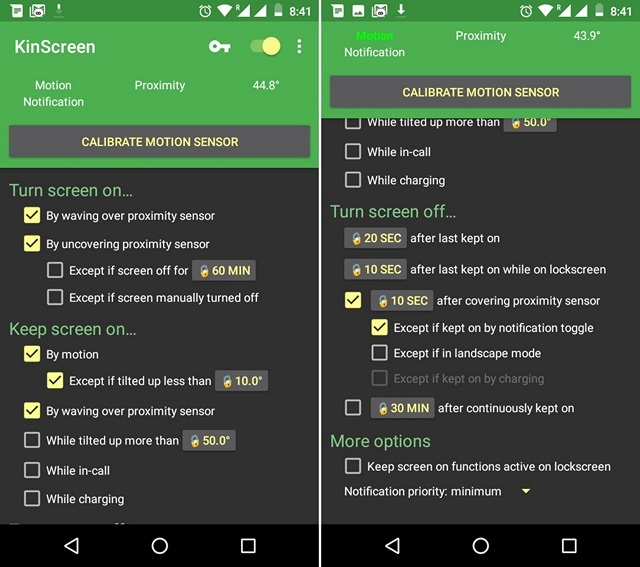 Moreover, all of the aforementioned options and rules can be configured to suit your needs. However, you will need the Premium version of the app to unlock the various configuration options.
Install: (Free with Premium version at $0.99 in-app purchase)
7. Drupe
Contacts Phone Dialer: drupe (Yes, that's what it's called on the Play Store) is a pretty nifty app that is sure to make your life easier. Don't go by its name, the app is not a simple phone dialer, instead it combines your contact and communication apps. The app features a floating icon on the homescreen, which can be swiped to bring up the dialer. The interface features a list of your contacts on the left and the right list features various actions like call, message, email, WhatsApp, Facebook Messenger and more. All you need to do is press hold a contact and drop it to one of those actions to quickly call or message through the various apps listed. Sounds cool, right?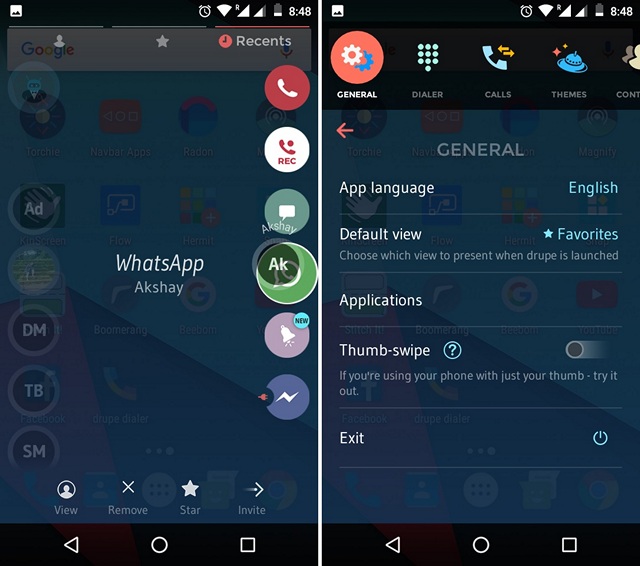 The app also includes a ton of other features like call recording, snooze missed calls or set reminders, a recent feed that's unified and more. We certainly love the app and we are pretty sure you'll find it great too, so check it out.
Install: (Free)
8. Magnify
Use Instagram religiously? If yes, Magnify is for you! The app brings a number of cool features aimed at Instagram aficionados. Firstly, if you are someone like me, who is always confused on what hashtags to put in a post, well, Magnify has your back. The app brings you the most popular hashtags in various categories and you can insert multiple hashtags from different categories. It even lets you schedule posts, however, the app does not automatically post on Instagram for you. Instead, it lets notifies you to post at the scheduled time. That's not all though, as the app even lets you repost directly from Instagram.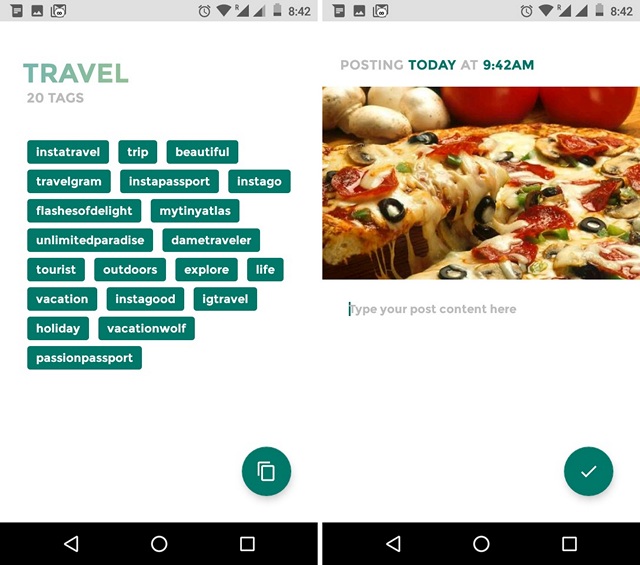 While the free version offers the aforementioned features, you can get the Pro version, which unlocks all the tags and brings custom tags, unlimited scheduled posts, the ability to add signature to posts and more. We already have a list of the various apps that enhance the experience on Instagram, so you should definitely check that out.
Install: (Free with Pro version at $4.99 in-app purchase)
9. Snap Swipe Drawer
Android widgets make a lot of things easier, like reading emails or news on the go, posting on social media feeds, launching a quick action and doing various other tasks. However, not everyone likes widgets, as they also tend to clutter your homescreen. Well, what if you could enable widgets in the notification center? Well, Snap Swipe Drawer lets you do exactly that. You can simply add widgets in the app, go to Preferences and select the activation area in the status bar, enable the app and you are good to go. Then, you can simply swipe down from the activation area you chose and you should see your favorite widgets. Moreover, you can even interact with these widgets. For instance, you can scroll through emails in the Gmail widget.
While there is a free version of the app available, it only lets you add three widgets, which is a shame. You have to get the Prime version to get unlimited widgets.
Install: (Free with Prime version at $1.99 in-app purchase)
10. Stitch It!
Stitch It!, the popular screenshot tool from iOS recently arrived on Android with much fanfare. As the name suggests, the app lets you stitch multiple screenshots for a better sharing experience. It especially comes in handy when there are screenshots of conversations, as you can use the app's transparent overlay crop tool to stitch them together to make them look uniform. The app also lets you edit your private info from screenshots or even highlight a part of the screenshot.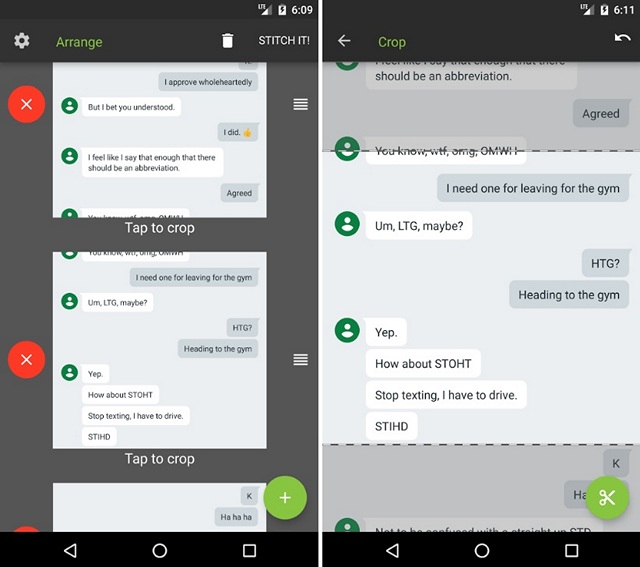 The free version only lets you stitch three images at a time and also puts a watermark on the stitched image. Moreover, the app includes banner ads. To remove the ads and unlock these features, you will have to get a subscription.
Install: (Free with Pro version at subscriptions starting at $1.99/4 months)
SEE ALSO: 10 Great New iPhone Apps You Did Not Know About
Try out some of the latest Android apps
Well, those were some of the latest Android apps that not only bring something unique but are also incredibly useful. As we have mentioned, there are a plethora of apps launched everyday on the Play Store, so we might have missed out on an app or two and if you think we do, let us know about it in the comments section below. Also, try out the apps in our list and share your experience with us.
---
Load More