Smart Replies is the new cool feature in upcoming messaging apps like Google's Allo and the new iMessage in iOS 10. For people unaware, Smart Replies are automatic reply suggestions to a text message, based on your previous replies. While we can expect the feature on other messengers and platform soon, if you just cannot wait and want the feature on your Android smartphone or tablet right away, there is a way. You can use the Fluenty app to get the Smart Replies feature and the good news is, it brings automatic reply suggestions right to the notification center. Plus, it works with Android Wear, so you can send instant replies from your smartwatch too. Cool, right? So, let's dive into the details on how you can get Smart Replies on your Android device:
Set up Fluenty to Get Smart Replies
1. To begin, install the Fluenty app (free) from the Google Play Store. Once installed, the app will welcome you with an introduction page. Tap "Next" to begin.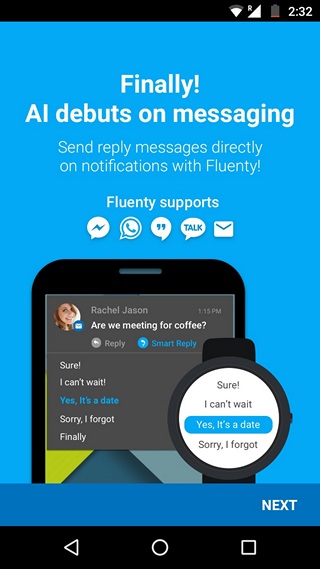 2. Then, the app will prompt you for a few permissions. Accept them and the app will show you a few sample messages, which you can tap to get them on your device and check out their smart replies to just get the hang of the feature.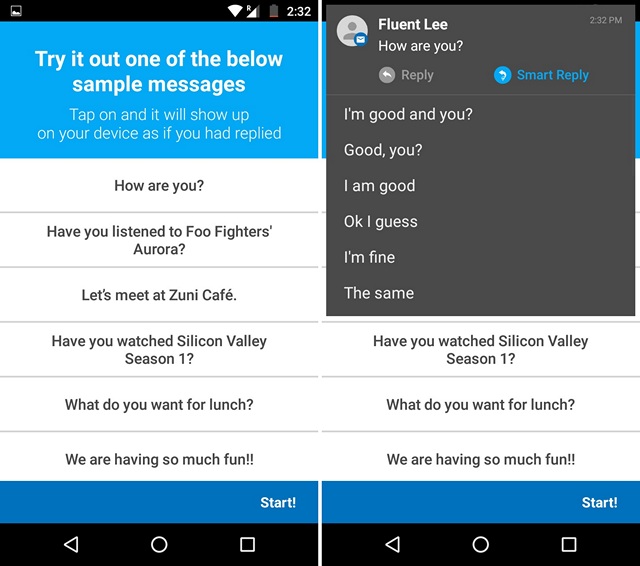 3. After that, you will have to sign in to Fluenty with your Google or Facebook account or you can create an account with your email address. Then, the app will show you a few slides of the app's features. You can tap on "OK I'm Ready!" to get going.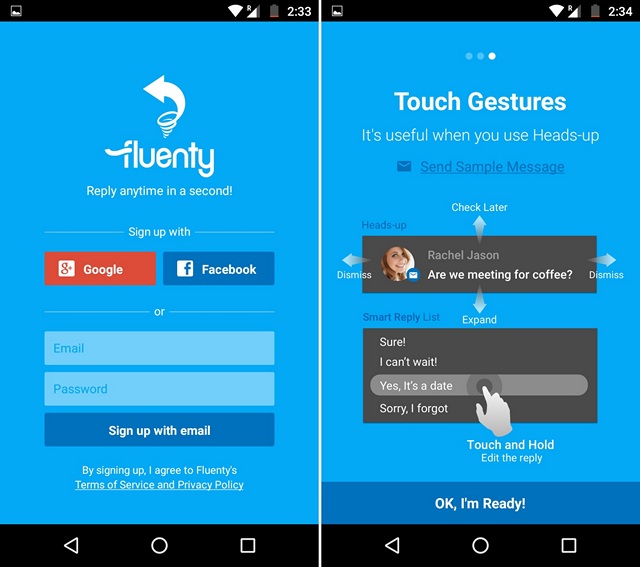 Note: The app will access your email address and incoming messages to bring you personalized responses. If you are not okay with that, we don't suggest you to use the app.
4. Then, the app will prompt you to give it notification access. Just tap on "Enable" or go to Settings->Notification & Sound->Notification access and enable the app. The app will then ask you to install the Android Wear app, since Fluenty uses some Android Wear functionalities to work with a few messengers.
Using Fluenty
Well, that's all! After you have setup the app, the notification from text messages will come with an option to reply directly or "Smart Reply". You can tap on Smart Reply to get a slew of suggestions. If you want to edit a suggestion before you send it, you can just press hold on the reply suggestion. Fluenty's AI engine is designed to bring a fun element to texts, so you can spice up a conversation with Fluenty.
Moreover, Fluenty detects any keyword like locations or celebrities and suggests you any app you can use. For instance, if you receive a message saying "Let's meet up at CP", Fluenty will list apps like Google Maps, Uber, Zomato etc. You can just tap on an app and get going. Cool, right?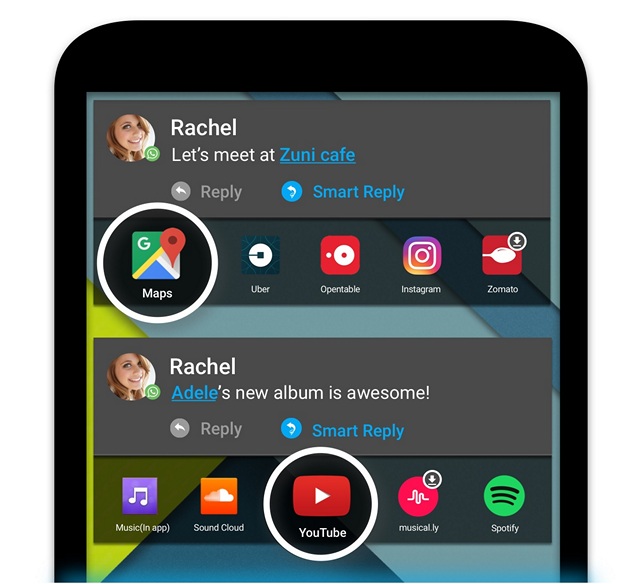 It supports your regular SMS and messenger apps like WhatsApp, Facebook Messenger, Hangouts and KakaoTalk. If you are using any other messenger app, you are out of luck and if you are running an Android version older than 5.0, the app won't work with WhatsApp.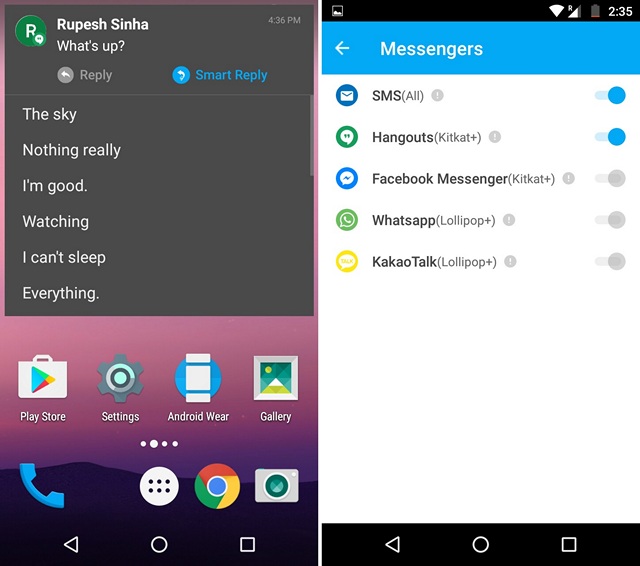 Fluenty brings you a number of options to customize your messaging experience. Here are some things you can do from the Settings page of the app:
 Custom Reply List & Auto Preset: As the name suggests, you can add custom replies that you can use. Also, in the custom reply list page, you can hit the three-dot button and tap on "Auto Preset" to let the app automatically make a list of 10 sentences that you use frequently.
Customize the look: You can go to "Appearance" option in the Settings page to customize the heads-up notification in the app. You can change the text size, transparency, background color and the size of the notification.
Filters: You can filter the messages that feature bad words or emojis.
Other options: Other than that, the app lets you customize the incoming message sound and the sound when the smart reply is sent. There's also a Privacy Mode, which hides the messages on the lock screen. You can even set the duration of time you want the notification to be available.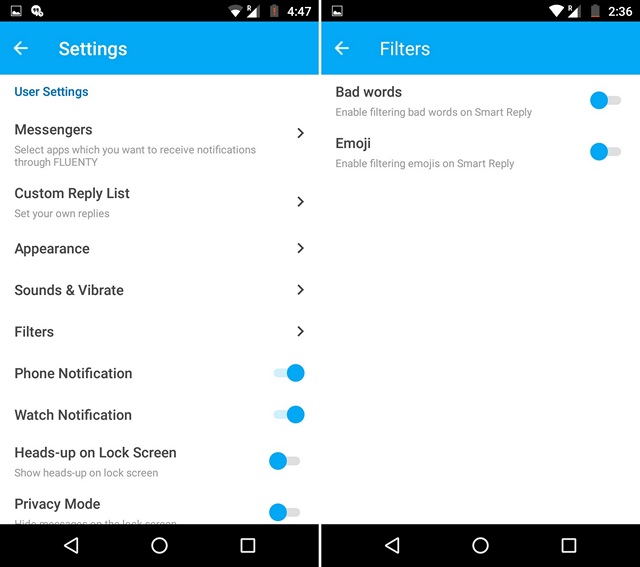 In the Settings page, you can also enable "Watch Notification", so that you get notifications with Smart Replies on your smartwatch.
SEE ALSO: How to Get Android N 'Quick Reply' Feature on Any Android Device
Stop typing and let Fluenty churn out replies for you
If you are one of those people who don't like typing on smartphones or if you just want to get automatic responses to send from your Android Wear smartwatch, you should install the Fluenty app. It just works! So, what are you waiting for? Go ahead and install the app and let us know your thoughts in the comments section below.