Apple always tends to create a great hype with its annual events and this year's WWDC was no different. The Cupertino giant has just made a number of impressive announcements at its annual worldwide developer conference. While there were a number of announcements, it all happened pretty quickly, so we won't blame if you could not grasp everything or you simply weren't able to watch the keynote. Don't worry though, as we are here to your rescue. Here's our WWDC 2016 round-up featuring all the important announcements from Apple:
1. iOS 10
The new iOS version is here and it's arguably the most feature-rich update for the Apple platform. The new iOS 10 update brings a brand new lockscreen with support for 3D touch on notifications and "Raise to wake", which means the device will automatically wake up when you pick it up. With iOS 10, widgets too have been enhanced with 3D touch support and now they have their own pane below Search. Also, notifications too can be previewed with 3D touch and you can take action on notifications or reply to messages inline through the 3D touch previews. Other than that, there's the new Apple Home app (HomeKit), voicemail transcription support in Phone app and under the hood changes, of course.
2. iOS 10 App Updates
Along with the various features, iOS 10 brings updates to various Apple stock apps like Photos, Music, News and Maps. The Apple Music and News app have gone through major design overhauls, making things more streamlined and beautiful. The Photos app has taken a few cues from the Google Photos app, as it brings a similar search feature, which lets you search for photos through emojis, objects, people and more. Moreover, this feature works offline, unlike Google Photos. Also, the app now groups photos based on people, objects, places etc.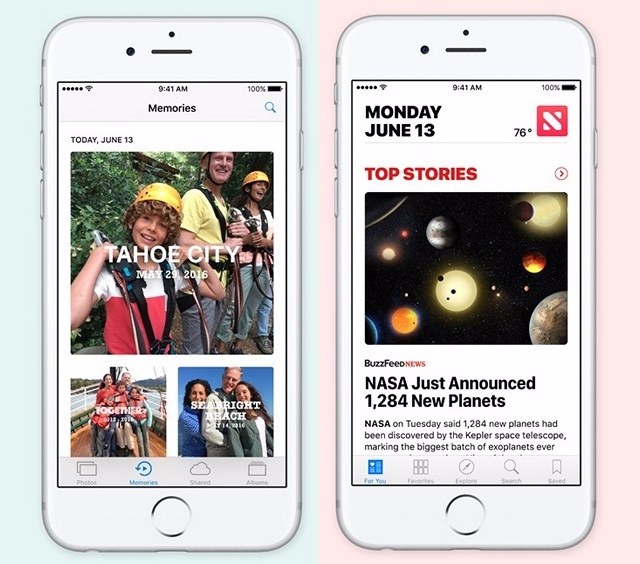 Apple Maps too has been updated with a few interface changes and support for third party apps, which means developers will be able to integrate Apple Maps in their apps. For instance, you will soon be able to book a cab right from the Maps app.
Along with these app updates, Apple has listed a number of its stock apps to the App Store to make sure that they can bring updates to these apps with ease. Another important feature of iOS 10 is that users have the ability to uninstall some of the stock Apple apps.
3. macOS Sierra
Apple announced a major change for its desktop platform, better known as OS X. Well, it will now be known as macOS and the new update is called "Sierra". The major highlight of macOS Sierra is the fact that it finally brings Siri to the desktop. Siri will be replacing Spotlight and Finder on Mac and the voice assistant includes new tricks aimed at desktop users. Along with Siri, Sierra includes features like universal clipboard, ability to unlock Mac with Apple Watch, tabbed windows, better iCloud integration, storage optimization and more.
4. WatchOS 3
Apple hasn't forgot its Apple Watch platform even if you might have. The new WatchOS 3 update for Apple Watch brings a slew of improvements and new features. It includes a brand new control center, faster app launches, variety of new watch faces, fully featured messaging services and more. The platform now also includes the ability to send SOS signals and control smart home products, thanks to integration with Apple Home app. There's also a new Breathe app, which coaches you into breathing better. Other features of the update include more workout metrics like distance, pace, heart rate etc. and the ability to share activities.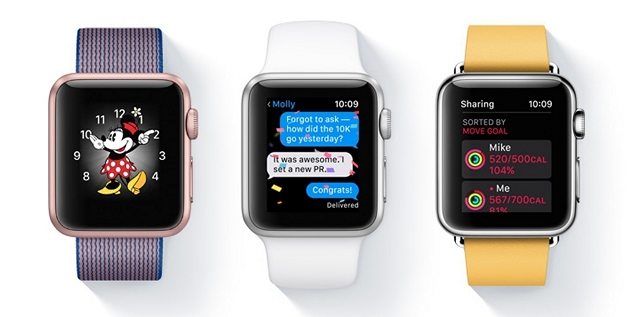 5. tvOS 10
With all the Apple platforms getting major updates, tvOS too hasn't been left behind. WWDC 2016 saw the launch of the new tvOS 10 update, which includes an updated Siri. The new Siri on tvOS has the ability to easily answer complex searches and search for content in third party services. The new update also brings support for a Roku-like remote app for iOS along with the new Live Tuning feature, which will automatically open apps that are live streaming content. Another important feature of the new tvOS 10 update is the ability to sign into all third party apps through a single app.
6. New iMessage Features and Platform
Apple has introduced a number of new features for iMessage. The messaging app now supports rich links, which means a link shared from Apple Music will have a cool preview to go with. There's also support for "invisible ink" messages, which are basically messages hidden in a picture. With the new messaging app, you can even send handwritten notes or a quick reaction like "Ha-ha" or a thumbs up or down and more. Moreover, you get bigger & better emojis, stickers, ability to send messages of different size to symbolize a whisper or yell (like Allo) and more.
That's not all though, as Apple is now opening up the iMessage SDK to third party developers, so that they can create mini-apps that will be available through a store inside the Message app.
7. Siri improvements
Siri has undergone a few improvements of its own. Most importantly, Apple has opened up Siri for third party developers, which means that app developers will be able to integrate Siri into their apps, making the voice assistant much more useful. Also, as we mentioned, Siri is now available for macOS with its own set of unique features like the ability to search for files & folders along with its usual features. The virtual assistant has also been improved for tvOS, so it has received improvements all around.
8. Other announcements
Along with the aforementioned major announcements, Apple also made a few more announcements like Apple Pay's arrival on Safari. Basically, you will be able to make payments in Safari via Apple Pay, So, if you want to buy something from a website on Safari, you'll see an Apple Pay option, if the website supports it. Apple also announced a cool new app dubbed Swift Playground for kids interested in coding. The iPad app brings a number of coding lessons and challenges for Swift in a fun and interactive interface.
SEE ALSO: Google I/O 2016 Recap: All the Important Announcements From The Event
Impressed with Apple's WWDC announcements?
While some of us have found the new WWDC announcements from Apple impressive, some don't feel the same way. While we like the new platform updates, we were especially impressed with Apple's decision to open up its apps to third party developers. What about you? Did Apple manage to impress you with its WWDC announcements this year? Let us know in the comments section below.