Instagram has gained a lot of popularity over the years and it's now one of the most popular social networks out there. The 500 million active users it has gained in the last 5 years is the proof of the traction it has gained. From casual individuals to businesses, everyone has joined the platform to share their interests using photos and short videos. Instagram offers an official app for both Android and iOS, and the apps are pretty good at what they do. While Instagram has added various features like Stories off late, it still lacks quite a few features that users have been demanding for a long time now.
So, if you are looking to get more out of Instagram, you should try out some third-party apps specifically made to enhance your Instagram experience. We are listing down 10 apps for Instagram you should be installing:
1. HashTags
Hashtags are the key to getting more people to see your picture and get noticed. If you are not using the right hashtags for your posts, then it could easily get undermined by other posts with popular tags. Unfortunately, not everyone is good with finding and adding the right tags, and this is where the HashTags app will help you. The free app lets you choose a category for you post — like Animals, Nature and Electronics, etc — and shows you all the popular hashtags in that category.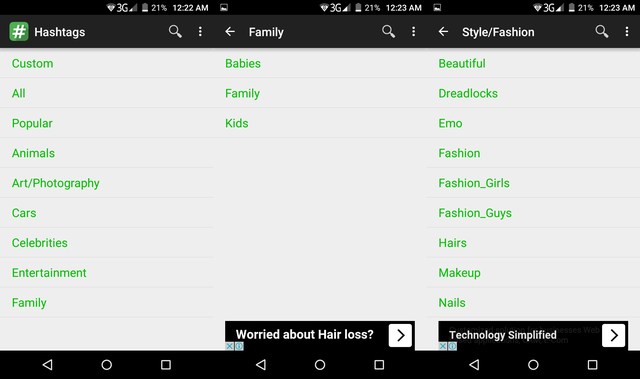 You can simply copy the required hashtag with a single tap and paste it in Instagram. Of course, the app does not offer all the categories, but if you are unable to find a category for your picture, you can always send an email to the developers to add it. HashTags is only available for Android, but iOS users can use TagsForLikes which serves the same purpose.
Available for Android (Free)
2. Follower Stats for Instagram
This app is like your personal Instagram dashboard, where you can see detailed activity of your account. It will give you a complete report of who is following you, who you followed, who are more interested in your posts, your likes, like-backs and much more. The app comes with a $4.99 in-app purchase that unlocks all the features. With the free version, you can only see who followed you and who blocked you, which isn't much of a deal so you will have to go premium to use this app.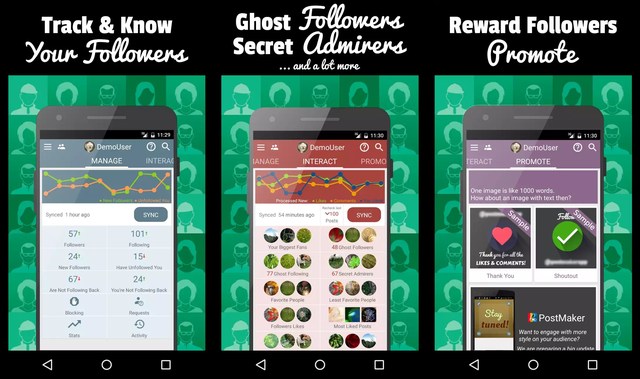 These stats can be of great value to brands looking to market their product, but may not have much value for individual users. The interface of the app is also quite intuitive and it lets you complete most of the tasks right from the app instead of going to the official Instagram app.
Available for Android (Free, Full version with in-app purchase of $4.99)
3. InstaPlace
InstaPlace lets you add automatic and custom captions right on the photos to make them more appealing and informative. It can automatically extract location data and lets you caption it on the photo, along with custom text added by you. This enables you to tell everyone where you actually are and what are you doing without making anyone guess.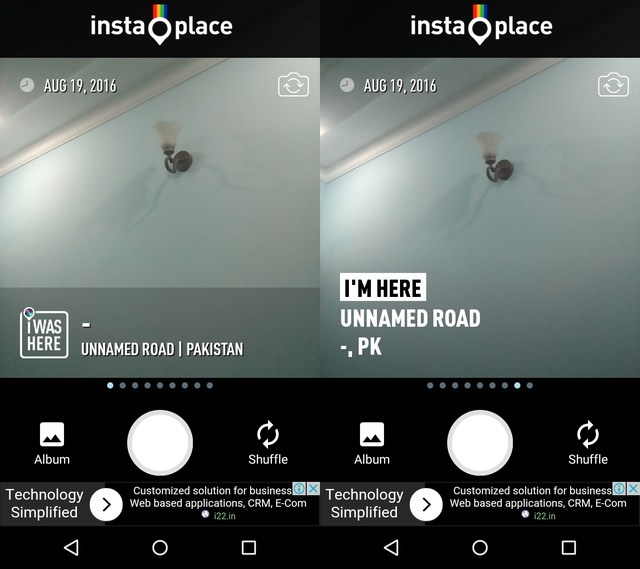 The app comes with dozens of skins to beautify your captions and more can be unlocked through in-app purchases. The Android version is free and comes with $1.99 in-app purchase to unlock all the features, but the iOS and Windows Phone version of the app are paid and you can buy it for $1.99 and $2.49 respectively.
Available on Android (Free, Full version with in-app purchase of $1.99), iOS ($1.99) and Windows Phone ($2.49)
4. Facetune
Selfie is one of the top hashtags on Instagram and every day hundreds of thousands selfies are uploaded to Instagram. If you are a selfie person then you should definitely try out a face tuning application. Facetune is one such application that can easily turn a beast into an angel with just a few taps. It is specifically made for tuning your face and making your selfies as good as you see in magazines.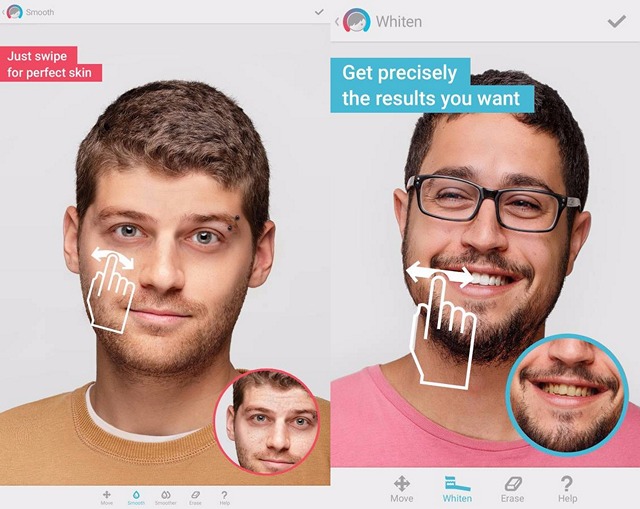 I have tried out many similar applications but by far Facetune offers the the best editing prowess of all. You can whiten teeth, adjust your smile, remove dark circles and beautify your skin, change eye color and size, change hair color, reshape face, add makeup and much more. I am sure you will be thinking that all those edits will look fake, but the good news is, Facetune makes sure those edits look natural. Even if you do have a Face tuning app (some smartphones have one built-in), you should still give Facetune a try for the amazing tools it offers.
Available for Android ($3.99), iOS ($3.99) and Windows Phone ($2.99)
5. Boomerang from Instagram
This is an official app from Instagram that lets you take 10 burst pictures in a quick succession. It will then stitch all those images and turn them into a video that loops forwards and backwards, similar to a boomerang (video speed can be adjusted). This adds a unique touch to the moment that will surely make people laugh or think. You will find this better than still pictures and different from videos.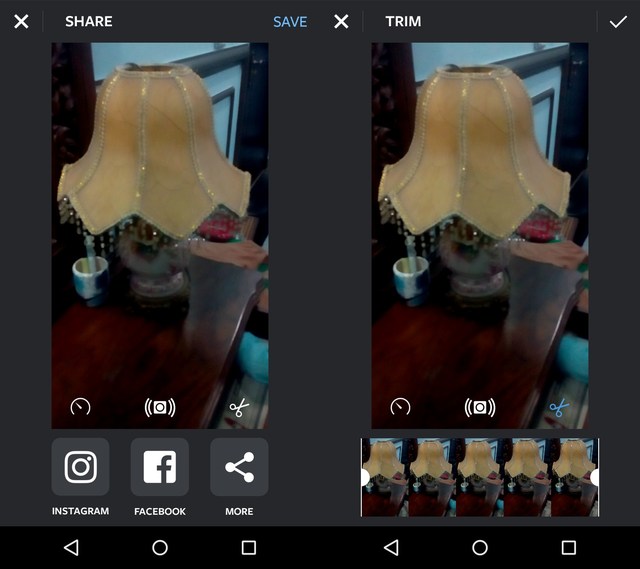 Boomerang saves the moving pictures to your camera roll, so that you can share them on your favorite social media channel; including Instagram, of course.
Available for Android and iOS (Free)
6. Microsoft Hyperlapse
This is a timelapse video creation app offered by Microsoft. Hyperlapse lets you record a timelapse video that you can speed up and see the action smoothly. For example, you can record sun set or sun rise using Hyperlapse and then see it in action by speeding up the process. You can speed the video up to 32x speed and the video is quite stable thanks to Microsoft's own time-lapse technology.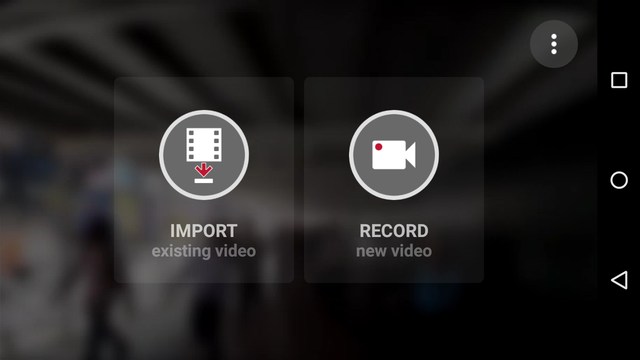 You can also import videos from your device and turn them in to timelapse videos. Furthermore, the interface of the app is extremely simple, you can easily create a timelapse video with just 2-3 taps.
Available on Android (Free)
7. Snapseed
Snapseed is a professional photo editing app offered by Google that lets you edit your photos and share them on social media channels; including Instagram. Although, Facetune works fine for selfies, you will still need a good photo editing app to edit different types of photos. Snapseed offers professional level photo editing features and all of that for free.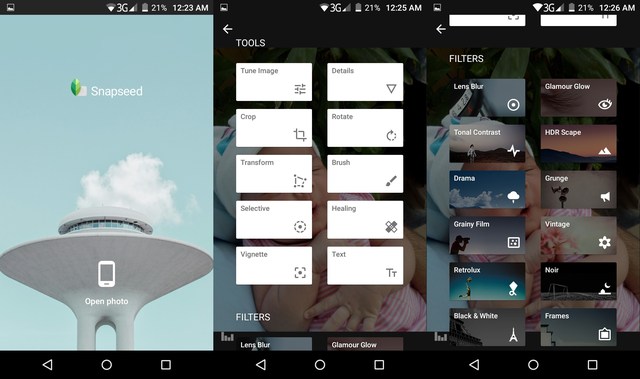 Although you can do many advanced edits using the app, to list a few common edits; it lets you adjust white balance, create depth and vibrancy, sharpen images, crop, rotate, use brushes, add enhancements and use tons of filters. On top of these amazing editing features, the interface is also very simple and interactive. You can re-edit individual changes without needing to undo anything, thanks to its managing system that is based on Stacks.
Available for Android and iOS (Free)
8. Layout from Instagram
Layout is another great app from Instagram developers that lets you create amazing photo collages with ease. It lets you create collages from your pictures and gives you full control over how you want the collage to look. You can pick up to 9 pictures and adjust their position as you like by simply dragging them. You can also easily zoom-in or zoom-out of photos to adjust focus and use filters to make them attractive.
It also lets you take burst shots right from the app to create collages on the go, and you can save the collages in your phone to share them anywhere you like.
Available for Android and iOS (Free)
9. Repost for Instagram
Quite often you may find an astounding photo/video on Instagram and get tempted to share it with your followers. However, Instagram doesn't make it easy to repost someone else's photo/video on Instagram again. If you would like to repost Instagram posts, the Repost for Instagram app lets you do that easily while giving credits to the original poster.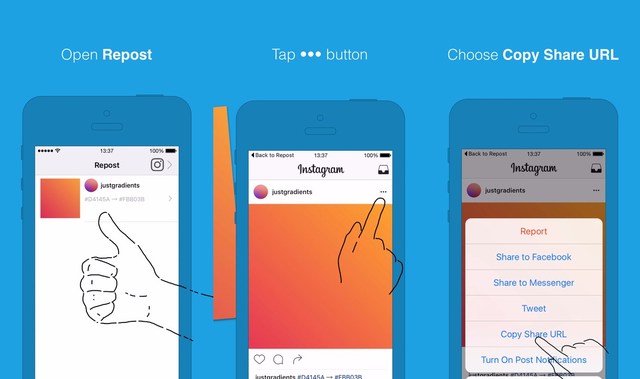 You can simply copy the URL of the post and paste it in Repost for Instagram. The app will give you control over where and how you want to credit the original poster and then you can go ahead and repost it.
Available for Android and iOS (Free with in-app purchases)
10. Hootsuite
Hootsuite is a post scheduler and manager for multiple social media channels, including Instagram. You can schedule a post on Instagram and the app will notify you to post it on Instagram at the specified time. Also, the app brings you notifications about mentions of your brand or profile. If anyone mentions your brand or talks about it on any social media channel, you will be notified, so that you can quickly take a look.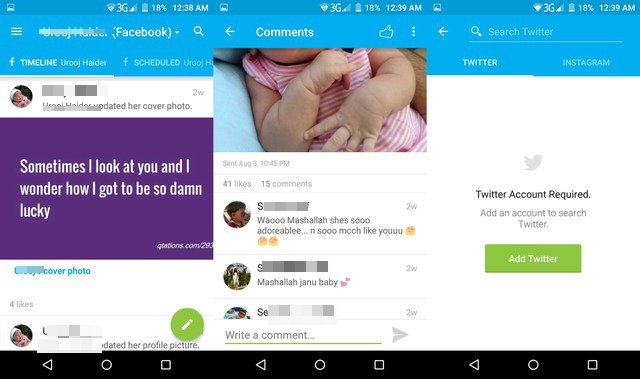 You can manage up to three social media accounts for free but if you want more accounts, you can get the monthly subscription of $8.99 (trial available), which brings support for up to 50 accounts. Overall, its detailed analytics and bulk scheduling features make it perfect for any brand looking to create a social media presence. However, it does not really go ahead and post Instagram photos for you and if you don't like that, you can check out other tools that let schedule Instagram posts.
Available for Android and iOS (Free with monthly subscriptions starting at $8.99)
SEE ALSO: 12 Cool Instagram Tricks You Should Know
Ready to become a Pro at using Instagram?
Many people use Instagram religiously and these cool apps for Instagram are aimed at them, so that they can enhance their usage and make more out of the platform. Most of the above apps are free and the paid ones are also worth every penny. For example, Facetune can make any of your selfies beautiful to a level you may even feel guilty of fooling your followers (at least I do), but heck, if you can wow someone, then the money and the guilt is worth it.
Also, if you are looking for cool new Instagram tricks, check out our video: