Released in 2013, GeoGuessr is a popular edutainment game that lets you test your geography knowledge to the fullest. If you're a fan of educational games and apps, you probably know all about it. While it once used to be free, it went premium in 2019 after Google hiked the prices of its Maps API. While many developers switched to Google Maps alternatives like OpenStreetMap following the hike, GeoGuessr has retained Google's mapping services. However, the premium price means that many GeoGuessr players are on the lookout for the best free alternatives. If you are one of them, here are the 12 best geography-based trivia games like GeoGuessr you can play right now.
Best Free Alternatives to GeoGuessr You Can Play in 2022
In this article, we will list the 12 best free GeoGuessr alternatives you can play on your computer and mobile. Like GeoGuessr, they all test your geography knowledge, but they are also either entirely free or, at least, offer a free version with a reduced feature set. So without any further delay, let's check out the list of games like GeoGuessr.
Note: GeoGuessr also offers a free version, but it is severely limited in terms of its features. It only offers a 2D panorama view instead of the classic 360-degree Google Streetview. The free version also has just one map instead of more than 100,000 options in the Pro edition.
1. City Guesser: Best Free GeoGuessr Alternative
If you're seeking an outstanding free alternative to GeoGuessr, look no further than City Guesser. This browser game offers a captivating experience, similar to GeoGuessr, but with a unique twist—it utilizes video instead of the Google Maps API. Not only does City Guesser provide an immersive full-screen video of random global locations, but it also offers a free gameplay experience. To participate, simply click on the 'Start Guessing' button at the bottom of the screen to reveal the map when you're ready. Make your guess and then click the green 'Guess' button at the bottom-right to determine your proximity to the actual location. There's also a multiplayer mode that lets you compete with friends. To get started, create a private room or join a public one.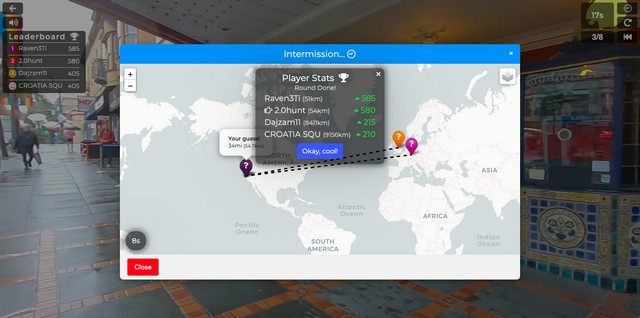 You can play City Guesser with locations from all over the world or narrow your focus to a particular country, continent, or region. Options include the US, Japan, France, Russia, and India, among others. City Guesser maps also include categories like major cities, busy places, coastal cities, capital cities, snowy landscapes, and more.
While some videos will give you tell-tale signs of where you are (such as automotive number plates), you will have to work a bit harder with other videos. Overall, the game is not as challenging as GeoGuessr, but it's still just as entertaining, making it the best free game on this list.
Platform: Web
Pricing: Free
2. PlayGeography
As its name tells, PlayGeography is another geography-based game like GeoGuessr. It comes from an edutainment firm called TeachMe, which offers family-oriented educational games and apps. It's a great game to learn more about world geography, but unlike GeoGuessr, it doesn't offer 3D maps, nor does it offer videos like City Guesser. Instead, you get 2D maps on which you have to guess the city, state, country, flags, etc. It is more of a 'map quiz' game and a highly involving one at that. However, PlayGeography is free to play without any restrictions on how often you can play it per day.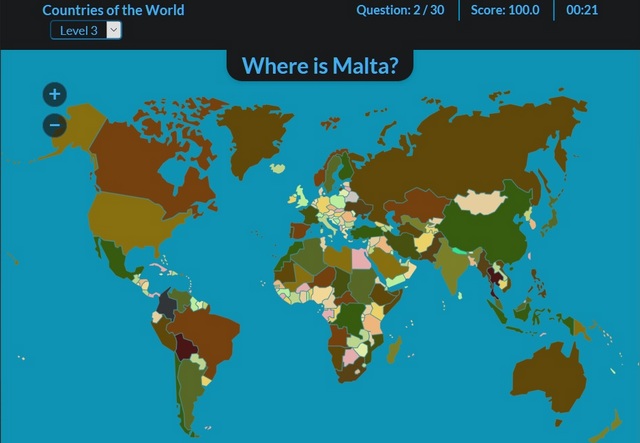 PlayGeography includes five different game modes, including country, location, flags, capitals, and states/provinces. There are also different levels with different difficulty modes for each game. Each game has a timer, and the faster you answer your question, the more points you earn.
PlayGeography is a perfect alternative to GeoGuessr if your objective is to learn more about the world in a fun way. It is free, has more questions than GeoGuessr, and does not need you to log in or create an account to get started. Overall, it gets a big thumbs-up from us for being a fun, wholesome way to spend time with your family and friends.
Platform: Web
Pricing: Free
3. Geotastic
Geotastic is the best free crowdfunded alternative to GeoGuessr. It is a versatile, free, multiplayer geography trivia game that you can play with your friends and family. You can choose from among different Game modes, including random street views, popular landmarks, and a flag guessing mode. There's also a country-guessing mode that requires you to guess the correct country using clues and hints.
Geotastic is free but requires an account for you to log in and start playing. Players can either create a local game as part of the single-player mode or opt for an online lobby for the multiplayer option. For the latter, only the user who creates the online lobby needs an account.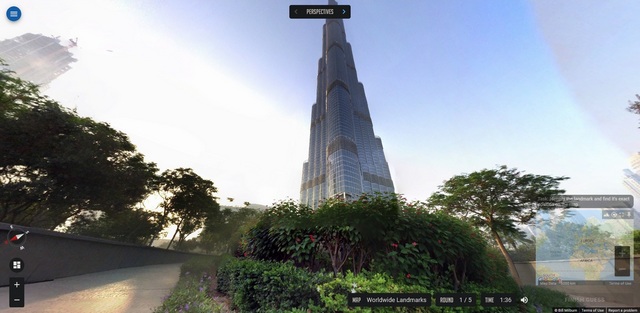 In my experience, Geotastic is one of the most interesting GeoGuessr alternatives I played. It is a fun free game with unlimited plays, multiple modes, and several challenges. Overall, Geotastic is pretty similar to GeoGuessr, but without the fee or strict restrictions. However, it is donation-ware, which means you will have to donate to keep the game running. One of the only negatives here is that there are only 88 countries in the challenge mode, although that's still more than enough for most players.
Platform: Web
Pricing: Donation-ware
4. GetLost
GetLost is yet another free GeoGuessr alternative, with a primary focus on the US and India. It is a geographic discovery game that uses randomized streetside maps, and they include clues and hints that enable players to figure out the location. The game comprises of five rounds, and scoring depends on how close your guess is to the actual location shown in Streetview. The current max score is 5,000 per round. Like Geotastic, it also needs you to create an account to start playing the game. You can either create an account with your email or log in using your Twitter or Google credentials.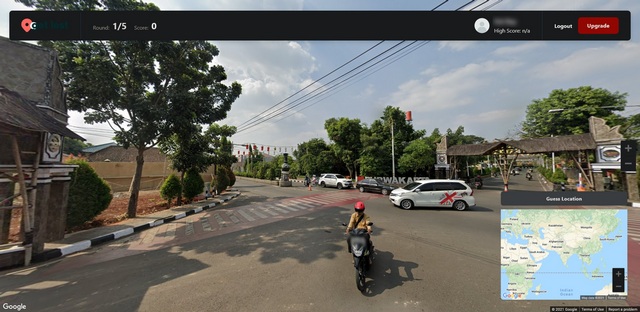 Unlike GeoGuessr, you don't get a multiplayer mode in GetLost. However, the single-player gameplay is pretty involving, and gamers can identify the cities from the street signs, building names, etc. The game features locations from around the world, but the focus seems to be on North America and India. I found most of the locations in India hard to guess because of the lack of street signs. However, the ones in the US were a little easier, especially those in the cities.
GetLost offers free gameplay, as well as premium pricing plans, for true geography aficionados. Free accounts are limited to one game session of five rounds per day, which means you will have to pay to play without any restrictions. However, the free experience is still more rewarding than GeoGuessr because you get to play five rounds without any mapping restrictions.
Platform: Web
Pricing: Free; Premium Plan costs $2.99/month or $23.99/year

5. Seterra
Seterra is one of the best free GeoGuessr alternatives for obscure language users in 2022. It includes fun quizzes that help familiarize you with countries, capital cities, flags, rivers, lakes, and notable geological features. There are nine different game modes to challenge you in different ways. Also, Seterra Online has a 'voice' feature that helps you learn the correct pronunciation of the names of countries, cities, and places. The game offers more than 400 maps in more than 40 different languages, including many relatively obscure ones.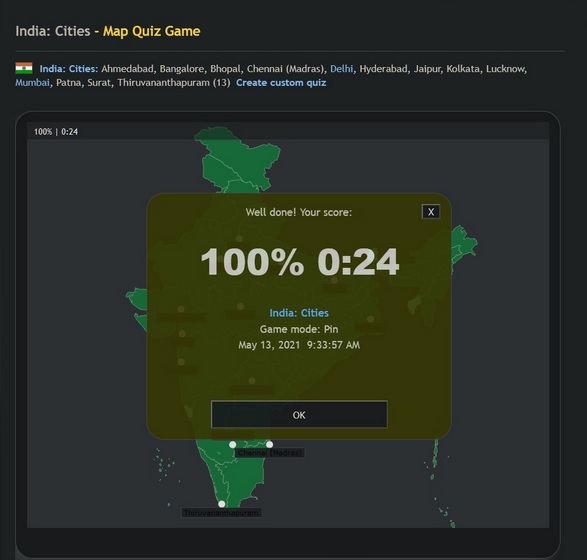 Seterra has a web version for computers, as well as mobile apps for Android and iOS. All map quizzes are customizable, so you can select only the locations you are interested in. Available regions include the US, North and Central America, South America, Europe, Asia, Africa, Oceania, and the World. Players can also share custom quizzes with friends, family, or students. Seterra is not only one of the best geography trivia and quiz games but also offers an 'Anatomy and Science' quiz that lets you learn more about the human body.
6. Hide & Seek World
Hide & Seek World is a fun geography trivia game with a great concept and a strong emphasis on the multiplayer experience. It consists of a few turns, and in each turn, there's one hider who selects a location somewhere in the world and 1-5 seekers who try to guess the location based on Google Street View images. As a hider, your goal is to pick a difficult location as the better the seekers guess your location, the fewer points you get. As a seeker, you get more points if you guess better.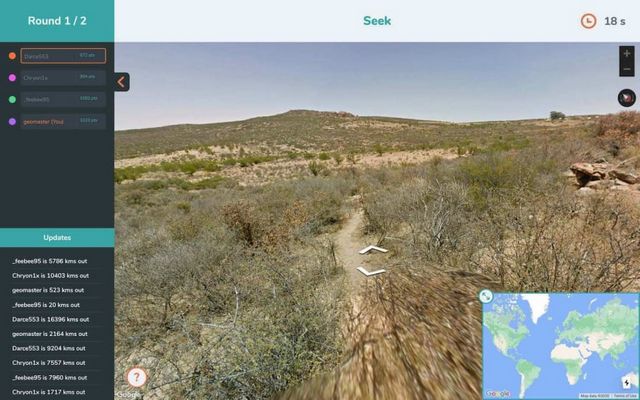 Hide & Seek World is based on the popular children's game, but players here have a virtual playground instead of the real world. That said, the whole world is now your playground rather than just your backyard, the closets, and the attic. At the end of each round, you can see each player's guess and how far everyone was from the hiding place. The game has two game modes: Street View and Satellite. In Street View mode, you hide by selecting a street view location, while in Satellite mode, your hiding spot is a random zoomed-in area.
Hide & Seek World has both free and paid versions. The free version limits you to one game per day, while the paid version lets you play unlimited rounds, as well as in-game customizations, and up to 20 players in private mode. The highest tier also lets you invite friends to play.
Platform: Web
Pricing: Free; Pro at $3/month and Premium at $8/month
7. World Geography Games
World Geography Games offers entertaining and educational quiz games for kids, students, adults, and seniors who want to learn about the world. The quizzes include questions about all the countries and are helpful for folks "whether (they) are practicing for a test, looking for a free interactive whiteboard resource, or searching (their) next holiday destination," claim the developers. The game should also help teachers engage their students in a fun way in primary school, secondary school, homeschooling, and tutoring.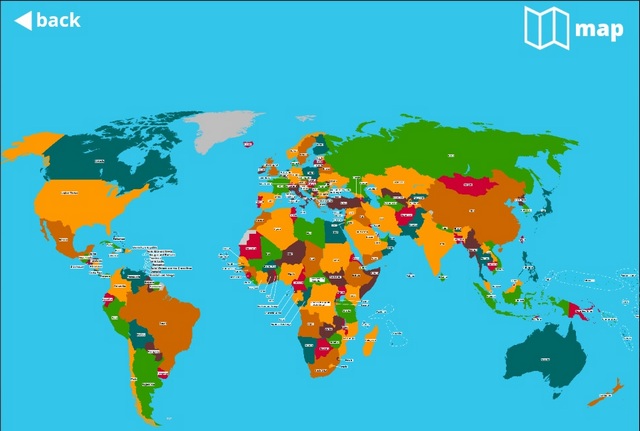 World Geography Games is free to use, and it sure tests your geography skills. It lets you take quizzes on countries, continents, capitals, flags, mountains, seas, rivers, deserts, volcanoes, islands, and more. Overall, it offers more game types than GeoGuessr, but conspicuous by its absence is any type of 3D mapping or videos. Still, it is a great free alternative to GeoGuessr and one that you should try out if you want to improve your geography knowledge for free.
Platform: Web
Pricing: Free
8. Zoomtastic
One of the best and most interesting GeoGuessr alternatives, Zoomtastic is a fun way to learn about various countries around the world. It is a browser-based game that starts by showing a map of a random country. Players have 30 seconds to correctly guess the location once they see the map that pans out slowly, giving you more information over time. After 10 seconds, four possible answers appear, and you need to choose one. Every correct answer fetches you 100 points, but you will get only 30 seconds to answer each question.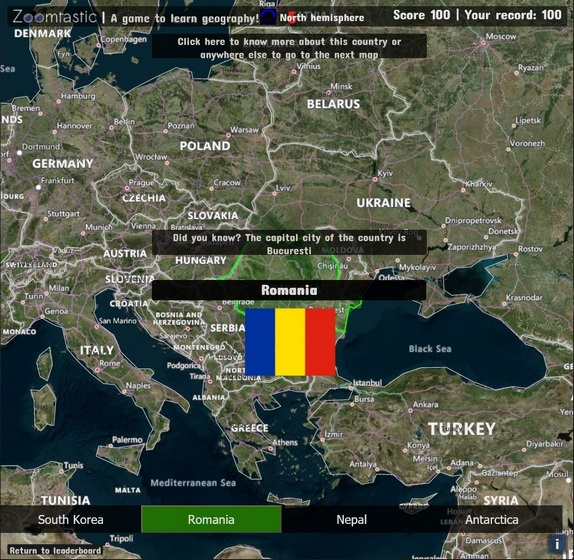 Zoomtastic is a great game if you have a basic knowledge of geography, but it's easy to see why it might be frustrating for some. It also has just one game mode, which means you can only guess countries and not cities, landmarks, or other locations. What's more, the website isn't mobile-friendly, so it is best to play this GeoGuessr alternative on a computer. All said and done, Zoomtastic is one of the better free games for geography aficionados nd the 'Did You Know' answer at the end of each question is a great way to gain knowledge about various countries.
Platform: Web
Pricing: Free
9. GuessWhere Challenge
GuessWhere Challenge is an immersive geo-challenge game for Android devices. Once you start up the game, it will virtually teleport you to a random place anywhere on the planet. You will see a panorama and have to guess the location on a map. The more accurate your guess is, the more points you will earn. Each session consists of five rounds in five different places, and your job is to make it to the top of the scoresheet and unlock all achievements.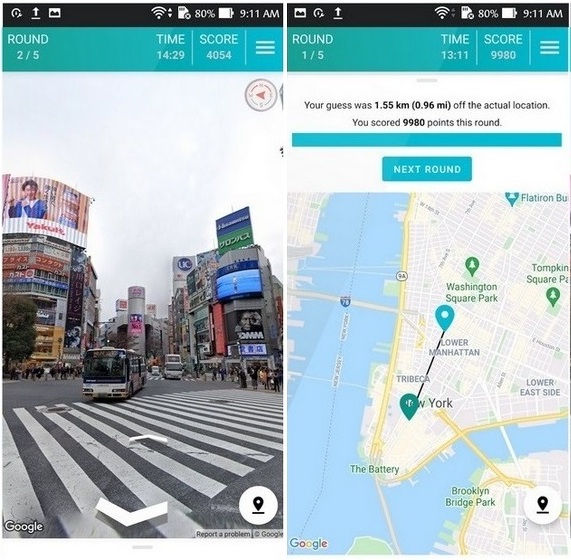 GuessWhere Challenge is one of the best free alternatives to GeoGuessr on Android. It enables users to test their geography knowledge, travel to new locations virtually, and complete different geo-challenges. Various game modes include multiple location options like cities, regions, etc. Challenges include finding famous monuments, landmarks, and remote places on the map. Finally, there's also a multiplayer mode that allows you to challenge either random players or your friends. Overall, a must-try mobile game for folks looking for a free game like GeoGuessr.
10. Ducksters
The final game on our list of best free GeoGuessr alternatives is called Ducksters. It is a geography-based trivia and quiz game that covers several regions around the world, including all the continents, capitals, country flags, etc. It also covers all the US states, including state maps, capitals, and flags. There's also mapping games, crossword puzzles, word searches, and more available on this site. You can either play the puzzles online in active mode or a printable version for use in classrooms or at children's parties.
Ducksters also includes geography word searches that require you to find all the geographic terms for a region hidden inside the word search grid. There is an online version of the game where you can match your scores against other competitors. You can also opt to play with printable offline maps and charts if you choose to. Quizzes are available on oceans, lakes, deserts, glaciers, islands, ecosystems, etc.
Alongside geography, the game also includes quizzes on history, biography, science, and more. There's also a curious 'Hangman' challenge that requires you to guess the word before a stick-figure is hanged. It is a gory and unnecessary addition to a game that is otherwise dedicated to helping children learn geography. Be that as it may, I would recommend Ducksters for kids as a great free GeoGuessr alternative
Platform: Web
Pricing: Free
11. Where Am I?
Where Am I is yet another location-guessing game that I found pretty interesting. It is a relatively minimalist game that drops you in a random location anywhere in the world. All you have is a Google Streetview photo that you can manipulate to guess your location. There's a world map in the inset, which you can hover over to enlarge and then click on the region you believe the panoramic image is from. The app will immediately tell you how far away your guess was from the actual location of the picture.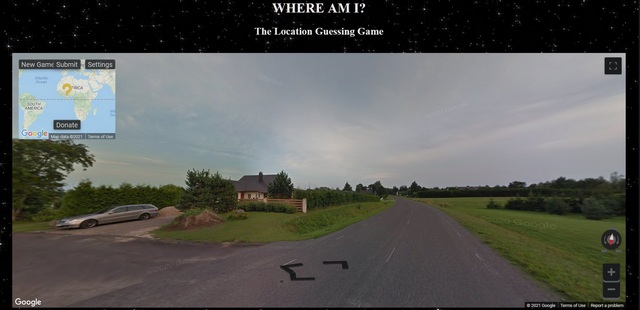 I didn't get anything right during my attempts (no surprise there), but it's fascinating and harmless fun. To try it out for yourself, click on the link below on your desktop browser. You can also play the game on mobile browsers, but larger screen real-estate better helps in pinpointing the location.
Overall, Where Am I? is a free geography trivia game that deserves to be on this list of best GeoGuessr alternatives. And just in case you are wondering, it is not only free to play but ad-free as well.
Platform: Web
Pricing: Free
12. Lizardpoint
Another great GeoGuessr alternative you should consider trying out is Lizardpoint's Geography quizzes. The website hosts a ton of geography related quizzes that you can play and test your knowledge about the countries, continents, and geographical features of Earth. The home page suggests some of the most popular quizzes that you can try. Currently, it suggests countries of Europe. However, there are other quizzes as well, including one about the states of the USA (which can give you some FRIENDS feels). There's also a handy study mode which you can use to, well, study. This mode brings extra information about countries and US states that can help with your courses.
Platform: Web
Pricing: Free
Play the Best Free Games Like GeoGuessr to Test Your Geography Knowledge!
All the games listed above are similar to GeoGuessr, some more so than others. However, what they all have in common is that they all test your knowledge of world geography. So go ahead, try out these best free GeoGuessr alternatives, and let us know which one you liked the best and why.
---
Load More