As the most popular web browser out there (although there are numerous alternatives), Google Chrome is used by almost everyone of us, on a near daily basis. That said, we all have a whole bunch of tabs open in Chrome at any point of time, and this overabundance of tabs generally gets a little bit too overwhelming to handle. Also, the fact that Chrome is quite a resource hog, only makes things worse.
But it doesn't have to be that way, as there are many Chrome tab manager extensions that you can use to sort things up. They not only make the overall browsing experience better, but also free up system resources (e.g. RAM) from being unnecessarily occupied by Chrome. So without further ado, here they are.
1. TooManyTabs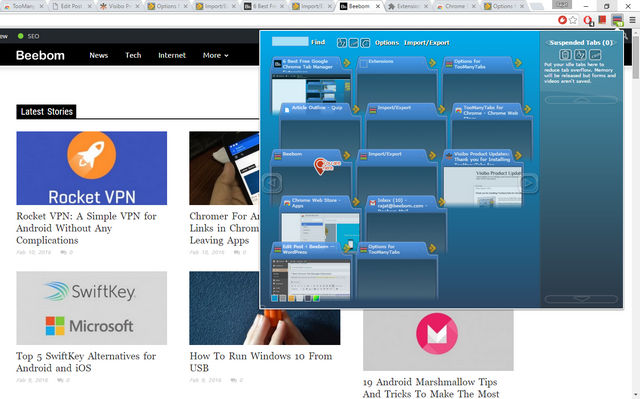 TooManyTabs makes juggling between multiple Chrome tabs a simple affair. When accessed via its toolbar icon, TooManyTabs shows a preview of all the open tabs, and all you have to do to go to a tab is click on its preview. There's also a search bar that you can use to quickly find tabs via their titles. What's most interesting is that TooManyTabs can automatically backup/restore active tabs to your Google Drive account. Other than that, idle tabs can be organized via their separate column, and suspended to free up memory. You can even export/import tab data as HTML files.
2. The Great Suspender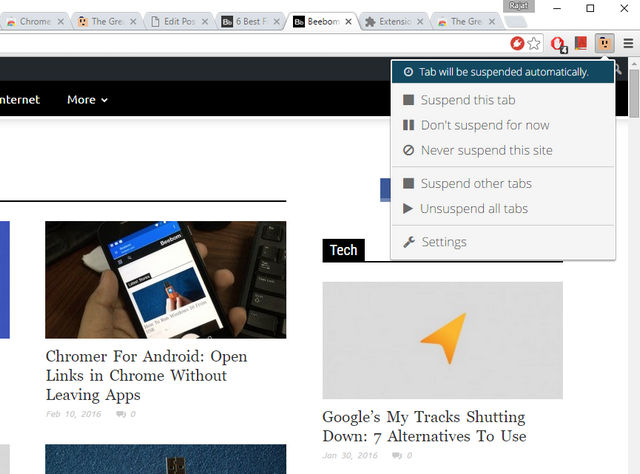 When it comes to suspending Chrome tabs, The Great Suspender is arguably the best you can find. The open source extension lets you specify the time period (20 seconds – 3 days) after which tabs should be automatically suspended, thus freeing up the memory taken up by them. In addition, it's extensively configurable, and you can specify whether pinned tabs, tabs having unsaved form inputs etc. are suspended or not. What's more, you can even "whitelist" certain websites, so that the tabs having them are never suspended.
3. Tabli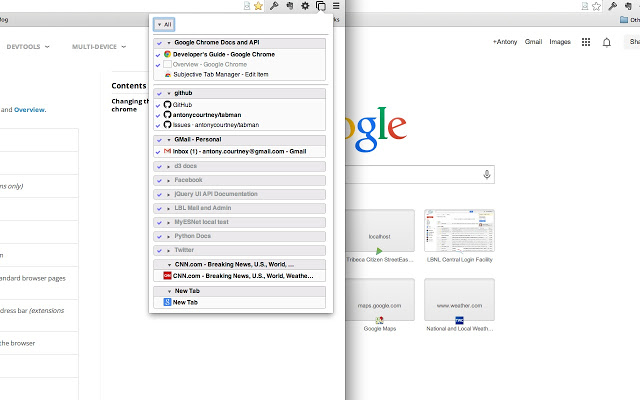 Elegantly designed and super easy to use, Tabli can not only manage multiple Chrome tabs, but also tabs in multiple Chrome windows. On clicking its toolbar icon, Tabli shows a listing of all the open tabs, grouped by Chrome windows they are open in. Simply click on a tab in the listing to jump to it. Tabs in a Chrome window can be saved for reloading later, and Tabli can even save a group of tabs (in the same window) as bookmarks.
4. Tab Manager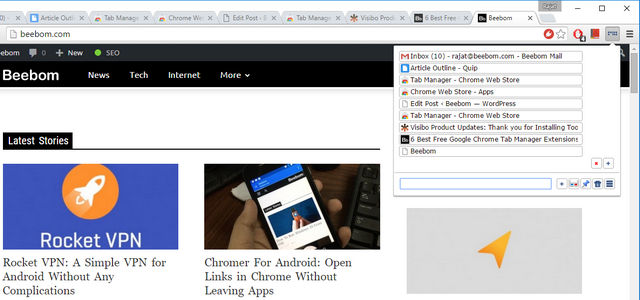 Tab Manager is one of the simpler extensions that you can use for managing Chrome tabs. It displays the open websites via their favicons, and you can click on a favicon to jump to the corresponding tab. However, you can also change this layout to display a vertical listing of open tabs' titles. There are also quick access buttons that let you do things like pin tabs, and even open new Chrome windows. Lastly, the search bar can be used to find any tab you are looking for.
5. Session Buddy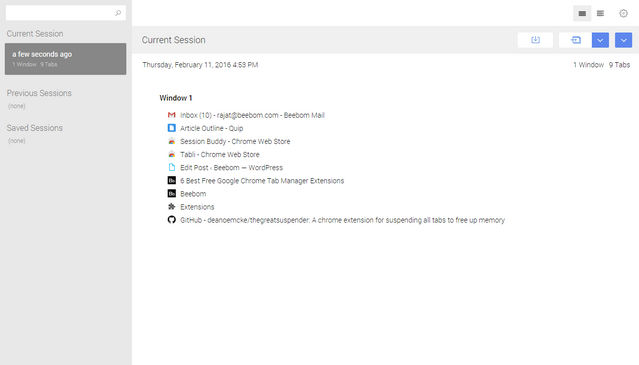 One of the most powerful Chrome tab/session management extensions available, Session Buddy is an absolute powerhouse. It constantly monitors your active browsing sessions (and of course, the open tabs in them), and lets you save/restore them with one click. The session information can be saved in many formats, such as JSON, HTML, and CSV. There are extensive tweaking options, and you can configure everything from session names to maximum session counts that can be saved. Then there are things like the ability to hide/ duplicate tabs, and keyboard shortcuts.
6. OneTab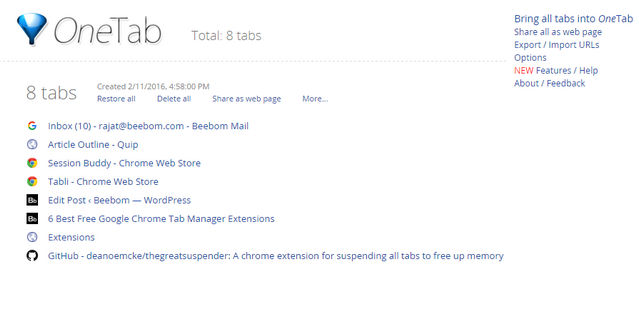 No matter how many tabs you have open in Google Chrome, one click is all that OneTab takes to fix them up. Essentially, it works by converting all the open Chrome tabs into a list, from where they can be restored either individually, or all at a time. Hence, OneTab quickly frees up the memory taken up by Chrome (tabs). Multiple tabs can be saved/restored as a group, and you can also specify options to include/exclude certain tabs (e.g. pinned, duplicate) from OneTab.
7. Tab Outliner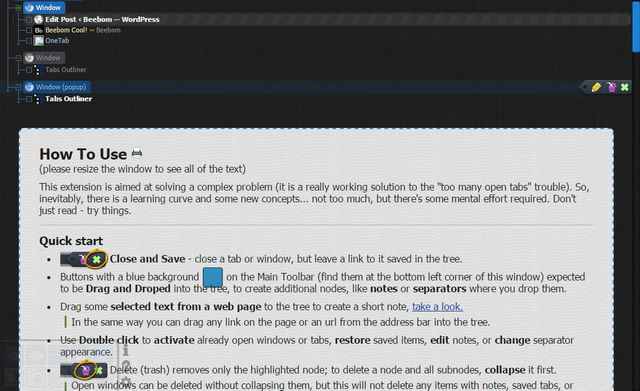 For something as simple as a tab manager extension, Tab Outliner has quite a bit of a learning curve. But once you get a hang of it, things get a bit easier. Tab Outliner displays all the active tabs in a tree like structure. Not only that, you can drag-and-drop text from webpages to the tab list to create short notes, thus making tab management easier. In addition, you can use hover-over buttons to perform actions like cloning already open tabs, and even opening Google Docs. And if you want, you can always upgrade to the paid version for more features like global keyboard shortcuts, automatic backup of tab information to Google Drive, and then some more.
SEE ALSO: 35 Best Google Chrome Extensions
Take back control of Chrome tabs
Having a whole bunch of tabs open in Google Chrome tabs not only makes them difficult to manage, but also taxes the overall system resources quite a lot. But as seen above, getting back control of your Chrome tabs isn't really that hard. So try these out, and let us know your favorites in the comments below.