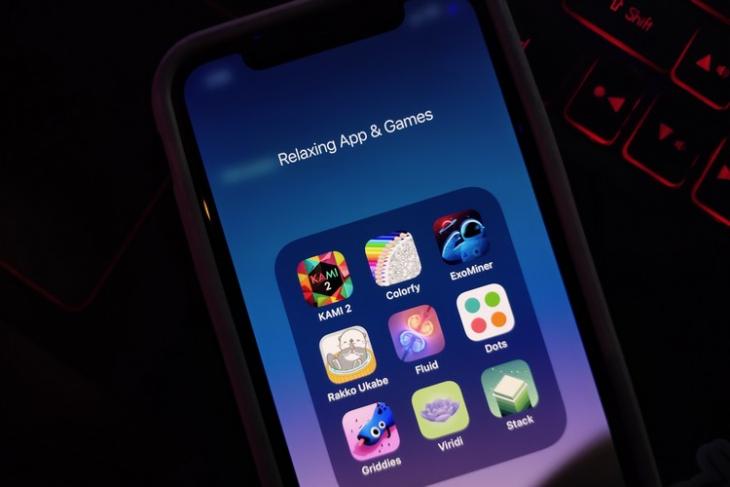 In our everyday grind of taking care of work, home, or whatever it may be, there are times when we need a moment of peace for our minds. Sometimes, with the world moving at lightspeed, you might feel that there is hardly any time to just chill and relax. We hear you and that is why we have curated a list of some really amazing relaxing apps and games that can help you relieve your stress and just chill for a few moments during your hectic day.
7 Best Relaxing Apps/ Games on Android and iOS
Below is an interactive table of content. You can expand it and click on any of the apps or games' name to instantly start reading about it. So, here are the 7 best relaxing apps and games that can help minimize your stress and make you feel calm and composed.
1. Kami 2
Kami 2 is a simple color-focused puzzle game based on the Japanese art of Origami. In this game, you will get a multi-colored canvas with different geometrical shapes. The objective of the game is to fill the entire canvas with a single color in as few moves as possible.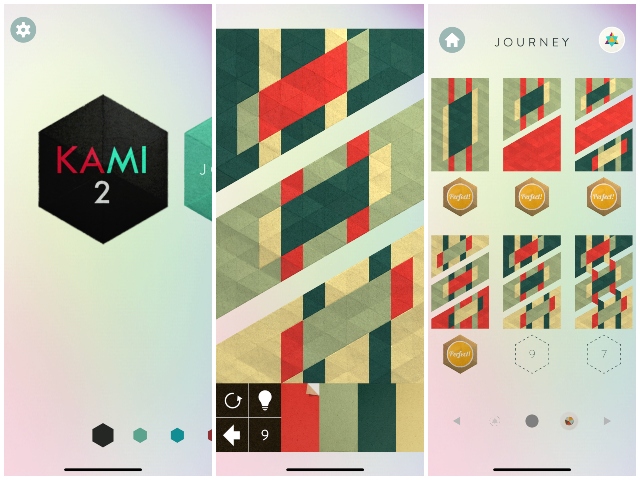 It is a simple concept yet there are few puzzles that will make you think. Once you complete a puzzle, seeing the whole page fold in an aesthetic way to reveal a "Perfect" badge will surely give you a great amount of satisfaction.
Download Kami 2 on Android and iOS (Free, in-app purchases start at $0.99)
2. Exominer
Exominer is a real-time simulation game in which you have to mine natural elements on exotic planets to build your mining empire. It is more like a light strategy game that you can play and watch your virtual mining business boom across the universe. Maybe, you can become the Elon Musk of this virtual world.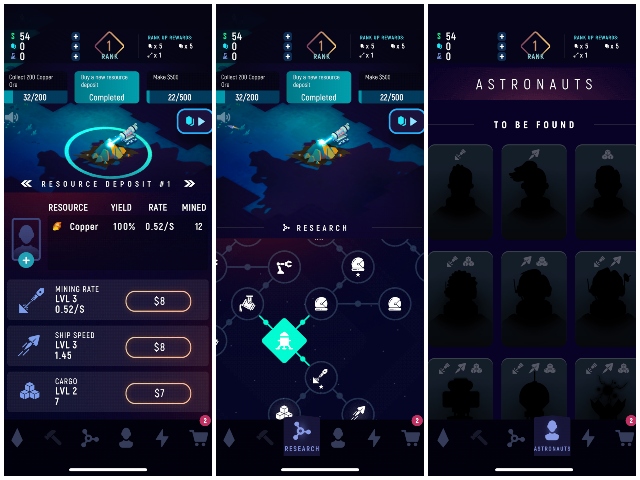 So, what makes it a stress reliever, you ask? Well, the game design and the sound effects provide a soothing effect and help you to indulge in the virtual world. Moreover, as it is a real-time game, you do not need to stay on the app for long hours. You can check your progress in the app from time to time.
Download Exominer on Android and iOS (Free, in-app purchases start at $3.99)
3. Griddie Islands
Griddie Islands is one of those weird yet satisfying games which I absolutely love. It is kind of a hugely modified version of Tetris and lets you merge multiple "Griddies" (Tetris-like pieces) with each other to form different "levels" of structures. These structures can then be placed on tiny gridded islands to excite the "fleas" and, in turn, produce "virtual money".
I told you! It is one of those weird games which you have to play in order to understand. Moreover, the quirky colors and a super-fun UI-design make the game a certified stress reliever.
Download Griddie Islands on Android and iOS (Free, in-app purchases start at $0.99)
4. Colorfy
Colorfy is essentially a digital coloring book-based app that lets you put vibrant colors on mandala-like art pieces. You can choose different shades from a pallet and simply tap the area which you want to fill.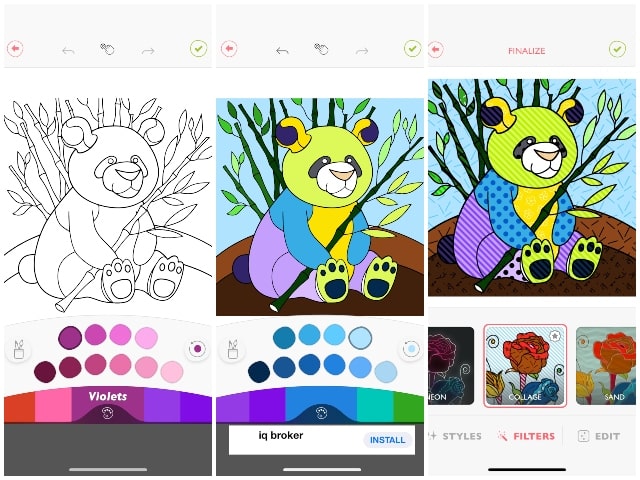 Now, adult coloring books have been available as stress relievers for adults. Similarly, this app, I am sure, will help you get away from your hardcore day-to-day grind and give you some peace of mind.
Download Colorfy on Android and iOS (Free, in-app purchases start at $2.99)
5. Fluid Simulation
Fluid Simulation falls under the category of gesture-based simulation apps and it is one of the best which I have come across lately. The app opens up as a pitch-black screen on which you can tap, swipe, or twirl your finger(s) to create mesmerizing fluid animations. The app supports multi-touch gestures.
You can even manipulate many of the factors to make your custom fluid animation and save it as a preset for using it later. Moreover, the animations are so cool and crisp that after creating a pattern, you can quickly screenshot it to make it your wallpaper of the day.
Download Fluid Animation on Android and iOS (Free, one-time payment of $2.69)
6. Rakko Ukabe
Remember the Talking Tom app in which you had to feed Tom the cat and take care of him? Well, Rakko Ukabe is a similar kind of pet-simulation game. However, instead of a cat, in this, you can lure sea otters in the sea with food and take them to your "Home" to watch them simply chill in a tub of water.
Now, I do not know about you, but watching a cute sea otter chill in a tub of water gave me an immense amount of satisfaction. Moreover, the whole UI of the game is also adorable which makes it even more fun to play with.
Download Rakko Ukabe on Android and iOS (Free, in-app purchases start at $0.99)
7. Viridi
If you are someone who is into growing plants but cannot do so in your current house, then Viridi is an app that, I am sure, will cheer you up. It is a simple simulation game in which you put seeds of a particular plant in a pot and watch it grow on your smartphone.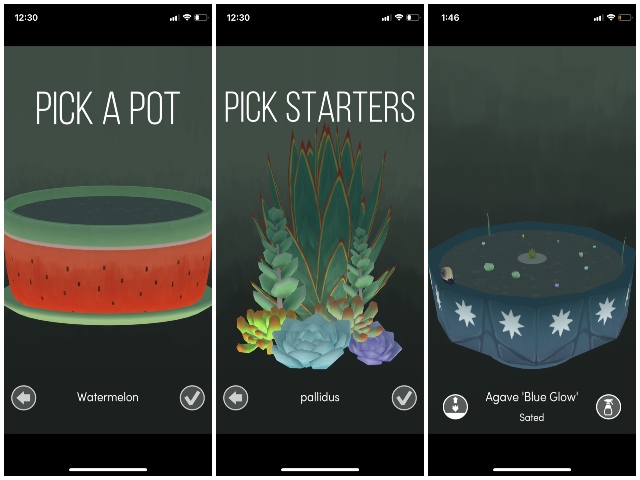 The game has a minimalistic UI design and constantly plays soothing music. As a result, it works as a great stress reliever for people who love plants and trees.
Download Viridi on Android and iOS (Free, in-app purchases start at $0.99)
BONUS: A Couple Other Relaxing Games That I Love
Now, apart from the above games, there are a few other similar titles which I love and would recommend you to try.
One of those is Stack (available for Free on iOS and Android) which is a fast-paced one-tap game. I am not sure if it will be a stress buster for you (it is for me, though) and I suggest you give it a try.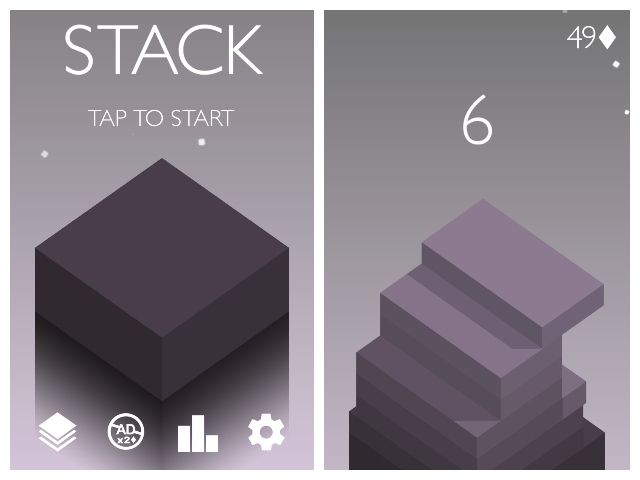 Another one on the list is "Dots" which I can guarantee is a stress buster material as it  involves connecting similar colored-dots to each other. It comes in several modes such as timed, moves, endless, and challenges. This one is also available for free on both Android and iOS.
Take a Chill-Pill and Play These Relaxing Games
These were some of the best games/ apps on Android and iOS that you can play for a stress-reliever session when things get tight. Sometimes it is okay to chill for a bit and live in the present without thinking about what happened or what could happen. So, instead of stressing yourself over things that you cannot control, you can try these games to divert your mind and give yourself a little of bit attention, which I am sure you deserve. Also, if you have any other apps and games that you play to relieve stress or chill, do comment them down below.