A wooden case may not be as popular as cute cases, leather cases, and clear cases but it's got the profile to make your iPhone look different. Bestowed with a natural flair and secure grip, it doesn't take long to make you believe that your smartphone is inside a classic case that takes care of all the essentials. If you are willing to make your device grace the real wood texture for a different appearance, we have got you covered with the best wooden cases for iPhone 12 mini.
Best Wooden Cases for iPhone 12 mini in 2020
Do note that we have already lined up the top iPhone 12/12 Pro wooden cases. So, if you wish to get one for your 6.1″ iPhone, make sure to explore the roundup. Coming back to this collection, it has got you fully covered with a variety of wooden covers.
From protective wooden cases, incredibly slim wooden covers to vintage-looking wooden suits, the roundup can let you choose a befitting wooden pair with a natural flair for your iPhone 12 mini. Now that you have got the sneak peek, it's time to get down to the business!
1. Native Union Clic
Going by the looks, Native Union Clic stands out as a premium wooden case for iPhone 12 mini. Crafted with genuine American walnut and oak wood, the case has a slim form-factor that wraps around the mini like a super comfy glove.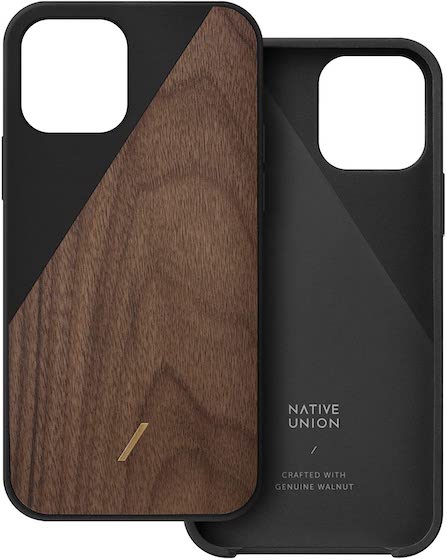 With the precision finish (topped by a metal inlet logo), Native Union Clic makes a great pair with the iPhone. Beyond design, it's also equally good in terms of fighting shock and keeping scratches at bay.
The addition of elevated bezels further empowers the security against scratches, which makes it a complete case. What's more, Union Clic also supports MagSafe and other wireless chargers so that you can juice up your mini without any pain.
Buy from Amazon: $39.99
2. JUBECO
Striking a fine balance between style and protection, JUBECO wooden case deserves a close look for multiple reasons. For starters, the case is made of real wood and features a pretty compact form-factor that looks nice on the iPhone 12 mini.
For the needed safeguard against scratches, it also features elevated lips on the front and the back. Thus, it keeps both the dual-camera and the 5.4″ OLED display protected from scratches. That's not all, JUBECO wooden case is also designed to play nice with wireless charging, allowing you to power up your compact iPhone without any issues.
Buy from Amazon: $16.80
3. B BELK
There is a lot to like about B BELK wooden case. Touted to be the slimmest iPhone 12 mini wooden case in the market, it keeps the elegance of your iPhone intact – unlike very few wooden covers. And that too without endangering the safeguard against accidental drops and scratches, which is yet another plus.
The real wood construction has been ably complemented by the rubberized interior. So, you can trust this slim wooden case to withstand impact and also resist scratches. To further secure the 5.4″ OLED display and the dual-camera module on the back, it also has elevated edges.
As for grip, B Belk feels boxy in the hands thanks largely to the grippy exterior. At $10. B Belk can easily stake the claim of being one of the cheapest iPhone 12 mini cases.
Buy from Amazon: $9.88
4. iATO
This offering from iATO is a little different from other wooden cases mentioned in this roundup. First and foremost, it's a folio wooden case designed to offer a 360° safeguard to your iPhone 12 mini. With the integration of natural walnut wood and rugged PC, the case has got a shock-absorbing cushion to endure the impact of accidental drops.
For all being a folio cover, iATO wooden case doesn't look bulky at all. Featuring neat cutouts, the case makes a snug-fit pair with the iPhone. What's more, it also doesn't hinder wireless charging. That means you won't need to remove this flip cover before dropping your mini on a wireless charger.
Buy from Amazon: $24.95
5. TENDLIN
TENDLIN is well-known for producing affordable yet impressive wooden cases for smartphones. And this offering follows the long tradition. The combination of wood veneer and TPU rubber endows the needed durability, while also ensuring there is no unnecessary bulk.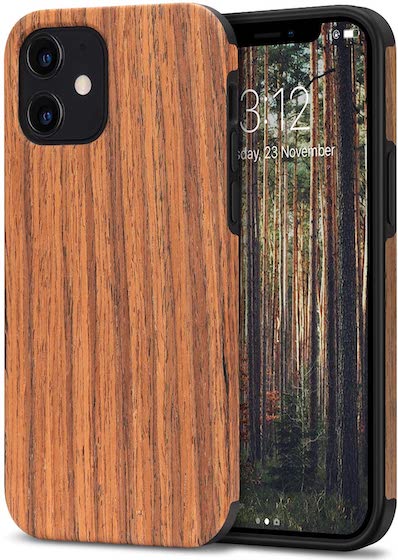 Furthermore, the rubberized interior also plays a vital role in resisting scuffs. While the presence of elevated lips on the front shields the 5.4″ OLED display against scratches, the raised bezel on the back safeguards the dual-camera module against unwanted scuffs. That's not all, TENDLIN wooden case also works with MagSafe and other wireless chargers to ensure charging the device wirelessly remains easy-going.
Buy from Amazon: $12.99-$13.99
6. kwmobile
If you have a liking for an engraved design, kwmobile could be worth checking out. Carved out of real walnut, the wooden case sports a vintage design. And with the impressive engraving pattern, it's always ready to catch your attention.
In terms of absorbing shock, kwmobile is up to the mark. Due largely to the TPU interior, the wooden case can absorb shock with ease. And you can also count on it to keep scuffs at a fair distance with the help of elevated bezels on either side. Keeping in mind these notable features, kwmobile wooden case seems to be a reasonable buy at $10.
Buy from Amazon: $9.99
7. Woodcessories
Both in terms of safeguarding your iPhone 12 mini against shock and making a form-fitting pair, Woodcessories can live up to the mark. The blend of real wood and silicone endows durability while making sure there is minimal bulk. So, embracing the retro look won't take away the elegance of your compact iPhone.
The company claims that the case is shockproof. Looking at the impact resistant frame coupled with the raised bezels, I can say that it has got the shield to fight out the impact of drops.
And with the silicone frame always ready to grace your palm, it also offers an anti-slip grip so that the device feels secure in the hands. Moreover, Woodcessories also doesn't come in the way of wireless charging, which further enhances its profile as a top-notch wooden case for iPhone 12 mini.
Buy from Amazon: $39.99
8. Wuorenm
Last but not least, Wuorenm wooden case has ticked off all the boxes to be a nice-looking companion of your iPhone 12 mini. Made of real wood, PC, and soft TPU, the case sports a slim yet shock-absorbing design. So, you can entrust it to keep the style quotient of your smartphone intact while also offering it the necessary protection from accidental drops.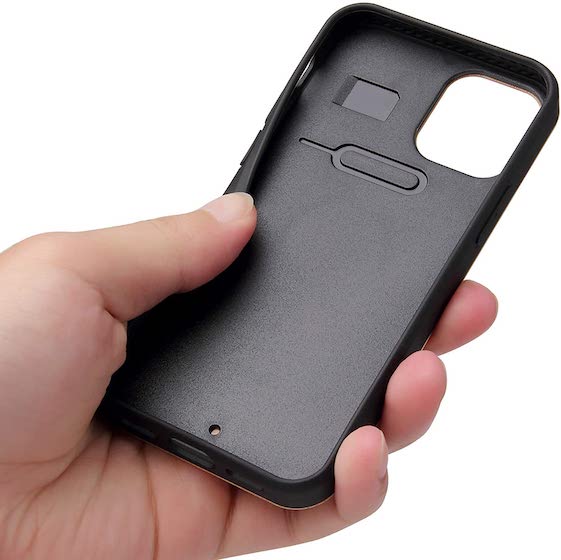 The incorporation of TPU material not only makes the buttons feel tactile but also improves hold. Besides, precise cutouts play a vital role in enhancing its form-fitting profile. Notably, the company also offers you the option to engrave your name for a personalized touch. Overall, Wuorenm can be counted as one of the best wooden cases for iPhone 12 mini.
Buy from Amazon: $10.99
Top Wooden Cases for iPhone 12 mini You can Buy
So, that ends our roundup of the best wooden cases for iPhone 12 mini. With a variety of wooden suits ready to catch attention, I guess your mini has got a more suitable match in the form of a durable asset. Speaking of a durable asset, I would like to recommend you to check out our extensive collection of the best iPhone 12 mini cases and covers to both enhance and protect your smartphone.
By the way, would you like to let us know the wooden case that got lucky in terms of winning your choice? Besides, if there are some worthy iPhone 12 mini wooden covers which you would love to see in this lineup, make sure to tell us about them as well.