iPhone 12 mini is my favorite phone of all the iPhone 12 series phones. I have always been a big proponent of small phones as I value one-handed usability a lot. And the iPhone 12 mini is the perfect small phone that one can buy right now. That's why, after waiting for years, I am finally upgrading to a new iPhone. And to protect my iPhone 12 mini, I am going to get a leather case as I love the premium in-hand feel of the leather cases. So, if you are also in the market for iPhone 12 mini cases, here are the best iPhone 12 mini Leather cases that you can buy in 2020.
Best iPhone 12 mini Leather Cases to Buy in 2020
Before we get to our article, if you are not interested in leather cases, we have also covered cute cases for iPhone 12 mini that you can check out. Also, don't forget to check out our article on MagSafe accessories and screen protectors for iPhone 12 mini. With that out of the way, let's get to our list of leather cases for iPhone 12 mini, shall we?
1. iPhone 12 mini Leather Case with MagSafe
We will kick off our list with the official Apple leather case for the iPhone 12 mini. The case allows you to protect your iPhone 12 mini while adding a style statement. Made from specially tanned and finished leather, the outside of the case feels soft to the touch and develops a natural patina over time.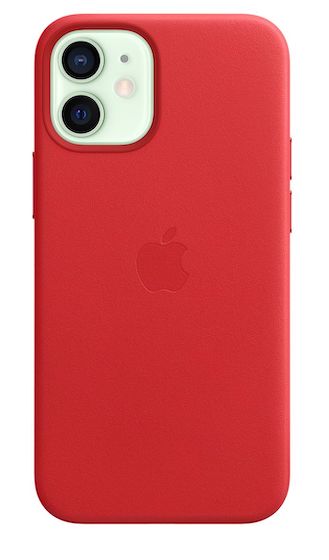 And this year, thanks to the inclusion of MagSafe, the leather case allows you to retain the fast wireless charging. You can also connect MagSafe accessories like the MagSafe compatible wireless car chargers without any issue. So, if you want to enjoy the MagSafe features, you have no other option than to buy the official leather case.
Buy from Amazon: $59
2. Mujjo Full Leather Wallet Case for iPhone 12 Mini
Mujjo is one of my favorite leather case makers. They make high-quality cases that use real vegetable-tanned leather that breaks in and ages with a unique look. The case has a super slim profile that will keep the small form factor of your iPhone 12 mini intact while providing it optimum protection against scratches, scuffs, and drops.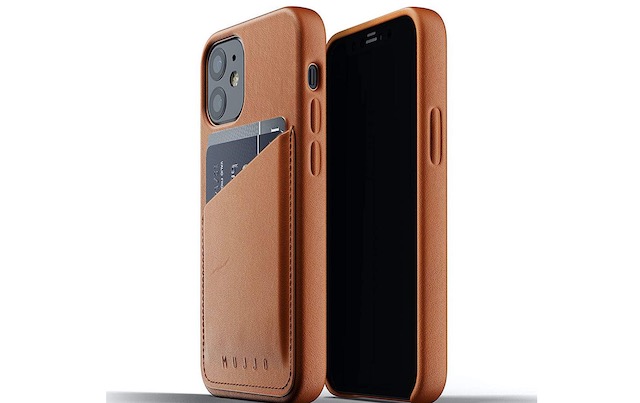 The case is available in two variants. The first one is a regular leather case, while the second one offers a slim pocket at the back that you can use to hold up to three cards and cash. The wallet case is good for people who don't like to carry a wallet separately. The case is available in two colors at launch; Black and Tan.
Buy from Amazon: $49.95
3. OtterBox Strada Series Case
If you are looking for a leather folio case for iPhone 12 mini, check out the OtterBox Strada series case. It's a genuine leather folio case that will provide all-around protection. The front flap of the case has vertical card slots that allow you to carry cards and cash.
The case uses a dual material design with silicone on the inside and leather on the outside. This makes the case a little thick but also enhances the drop protection in return. The case can handle three times as many drops as a military standard. It is perfect for people who suffer from butterfingers syndrome.
Buy from Amazon: $69.95
4. Nomad Rugged Leather Case
The Nomad Rugged leather case is one of the best leather cases that you can buy for your iPhone 12 mini. Not only the case has an ultra-premium look, but it also offers respectable drop protection. Like the OtterBox Strada case, the Nomad Rugged leather case uses a dual-layer design. Inside, it has a polycarbonate body with an all-new internal shock absorption bumper.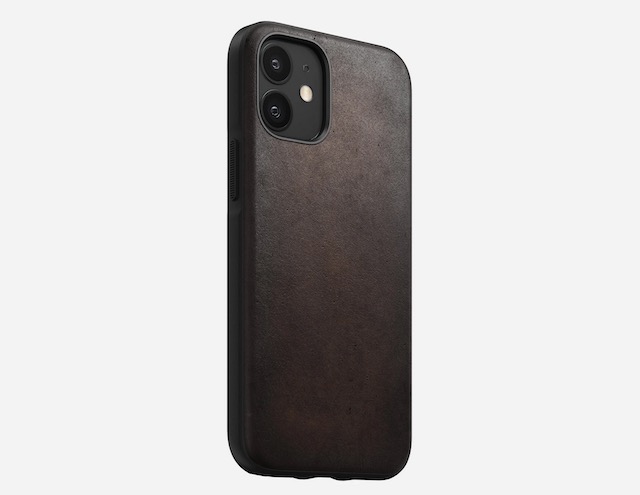 There's also a raised TPE bumper along the perimeter of the screen, which protects the screen against damages. All this is wrapped inside a supple Horween leather that develops a natural patina over time. I love the Nomad Rugged cases, and having used them in the past, I can recommend them to anyone without any qualms.
Buy from Nomad: $49.95
Note: If you are into folio cases, Nomad also offers a Rugged Folio case that you can buy for $69.95.
5. ESR Leather Case for iPhone 12 mini
One drawback of leather cases is that they don't come cheap. Well, this year, ESR has solved this problem by releasing a budget leather case that uses natural leather. The case is crafted using high-quality natural leather which is soft to touch and looks premium.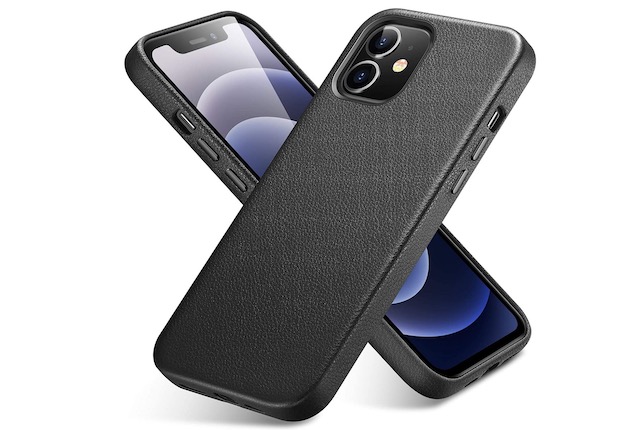 Thanks to the use of natural leather, every case is unique, thanks to the natural variance in leather. The case also brings ample protection and can stand up to 5 Kg of pressure. That means your iPhone 12 mini will be safe even if you drop it. As a bonus, you also get ESR's best in class screen protector for free. This makes the whole deal even sweeter.
Buy from Amazon: $24.69
6. Bellroy Leather Case
The Bellroy leather case for the iPhone 12 mini is another premium leather case that you can buy. The case has a super-slim profile and feels great in hand. It doesn't add any noticeable bulk to the device, and the iPhone retains its one-handed usability. The case uses premium, environmentally certified leather. So, you can use the case without any guilt.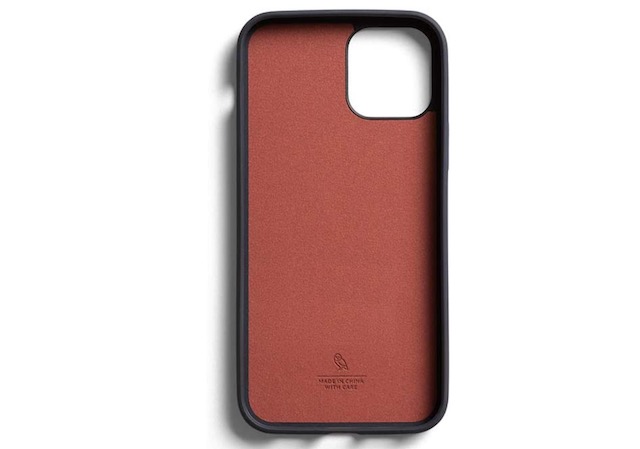 The case is backed by a three warranty period. You can trust the craftsmanship on this one. I like that the case incorporates a flex polymer layer on the edges to impart extra protection. It's available in three colors, giving users plenty of customization options.
Buy from Amazon: $35
7. Bella Fino iPhone 12 Mini Wallet Case
For wallet case lovers, the Bella Fino iPhone 12 Mini Wallet Case is the best option. Although a little costly, the case brings everything that you can expect from a premium leather wallet case. It uses luxurious American full-grain leather that feels nice to touch. It also has classic nylon stitching with French hem styling, which makes it stand out from the rest.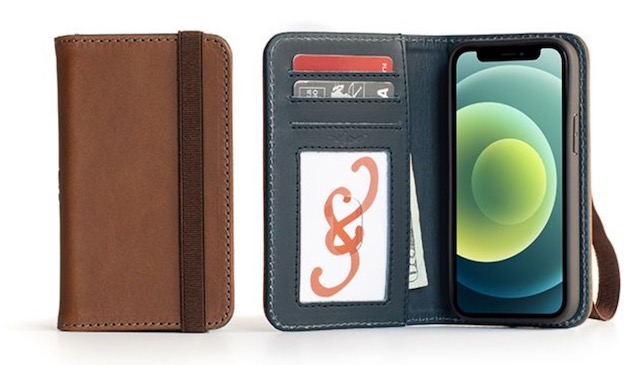 There's a built-in removable elastic strap closure that you can use to secure the front cover. The case offers marine-grade protection and is UV-resistant. The company is so confidant in its quality that they give a 25-year leather warranty. Coming to its wallet design, it allows you to carry 5-6 cards along with cash.
You can also use it as a folio case to use your iPhone 12 mini hands-free for making video calls or watching your favorite movies. It's available in three classic colors, each of them looking equally beautiful. If you can afford to spend a little extra, this is the best wallet leather case for iPhone 12 that you can buy.
Buy from Pad&Quill: $59.95
8. Salawat PU Leather Case
If you cannot afford any of the above cases, then you should check out the Salawat iPhone 12 mini leather case. The case uses synthetic PU leather instead of natural leather. That said, the quality of synthetic leather is top-notch, and it doesn't look tacky or ugly. On the contrary, it resembles natural leather quite closely.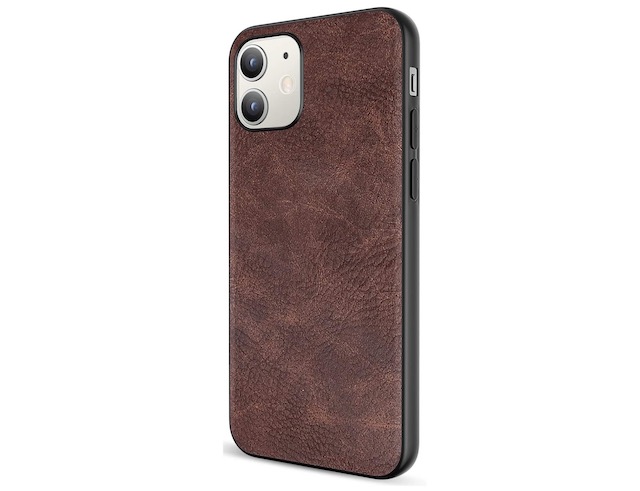 The case also utilizes a soft TPU bumper along with a hard interior PC frosted shell. The sandwich design provides both flexibility and impact protection. That means it can easily handle drops while keeping the scratches and scuffs at bay. The case also has anti-slip and anti-fingerprint properties, so it stays in your hand and doesn't get ugly. At $10.99, this is a steal.
Buy from Amazon: $10.99
Buy the Best Leather Cases for Your iPhone 12 mini
In the article, I have included all types of leather cases. Whether you want a regular leather case, leather folio case, or a leather wallet case, you can find an option here. I have also included two affordable options for users on a budget. So check them out and let us know which leather case you want to purchase in the comments below.