The iPhone 12 mini is my favorite new phone. I love the small size and the way the phone feels and looks in my hand. And if you want to flaunt what you got, you need a clear case. The clear case lets you showcase the beauty of your brand new iPhone while providing necessary scratch and drop protection. So, if you are in the market for one, here are the best iPhone 12 mini clear cases you can buy in 2020.
Best iPhone 12 mini Clear Cases to Buy in 2020
I have created a table of content below. You can click on it to reveal all the cases mentioned on this list. Also, we have covered other types of iPhone 12 mini cases including iPhone 12 mini leather cases and cute cases, along with screen protectors, in past articles. So don't forget to check them out.
1. Apple Clear Case
I will be frank, the Apple clear case is overpriced and ugly. But sadly, it's the only case on the list that has built-in MagSafe support allowing you to use your MagSafe accessories. So, if you have invested in say a MagSafe car charger, you don't have any other option than to buy the official Apple clear case right now.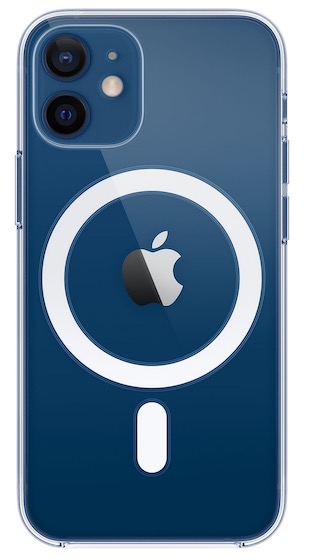 Taking about the case itself, like other Apple products, it uses premium materials. It's crafted with a blend of optically clear polycarbonate and flexible materials which don't lose their transparency over time. The case fits right over the buttons for easy use. But, the white band hosting the MagSafe magnets look awful to me.
If you are investing in MagSafe accessories for iPhone 12 mini or you don't find the MagSafe white band ugly, you can buy this one.
Buy from Apple: $49
2. totallee Clear iPhone 12 Mini Case
If you like thin and light cases, then check out the totallee clear iPhone 12 mini case. The case is clear, allowing you to show off your brand new iPhone 12 min in all its colored glory. It's thin and light and doesn't add any bulk to the device. But that also means that it won't bring extra drop protection.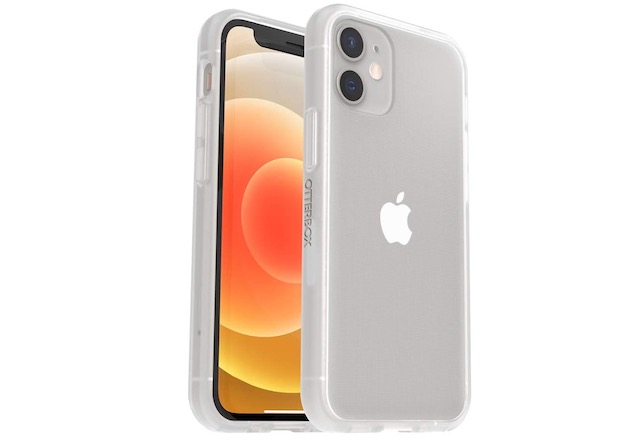 It can easily prevent scratches and can handle some minor drops, but don't expect any miracles here. But the good thing is that the case has a rubbery texture so the phone won't slip from your hands. It's definitely, one of the best clear cases for people who like thin and light ones.
Buy from Amazon: $39
3. OtterBox iPhone 12 mini Symmetry Series Clear Case
If you want a clear case that offers good impact protection, then buy the OtterBox Symmetry clear case. It brings the protection that OtterBox cases are known for while also allowing you to show the beautiful boxy design of your new iPhone.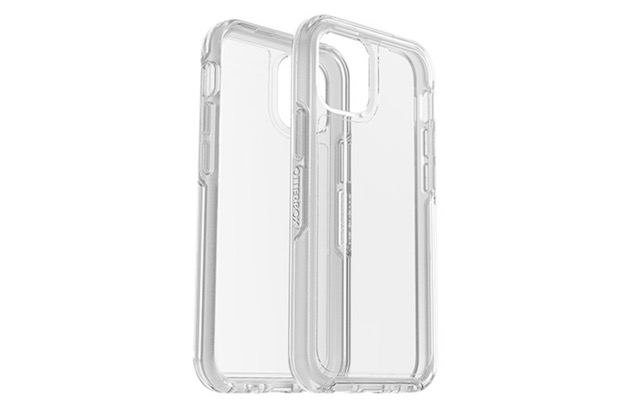 The case is thin and light with raised edges around the bumper. It can easily protect your iPhone in case of drops, fumbles, and impacts. The case can handle three times as many drops as a military standard. The only drawback of this case, if you call it that, is its price. Otherwise, it's a good clear case for people who want good drop protection.
Buy from Amazon: $49.95
4. Spigen Liquid Crystal Case
My favorite clear case for iPhone 12 mini is the Spigen Liquid Crystal. Not only it's a quality product, but it is also quite affordable. The case is slim and form-fitted, so it doesn't affect the one-handed usability of the iPhone 12 mini. The cause uses durable anti-slip TPU material that improves the grip-ability and drop-protection.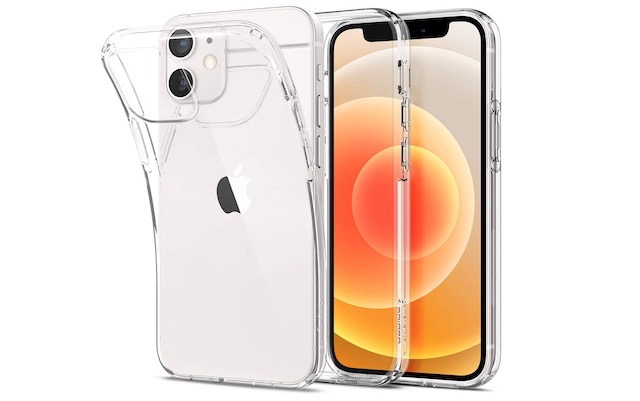 I also like the buttons on Spigen cases. The case uses reinforced buttons that give good feedback when pressed. The case is also flexible which makes it easy to put on and take off. Rigid cases tend to scratch the aluminum surface of the phone, so I am glad that this case doesn't suffer from that problem. If you are looking for a budget clear case, this is the one to get.
Buy from Amazon: $10.99
5. MoKo Anti-Yellow Clear Case
MoKo makes some of the best budget cases for iPhone, and their clear case for iPhone 12 mini is really good. First of all, it uses a high-quality anti-yellow polymer that doesn't lose its shine and transparency even after prolonged usage. I also love the inclusion of reinforced corners.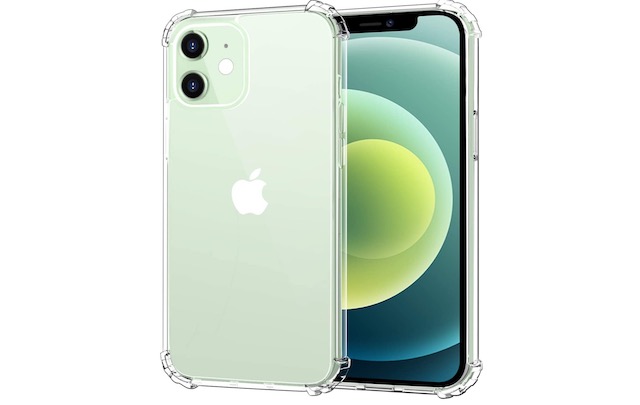 This drastically improves the drop protection without adding any extra bulk to the case. And while the bumper uses soft TPU material, it has a hard PC back cover that offers extra drop protection. And like the Spigen case, this is also affordable.
Buy from Amazon: $9.98
6. Speck Products GemShell iPhone 12 Mini Case
Speck makes some of the nicest clear protective cases for the iPhone, and their new offerings for iPhone 12 mini are awesome. The case features a dual-layer design for enhanced drop protection. Despite the dual-layers, the case is crystal clear, allowing you to show off your iPhone 12 mini in all its glory.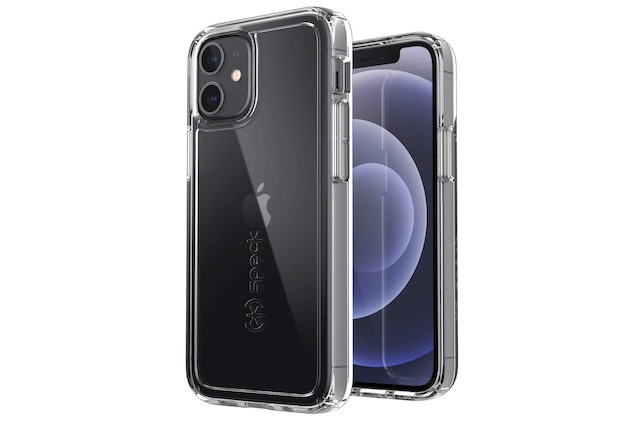 The GemShell iPhone 12 mini case, like other GemShell cases from Spec, has been tested to meet or exceed MIL-SPEC drop-test standards. That means it can easily handle drops and falls. I love that the case incorporates raised bezels around the camera modules and the front screen, thereby protecting the display and camera lenses.
The case is available in four different flavors. You can get the clear case, rugged clear case (for 8-foot drop protection), glitter case (for sparkly design), and the Blue clear case that offers a bit of personality.
Buy from Amazon: $22.95-$26.95
7. ESR Metal Kickstand Case
If you consume a lot of media on your iPhone or attend frequent video calls, you will enjoy the ESR clear case with a metal kickstand. The metal kickstand allows you to prop in the phone in both landscape and portrait orientation, so you can enjoy your favorite Netflix shows or take that important video call hands-free. The kickstand is adjustable up to 60-degrees, giving the freedom to choose the right angle for different situations.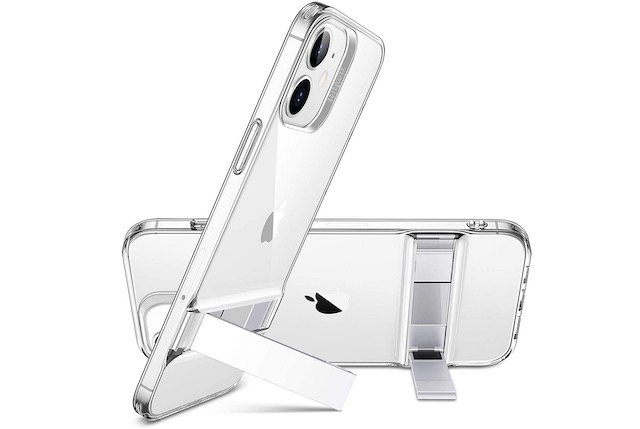 The case itself is ultra-clear and looks pristine. It is using premium material that doesn't get a yellow hue after prolong use. Thanks to the presence of raised bezels, it also provides extra protection to the display and the camera lenses. Also, ESR is a well-known accessory maker whose products I have enjoyed in the past, so I don't have any reservations in recommending this case.
Buy from Amazon: $15.99
8. CASEKOO Crystal Clear Case
The CASEKOO crystal clear case for iPhone 12 mini lets you flaunt the original phone design and beauty. The case never yellows as it uses a diamond antioxidant layer and is super easy to clean. The case features four built-in corner Airbags to absorb impact, which results in better drop performance.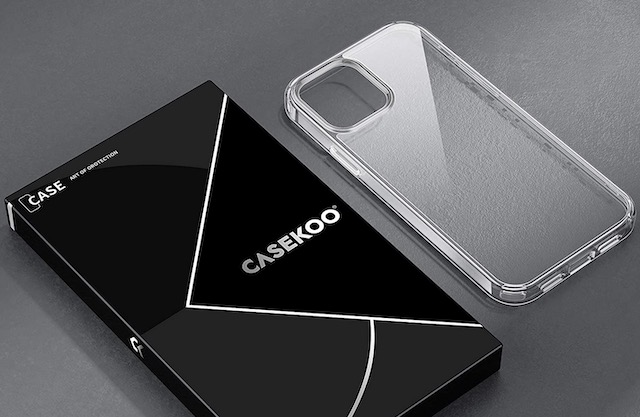 It also has a tiny 2.5 mm lip over the camera, 1 mm bezel over the screen, and 1 mm raised corner lips on the back, provides extra and comprehensive protection. The case is flexible and is easy to put on and take off. At under $17, this is one of the best affordable clear cases for iPhone 12 mini that you can buy right now.
Buy from Amazon: $16.99
9. TORRAS Crystal Clear Designed for iPhone 12 mini Case
If you are looking for a sturdy yet affordable clear case for iPhone 12 mini, check out this case from TORRAS. The case offers high transparency, allowing you to showcase the beautiful color and detail of your newest phone. The cutouts are precise, and the buttons are tactile.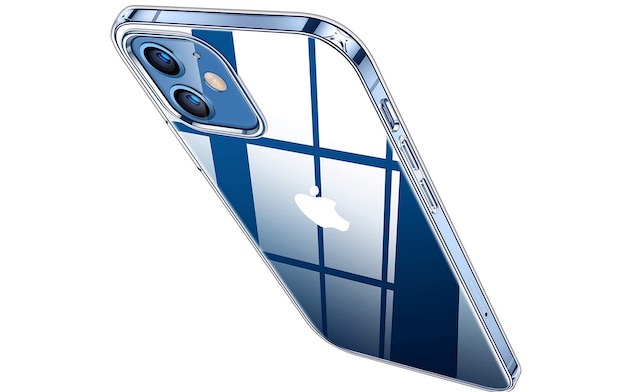 The case is made from Germany imported TPU material and unique Blue-Ray technology. This means that the durable slim phone case offers long-lasting clarity and doesn't get a yellow tint even after prolonged usage. The interior of this case uses a dot-matrix pattern that prevents any ripple marks and smudges. The use of rubberized material ensures a non-slip grip while also ensuring that it feels great in hand.
Buy from Amazon: $16.99
10. ANEMAT iPhone 12 mini Case with Screen Protector
If you are looking for the best deal on a clear case, check out the ANEMAT clear case for iPhone 12 mini. Not only its one of the cheapest clear cases on this list, but it also comes with two free screen protectors. It is made of high-quality materials that can resist yellowing and aging and extend the life of your phone case.
It uses a combination of hard PC backplate and soft TPU edges to provide excellent anti-scratch and anti-drop resistance. The reinforced corners cushion design helps absorb shocks when the phone is dropped, mitigating the damage resulting from impact shock waves. Add in the screen protector, and you get 360-degree protection for a cheap price.
Buy from Amazon: $11.99
Top Clear Cases for iPhone 12 mini to Buy
I hope that you were able to the best clear case for your iPhone 12 mini. We have included both budget and premium options, so price shouldn't be a problem. We have also mention cases ranging from ultra-thin to ones that bring military-grade drop protection, so you can choose the one that matches your needs. Do check them out and let us know which case you bought for your phone.
---
Load More