Introduced in 2016, Unified Payments Interface (UPI) plays a vital role in enabling digital payments in India. UPI apps have helped Indians make cashless transactions – an aspect that changed from merely a luxury to a necessity during the coronavirus pandemic. If you're planning to start using UPI apps or are wondering if there are UPI apps that offer better features and experience, here are the top UPI apps you can use in India right now.
Best UPI Apps in India (2021)
1. Google Pay
Google Pay started off as an India-first mobile payments app 'Tez' and eventually got rebranded. According to NPCI's latest figures, the platform processed 854.49 million customer transactions worth Rs.1,76,199.33 crores in December. You can use Google Pay for sending and receiving money from friends & family, mobile recharge, bill payments, and more.
In addition, from the Business section of Google Pay, you can utilize mini-apps for food delivery, travel booking, toll payments, and shopping to name a few. The app also offers cashback through scratch cards for transactions. The disadvantage I found when it comes to Google Pay is that you can't opt out of in-app events or separately disable promotion notifications, which can get annoying at times.
Pros:
Clean UI with no in-app third-party intrusive ads
QR code payments
Screen Lock for security
Mobile Recharge, DTH & Electricity Bills
Cons:
Intrusive in-app events with no option to opt-out (Eg. Diwali stickers, Go India)
Promotion notifications without an option to disable
Unreliable at times
No wallet
Download Google Pay (Android | iOS)
2. PhonePe
PhonePe is one of the best UPI payment apps you can use in India. In fact, PhonePe surpassed Google Pay in terms of transactions in December. According to NPCI, the app witnessed 902.03 million transactions worth Rs. 1,82,126.88 crores. Apart from UPI payments, PhonePe helps you recharge your phone, pay credit card bills, online shopping, health insurance, and much more.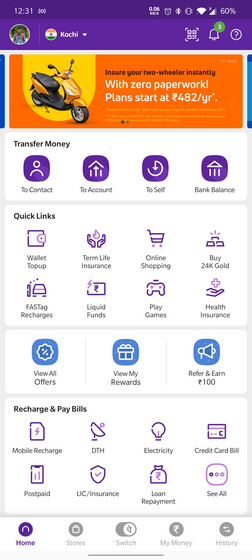 Like Google Pay, you get cashback for PhonePe transactions. What I don't like about PhonePe is that the app is cluttered with banner ads everywhere. In addition, the interface can get overwhelming for new users.
Pros:
Wallet for seamless transactions
QR code payments
Screen Lock for security
Mobile Recharge, DTH, Electricity Bills, Cylinder Booking, and more
Cons:
Too many banner ads
Slightly outdated UI
Overwhelming UX
Download PhonePe (Android | iOS)
3. Paytm
If you're living in India, you've probably heard of Paytm. Thanks to its market penetration strategies, Paytm is widely accepted and recognized almost everywhere in India. As a result, you won't have any trouble making cashless payments through Paytm in the country. Paytm's UI was absolute chaos before, but recent updates have made it tolerable with quick access to essential features.
Pros:
Paytm Wallet
QR code scanning
Screen Lock for security
Modern interface
Mobile Recharge, DTH, Electricity Bills, Cylinder Booking, and more
Cons:
Too many explainer banners
Incoherent UI and UX
Download Paytm (Android | iOS)
4. Amazon Pay
Although Amazon doesn't have a dedicated Amazon Pay UPI app, you can use the UPI functionality within the Amazon Shopping app. One key advantage of Amazon Pay is the seamless integration for shopping using Amazon Pay Balance – Amazon's digital wallet. Like other UPI apps on this list, you can use Amazon Pay to send and receive payments. You also have mobile recharge, bills, travels, insurance, gift cards, and more. Amazon Pay is one of the most rewarding apps with ample cashback and discount offers. You can access Amazon Pay from the Amazon app's sidebar.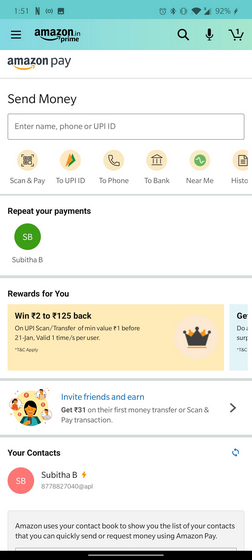 Pros:
Amazon Pay Balance
QR code scanning
Fast UPI payments
Mobile Recharge, Bills, Travel, Insurance, and more features
Cons:
No dedicated app
Not straightforward to access
Basic interface
Download Amazon Pay (within Amazon app) (Android | iOS)
5. BHIM
If you're looking for a straightforward app from the makers of UPI, BHIM app should be your pick. Unlike most of the other UPI apps, you can set a custom UPI of your choice on the BHIM app as long as it is not taken. Apart from this, you have standard features including sending and receiving money, bill payments, and requesting money. You can also locate nearby shops that support UPI standard from BHIM app.
Pros:
Official app from NPCI
Custom UPI IDs
Screen Lock
Locate Nearby UPI Enabled Shops
(Relatively) Bloat-free interface
Cons:
Not fluid – there are noticeable frame drops during navigation
Some UI elements look outdated
6. Freecharge
Freecharge was one of the leading payment apps in India a few years back, but its popularity is on the decline in the recent past. Don't get me wrong, the app still managed to process 1 million transactions worth 59.9 crores in December of 2020. However, Freecharge is not as popular as it used to be. You can use Freecharge for UPI transactions, mobile and DTH recharges, Google Play top-ups, and more. The app has slight neumorphic design cues, especially in the bottom navigation bar, which elevates the overall aesthetic.
Pros:
Clean and Visually pleasing UI
Custom UPI ID
Wallet
QR Code Scanning
Mobile, DTH, Broadband payments
Cons:
Download Freecharge (Android | iOS)
7. BHIM Axis Pay
Contrary to popular misconception, you can use Axis Bank's BHIM Axis Pay app even if you don't have an account in Axis Bank. Just like other UPI apps, you can download and install BHIM Axis Pay to make UPI payments. You also get additional features like online recharges, DTH recharges, credit cards (for Axis bank customers) through this app. The experience of using this app is in line with what you get with other traditional banking apps.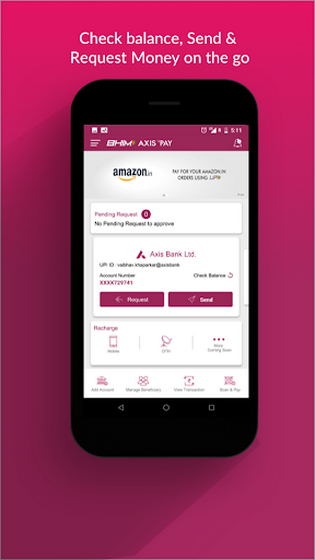 Pros:
Custom UPI IDs
QR Code Scanning
Online recharges
DTH recharges
Cons:
Traditional Banking App Interface
Setup process needs mobile network data
Download BHIM Axis Pay (Android | iOS)
8. Jio Pay
As the name suggests, Jio Pay is the payment solution of Reliance Jio. Available within the MyJio app, Jio Pay offers UPI payments, bill payments, QR code scanning, and a passbook to keep track of your transactions. If you're someone who uses Reliance Jio's software offerings through MyJio app, JioPay is something you should not miss out on.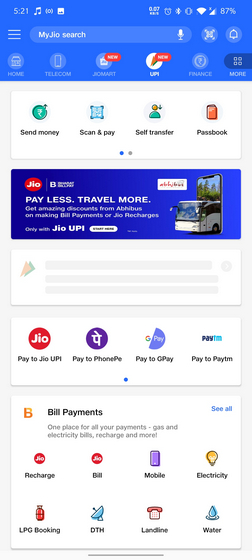 Pros:
Bill Payments
QR Code Scanning
Discounts from partner services
Cons:
Download Jio Pay (within MyJio app) (Android | iOS)
9. WhatsApp Pay
Lastly, we have the controversial WhatsApp Pay. After years of legal hurdles, WhatsApp finally managed to launch its UPI payments service in November of 2020. While the usage of WhatsApp Pay was a modest 0.31 million in November, it grew exponentially to 0.81 million in December. However, the usage further declined in January. Just when WhatsApp Pay started to expand, the company found itself in trouble over a privacy policy update that led users to move towards privacy-friendly alternatives like Signal and Telegram.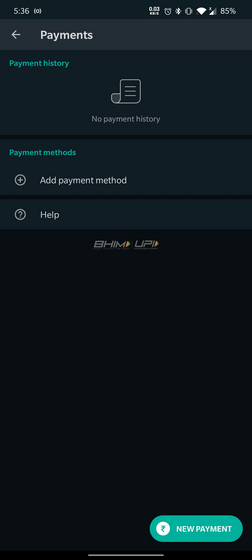 It'll be interesting to see WhatsApp Pay's usage figures of January to know how much the privacy policy backlash has affected the company's ambitious UPI expansion. While I won't recommend using WhatsApp just for its UPI payments feature, you can consider checking it out if you're not planning to switch from the app.
Pros:
Beneficial for WhatsApp users
Cons:
No dedicated app
From Facebook
Download WhatsApp (Android | iOS)
10. Mobikwik
Mobikwik is another option you can consider if you need a feature-rich UPI app. One unique aspect of Mobikwik is that you can generate UPI-powered personal payment links for seamlessly receiving money from other UPI app users. Mobikwik also offers the flexibility of recharge and bill payments, paying credit card bills, and much more. Mobikwik's team has also packed an expense manager to help you track all your spending and get a transaction history without relying on an expense tracker app.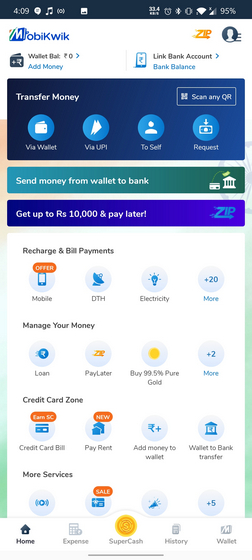 However, the good things about Mobikwik end there. The company was allegedly a victim of a massive data breach that compromised the data of nearly 10 crore users. That includes personal details & KYC soft copies (PAN, Aadhaar). Worst part? Mobikwik denied the claims and even went on to blame its users for the breach. If that doesn't make sense to you, you're not alone. If you no longer trust Mobikwik and value your privacy, find the steps to delete your Mobikwik account from our linked article and switch to one of the UPI apps mentioned above.
Pros:
Wallet
Expense Manager
Personal Payment Link
QR Scanning
Security PIN
Cons:
Banner ads
Patriotic sentiment-driven app starting from the logo, splash screen, and UI background
Possibly suffered a data breach but denies it
Download Mobikwik (Android | iOS)
Use UPI Apps for Fast Payments
So, those are the top UPI apps you can use in India. I personally find myself using Google Pay and Amazon Pay for all my UPI payment needs, but I'm inclined towards giving Freecharge another shot. Let us know the UPI app of your choice in the comments.