While many may look at iPhone SE 2 as old-fashioned, I find the smartphone a significant upgrade, especially when compared to the first iteration of iPhone SE. Whether it's the 4.7-inch Retina Display, A13 Bionic chip, or the much-improved cameras, the new SE has got the impressive specs to deliver premium performance. And that too at the fraction of the price of the iPhone 11 Series devices. If you have bought this budget iPhone and are looking for the accessories to shield the smartphone against unexpected damages, we've got you covered with the 10 best iPhone SE 2 screen protectors.
Best iPhone SE 2 Screen Guards
Just in case the top-grade cases for SE 2020 are in your mind, head over to this roundup to explore a variety of covers. As for screen guards, the following lineup has listed out both the shockproof and highly-sensitive screen defenders designed to guard the 4.7-inch touchscreen against scratches. Sporting laser-cut dimensions, they fit precisely on the screen. Moreover, they are case-friendly so that you can use any type of case with your device without any problem. That said, let's get on with the lineup of the highly-rated screen protectors for iPhone SE second-generation!
1. ESR
Simply put, ESR has got all the qualities to be a long-lasting screen protector for your iPhone SE 2. Made of high-grade tempered glass, the screen guard is 6X stronger than other ordinary counterparts. So, you can rely on this neatly designed defender to shield the screen against bumps and scratches. Being completely bubble-free, the screen guard gets installed perfectly on the screen. And thanks to the precise cutouts, it also doesn't obstruct the FaceTime camera and works with all sorts of cases.
Buy from Amazon: $10.99 (pack of 2)
2. Spigen
What makes Spigen screen protector for iPhone SE 2020 a durable shield is 9H hardness. That means, it can ward off sharp scratches even from knives and endure shock. Another thing that makes it a trusted bet is the oleophobic coating that doesn't allow fingerprints and sweat to build up. Thus, the tempered glass screen guard can retain responsiveness for long. Add to that the exact cutouts as well as smooth edges and it can safely claim to be one of the best screen guards for the new iPhone SE.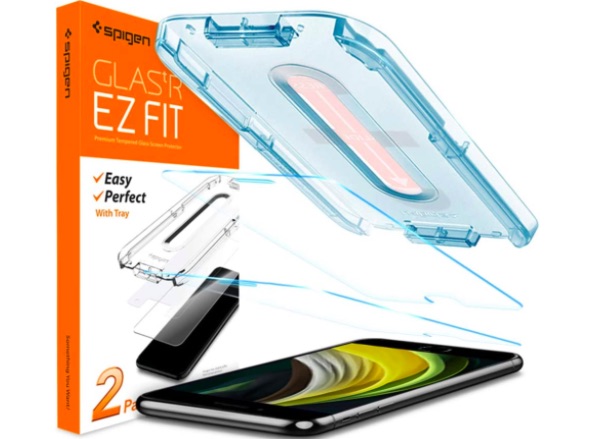 Buy from Amazon: $10.99 (pack of 2)
3. Dome Glass
For the folks who would like to offer full-coverage to the 4.7-inch touchscreen, Dome Glass screen guard appears to be a great option. The tempered glass construction is exceptionally strong and can withstand impact and resist scuffs. Since it brings a full installation kit, you can install it comfortably without having to encounter bubbles. In terms of clarity, the screen guard can keep the pristine look of the screen safe. The ability to resist blue light makes sure your eyes don't strain even after a long run of gaming or movie streaming. Considering these impressive features, the $50 pricing doesn't seem too expensive.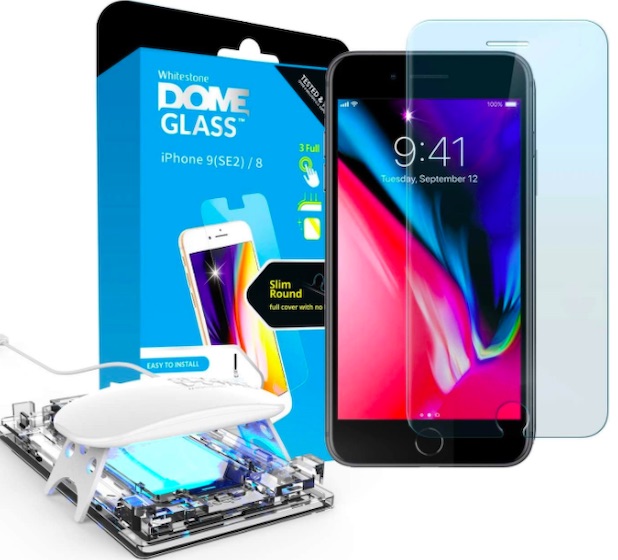 Buy from Amazon: $49.99
4. amFilm
amFil is a trusted accessory maker that offers affordable yet high-quality screen guards. Not for nothing this screen guard has received 4.3 stars out of 5 from almost 56K ratings that make it probably the most popular iPhone SE 2 screen guard on Amazon. Boasting industry-standard hardness coupled with scratch-resistance construction, it delivers an edge-to-edge safeguard to the touchscreen. Better still, it also provides up to 99.9% transparency to get the most out of the Retina Display.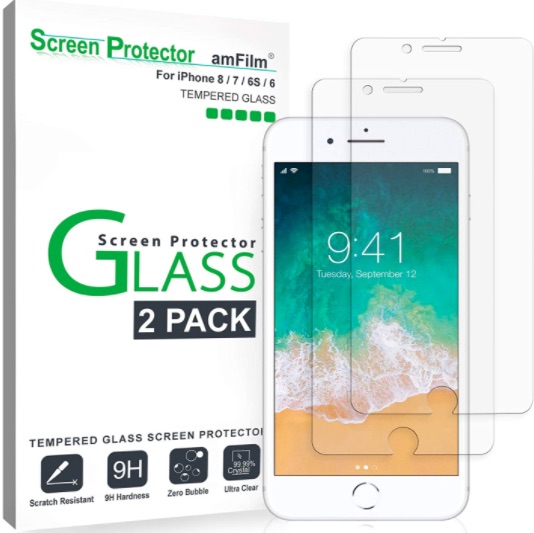 Buy from Amazon: $8.99 (pack of 2) 
5. Beam Amazing
If you can stretch your budget a bit, Beam Amazing could be a deserving screen guard for your iPhone SE. So, what makes it so appreciable despite warranting a premium price-tag ($38)? Well, it's the anti-microbial layer that puts it in an elite league. For those unfamiliar, the anti-microbial treatment can go a long way in letting you disinfect your iPhone. At a time where it's the need of the hour to keep everything that we touch clean, this feature is worth taking note of. Apart from this notable feature,  Beam Amazing is also fully equipped to guard the 4.7-inch touchscreen against impact.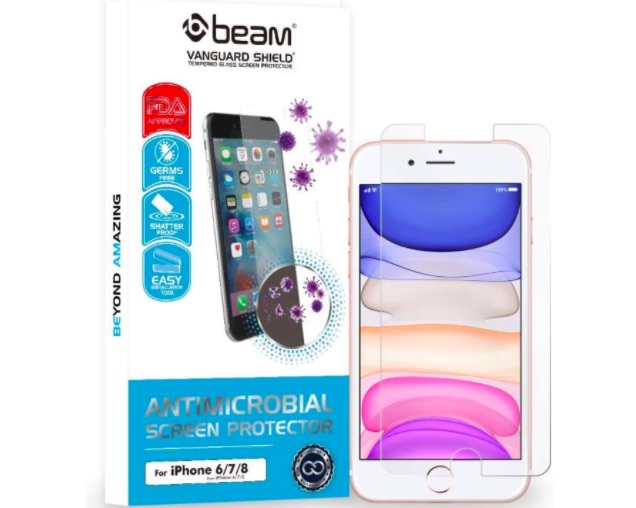 Buy from Amazon: $37.99
6. JETech
If I were to choose a reasonably good yet cheap iPhone SE 2 screen guard, I wouldn't hesitate in giving a try to this offering from JETech. With 0.33mm thickness, it's a bit thicker than most screen defenders in the market. But despite having a durable construction, it's up to the mark when it comes to delivering high-definition clarity. Aside from high transparency, this SE 2020 screen guard is equally responsive to the touch, allowing you to use all the multitasking or text-editing gestures smoothly.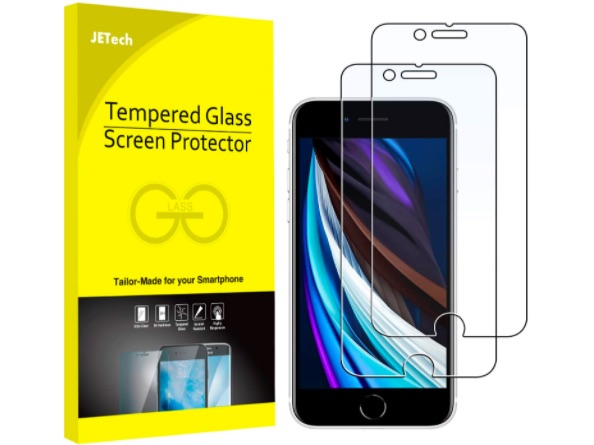 Buy from Amazon: $6.99 (pack of 2)
7. GLASS-M
Imagine a situation where you are waiting in the wing at a crowded public place, wouldn't you want to shield your personal messages away from the prying eyes? Most probably, you would! Well, this is where this GLASS-M screen protector has a role to play. Featuring a 180° anti-spy feature, the screen guard restricts viewing angles. Thus, people behind you can't view your sensitive information. Aside from privacy, it has 2.5D rounded edges which enable it to offer full-screen coverage to the screen. And with the 0.33mm thickness, GLASS-M has got the additional cushion to ward off impact as well.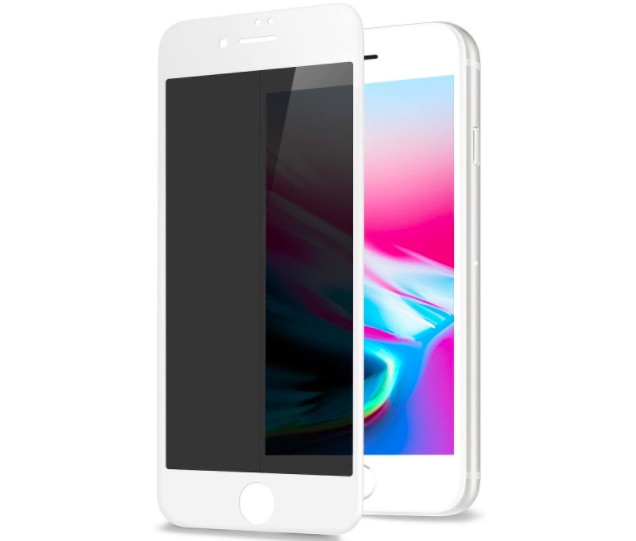 Buy from Amazon: $10.99
8. Temdan
Made of German TPU material, Tedman screen guard is pretty soft and sensitive to the touch. Therefore, you can expect it to deliver better responsiveness. Besides, it's also equally efficient in terms of offering high clarity so that the Retina Display can deliver original transparency. On the protection front, it's more than decent to survive scuffs. But you shouldn't expect top-of-the-line defense against impact as the screen guard is too soft to take on nasty impact. That aside, the company also offers a good clear case with it so that your device can showcase design without putting protection at the backburner.
Buy from Amazon: $9.99 (pack of 2)
9. Tech Armor
Yet another PET screen protector for iPhone SE 2 that has caught my eyes! Featuring multi-layered construction, it is slightly more durable than other film screen guards. Beyond protection, you can count on it to provide high-definition clarity also fight out fingerprints. As a result, the touchscreen will look crisp, keeping the original transparency of the screen intact. Even in the sensitivity aspect, Tech Armor feels up to the task, allowing you to use touch gestures with the desired smoothness. What's more, it comes in three packs at under $7, which makes it one of the cheapest screen defenders for the iPhone SE 2020.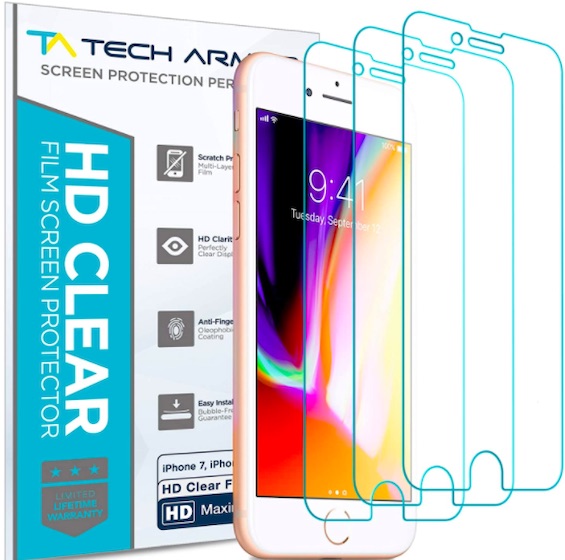 Buy from Amazon: $6.95 (pack of 3)
10. Syncwire
It's the case-friendly design that makes Syncwire a handy screen guard for the second-gen iPhone SE. Therefore, you can use any type of cases including rugged covers with your smartphone without any problems. Being tempered glass, it's got the maximum hardness that offers reliable protection to the screen. Additionally, Syncwire comes with a special coating that keeps sweat and fingerprints away. Hence, it doesn't lose neither clarity nor sensitivity for long. With these appreciable features, the $13 price for three packs seems competitive.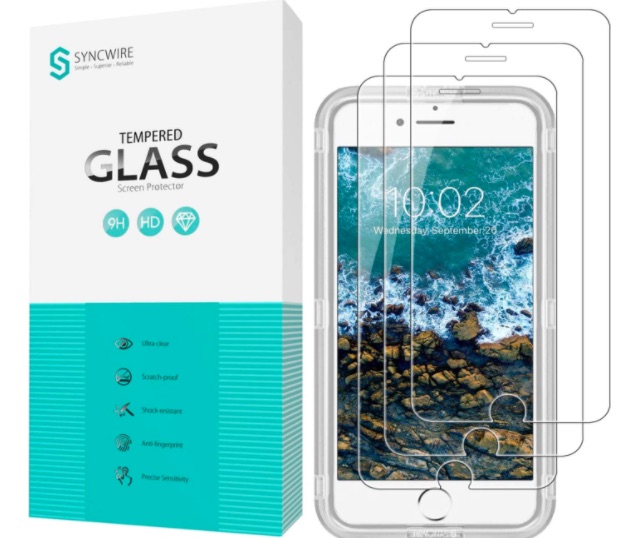 Buy from Amazon: $12.95 (pack of 3)
Pick Out One of These Top Screen Guards for iPhone SE 2020
So, these are the highly-rated screen protectors for your all-new iPhone SE 2020. To ensure you can find the right screen defender for your smartphone, we've lined up both the tempered glass and liquid screen protectors. As they offer bubble-free installation, you can find it quite easy to install them. Have I missed out on any SE screen guards? If yes, let us know their names.