The long-awaited iPhone SE 2 is finally here. Looking at Apple's all-new entry-level smartphone, all I can say is that the device looks pretty much on the expected line. To be more precise, if you have tried your hands on iPhone 8 (launched in 2017 along with iPhone X), you would be quite familiar with the SE 2020. But that doesn't mean the budget iPhone is a pushover. Equipped with the wicked fast A13 Bionic (a 64-bit ARM-based system on a chip) that also powers Apple's iPhone 11 Series devices and much-improved cameras, the smartphone looks primed for the price-conscious consumers who want a top-notch performance without having to shell out for a premium price-tag. If that's you, we've lined up the best iPhone SE 2 cases and covers so that you can style your smartphone without endangering protection from unexpected bumps.
Best iPhone SE 2020 Cases and Covers
So, what sort of cases are you looking for your second-generation iPhone SE? Is it a glossy clear case or an incredibly sleek cover that can wrap around the smartphone like a comfy glove? Or, are you on the lookout for a protective cover for your iPhone SE that doesn't add unnecessary bulk? Well, this meticulous assortment has got you fully checked off so that your needs can get the right match for your device. With that said, let's start scrolling!
1. Official Cases from Apple
For the folks who want to have a premium case for iPhone SE second-generation, the official cases from Apple seem to be notable picks. Right now, the company offers two cases for the new budget iPhone: Silicone Case and Leather Case. Both the cases sport sophisticated design and snaps around the smartphone perfectly. Despite having a slim-factor, Apple iPhone SE 2 cases are good enough to absorb minor shock and also fight out scratches. That's not all, you can also expect these covers to offer a much-improved grip.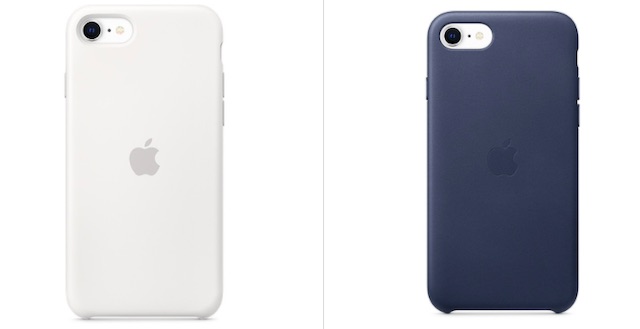 Buy from Apple: $35-$45
2. Caseology Parallax
Whenever I'm out hunting for cases, I never fail to give special attention to the one that promises to take the crown of being the best of both worlds: Impressive design and Uncompromised protection. And after giving a close look at Caseology Parallax, I must say that it's checked off all the boxes to get that crown. What puts it ahead of the curve is the 3D design that offers an enhanced grip so that your hands won't get slippery while holding the smartphone. Besides, the dual-layered construction delivers a trusted military-grade defense to guard your new SE against shock. On top of all, you can choose Caseology Parallax in multiple vibrant looking color variants including burgundy, mint green, matte black, and more.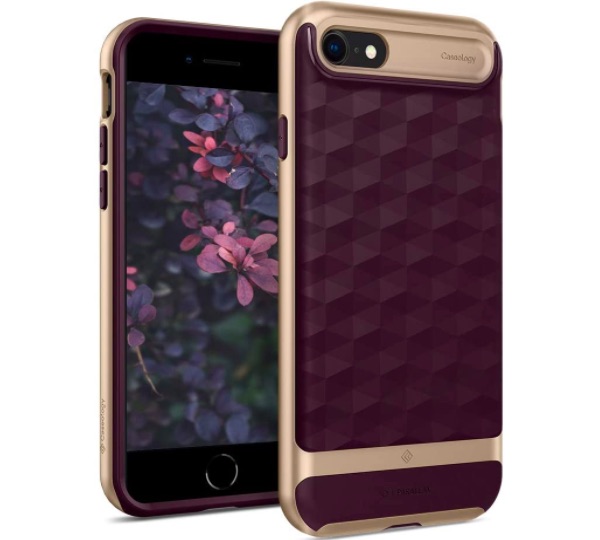 Buy from Amazon: $13.99
3. Spigen Liquid Air Armor
Exhibiting a sleek profile, Spigen Liquid Air Armor is the sort of case that tends to pass the test in the very first impression. With a snug-fit form factor, the case fits the iPhone SE 2020 like a comfy glove. Plus, there is a grippy geometric pattern that your gives your palm desired friction to hold the smartphone comfortably. For all being so slim, the Liquid Air Armor is more than capable to resist scuffs, and also ward off low-volume impact so that SE can remain protected. Besides, it also keeps both the touchscreen and camera lifted to safeguard them against scratched. That's not all; at $11, Liquid Air Armor can also stake the claim of being reasonably good yet cheap iPhone SE 2 case in the market.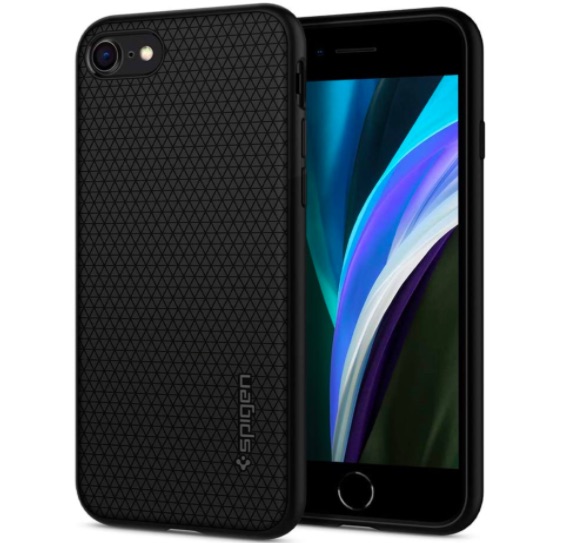 Buy from Amazon: $10.99
4. MoKo
When you have a crystal-clear case at the disposal, you hardly have to put any effort to flaunt your smartphone. If you have a penchant for letting the iPhone show-off the design in all its glory, this offering from MoKo can be a befitting match for the device. But just because it's a clear case, do not underestimate its protective casing. Featuring a hybrid construction made of durable PC and shock-resistant TPU, it's more than handy when it comes to resisting impact. Better still, the MoKo iPhone SE 2 clear case also comes with the raised bezel to guard both the retina display and the rear camera against scuffs. And when you look at the $9 low price-tag, you may find this clear case more or less a done deal.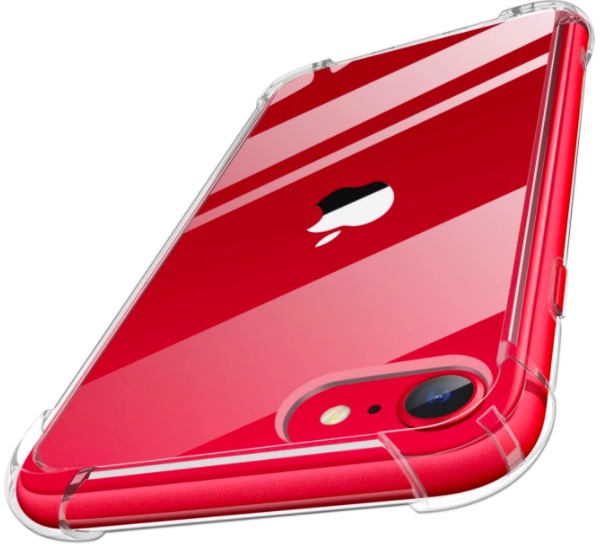 Buy from Amazon: $8.99
5. i-Blason Cosmo Lite Series
Should you wish to style your brand new iPhone SE with a good-looking case with a marble design, look no further than i-Blason Cosmo Lite Series. Made of pretty soft TPU material, this cover makes a nice match with the second-gen iPhone SE. Thanks to the rubberized casing, the case also offers better gripping so that there is no awkward slip-off. But is Cosmo Lite Series just about the stylish look? Nope! Despite having a sleek profile, it offers a military-grade shield to your SE so that it can stay safeguarded against drops and scuffs.
Buy from Amazon: $12.99
6. ESR Metal Kickstand
How about choosing a top-notch kickstand case for iPhone SE 2020? Just in case, you love to use your smartphone hands-free during video-calling or Netflix video-streaming, you'd find this offering from ESR highly appreciable. The highlight of this case is the metal kickstand that allows you to prop up your second-gen SE both vertically and horizontally. Thus, you will have much-improved viewing angles to catch up with your FaceTime buddies or flicks comfortably. That's not all, it's also got a sturdy casing to fight out unexpected drops and even scratches. Given these notable specs, this metal kickstand case promises to be a good buy at $19.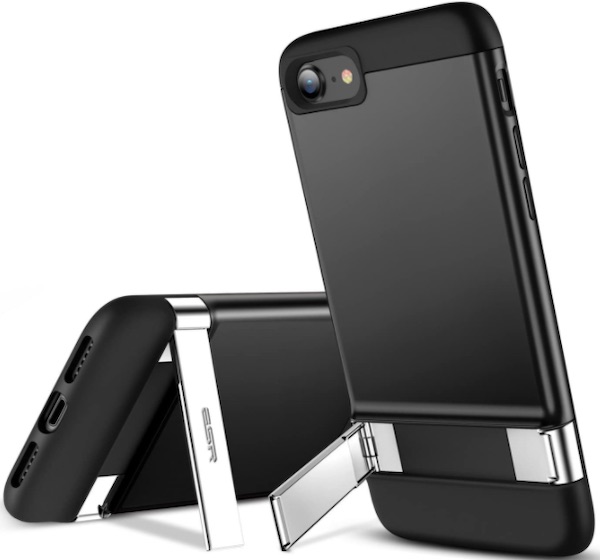 Buy from Amazon: $18.99
7. Ringke Fusion X
If protection is what on the top of your mind, Ringke Fusion X could be the right answer to your demand. Equipped with a rugged PC back panel and impact-resistant TPU, Fusion X ensures your iPhone SE 2 has 360° protection. Courtesy the rugged exterior, you will also have the required grip to hold the SE comfortably in hands. That aside, the case features precise cutouts so that all the ports including the lightning and speakers have painless access. Additionally, you can choose Fusion X in three colors: cosmo black, lilac purple, and black.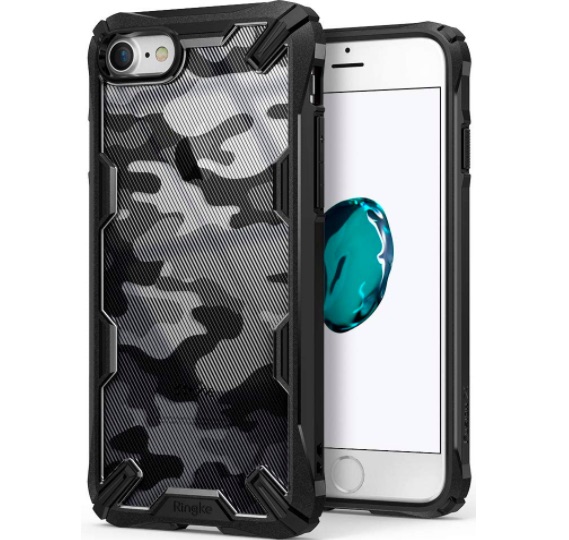 Buy from Amazon: $12.99
8. Ruky
If it's time to let your iPhone SE 2 catch attention elegantly, a beautiful case like Ruky could turn out to be the need of the hour. Sporting a glittering design with floating liquid, the case is designed to make your iPhone look show stopper. Made of soft TPU and silicone, the case has a slim yet protective design. That means, it can serve the dual purpose: ramping up the style quotient and protecting the device. Beyond looks, Ruky also supports wireless charging so that you can power up your iPhone SE without having to remove the cover. Priced at just $9.99, it can also be safely termed as the best iPhone SE 2 case under 10.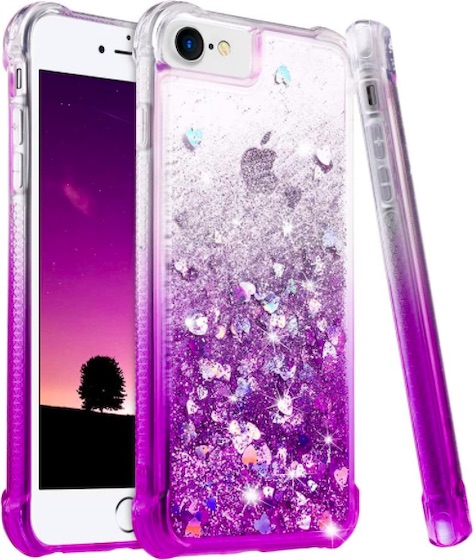 Buy from Amazon: $9.99
9. SHIELDON
If a full-fledged wallet case is the demand of your needs, SHIELDON appears to be a reasonably good contender. The wallet case is carved out of high-quality cowhide leather that gives a professional look to your iPhone SE 2. And with the inclusion of a shock-resistant TPU interior, you can rely on this cover to keep your smartphone shielded against bumps. Plus, this leather wallet case also comes with multiple card slots and a handy compartment that can take care of your dollar bills. On top of all, SHIELDON can also double up as a fine kickstand when you wish to prop up your SE for hands-free media watching.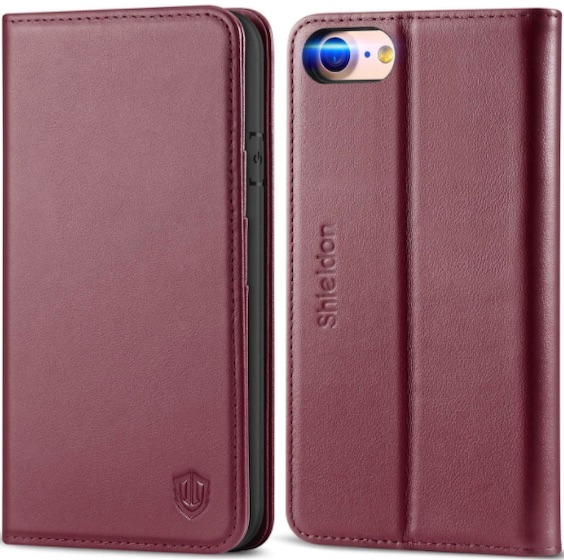 Buy from Amazon: $29.99
10. Spigen Slim Armor CS
Looking for a smart wallet case for your iPhone SE 2 without adding unnecessary bulk? If the straightforward answer is yes, you shouldn't miss out on Spigen Slim Armor CS. What makes this case stand out is the hidden slot on the rear side wherein you can store a couple of cards. Due largely to the dual-layers of casing including the air-cushion technology, Slim Armor CS is fully capable to protect your smartphone from drops. That's not all, this protective wallet case for the new SE also comes in some vibrant color variants including black, red, rose gold and more.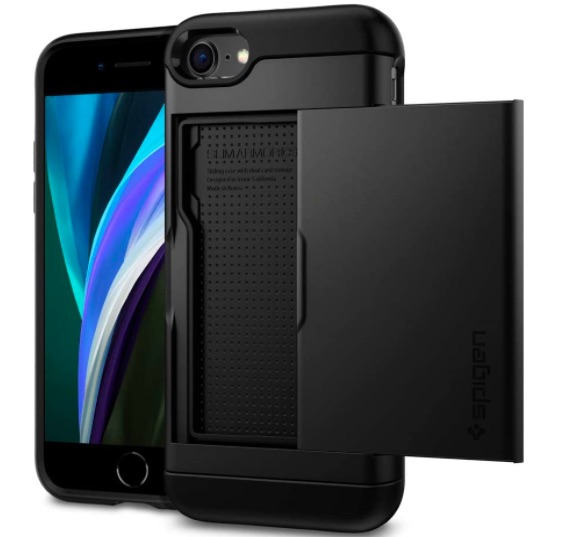 Buy from Amazon: $17.99
Bonus: Smartish
Just when I was about to wrap this lineup, I came across this highly-rated iPhone SE 2020 case on Amazon (4.7 stars out of 5 from well over 4K ratings). Thanks largely to a useful wallet design, the case didn't fail to impress me. Just like Slim Armor CS, it also comes with a hidden slot on the back that can comfortably store up to three cards. Perfect for the times where you want to carry multiple credit/debit cards without having to carry the traditional wallet in your pocket! Furthermore, it's also durable enough to take on some beating and supports wireless chargers as well.
 Buy from Amazon: $14.99
Choose the Top Cases and Covers for Your 2020 iPhone SE
So, these are the best cases for the second-gen iPhone SE. Thanks to a variety of good-looking covers, I guess your choice has found the right contender for your new smartphone. Whether it's an ultra-clear cover, a stylish sleek case or a full-on wallet suit, the roundup has got the variety to meet your demand. But just in case, it has missed out on some deserving SE cases, do not forget to let us know their names in the comments below.