When you have probably the most wanted smartphone in the form of the iPhone 12 Pro Max, there is always a temptation to showcase the device in all its glory. Maybe you aren't a fan of traditional cases or hate to put on a cover just for the sake of protection from impact. Whatever your side of the story could be, a crystal clear case can seamlessly fit into your taste. Be it allowing the iPhone to flaunt the design or offering the device an essential shield to ward off scratches, it can do a lot more than what meets the eyes. If you find this proposition compelling enough, look no further than these 8 best iPhone 12 Pro Max cases in 2020.
Best Clear Cases for iPhone 12 Pro Max in 2020
What I love the most in these clear cases designed for the iPhone 12 Pro Max is the impressive compact form-factor. Despite having a relatively slim design, they have got the needed cushion under the hood. So, there is no question of embracing style by endangering the safeguard of the $1400 (512GB variant) machine.
What's more the transparent iPhone 12 Pro Max covers also provide an anti-slip grip and work with most wireless chargers. All-in-all, they are readied to do a lot more than just letting the iPhone shine through.
1. Speck GemShell
As a clear case, Speck GemShell has looked like a complete package to me. Probably the best part about GemShell is the ability to offer an uncompromised shield to your iPhone 12 Pro Max while still offering the smartphone the full freedom to showcase its design. Therefore, you will be able to enhance the style quotient without having to endanger the security of your device.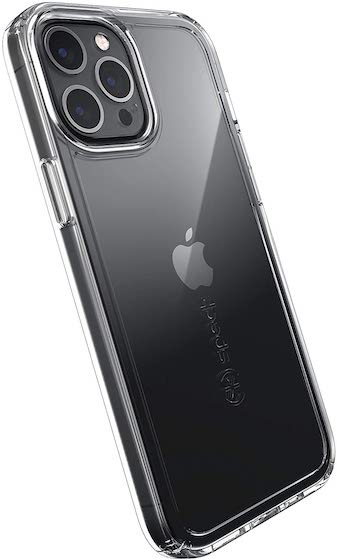 The dual-layer of construction features raised bezels to defend the triple camera setup and the 6.7″ OLED display against unwanted scratches. Thanks to the ability to resist bacteria, it can also play a vital role in disinfecting your device.
What's more, GemShell also plays nicely with wireless chargers so that you can embrace wireless charging without any hiccups. Overall, it deserves to be rated as one of the top accessories for iPhone 12 Pro Max without any doubt.
Buy from Amazon: $24.95 -$29.95
2. OtterBox Prefix Series
OtterBox is well-known for offering pretty compact yet highly protective cases. And Prefix Series seems to follow the same tradition. So, if you want to have the best of both worlds (style and protection) at your disposal, this clear case could be a great choice.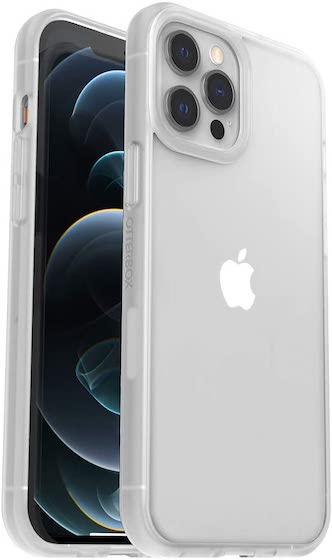 Made of hard PC material, the case has a one-piece design that feels comfortable in the hand. The pronounced buttons and neat cutouts ideally complement the cover.
To offer additional protection to both the touchscreen and camera against scratches, it also features elevated edges on either side. At $35, Prefix Series might seem a bit over the top. However, it has got the basics covered to live up to the expectation.
Buy from Amazon: $34.95
3. totallee
I don't think there are too many accessory makers that can match totallee's repertoire of producing sleek cases. So, just in case you wish to choose an incredibly slim clear case for your iPhone 12 Pro Max, this one could be a hot contender.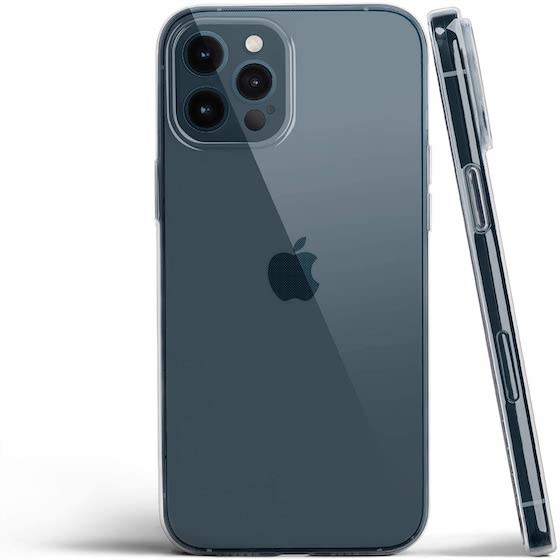 Being a sleek clear case, it doesn't have much to offer in terms of protection. Nevertheless, you can bank on it to defend your iPhone 12 Pro Max against scratches.
And with the anti-slip texture, totalee clear case also makes sure the phablet can feel boxy in your palm. Besides, the tactile buttons and perfect cutouts further enhance its profile as a premium leather case for iPhone 12 Pro Max.
Buy from Amazon: $39
4. ESR Clear Glitter Case
If you prefer to have a glittering profile to make your iPhone win attention, ESR clear glitter case can be a deserving choice. The case is pretty soft, slim, and fits around the edges of the iPhone 12 Pro Max. With the smooth texture on top, it feels comfy to the touch.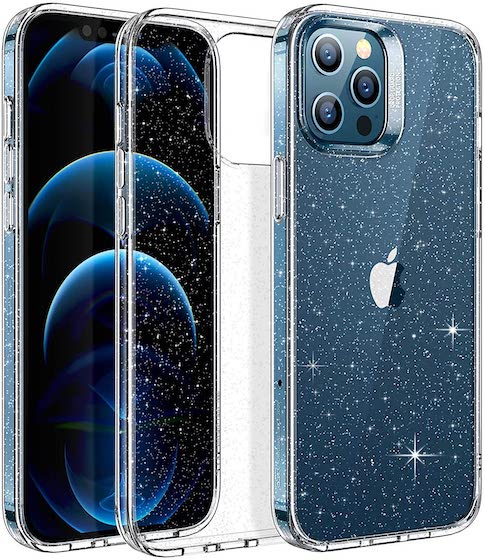 As you may have already guessed, ESR clear glitter case isn't designed to offer full-on safeguard to your iPhone. However, it's no pushover when it comes to thwarting scuffs and also resisting low-volume shock.
Furthermore, the clear case supports wireless charging and is priced at $12 which is comparatively low. Putting everything into the right perspective, it's one of the best iPhone 12 Pro clear cases under $15.
Buy from Amazon: $11.99
5. CASEKOO
If you are willing to opt for an exceptionally protective clear case for iPhone 12 Pro Max, this offering from CASEKOO could be one of the better contenders. And that too without demanding a premium price tag.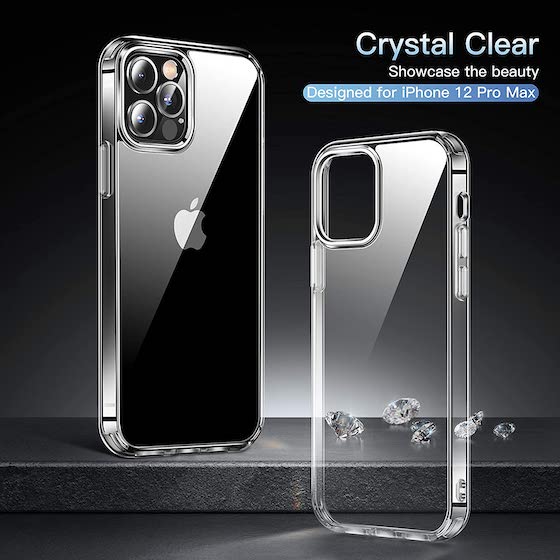 Made of soft TPU and rugged PC material, CASEKOO clear case has a shock-absorbing construction. Besides, it also has raised bezels on the front and back to shield the massive camera bump and the large OLED display against scuffs.
Due mainly to the durable casing, it provides certified military-grade protection. Not just that, the case has also got an anti-yellowing coating to keep the clarity intact.
Buy from Amazon: $21.99
6. TORRAS Diamonds Series
When it comes to making a stunning pair with the iPhone 12 Pro Max, TORRAS Diamonds Series is second to none. The case features aliphatic polycarbonate back and a TPU bumper. Thanks to the presence of a shock-absorbing bumper, the case provides military-drop protection.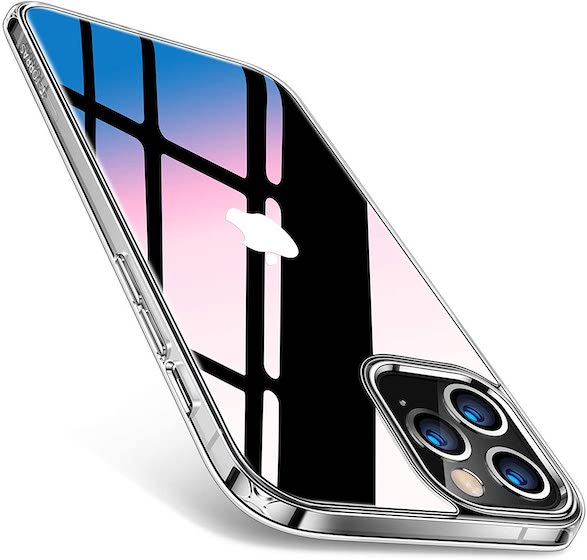 Apart from strengthening the construction of the case, the case also provides an enhanced gripping. Notably, it features responsive pronounced buttons and supports wireless charging. So, you can simply drop your smartphone on a wireless charger to kickstart the charging process.
Considering these pivotal features, TORRAS Diamonds Series is a top-notch protective transparent case for iPhone 12 Pro Max.
Buy from Amazon: $19.97
7. Spigen Ultra Hybrid
Should you wish to choose an ultra-clear case with a form-fitting design at a comparatively low price, Spigen Ultra Hybrid could be a befitting answer to your needs. The case is made of TPU and features a compact bumper design.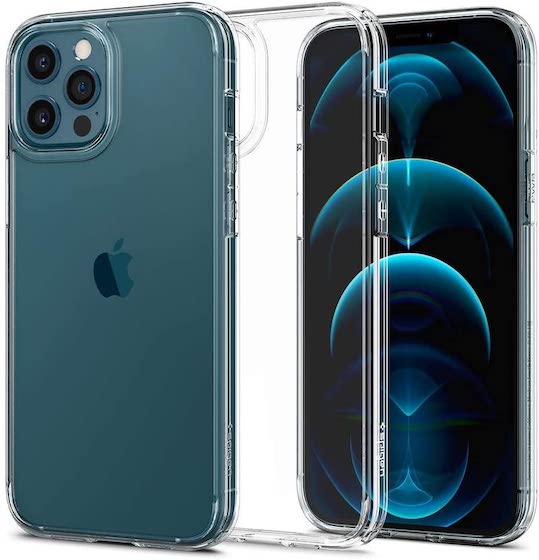 The integration of TPU number and hard PC back endows Ultra Hybrid the needed strength to survive the random impact. Moreover, the beveled edges lift the camera bump and OLED display off the flat surfaces.
For all being quite protective, it has a slim design that keeps the style factor of the smartphone intact. Priced at $12, it can easily run away with the tag of being one of the most loved cheap iPhone 12 Pro Max cases in the market.
Buy from Amazon: $11.99
8. MoKo
Last but not least, this offering from MoKo is one of those cases that pack a solid punch way above their weight. As you may have already guessed, MoKo is priced comparatively low, however, it checks off all the crucial boxes.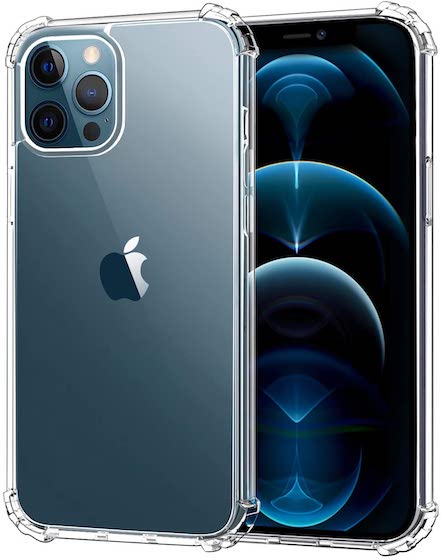 For starters, the case features an impact-resistant hybrid construction (PC+TPU) that promises to offer uncompromised protection to your iPhone. The rubberized bumper also does a fine job of offering a secure grip to ward off accidental slip-offs.
Besides, it also provides an extra defense to the camera bump and OLED display by lifting them off flat surfaces. One of my favorite features of this case is the microdot pattern that further augments its design. Taking everything into account, it's a pretty good iPhone 12 Pro Max clear case at an affordable price point.
Buy from Amazon: $9.98-$10.98
Top Clear Cases Designed for iPhone 12 Pro Max
There you go! So, these are the best transparent covers that you can buy for your iPhone 12 Pro Max. As I said above, they have got much more than what meets the eyes. Therefore, you can count on them to work as a full-fledged case for your 6.7″ smartphone.
As we are talking about deserving accessories, I would recommend you to check out the best MagSafe accessories for iPhone 12 Pro Max if you want to have a quick attach and faster charging experience.
Now that you have taken a peek at our roundup, let us know the cases that are going to pair with your all-new phablet. And also tell us about the clear cases that are good enough to get included in this lineup.
---
Load More