While the full-on verdict could take some time to arrive, Samsung Galaxy S21 Ultra seems to be the smartphone to beat in 2021. If the raw specs like the 6.8″ WQHD+ display (AMOLED 2X, 120Hz 3200 x 1440-pixel), the wicked fast Snapdragon 888, and the Quad camera setup don't lie, the S21 Ultra appears to be a winner in most aspects. As is always the case with a top-tier smartphone, an extra layer of protection comes calling. But bother not, I have meticulously chosen the 10 best Samsung Galaxy S21 Ultra cases and covers so that the desire for having the essential safeguard doesn't come at the sacrifice of style.
Best Samsung Galaxy S21 Ultra Cases in 2021
Though the choice of a case is subjective, there are certain things that many of us appreciate. For instance, a crystal clear case has a huge fan-following especially among the folks who love to flaunt their brand new smartphones. Similarly, high-grade leather covers are always here to stay given how well they are received by pros. As for wallet, kickstand, and heavy-duty cases, they primarily depend on what your needs warrant. With that in mind, let's head over to explore the top Galaxy S21 Ultra cases and covers you can buy in 2021!
1. Official S21 Ultra Cases – Premium Lineup of Cases
As always, Samsung has unleashed a solid collection of cases for its flagship smartphones including the S21 Ultra. And if you want to have a premium case that can make a match with the style of the 6.8″ smartphone, you shouldn't fail to check them out.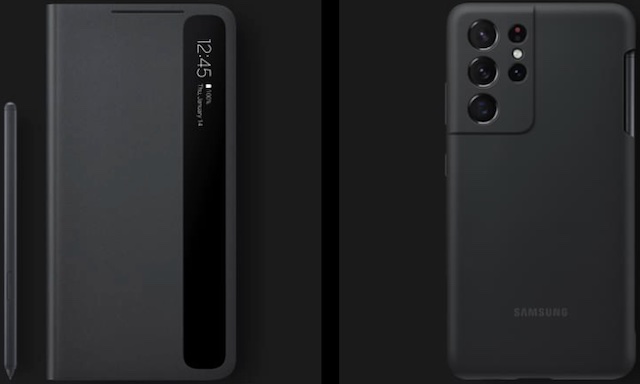 One of the most loved official cases is the "S-View" cover that can let you keep your S Pen secure. If you want to go for an affordable yet pretty impressive cover that can house your S Pen safely, the silicon cover would be a nice pick. Furthermore, you also have a high-quality wallet cover, a pro-grade leather cover, and an ultra-clear transparent cover that can showcase your smartphone in full glory.
Buy from Samsung: Starts from $39.99 
2. OtterBox Defender Series Pro – Top-Notch Case With Secure Grip
OtterBox Defender Series cases are well-known for offering top-of-the-line impact resistance. If the shock-absorbing design without unnecessary bulk is on top of your mind, I would recommend you to give serious consideration to Defender Series Pro.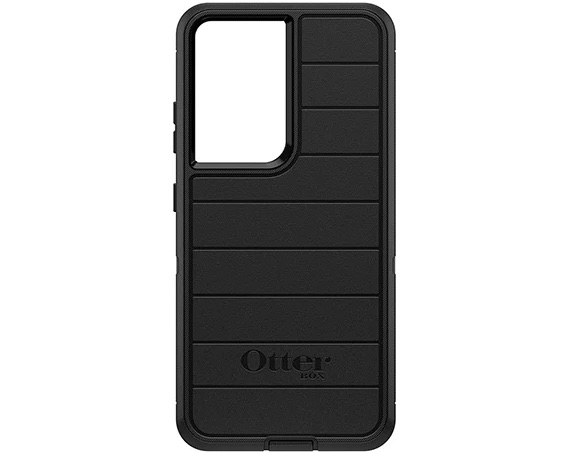 The case has multiple layers of protection and features elevated edges to guard the quad-camera setup and the 6.8″ WQHD+ display. Notably, it also features a silver-based antimicrobial additive that keeps bacteria at bay. At a time where there is so much focus on cleanliness to ward off the pandemic, I really appreciate this useful feature.
Priced at $65, Defender Series Pro is undoubtedly one of the best Galaxy S21 Ultra cases in the market right now.
Buy from OtterBox: $64.95 
3. ESR Metal Kickstand Case – Best Kickstand Case
ESR metal kickstand case is a worthy companion for Galaxy S21 Ultra. The case sports a compact and clear design that not only keeps the elegance of the phablet intact but also lets it showcase the brand new design.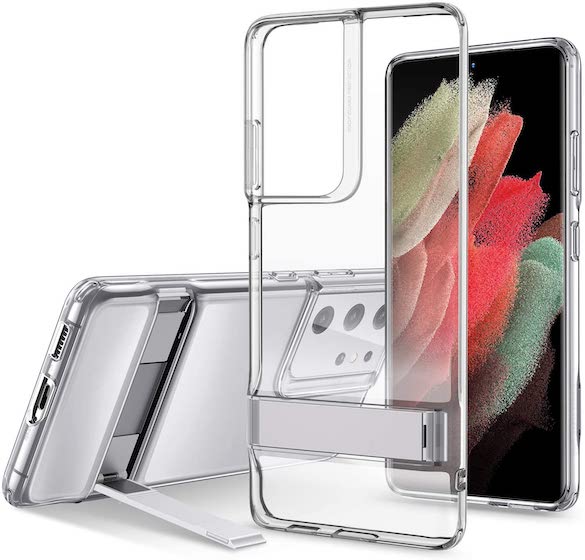 And with the handy stand, it also lets you prop up the S21 Ultra for convenient media streaming and hands-free video calling thanks to the support for both portrait and landscape orientations. That aside, the case has got a reinforced construction that can endure shock.
Moreover, the raised bezels further safeguard the protection to the 6.8″ screen and the quad-camera setup. Priced at $17, it's also in the affordable category, which is yet another plus if you are willing to cut down the expenses.
Buy from Amazon: $16.99
4. FYY Leather Case – High-Grade Leather Wallet Case
Nothing can beat the pro look and feel that a high-grade leather case offers. If you are on the lookout for a handcrafted folio leather case for your S21 Ultra, the FYY leather case is the one to check out. The case is crafted with cowhide leather and features neat craftsmanship. Plus, the interior features three card slots and a big compartment where you can keep your cash securely inside.
Notably, the leather case also features RFID blocking technology to shield the information of your cards. The combination of genuine leather exterior and the shock-absorbing interior in the form of TPU endows the needed durability. As a result, you can count on the leather wallet case to survive bumps with ease. Furthermore, it's also designed to play nice with wireless chargers to let you power your device without any issues.
Buy from Amazon: $35.99
5. VANMASS Cherish Series – Compact Yet Impact-Resistant Case
I'm a huge fan of the cases that offer the best of both worlds: style and protection. Having given a close look at VANMASS Cherish Series, I must say that the case looks up to the mark to offer the desired protection to S21 Ultra without sacrificing the elegance factor.
Cherish Series case is made of a soft polymer and rugged PC. While the soft polymer provides an enhanced grip, the hard PC strengthens the casing. Besides, the clear back ensures that your phablet continues to be at the forefront of attention with ease. Keeping in mind these appreciable features, the case appears to be a safe bet at $22.
Buy from Amazon: $21.99
6. ArmadilloTek Vanguard – Impressive Heavy-Duty Case
An ultra-expensive smartphone like Galaxy S21 Ultra deserves ultimate safeguard against accidental drops and scratches. And if you are willing to opt for a heavy-duty case for your phablet, ArmadilloTek Vanguard could be the way to go.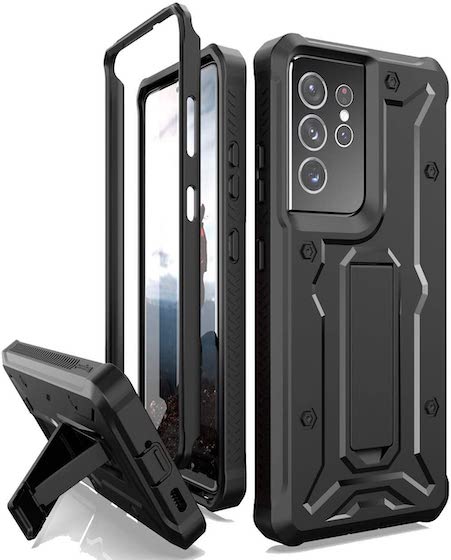 The case features exceptionally rugged construction that is fully equipped to withstand impact. The company claims that the case meets 2X military drop-test standards (MIL-STD 810G 516.6). Looking at the solid build, I don't see any reason why it can't live up to the tall claim. What's more, it also comes with a built-in kickstand to amp up media streaming and works with wireless chargers as well.
Buy from Amazon: $18.98
7. CASEKOO – Protective Clear Case
If top-notch Samsung Galaxy S21 Ultra clear is on top of your mind, this offering from CASEKOO could be the right pick for you. Probably the biggest highlight of this case is the shockproof design that promises to deliver military-grade safeguard against impact. Made of high-quality German TPU material, the case sports a crystal clear design that allows the S21 Ultra to showcase its all-new design with full freedom.
Unlike other ordinary clear cases, CASEKOO clear cover doesn't turn yellow. Plus, it has pretty tactile buttons and precise cutouts for the Quad camera setup and the ports. And with the smooth finish, it also provides an anti-slip grip to prevent the 6.8″ Galaxy device from slipping out of your hands.
Buy from Amazon: $19.99
8. OtterBox Symmetry Series Case – Compact Protective Case
There are some cases that hardly take much time to convince you. And OtterBox Symmetry Series is one of them that seems fully equipped to run away with the tag of an ideal case for Galaxy S21 Ultra. What I love the most about this case is the relatively slim yet durable profile that wraps around the 6.8″ smartphone snuggly.
The anti-slip exterior coupled with the grippy frame provides a secure hold. And with the fortified corners as well as raised bezels always ready to endure shock and fight out scuffs, your smartphone has a trusted shield without losing the style aspect.
Just like the Defender Series Pro, Symmetry Series also features the ability to resist bacteria. Considering these notable features, this OtterBox offering seems to be a reasonably good buy at $50.
Buy from OtterBox: $49.95 
9. anccer Newborn Series – Slim Leather Case
Should you wish to go for a slim leather case for your Samsung Galaxy S21 Ultra, anccer Newborn Series can make for a strong case. And that too without breaking your bank. The case is made of leather, TPU, and PC material. For all having a slim form factor, it provides the essential protection to the smartphone.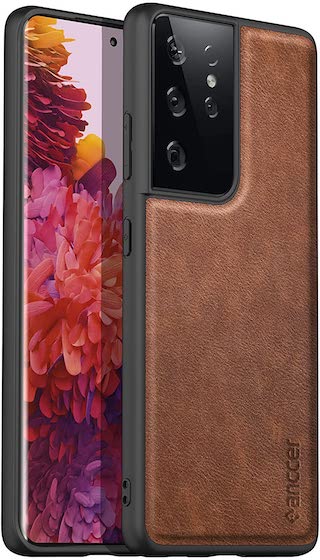 The beveled edges make sure both the screen and the cameras are able to keep scratches at a fair distance. Moreover, the leather exterior also offers a secure hold so that the ultra-large smartphone won't feel slippery in your hands. That's not all, you can also choose this leather cover in multiple color variants including brown, blue, black, and red.
Buy from Amazon: $15.99
10. FYY – A Nice Flip Case at Low Price
Here comes the cheapest Samsung Galaxy S21 Ultra case! Well, the FYY flip case may be priced a lot lower than many other counterparts mentioned in this roundup, it has got the features to be a fairly good companion for the smartphone.
Made of soft TPU and PU material, the case features a lightweight and compact design. Thanks to the front window, you can easily check incoming calls, messaging, and time without having to open the front flip. As for protection, the flip case can absorb shock and also offer reliable safeguards to the display and camera against scratches.
Buy from Amazon: $8.99
Top Samsung Galaxy S21 Ultra Cases and Covers Lined Up for You
So, these are the best cases and covers designed for Samsung Galaxy S21 Ultra. I have picked up these cases keeping in mind different requirements like protection, secure grip, and form-fitting profile. Hopefully, you have found them worth giving a try for your all-new S21 Ultra.
We have also curated our favorite cases for Samsung Galaxy S21 Plus and regular Galaxy S21. So, if you purchased either of the devices for your family members, check them out by clicking on the link. By the way, which one is ready to pair with your Galaxy device? Do share your feedback with me in the comments down below.