After a year, Apple has refreshed its iPad Pro lineup in 2021 and gone out of its way to significantly improve the display. It comes with a new Liquid Retina XDR display that uses over 10,000 LEDs on the back of the panel. Since the 12.9-inch variant of the iPad Pro 2021 comes with this expensive new display technology, you should ensure the iPad Pro 2021 is protected from all sides. So in this article, we list the 8 best cases for 12.9-inch iPad Pro 2021, which offer all-around protection from drops and scratches. We also include covers with smart features such as auto wake/sleep, pencil charging, and more. So without any delay, let's jump to the list and find the best cases and covers for the 2021 iPad Pro.
Best Cases for iPad Pro 2021 (12.9-inch)
Here, we have mentioned all sorts of cases for iPad Pro 2021 (12.9-inch) at various price points. From folio to protective, leather, and transparent cases, we have covered everything. Expand the table below and move to the corresponding section with just a click.
1. Official Apple Smart Folio Case
If you are looking for a reliable folio case for your new iPad Pro 2021 (12.9-inch), then Apple has you covered. As the case is made by Apple, the dimensions are accurate, and there are several smart features onboard. When you open the case, it automatically wakes your iPad Pro 2021 and puts it to sleep when you close the lid.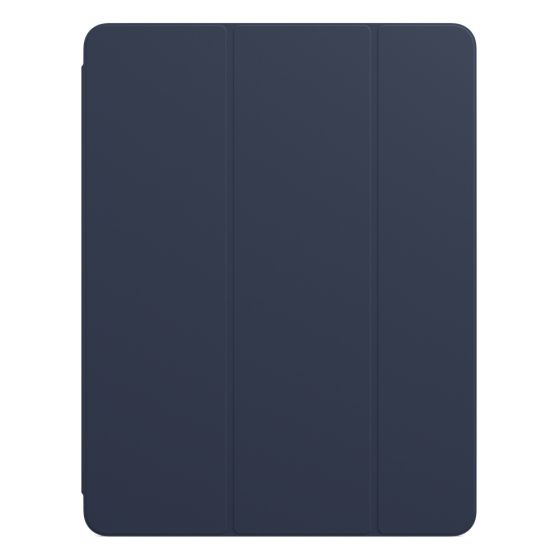 It also comes with a trifold system where you can fold the case at three different angles to make your iPad stand in different positions. Not to mention, the case is made with a single piece of polyurethane, which is quite durable and protects the front and back of the iPad from drops and scratches.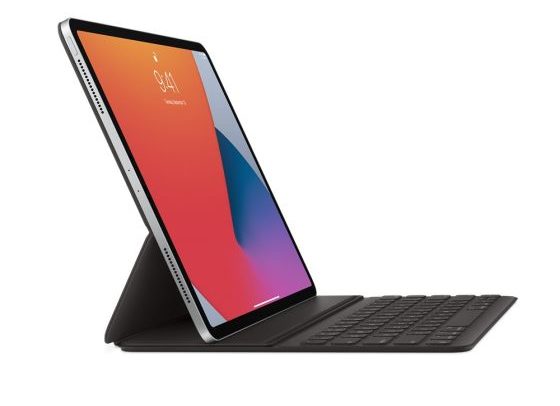 Apart from that, there is a smart keyboard folio case that not only offers protection but also brings a comfortable keyboard in tow. It is slightly pricier than your average case, though. The best part about this setup is that you don't need to charge the keyboard separately. Also, you can conveniently position the iPad at whichever angle you want.
2. Spigen Tough Armor Pro: Affordable Yet Durable iPad Pro 2021 Case
Spigen needs no introduction when it comes to cases and covers. The company has launched its signature Tough Armor Pro case for iPad Pro 2021 (12.9-inch). Thankfully, this case is quite affordable compared to official Apple Folio cases. It's not a folio case but protects the iPad from all corners due to raised edges all around the screen.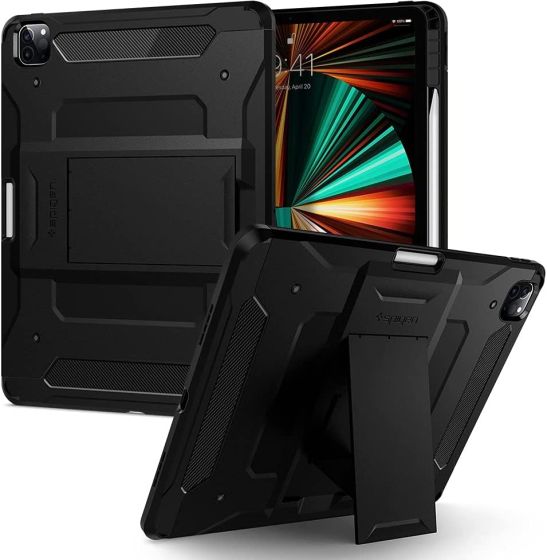 What is interesting is that there is a stand as well, which you can position at any angle you want. Best of all, there is an Apple Pencil holder in tow, and it's compatible with the magnetic charging mechanism. All in all, the Spigen Tough Armor Pro for the 5th-Gen iPad Pro is excellent, and you should give it serious consideration.
3. OtterBox Defender Series
Much like Spigen, OtterBox is another company that makes some of the best protective cases for iPad Pro. This year too, they have brought their Defender Series case for the iPad Pro 2021 (12.9-inch) model. As the name suggests, it's a highly protective case, built with rugged and advanced technology. What is unique about this case is that it comes with a silver-based antimicrobial additive that prevents microbial growth and protects the case from many common bacteria. In this time of the COVID-19 pandemic, that is a great feature to have.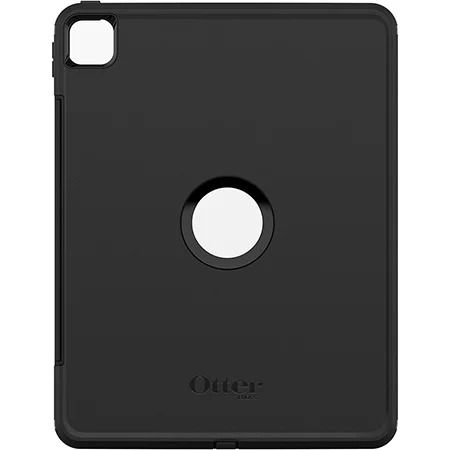 Other than that, the case has an amazing grip and features raised bars around the camera and the screen. The only con is that there is no kickstand on the back. Overall, I would say, if you want ultimate protection against drops and scratches, OtterBox is a suitable pick for the 12.9-inch iPad Pro 2021.
4. ESR Magnetic and Matte Cases
ESR is one of the few cases for iPad Pro 2021 (12.9-inch) that's available in India, the US, and other parts of the world. It offers two types of cases, that is the ESR Rebound Magnetic case and the Matte case. The Magnetic case is your standard folio case, but it uses magnets to attach to an iPad Pro. Unlike earlier implementations, it's taking advantage of the powerful magnets on the back of the iPad.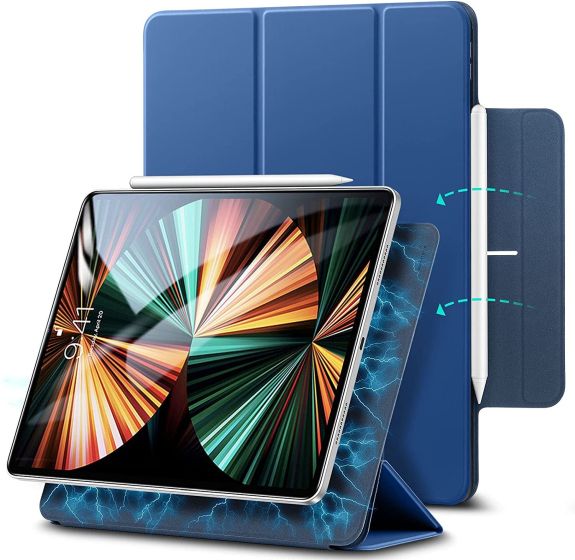 Just bring it closer to the back of the iPad, and it will comfortably attach to it. On top of that, it supports the auto wake and sleep feature and is compatible with Apple Pencil charging as well.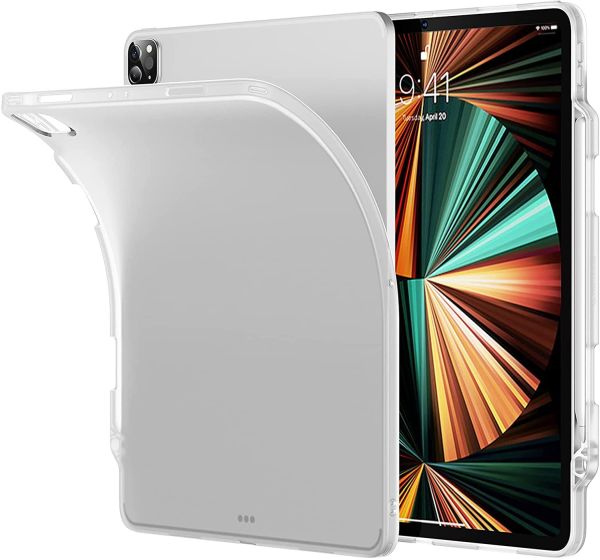 Finally, you can position the iPad at different angles using its trifold kickstand. The ESR Matte case is a simple matte case that offers grip and a transparent view on the back. There is also an Apple Pencil holder on the matte case with charging support. To conclude, if you are looking for an affordable case for 12.9-inch iPad Pro 2021, then both ESR cases are pretty good options.
5. ZtotopCases
If you are on the lookout for an affordable yet durable case for iPad Pro 2021 (12.9-inch), ZtotopCases is a perfect pick. It costs just $19.99 and offers a folio design with all-around protection. The case supports the auto wake and sleep feature like other folio cases on this list, a holder for Apple Pencil, and is compatible with charging as well.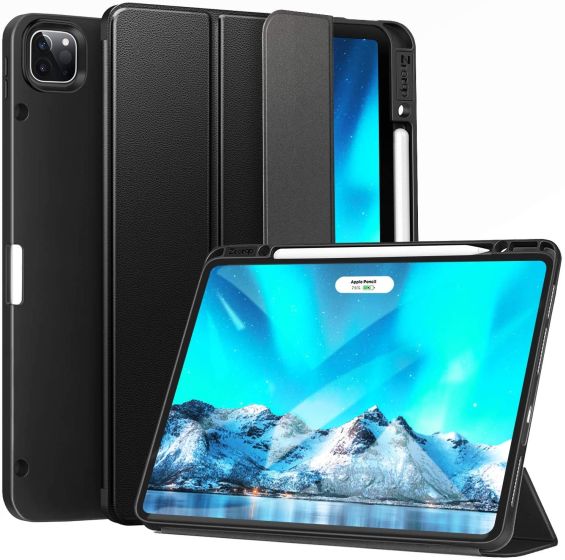 The case is made of soft TPU material and uses PU leather on the exterior for a comfortable grip. What's more, you can create a comfortable viewing angle with its tri-fold design. To sum up, ZtotopCases is a well-designed and cheaper alternative to other folio cases for the 5th-gen iPad Pro.
6. ZtotopCases Premium PU Leather Case
Many users like to have a leather case for iPad Pro, and ZtoptopCases brings you all that at an economical price. Sure, it's not made of premium leather such as tanned leather but gives you almost the same experience with its synthetic polyurethane leather. It won't develop a patina over time but will offer you enough grip for everyday use. Besides that, it's a folio case, so you are protected from all sides. Since the 12.9-inch iPad Pro 2021 comes with the super expensive Liquid Retina XDR display, a folio case is a better fit for protecting the device.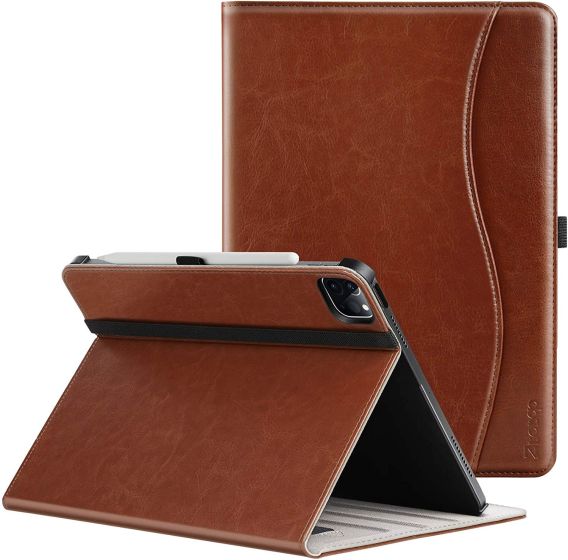 Moreover, you get features such as auto wake and sleep, pencil holder, charging support, and trifold kickstand alongside the leather design. In summation, for people who want a leather case for iPad Pro 2021 (12.9-inch), ZtoptopCases offers a well-rounded product that's worth a shot.
7. MoKo Case: Most Affordable iPad Pro 2021 Case
MoKo case is for those users who want to flaunt their iPad color in all its glory. It has got a transparent back, enclosed in a soft TPU shell for superior protection. Essentially, you don't have to sacrifice protection for good looks. The MoKo case is essentially a folio case and comes with a trifold kickstand.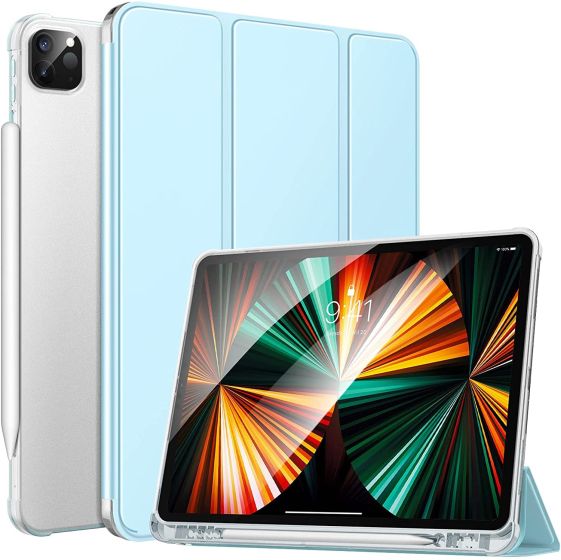 You can attach your pencil to the case, and it supports automatic charging too. Not to forget, since it's a folio case, you can adjust the flaps at two different angles and position the iPad as you want. To conclude, at $17.95, there is anything that beats the MoKo in terms of design, durability, and ease of use. It's one of the best transparent cases for iPad Pro 2021 (12.9-inch).
8. TiMOVO Case
TiMOVO is the last case on this list for the 12.9-inch iPad Pro 2021. It's a folio case with a trifold kickstand on the back and supports all smart features. You get auto wake and sleep, an Apple Pencil holder, and charging support. The unique part about the TiMOVO case is that it's slim. Unlike other bulky cases, TiMOVO manages to bring all the features in a lightweight profile.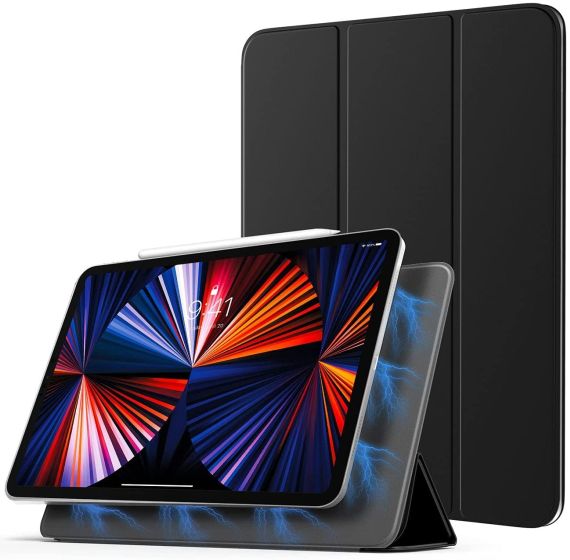 This case also offers you 360-degree protection to the iPad Pro, no matter if it's an accidental drop or an abrasive scratch. I would say if the above options didn't cut it for you, have a look at the TiMOVO case for the 5th-generation iPad Pro.
Folio, Transparent, Leather Cases for iPad Pro 2021 (12.9-inch)
So these are some of the best cases for iPad Pro 2021 (12.9-inch) that are available in the market. I have included cases and covers at various price points and different designs. Based on your budget and requirement, you can pick one of them, and I am sure you won't be disappointed. Anyway, that is all from us. If you are looking for iPad Pro 2020 cases, head over to our linked article and check out these amazing cases. And if you have any questions, comment down below and let us know.
---
Load More