Without undermining the elegant charm that cute cases for iPhone 12/12 Pro, mini, and 12 Pro Max are blessed with, I would like to say that the genuine leather cases with rich handcrafted design remain my go-to choice. Be it the ageless patina that develops over time, or the rich leather texture that grace the palm with secure hold, or the vintage appeal that never seems to die down, leather cases have a lot going for them. If you are ready to get one for a professional look and feel or wish to opt for a complete travel companion, we have got you covered with the 8 best leather cases for iPhone 12.
Best Genuine Leather Cases for iPhone 12
Needless to say (but worth mentioning upfront), all the premium leather cases designed for iPhone 12 are also compatible with iPhone 12 Pro due to similar dimensions. So, if you are yet to buy a leather suit for your iPhone 12 Pro, you shouldn't look anywhere else.
Coming back to this roundup, I have chosen a variety of cases: from an ultra-slim leather case to a compact wallet case to a full-on travel companion with a luxurious design. So, finding a worthy cover for your brand new iPhone 12 shouldn't be a big deal.
1. Apple Leather Case with MagSafe
Showcasing an ultra-slim design, the Apple leather case with MagSafe is designed to make for a premium match with your iPhone 12. The case takes full advantage of the built-in magnets on the back of the iPhone to offer a quick attach and detach experience. Not just that, it also doesn't come in the way of wireless charging, ensuring you can juice up your smartphone without any issue.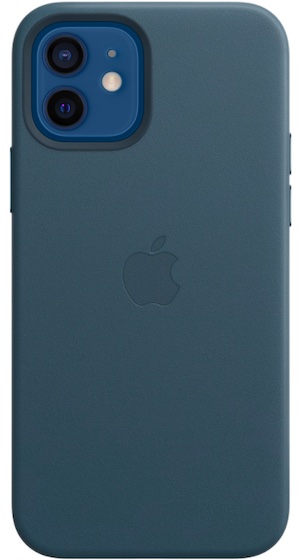 That aside, the case is crafted with tanned leather and features a leather texture that provides an enhanced gripping. Moreover, it also develops a smooth patina over time that helps it retain the charm for a long time. On top of all, you can choose this snug-fit leather case in multiple color variants including the product red, baltic blue, California Poppy, and more.
Buy from Apple: $59
2. Mujjo
If a sleek leather wallet case is on top of your mind, this offering from Mujjo could win you over right away. Crafted with the high-grade vegetable tanned leather, the case sports a refined construction with neat workmanship.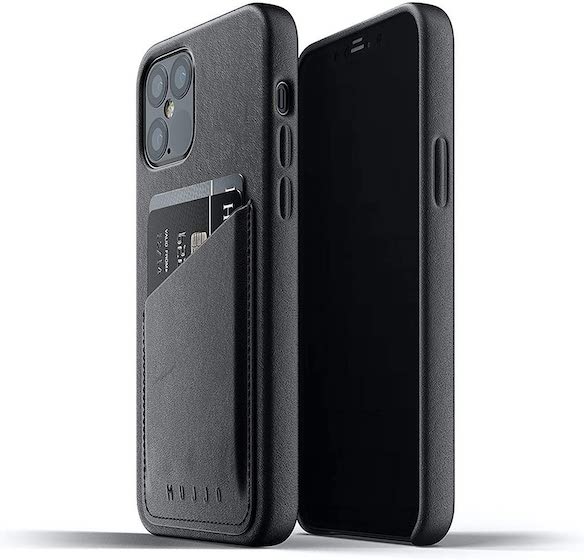 For additional shield against impact, the case features a shock-absorbing microfiber interior. Thanks to this essential cushion, it can provide the required safeguard to the iPhone 12 both from accidental impact and unwanted scratches.
Moreover, this genuine leather case features a slot on the back wherein you can store up to 2-3 cards. And with rich-leather texture always ready to grace your palm, you will also get a secure hold. To sum up, Mujjo is one of the finest iPhone 12 leather wallet cases in the market right now.
Buy from Amazon: $49.95
3. Bellroy
Bellroy leather case is what you should choose to carry multiple credit cards without having to sacrifice the style factor. Yeah, you read that right! The showcases a pretty compact design that wraps around the iPhone 12 snuggly.
But what makes Bellroy stand out is the hidden slot wherein up to 3 cards can be stored securely. And if need, that integrated section can also work as a handy stand to let you prop up your smartphone horizontally for a convenient media watching experience.
Due mainly to the magnetic closure, that hidden slot remains shut safely thereby keeping your cards inside. That's not all, it has also got the microfiber lining to ward off impact and prevent scuffs from harming your device. Priced at $75, the compact leather case comes in multiple color variants like lemon, green, graphite, and more.
Buy from Amazon: $75
4. Nomad Rugged Case
If you are looking for a relatively slim case that can offer an uncompromised safeguard to your iPhone 12 against drops, Nomad Rugged Case could be a suitable choice. Made of high-grade Horween leather, the case has a rugged construction that can take on random impact with ease.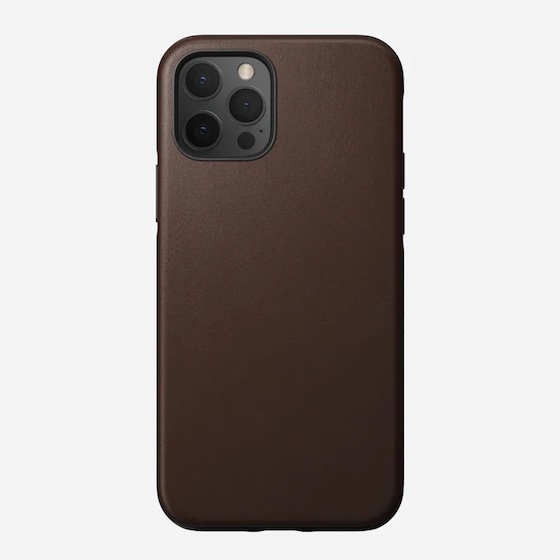 Notably, the vegetable-tanned leather also develops a classy patina as the case ages. Thus, you will never find this case go out of fashion. Aside from retaining the classic look and feel, the ageless patina also offers the needed hold so that your smartphone can remain steady in your hands.
Buy from Nomad: $49.95
5. Belemay
Just in case you want to go for a complete leather wallet case, I would recommend you to take a close look at this offering from Belemay. Featuring Italian cowhide leather construction, the case has a vintage design. And with the handcrafted design on top, it looks spot-on make a befitting pair with your executive outing.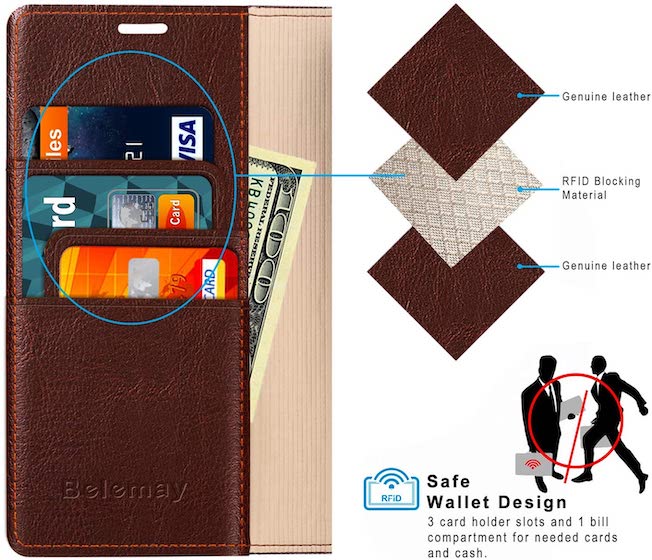 The interior has three slots for cards and a bit pocket where your cash can rest securely. Plus, there is also RFID blocking technology to keep RFID signals at bay. That's not all, Belemay leather case can also double up as a useful stand to let you stream videos or enjoy hands-free video calling with complete peace of mind.
Buy from Amazon: $29.99
6. TORRO
Exhibiting vintage design in all its glory, TORRO leather wallet case could be a top-notch pick, should you decide to go classic. The top-grade leather construction coupled with impressive craftsmanship makes it one of the most loved travel wallet case for iPhone 12.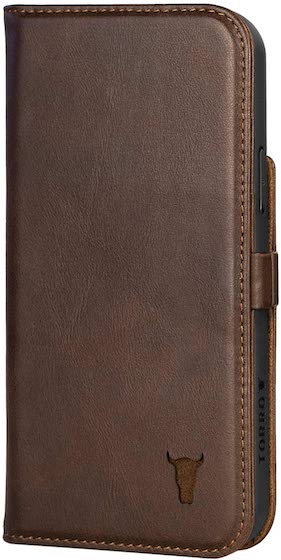 There are three interior slots for storing cards and a big compartment for stashing some cash. With the magnetic closure, your valuables stay securely inside. Thus, you can bank on the case to work as a full-fledged wallet during travel.
In terms of protection, it is fully capable to fight out shock and also ward off scratches due largely to the silicone interior. Overall, it's one of the best leather wallet cases for iPhone 12.
Buy from Amazon: $37.99
7. ESR
Are you in quest of a comparatively affordable yet equally impressive leather case for your iPhone 12? If yes, ESR leather case can live up to your expectation. Just like all the premium cases mentioned in this roundup, it's also crafted with genuine leather and features a neat finish.
And with the microfiber-lined interior, the case is also no pushover when it comes to resisting impact. Plus, there are raised bezels on either side to guard the dual-camera setup and the 6.1″ OLED display against scratches. Oh yes, it also doesn't miss out on the rich patina when the dust begins to settle down. Everything considered; it's a notable accessory for your iPhone 12.
Buy from Amazon: $25.99
8. Bella Fino from Pad and Quill
If you have set your sight on a luxurious leather wallet cover, Bella Fino from Pad and Quill is the one you shouldn't miss out on for multiple reasons. First and foremost, the case is beautifully crafted with full-grain leather. And with the French hemmed seams neatly stitched to grace your palm, it has got the profile to make your smartphone appear authoritative.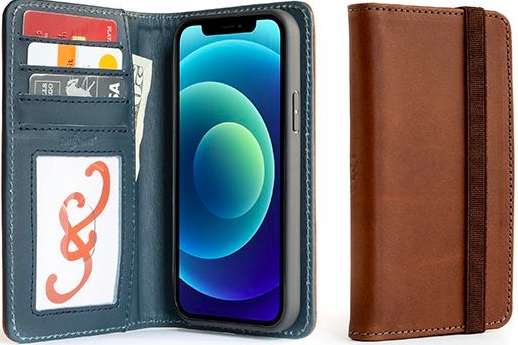 Second, the case is UV resistant which helps it retain the luxurious charm for a long time. Another feature that puts it in its own league the ability to store up to 5-7 cards and some cash. That means you won't have any hesitation in leaving your traditional wallet at home.
What's more, Bella Fino also comes with a detachable strap to let you securely hold your iPhone 12. Priced at $70, it comes in multiple vintage finishes so that you can choose the right suit for your smartphone. Long story short, Bella Fino is probably the best luxurious leather wallet case for iPhone 12.
Buy from Pad & Quill: $69.95
Choose the Top Leather Cases Designed for iPhone 12
That's pretty much it! Now that you have got a variety of leather cases at your disposal, choose the one that seems to live up to your expectation. For instance, if you prefer to have a sleek case, choose the one that has got a slim form-factor.
And if you don't want to leave protection behind in favor of style, go for the case that offers both style and essential protection. Should you decide to select a full-on travel suit, the complete wallet covers would be the way to go. And for days you don't want to rock a case, you should use skins for iPhone 12.