For those who prefer to have a reasonably good tablet without having to spend a premium amount, the standard iPad has always been a reliable bet. And the brand new iPad 8 ($329) has got all the attributes to remain a promising prospect. Be it a nice-looking 10.2″ Retina display, a whopping 40% faster CPU, or the much-improved cameras, the tablet checks off enough boxes to be a solid asset for most. If you are one of them, you must be exploring the best iPad 8 cases and covers to keep your all-new tablet safeguarded against random impact. If my assumption is spot on, let's dive right in to explore the roundup!
Best iPad 8 Cases and Covers You Should Buy in 2020
Different use cases demand different covers. For instance, if you prefer to use your iPad as a handy notebook, you would like to have a high-quality keyboard case with tactile keys. And if protection matters more than anything else to you, a heavy-duty case might be on top of your mind.
Likewise, if the style is something you don't want to compromise, slim covers may already be frontrunners for you. Irrespective of where your choice rests, we have got you covered with the top cases designed for the 8th-gen iPad.
1. Apple Smart Cover
If a premium sleek cover is what you are looking for your 8th-gen iPad, then I would recommend you to check out the smart cover. It's quite slim and wraps around the iPad snuggly, while also offering enhanced gripping.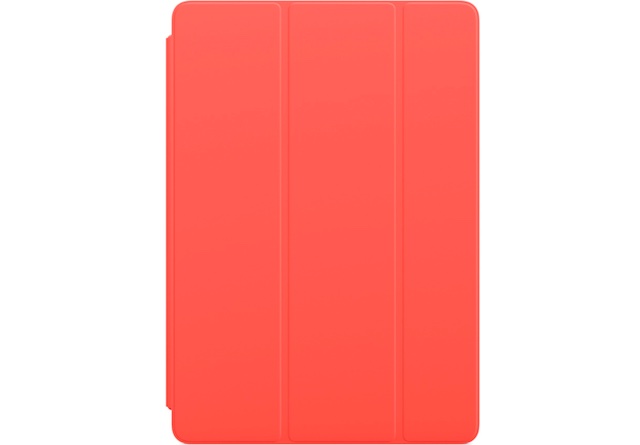 Constructed from a single piece of polyurethane, the case can withstand minor shock and keep scratches at a fair distance. With the support for auto sleep/wake functionality, it also plays a vital role in reducing unnecessary power consumption.
But what has caught my eyes in the iPad 8 Smart Cover is the ability to fold into different positions. Whether you wish to enhance typing or improve viewing experience during FaceTime, the hidden stand can come in super handy. Priced at $49, it's easily one of the best iPad 8 cases in the market right now.
Buy from Apple: $49
2. ESR Trifold Case
If you are hunting for a relatively cheap yet pretty good iPad 8 case, do not miss out on the ESR Trifold case. The case features a slim form-factor that pairs neatly with the iPad, while also offering hassle-free access to all the ports through the precise cutouts.
With the translucent design, it also ensures your iPad 8 can showcase its design. As for protection, you can bank on it to ward off bumps and keep your device safeguarded against scratches. Additionally, it also supports auto sleep/wake functionality to cut down unnecessary battery consumption.
Thanks to the trifold stand, you can prop up your iPad into multiple viewing angles for a much-improved typing and video-calling experience. Lastly, it's priced at $10 and available in three colors including black, navy blue, and silver grey.
Buy from Amazon: $9.99
3. Apple Smart Keyboard for iPad
Should you wish to buy a top-notch keyboard case for your iPad 8, look no further than this offering from Apple. It's well-built and sports pretty tactile keys that offer responsive feedback. Thus, you will enjoy typing on it.
Notably, the full-size keyboard is designed to connect to the iPad with the Smart Connector seamlessly. So, you can quickly attach the keyboard and kickstart the typing work without any hassle.
Besides, the cutouts of this official iPad 8 keyboard case are precise, allowing comfortable access to all the ports. And it can also endure minor shock and keep scuffs away from your all-new iPad 2020.
Buy from Apple: $159
4. ESR Stand Case
There are multiple reasons why you may want to buy the ESR Stand Case. First and foremost, the cover sports an exceptionally rugged construction that can endure even nasty impact. So, your iPad 8 will remain shielded both against accidental drops and ugly scratches.
Protection aside, the kickstand works efficiently in allowing you to prop up your iPad for better viewing or typing experience. The support for 7 stand angles coupled with the strong magnets ensures that the kickstand remains steady.
Furthermore, the case also has a holder wherein your Apple Pencil or any other stylus can rest safely. With these solid specs, the $30 price tag seems reasonable.
Everything considered; it's undoubtedly one of the best kickstand cases for iPad 8.
Buy from Amazon: $29.99
5. ZoneFoker
If you want to go classic without having to break the bank, ZoneFoker could be a better choice. The case is made of composition leather and features refined craftsmanship. With the durable construction, it also good enough to keep your tablet protected from bumps.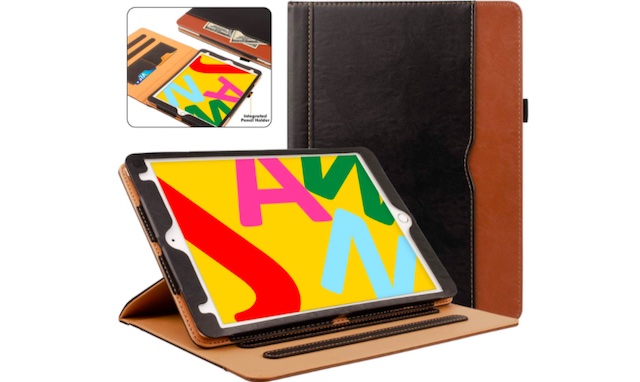 Moreover, ZoneFoker folio case features card pockets and a big compartment wherein you can keep some dollar bills securely. Thanks to the magnetic strip, the front cover keeps your valuables safely inside. Not to mention, the strong magnetic strip also supports the auto sleep/wake function.
Times when you want to enhance your media watching or FaceTiming, the hidden stand functionality will come to the fore. You can use the stand to place your iPad both horizontally and vertically. Considering these features, the $11 price tag seems quite reasonable for this classy folio cover for iPad 8.
Buy from Amazon: $10.89
6. HBorna
If you hate to wrap your iPad with a traditional case, a clear cover like HBorna would be a great choice. The case sports a slim form-factor that keeps the style quotient of your iPad intact. And with the crystal clear design, it also allows the tablet to remain in the center of attention.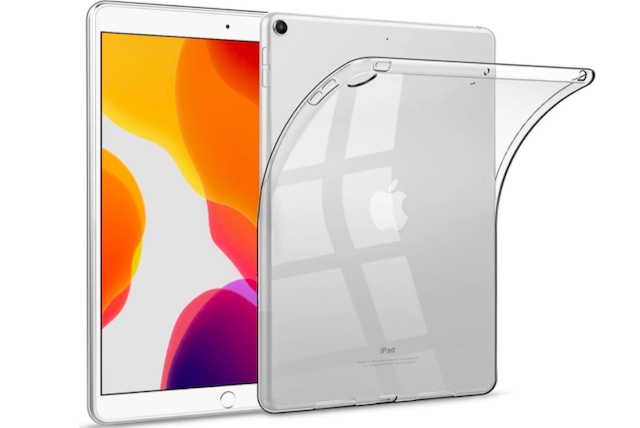 Despite being on the thinner side, HBorna is not a pushover when it comes to fighting out scuffs. Though you shouldn't expect much from it in terms of resisting impact. That aside, it has precise cutouts and responsive buttons that provide a better click.
In a nutshell, HBorna is a fairly good iPad 8 clear case at $9.99.
Buy from Amazon: $8.99
7. ZUGU CASE
Another highly protective case that is worth taking a close look at is ZUGU CASE. Probably the best part about it is the durable construction that can survive impact with ease. Notably, it offers certified 5 feet drop protection (MIL STD 810G 516.6).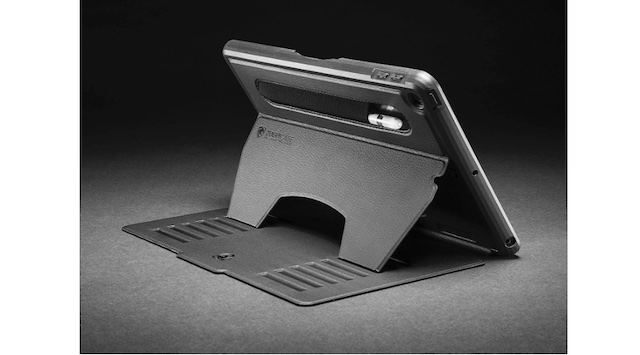 For all being so protective, it doesn't feature a bulky design, which is a big plus if you don't like to put the style factor on the back burner. Besides, it comes with a fully adjustable magnetic stand that offers multiple viewing angles so that you can watch movies and type comfortably.
Lastly, ZUGU CASE is priced at $50-$55 and comes in quite a few attractive color variants including red, navy blue, and brown.
Buy from Amazon: $49.99
8. DTTO
Both in terms of simplicity and durability, DTTO folio cover has looked up to the mark to me. For starters, the case is carved out of synthetic leather and features neat workmanship that gives it a professional look and feel.
With the presence of microfiber lining, the DTTO folio case can also resist shock and keep scuffs at a fair distance. Plus, there is a pocket to let you keep cards and cash securely. To ensure your Apple Pencil remains safe, it has added a holder as well.
The case features multiple brackets that play a vital role in enhancing stability when the iPad is placed horizontally. Furthermore, there is also a useful leather hand strap that allows you to hold your tablet securely.
Buy from Amazon: $18.99
9. ZHK
ZHK has tried to strike a balance between style and protection. And I must say that it has succeeded to a large extent. The cover features a rugged form-factor without adding unnecessary bulk.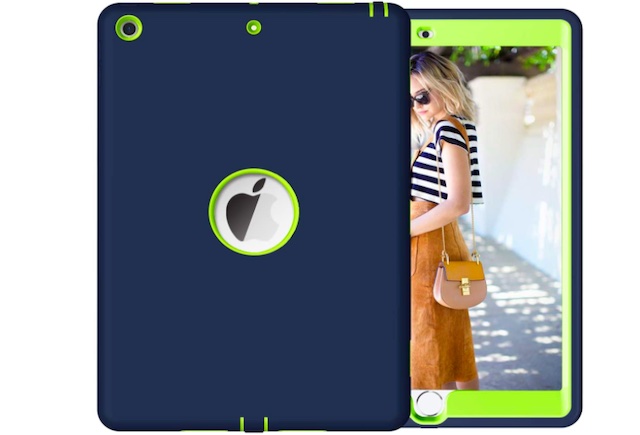 There are three layers of protection that ensure your iPad 8 has the essential shield against impact. Plus, it also has raised bezels to shield both the 10.2″ Retina Display and the rear camera against scratches.
The detachable kickstand further enhances its functionality by allowing you to prop up your device. Not to mention, it sports a cutout in the middle on the back that allows the Apple logo to show off.
Buy from Amazon: $14.99
10. Soke
Last but not least, Soke is a complete case for iPad 8 thanks to the ability to tick off most boxes. The case is crafted with PU leather and features a TPU edge for extra protection from drops. The inclusion of TPU also enables it to fight out scratches with ease.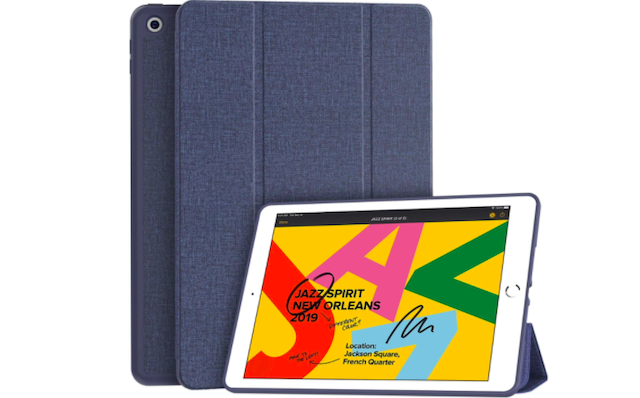 Another notable feature that needs a mention is the honeycomb pattern that improves heat dissipation. As a result, your tablet will remain cool even after a long stint of play.
What's more, the magnetic cover not only supports the essential auto sleep/wake feature but also doubles up as a useful stand. Based on your needs, you can place your tablet in the desired orientations to enjoy video streaming or typing.
Buy from Amazon: $15.99
Choose the Top Cases and Covers for iPad 8
There you go! So, these are the highly-rated cases for the 8th-gen iPad. Keeping in mind different tastes, I have picked out the covers that can live up to the expectation.
Rest assured, I will keep on updating this lineup to include more deserving cases. By the way which cover is going to pair with your iPad 8? It would be great to know your pick in the comments below.