A face-to-face conversation without proper eye contact is feels less impactful. Moreover, it also gives the impression that perhaps no one is taking an interest in the conversation. With iOS 14, Apple has introduced a feature called Eye Contact to enhance FaceTime video calling experience. Being quite helpful, it's enabled by default. But what if you don't appreciate this feature or find the slight video artifacts like the warping of the line that appears across the eyes and nose irritating? Well, in this case, you can choose to disable FaceTime eye contact in iOS 14 on your iPhone.
Turn off FaceTime Eye Contact Correction on iPhone
The warping of the line across the eyes and nose appears to become more noticeable when wearing glasses. While it may not be a huge dealbreaker for most, some may want to get rid of it. It's worth noting that Apple had included this feature named as "Attention Correction" in iOS 13 beta. However, the tech giant scrapped it for unknown reasons.
Which iPhone Models Support FaceTime Eye Contact Correction?
As Eye Contact feature uses ARKit 3 framework designed for augmented reality apps, it's available only on the limited iPhone models:
iPhone 11 

iPhone 11 Pro

iPhone 11 Pro Max

iPhone XS

iPhone XS Max

iPhone XR
Note that the feature is neither available on the iPad nor the Mac.
Enable/Disable FaceTime Eye Contact Correction
1. Launch the Settings app on your iPhone running iOS 14.
2. Scroll down and tap on FaceTime.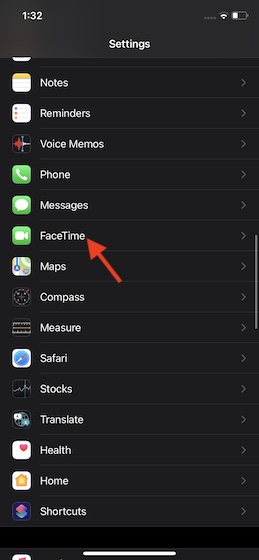 3. Scroll down again and then turn off the switch that is right next to Eye Contact.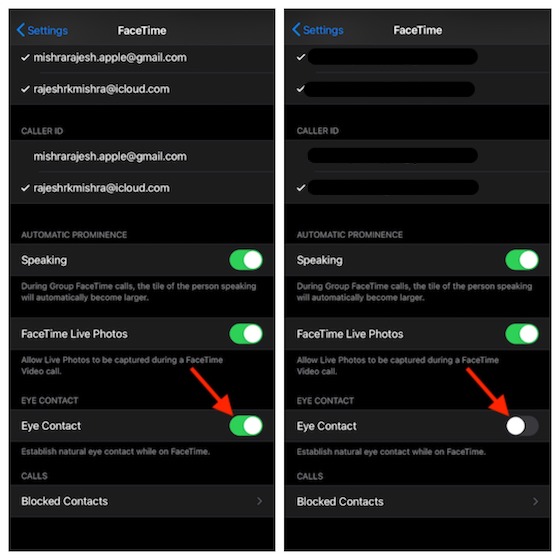 That's it! You have successfully disabled the Eye Contact feature on your iPhone. If you ever feel the need to enable this neat feature, return to the same setting, and then turn on the switch.
Use Eye Contact to Enhance FaceTime Video Calling Experience
So, that's the way you can use Eye Contact on iOS 14. While I find this feature quite helpful for video calling, I wish it didn't cause the noticeable warping of the line across eyes and nose. As iOS 14 is still in beta, I expect Apple to improve this feature. Besides, it would also be great if the tech giant brings it on iPad as well.
Recently, we have covered several notable iOS 14 features. Check them out if you couldn't catch up with them.
Have any feedback? Share it with us.