GoPro created the action camera market and made it popular among travelers and adventures. However, for the past few years, the company was losing its shine and allowed GoPro competitors to offer a better products and take its crown. That all changes with the launch of GoPro Hero 9. With its latest offering, GoPro has taken back the top spot with features like 5K recording, a better sensor, different shooting modes, a front screen, and a bigger battery. And while GroPro Hero has always been a sturdy action camera, adding extra protection is recommended if you want to protect your investment. In this article, we bring the best GoPro Hero 9 cases that you can buy right now.
Best GoPro Hero 9 Cases to Buy in 2020
GoPro has launched the Hero 9 just a couple of days back, so there are not many third-party cases available for it right now. Be assured we will keep updating this article to include more cases as they are released. The GoPro accessory market is vibrant, and I am sure we will see an abundance of Hero 9 cases in the coming weeks.
1. HERO9 Black Camera Sleeve + Lanyard
GoPro makes the best accessories for its action cameras. While they are costly, they are also premium products. Thankfully, their simple camera sleeve for the GoPro Hero 9 is not going to break your bank. At $19.99, it's one of the best protective sleeves that you can buy from your Hero 9.
It won't add more impact protection to Hero 9, but it will keep the scratches and scuffs at bay. For most people, the GoPro itself is durable enough, and they don't want to add extra bulk to it.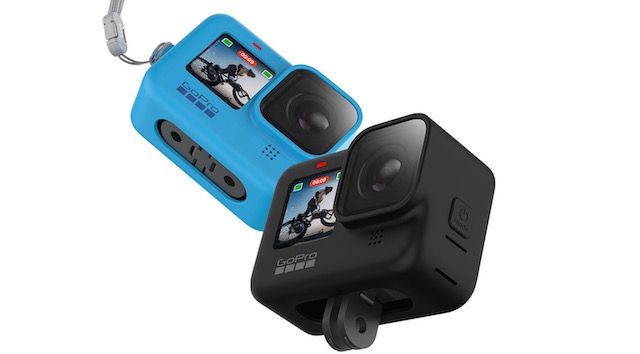 Their main problem is that the outer body scratches and scuffs, and the camera starts looking worse as time passes. If you have the same mindset, then you should buy this sleeve.
This sleeve will prevent Hero 9 from getting scratched without adding any noticeable bulk. It uses premium silicone material which feels nice to touch. It also doesn't interfere with any of your mounting gear. The sleeve comes with an adjustable lanyard that allows you to securely carry the GoPro in your hand or around your neck. The sleeves are available in multiple colors, so you can add some accent to your GoPro Hero 9 if you want.
Buy from GoPro: $19.99
2. Hard Shell Carrying Case for GoPro Hero 9
GoPro also makes a cheap and good carrying case for GoPro Hero 9 that allows you to carry the camera along with some accessories such as charging cable, extra batteries, and more. There's also an internal pocket to securely carry SD cards.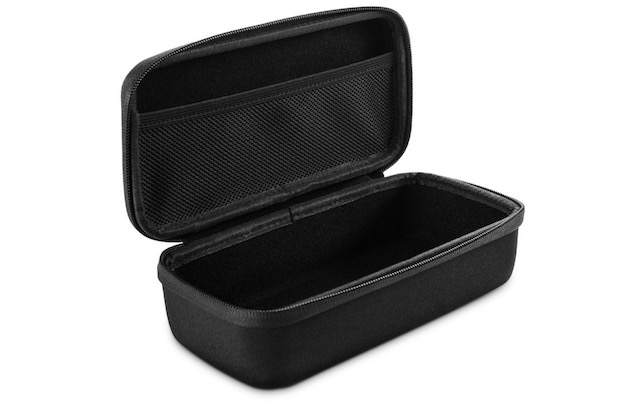 The carrying case is a hardshell case, so it keeps everything protected even in the event of drops and falls. The case is also spill-proof thus allowing you to carry accessories without incurring any water damage in case of liquid spills or rain. It's an all-around solid carrying case, and you should check it out.
Buy from GoPro: $19.99
3. Taisioner Windslayer Cover for GoPro Hero 9
The Taisioner Windslayer cover for GoPro Hero 9 not only adds protection but also adds a much-needed feature. The problem with recording with action cameras is that you get a lot of wind noise, as you are recording stunts at high-speeds. The Windslayer cover for GoPro Hero 9 solves that problem by protecting the camera's mic from the wind.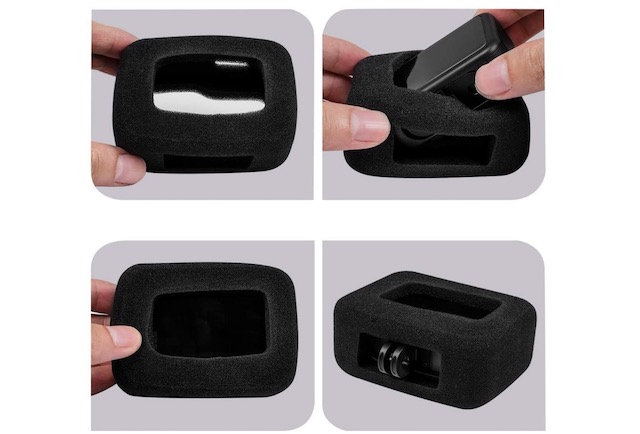 It can reduce wind noise quite effectively when you are recording videos. The case is made of special sponge material, which is very soft, lightness, portable & flexible. The sponge martial also gives the GoPro Hero 9 extra protection as it can absorb impacts resulting from drops. The cover also doesn't interfere with any mounting accessories and will work with the mounting gear you are already using. If you want to reduce wind noise while recording, this is the one to buy.
Buy from GoPro: $10.99
4. Mini Carrying Case Compatible with GoPro Hero 9
One of my favorite carrying cases for the GoPro Hero 9 is the mini carrying case by HSU. I rarely go out on long vacations. Generally, I take my GoPro for a short duration in the adventurous areas near my home. That's why I don't need to bring extra batteries or chargers. The GoPro with a fully charged battery is enough.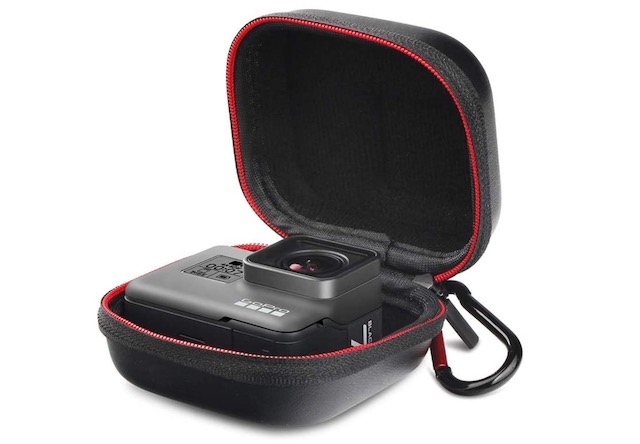 In such cases, the mini carrying case makes perfect sense. It is a hardshell case that can protect the GoPro Hero 9 from impact. It's made from high-quality PU leather and can withstand some punishment. It also has a CNC aluminum carabiner loop that I can use to attach to my main backpack. Overall, the best carrying case for a short outing.
Buy from GoPro: $9.99
5. AmazonBasics Small Carrying Case for GoPro
Unlike the mini carrying case, the AmazonBasics carrying case for GoPro Hero 9 is perfect for carrying the GoPro 9 on vacations. The case can keep your camera and accessories both protected and organized. There's foam cutout areas for organizing the Hero 9 and accessories like mounts and batteries.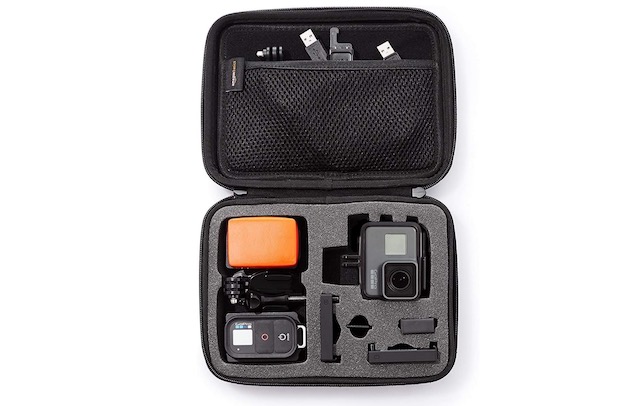 There's also a mesh pocket on the top that is perfect for storing wires and charging cables. While I am featuring the small case here, it's also available in two other sizes; extra-small and large. Depending on your trip and extra gear requirement, you can choose the size that fits your needs. For me, the small case size makes perfect sense as it can save enough accessory in a compact body.
Buy from GoPro: $11.49
Best Cases and Covers for GoPro Hero 9
With Hero 9, GoPro has once again taken the top spot in the action camera market. I think this is the right action camera for everyone right now if they can afford it. And buying cases for protecting your investment makes more sense. So check out these cases and buy one for your GoPro Hero 9.
---
Load More