It's a known fact that GoPro cameras are the best and most versatile action cameras out there, delivering not only on the functionality front, but also when it comes to durability. The cameras can be used in a wide variety of situations and they're capable of delivering high-quality video time and time again. The latest addition to the company's camera lineup, the GoPro Hero 7, is no different. The camera is capable of capturing buttery smooth 4K video even though it's tiny when compared to most modern DSLRs. However, even though the GoPro Hero 7 is a pretty capable action camera on its own, you can do a lot more with it when you pair it with some handy accessories. So, if you've recently purchased a GoPro Hero 7 and are in the market for some cool accessories to enhance its capabilities, here are the 20 best GoPro accessories that you can buy right now:
Note: This list primarily focuses on accessories for the GoPro Hero 7, but some of the items listed below can also be used with older GoPro cameras, including the GoPro Hero 6, GoPro Hero 5, and others. In case you have an older GoPro camera, it would be best for you to check the product pages for compatibility information before making a purchase.
Best GoPro Accessories You Can Buy
1. GoPro Shorty Mini Extension Pole Tripod
Let's kick off the list with a handy little accessory from GoPro – the GoPro Shorty Mini Extension Pole Tripod – which, as its name suggests is a versatile first buy as you can use it as a tripod, an extension pole, and even as a selfie stick. The GoPro Shorty Mini is an ideal buy for those of you who're just looking for something handy and easy to use that you can carry around in your backpack wherever you go.
Buy from Amazon ($38.00)
2. GoPro 3-Way Tripod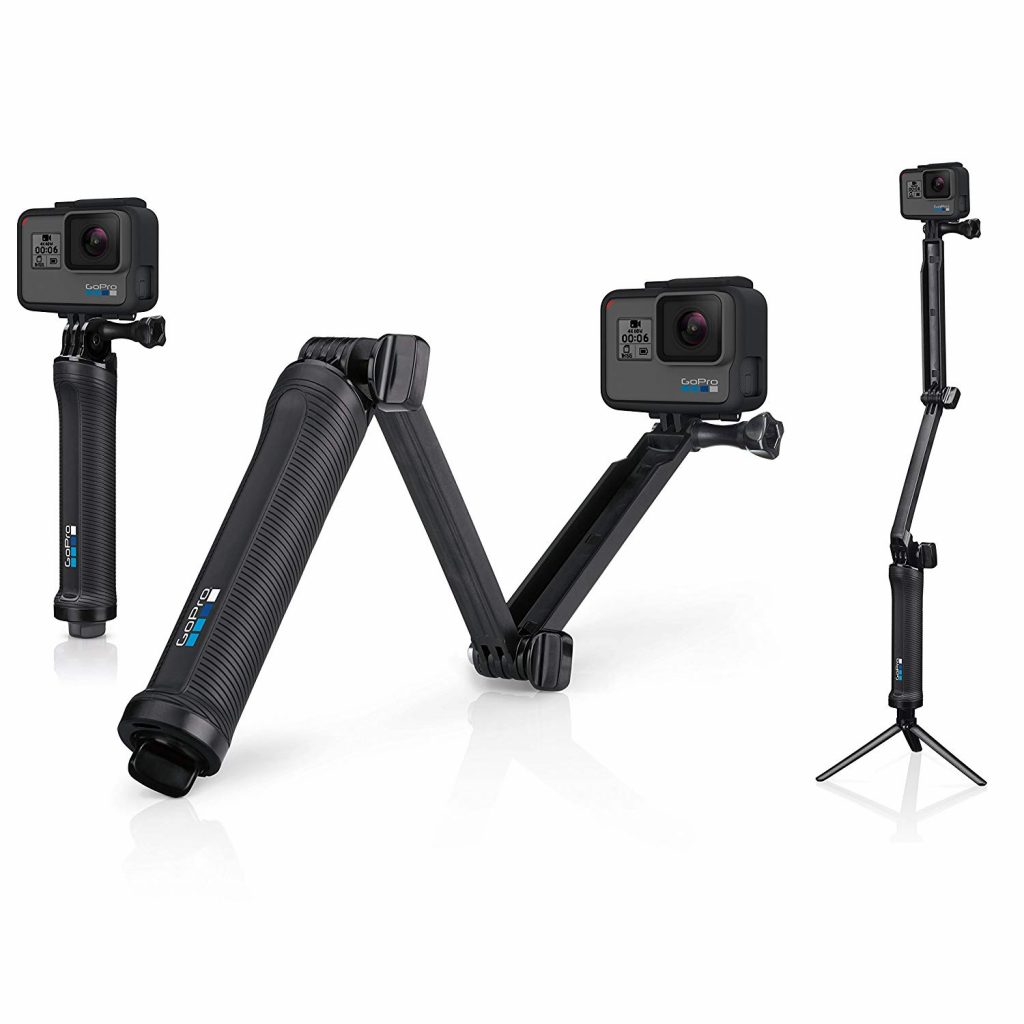 If the GoPro Shorty Mini is just a bit too basic for you and you think you'll need something that offers just a bit more functionality while being almost as handy, then you should check out the GoPro 3-Way Tripod. The accessory's unique three-in-one design will allow you to use it as a camera grip, an extension arm, and a tripod, with which you can take a variety of different shots.
Buy from Amazon ($54.00) 
3. GoPro Super Suit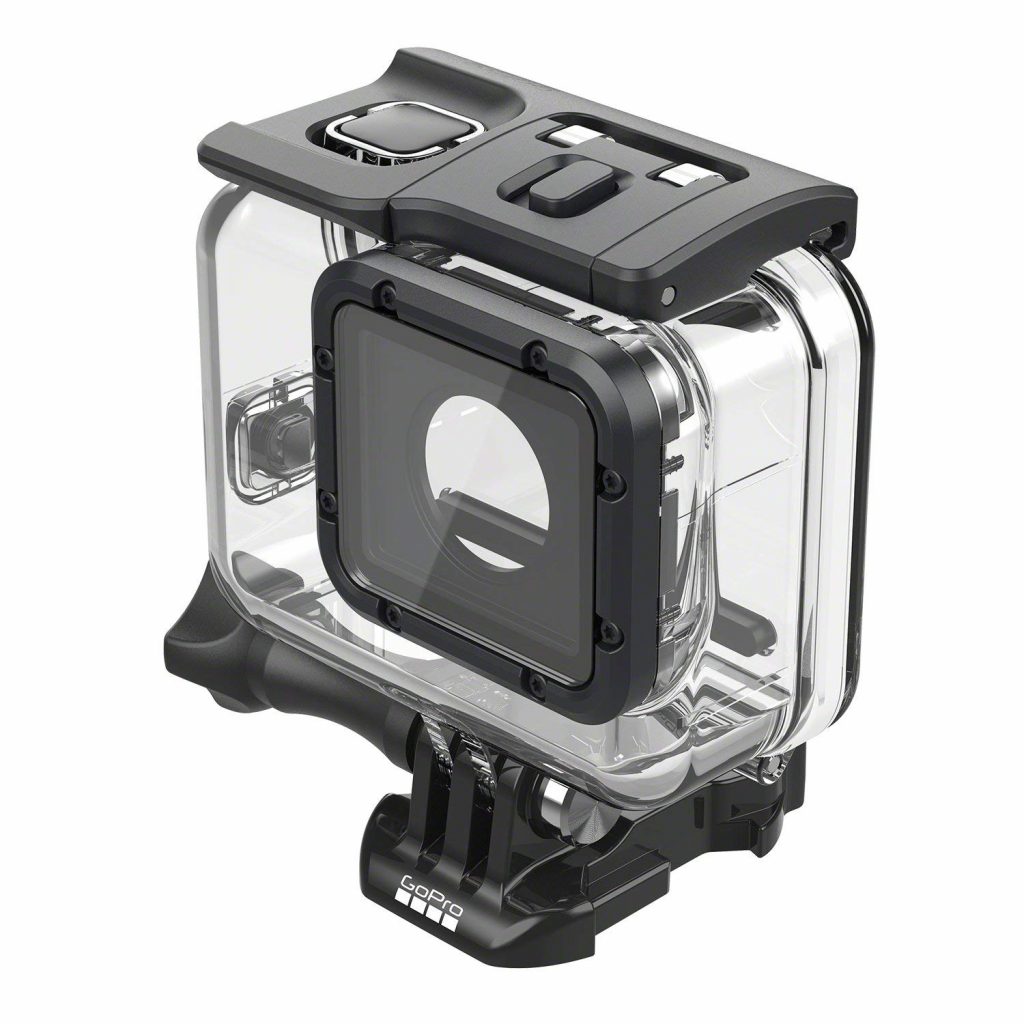 While the GoPro Hero 7 is waterproof for up to 10 meters, if you're planning on taking it diving with you, then you should probably slap on a waterproof case for added protection. The GoPro Super Suit is a great option that will make your camera waterproof up to 60 meters and thanks to the hard shell, it'll also protect the camera from accidental drops.The Super Suit features a flat glass lens that ensures high-quality video capture both above and below the surface. It also comes with two interchangeable doors that offer touch screen accessibility and improved audio capture.
Buy from Amazon ($40.00) 
4. SanDisk Ultra 128GB microSDXC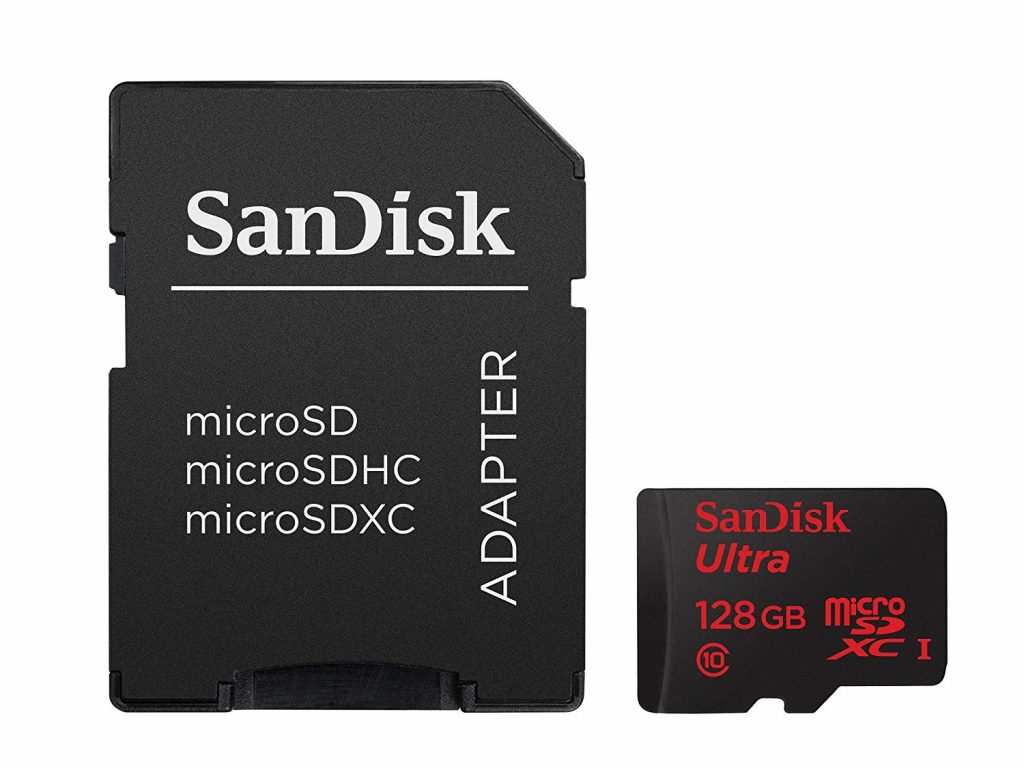 Since th GoPro Hero 7 is capable of capturing 4K video, it's quite natural that you'll need more internal storage to store the captured videos. For this, you can get the SanDisk Ultra 128GB microSDXC memory card which boasts of transfer speeds of up to 80MB/s and can store roughly four hours of 4K video. The memory card also comes with an SD adapter, which will allow you to use the card with other cameras and easily transfer the captured footage to your laptop.
Buy from Amazon ($37.99) 
5. GoPro Smart Remote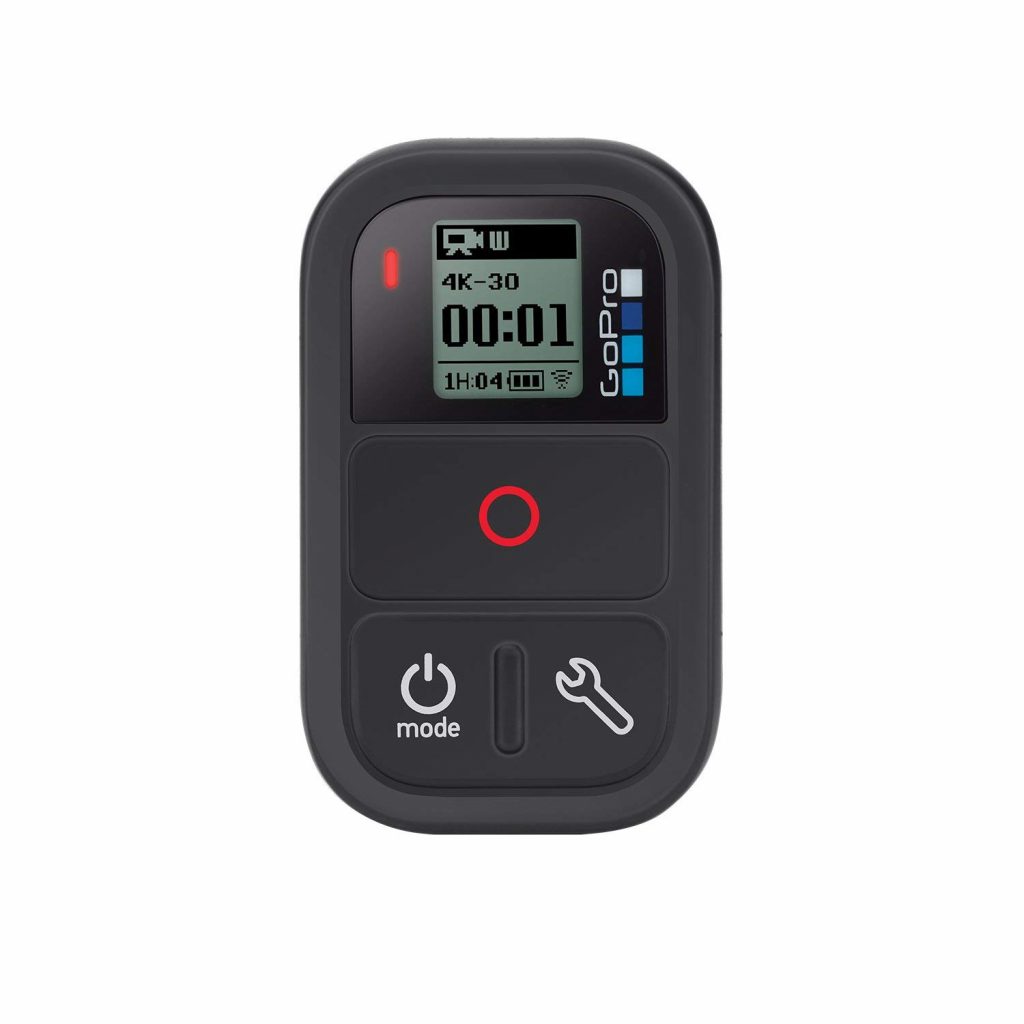 The GoPro Smart remote is another great accessory for your GoPro Hero 7 which will allow you to control all of your camera's functions from a distance. The remote can come in handy when you want to be part of the photos and videos you capture with your camera and since it's waterproof, it can also come in handy when you're using the camera under water and can't access the touch screen controls. With up to 180 meters of operational range and water resistance up to 10 meters, the GoPro Smart Remote can be a handy addition to your collection of GoPro accessories.
Buy from Amazon ($67.62) 
6. Kupton GoPro Screen Protector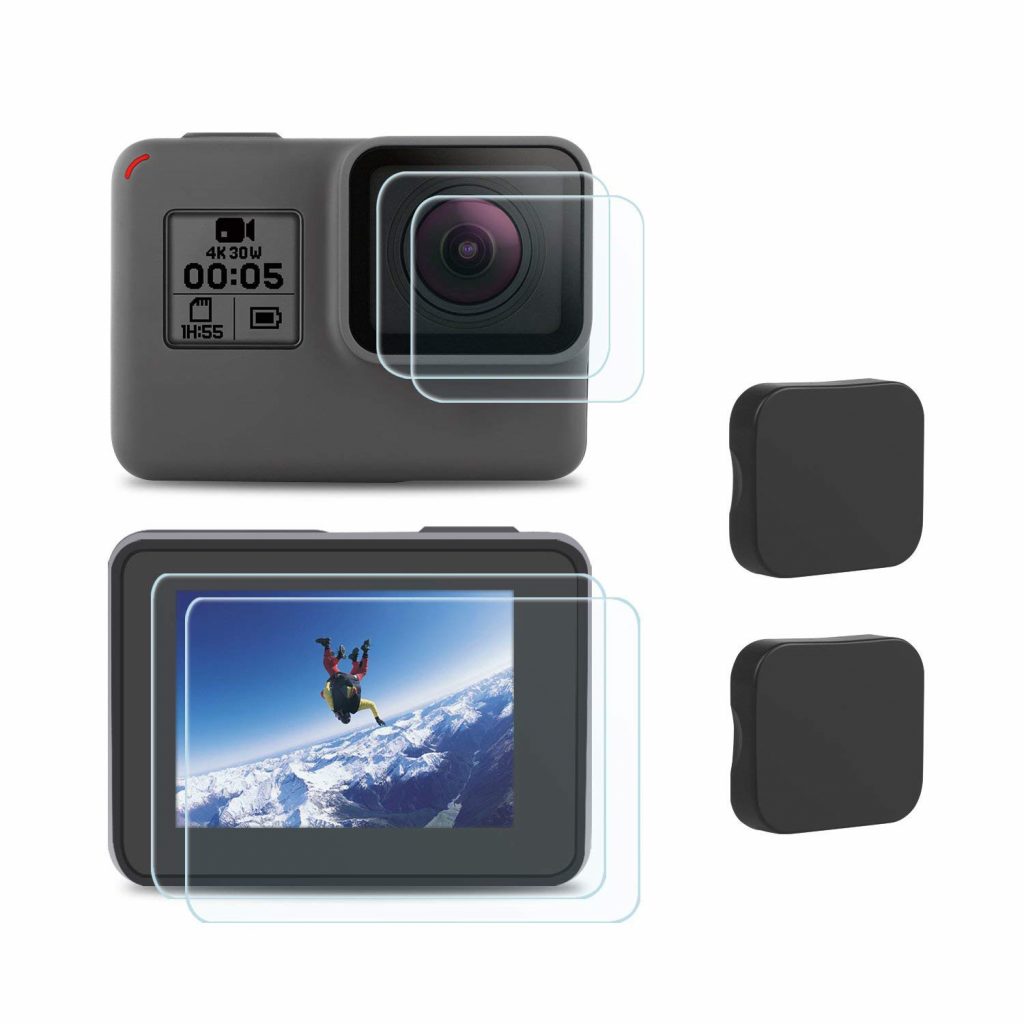 The Kupton GoPro Screen Protector is pretty self-explanatory; it's a high-quality tempered glass screen protector for your camera that protects both the touch screen and lens cover. The screen protector is just 0.3mm thin, which means that it doesn't have any adverse effects on the image quality and it won't interfere with the touch screen. The Kupton GoPro Screen Protector is a must-have for any GoPro user, however, it's worth noting that this particular variant is only compatible with the GoPro Hero 7 Black and you'll have to go with other options in case you have a GoPro Hero 7 White or Silver.
Buy from Amazon ($9.99) 
7. GoPro Jaws Flex Clamp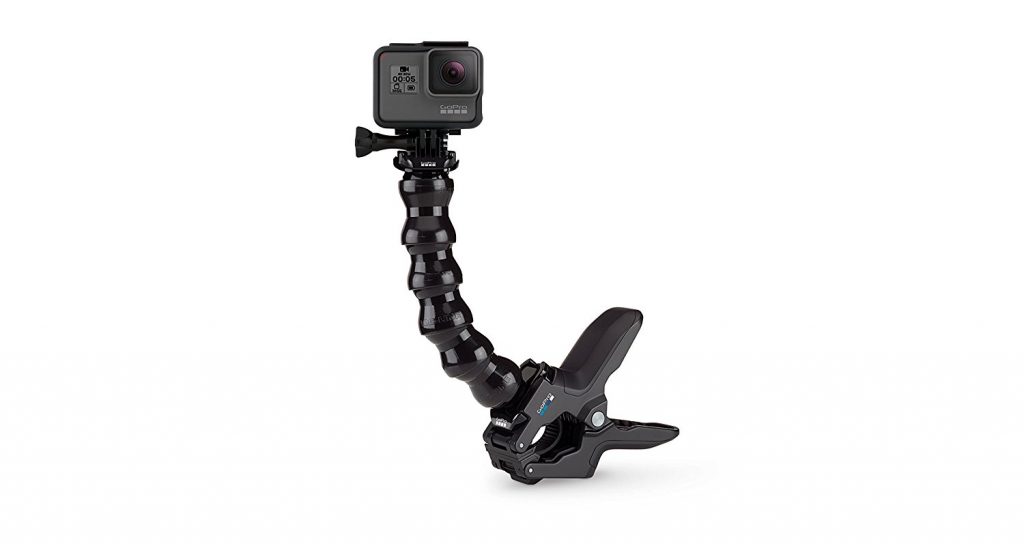 If you've ever felt the need to clamp your GoPro to an uneven surface, then you should definitely invest in the GoPro Jaws Flex Clamp – a simple yet versatile holder for your camera that will allow you to clamp it to any object ranging from 0.25″ to 2″ in diameter. The product can be used in two different ways, allowing you to attach the camera directly to the clamp for low profile mounting or to the optional neck when you want a little bit of maneuverability. The GoPro Jaws Flex Clamp comes with a quick release base, which will allow you to quickly switch between accessories, making it quite a versatile product.
Buy from Amazon ($40.00) 
8. Sandmarc Navy Mount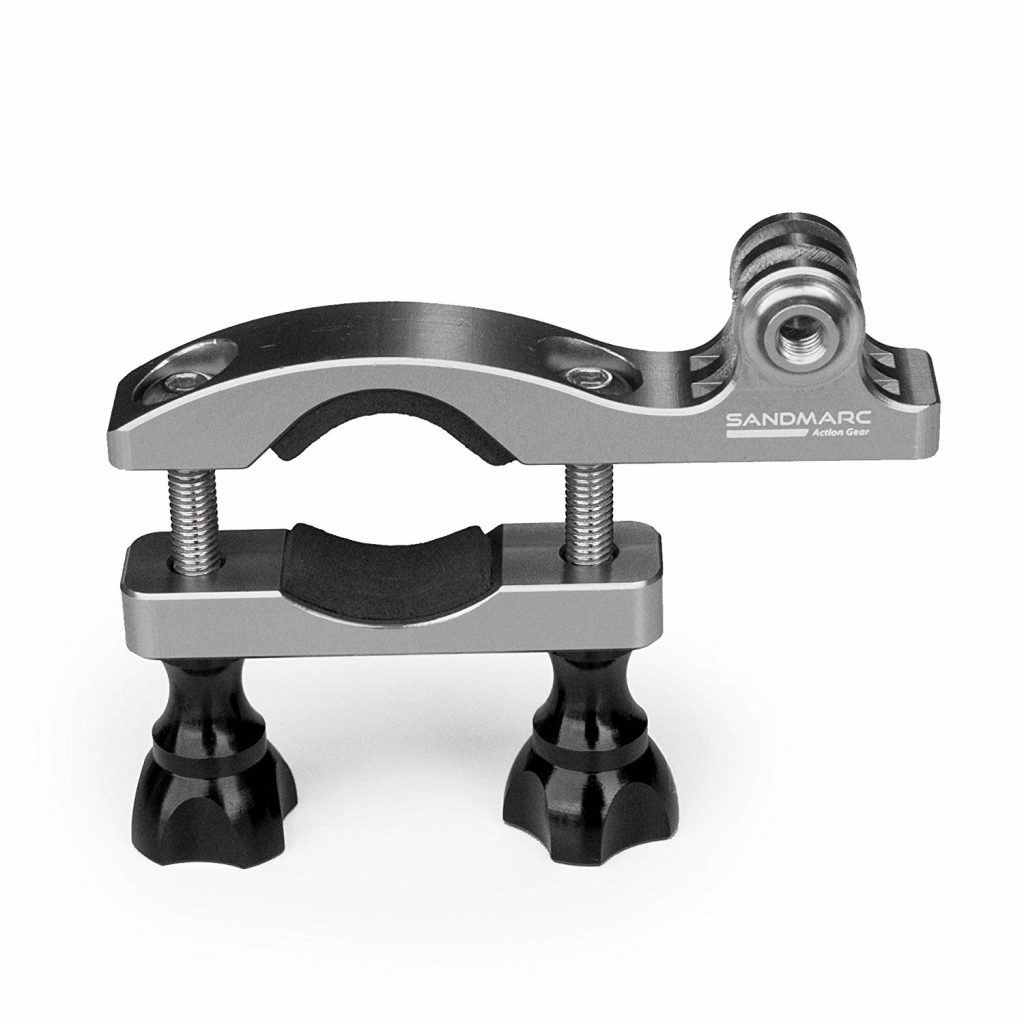 Bikers or cyclists who want to attach their GoPro to the handlebar can opt for the Sandmarc Navy Mount – a durable all-aluminum handlebar mount that will allow you to capture crisp video while riding your bike. The mount can be adjusted to fit all handlebars with a 15mm-35mm diameter and it comes with adjustment tools, a wrench tool, and an aluminum thumbscrew for easy attachment and removal.
Buy from Amazon ($29.99) 
9. GoPole Flare Waterproof LED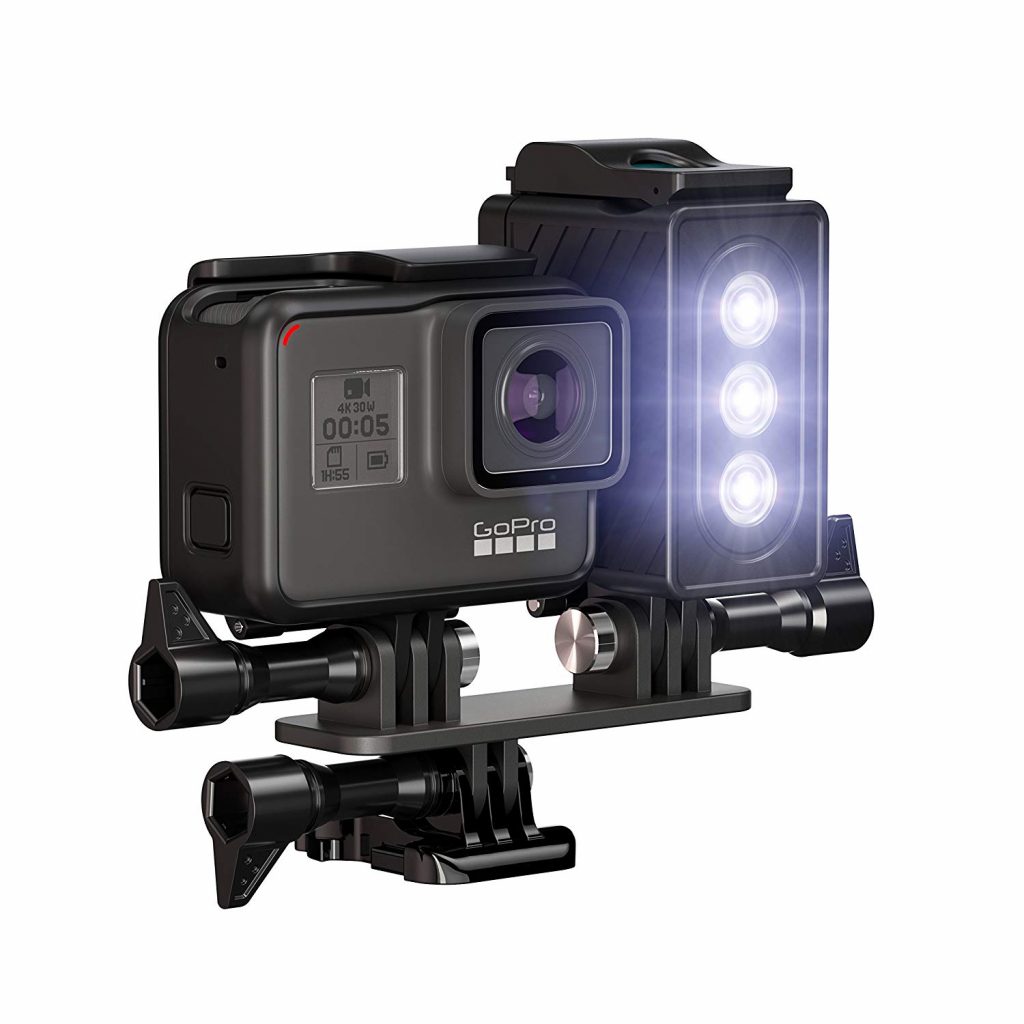 If you often find yourself recording videos in the dark, you might want to take a look at the GoPole Flare Waterproof LED Light, that you can attach to your GoPro and capture crisp videos even in low light. The light boasts of a 300 lumen output, two brightness modes and a strobe mode, which can come in handy in a variety of different scenarios. It comes with a GoPro connector, a mounting buckle and thumbscrews, with which you can easily and securely attach the light to the camera.
Buy from Amazon ($54.99) 
10. GoPro Floaty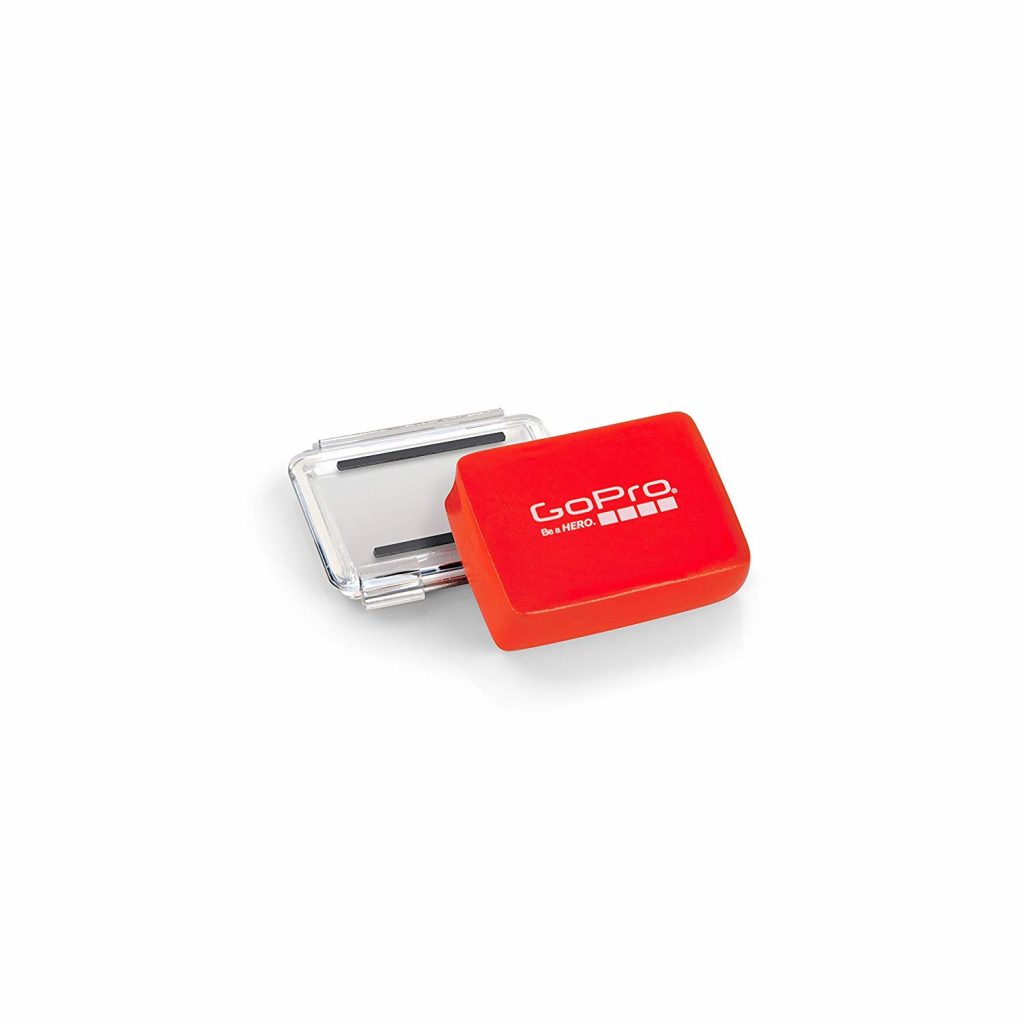 While capturing images/videos in the water with your GoPro, it's natural to have some inhibitions about losing it in case it slips out of your hand and sinks. In order to prevent that, you can get the GoPro Floaty, a replacement back door for the camera which attaches directly to the housing backdoor and ensures that your GoPro remains afloat in case you lose your grip in turbulent waters.
Buy from Amazon ($8.99) 
11. Joby GorillaPod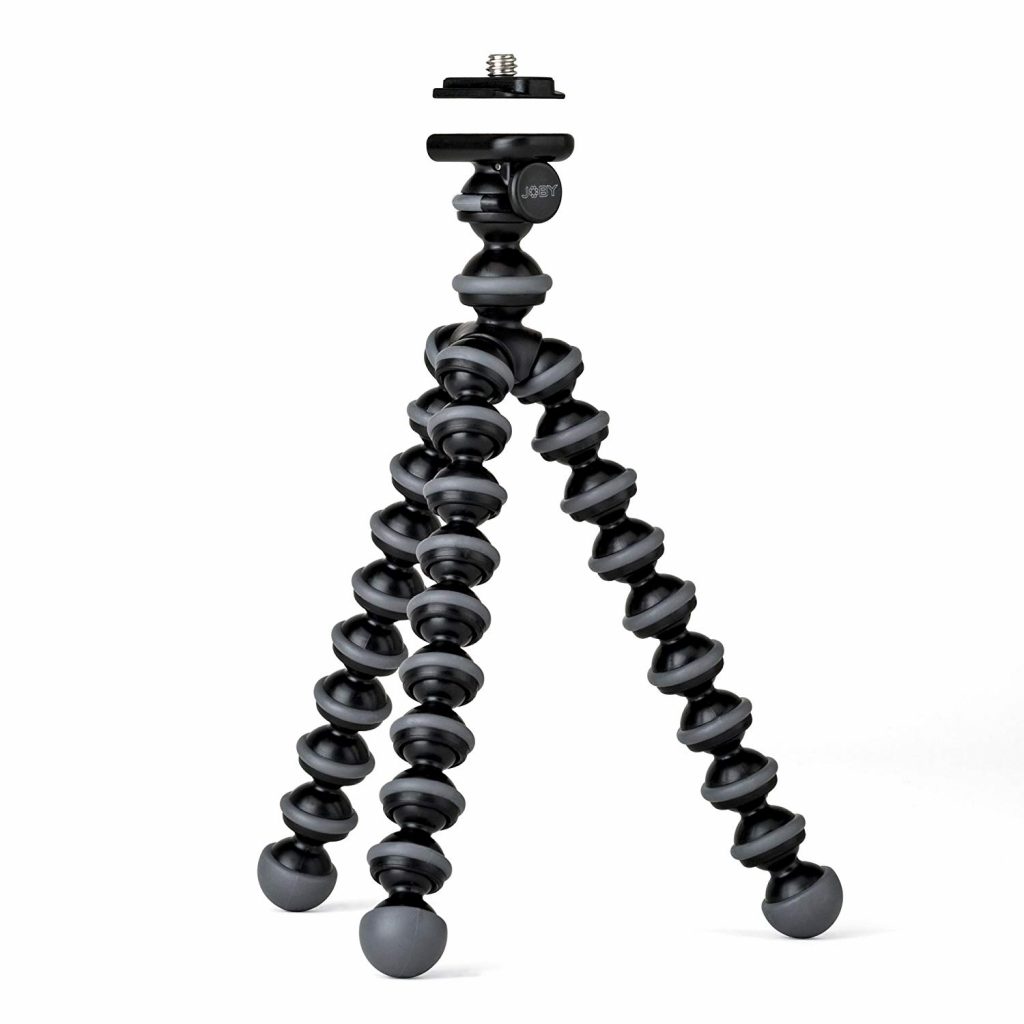 Looking for a versatile tripod for your GoPro that you can set up on uneven surfaces? Then look no further. The Joby GorillaPod is a simple tripod with bendy legs that you can twist and bend to place it on any uneven surface. The tripod is made up of durable ABS plastic and has rubberized feet, which means that you can use it even on the most unforgiving surfaces and you can even wrap the bendable legs around trees, poles or other structure when there aren't any flat surfaces around.
Buy from Amazon ($14.99) 
12. Decade Extended Battery for GoPro Hero 7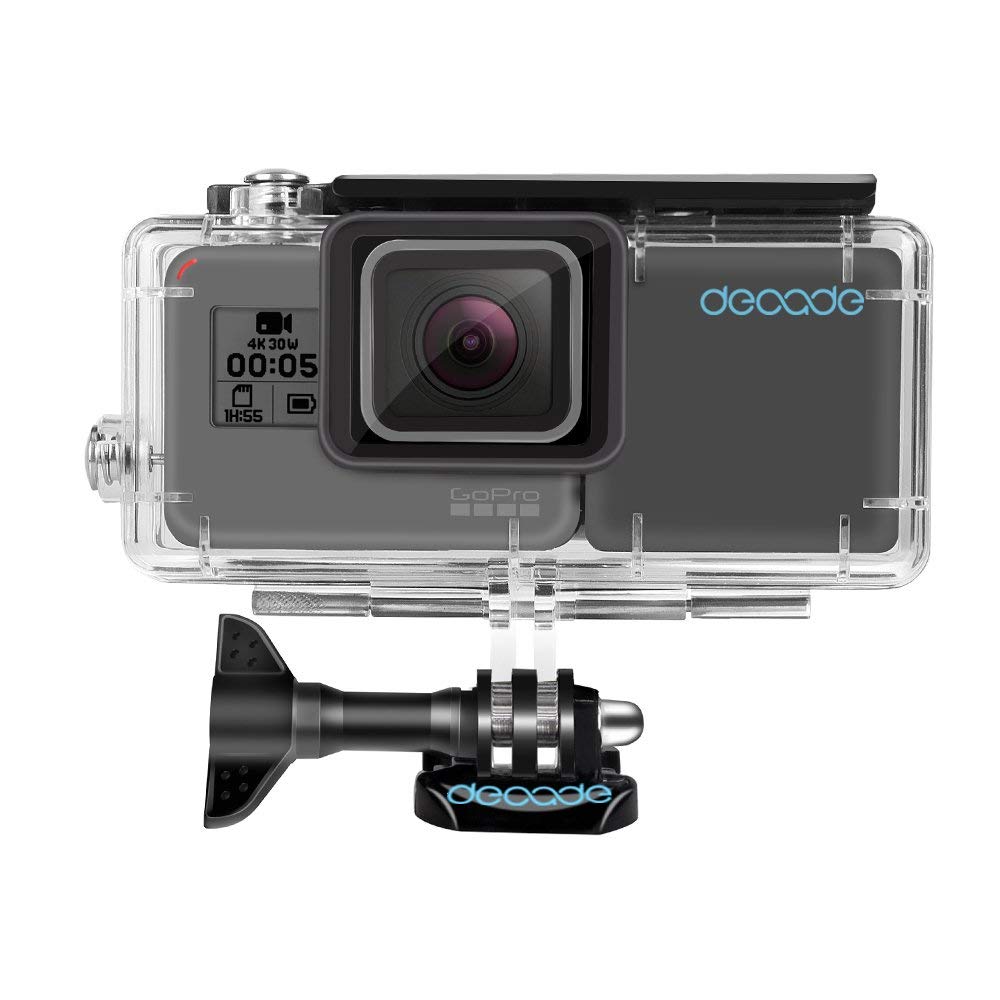 If you think your GoPro's battery limits you from capturing really long videos, then the Decade Extended Battery is a great buy for you. The 2,300mAh battery pack, which directly attaches to your GoPro, will significantly increase the battery life of your camera, allowing you to capture videos far longer than ever before. The extended battery comes with a compact waterproof case of its own, which will allow you to use the combination under water, something that you won't be able to do with a standalone waterproof case.
Buy from Amazon ($39.99) 
13. Mibote Rechargeable Battery 3 Pack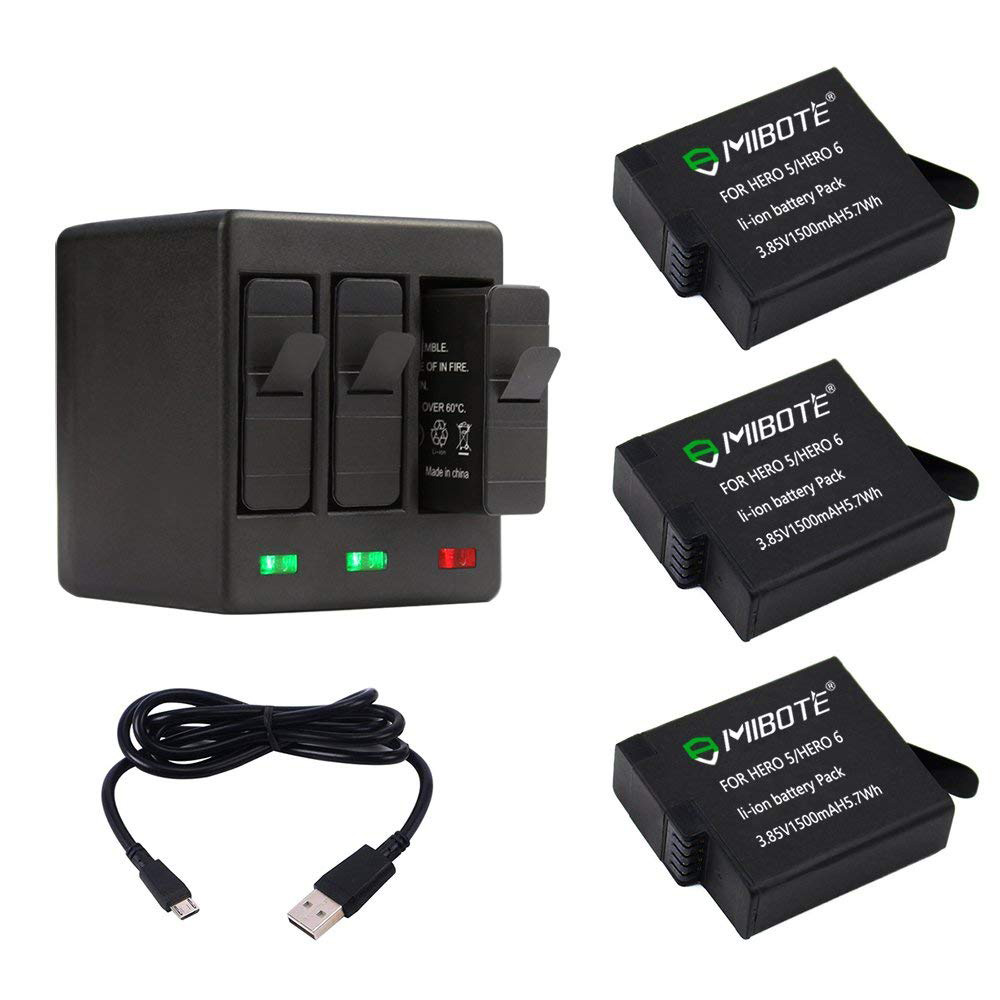 In case you don't care much about extending the battery life of your GoPro and just want to keep some spare batteries around that you can swap on the fly, the Mibote Rechargeable Battery 3 pack should be a better buy for you. The battery pack comes with three rechargeable 1,500mAh batteries and a handy charger which can charge up to three batteries at the same time. With the Mibote Rechargeable Battery pack, you'll never have to wait for your GoPro's battery to charge up ever again.
Buy from Amazon ($26.49) 
14. GoPro Suction Cup Mount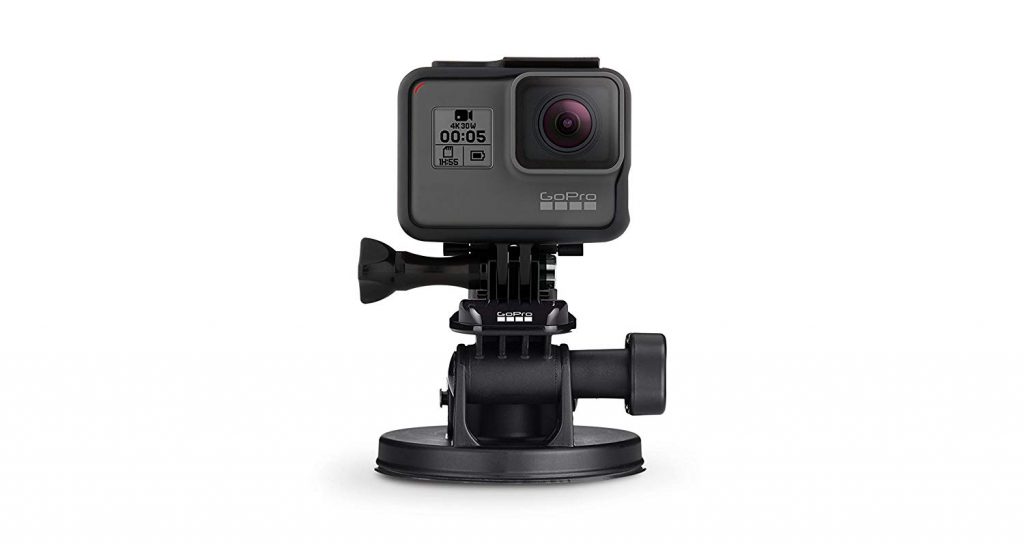 The GoPro Suction Cup Mount is a handy little mount that will allow you to stick your camera to any flat surface. The mount features an industrial strength suction cup which can stay attached to the surface even at speeds as high as 150mph, making it not only a great dash cam mount, but also one that you can use on the outside of your vehicle. The GoPro Suction Cup Mount comes with a quick release base, allowing you to quickly switch accessories without breaking a sweat.
Buy from Amazon ($28.00) 
15. GoPro Helmet Front + Side Mount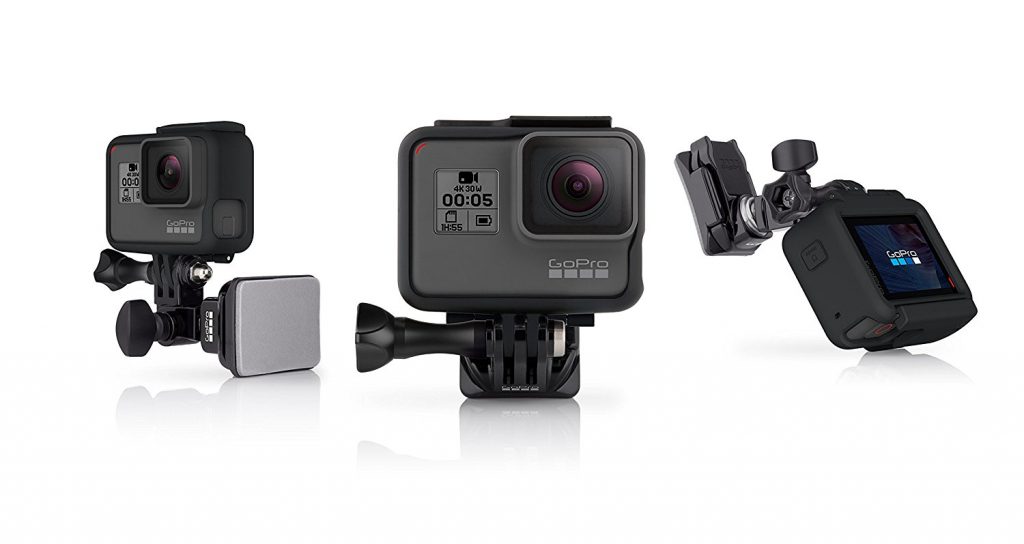 The GoPro Helmet Front + Side Mount, as its name suggests, is a nifty little mount that you can easily attach to the front or side of your helmet. Unlike other rigid mounts on this list, the GoPro Helmet mount has a swivel base, which will allow you to easily adjust and rotate the camera on the fly. The mount can be attached to your helmet using the integrated mounting buckle, which will keep your camera securely attached even while you're traveling at high speeds.
Buy from Amazon ($29.00)
16. PolarPro FiftyFifty Dome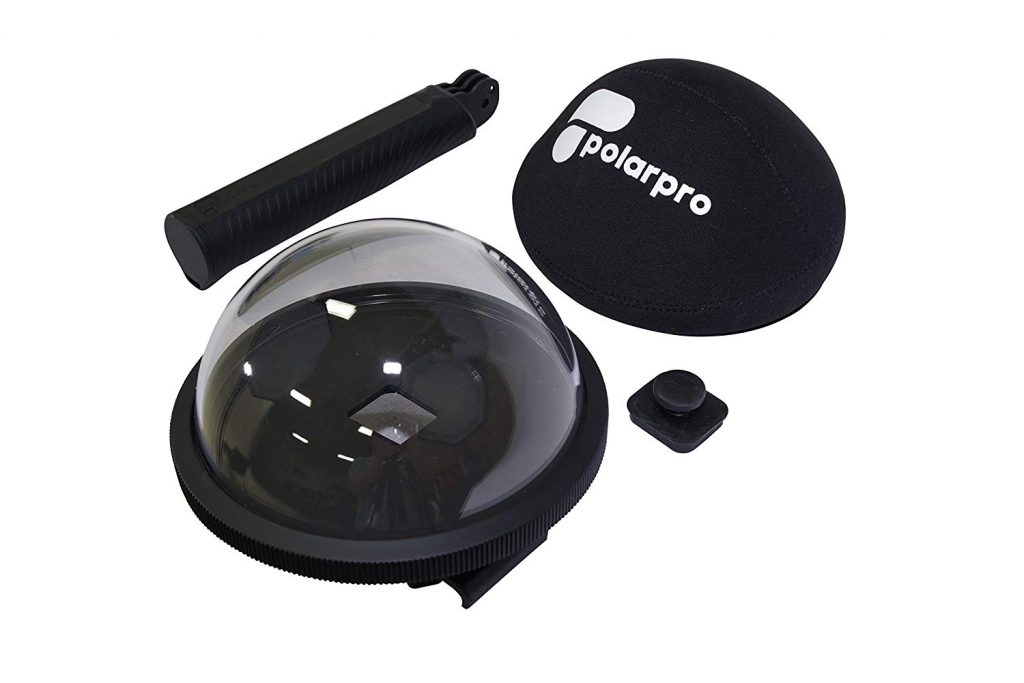 Want to capture some stunning 50-50 shots in the water? Then you should definitely get the PolarPro FiftyFifty Dome right away, which you can use to record split level shots. The dome pushes the water away from the camera lens, allowing it to capture what's under and over the water line at the same time. The PolarPro Dome easily attaches to the front of your GoPro camera and comes with a floating grip and a lanyard, so that you don't lose it in turbulent waters.
Buy from Amazon ($49.99) 
17. GoPro Fetch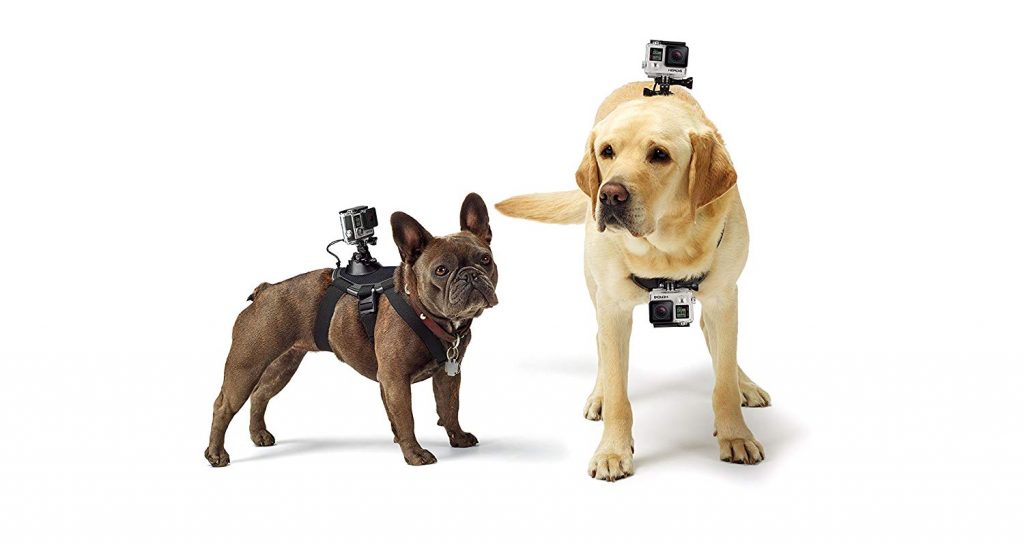 Got a furry baby? Want to record some great video that shows their perspective? Then you should get the GoPro Fetch, which is essentially a GoPro mount attached to a dog harness. Just slip it onto your dog and see the world from its perspective. The GoPro Fetch is completely adjustable and can fit dogs from 15 to 120 lbs and it even features a chest mount which will allow you to attach two cameras on your dog. The mount is made up of washable and water-friendly materials, so you really shouldn't worry about getting it dirty if your pooch decides to jump into a puddle.
Buy from Amazon ($34.95) 
18. GoPro Seeker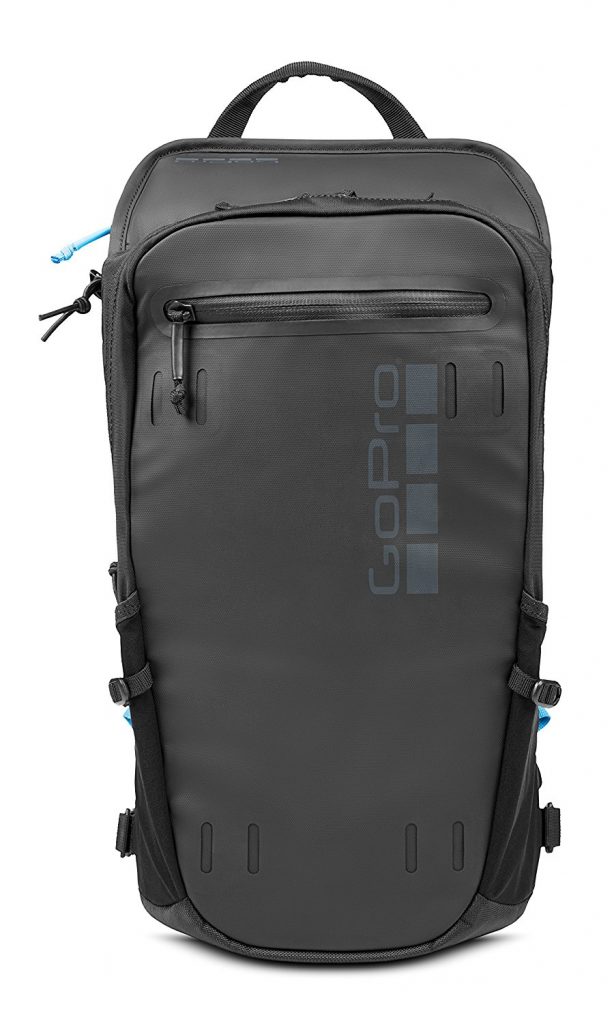 The GoPro Seeker is compact and functional backpack for your GoPro camera that not only stores the camera and its accessories, but provides some handy surfaces where you can attach your camera and capture video from a variety of different perspective. The GoPro Seeker features attachments on the chest, shoulder and lapel areas, meaning that you can keep capturing video, from different perspectives, on the go. The backpack offers 18 liters of storage space, allowing you to carry all essentials for a day trip.
Buy from Amazon ($119) 
19. Accessory Bundle Kit for GoPro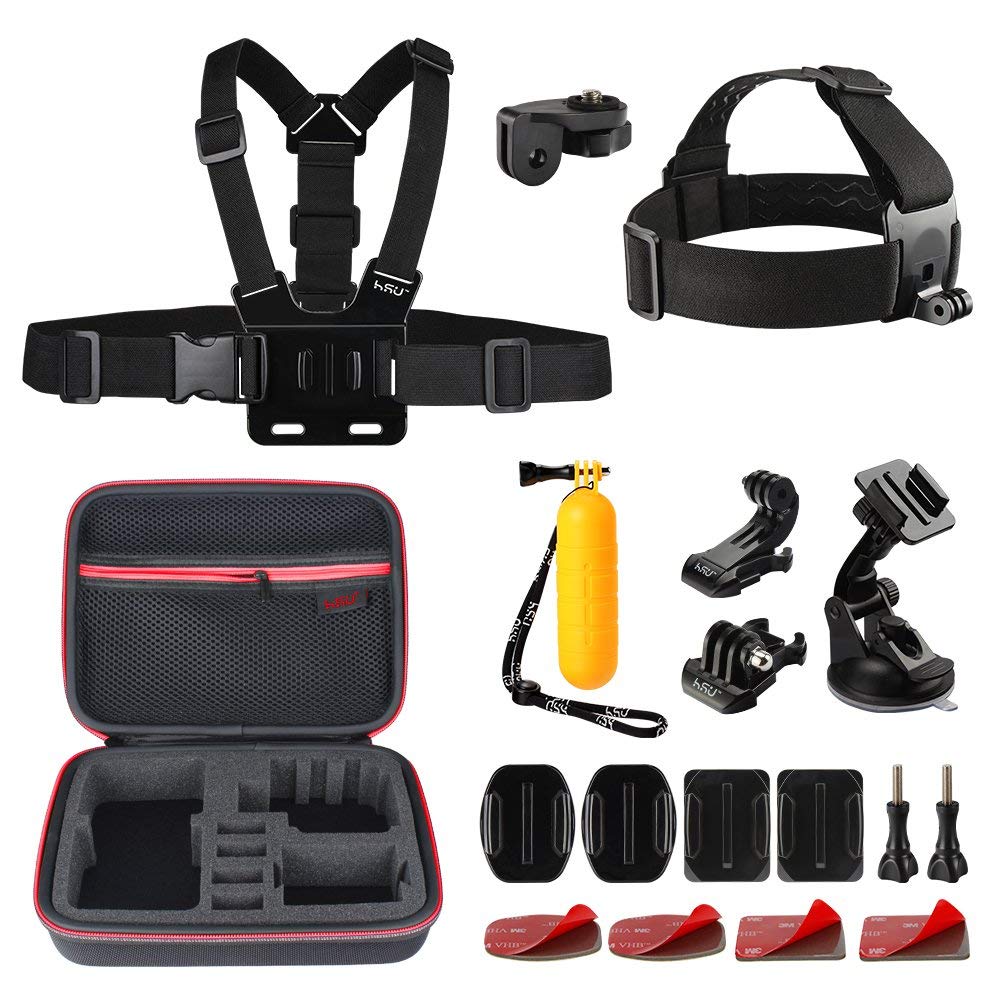 If you aren't really keen on buying a bunch of different accessories from this list and just want a decent bundle which includes a ton of functional attachments, mounts, etc., then you should get the Accessory Bundle Kit for GoPro. The kit comes with a carrying case to house your camera and small accessories, a head strap, a chest strap, a suction cup mount, a curved mount, a helmet mount, and a floatation device all in one. Do note that the quality of these items might not be at par with most other items on this list.
Buy from Amazon ($21.99) 
20. H2O Ninja Full Face Snorkel Mask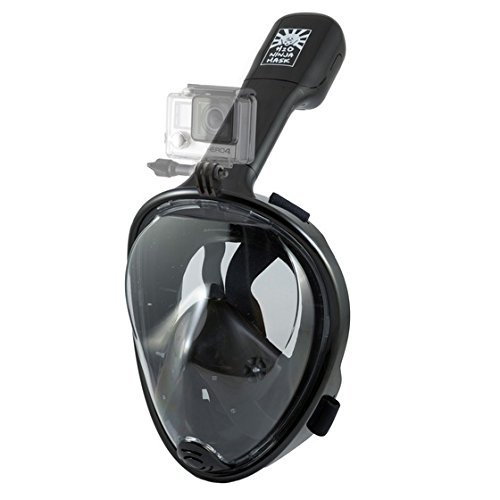 Rounding off the list another great mount for underwater videography, the H20 Ninja Full Face Snorkel Mask. The snorkeling mask features a detachable GoPro mount with which you can securely attach the mount to the mask and capture some great underwater video. Apart from being a decent GoPro mount, the mask in itself is a pretty great purchase as it offers a bunch of features that you wouldn't find in regular snorkeling masks.
Buy from Amazon ($247.48)
SEE ALSO: 15 Best GoPro Fusion Accessories You Can Buy Today
Level Up With These GoPro Accessories
That rounds up our list of the best GoPro accessories that will help you level up your game. Now that you've got a fair idea of what accessories you can get for your GoPro Hero 7, which one do you plan on getting first and how do you plan on using it? Let us know in the comments section below.