GoPro may be the first name that comes to mind when it comes to action cameras, but it is certainly not your only option. Many companies, big and small, have entered the industry over the past few years, and quite a few of them offer extremely compelling products at much lower price-points, so you can buy yourself a decent action camera these days without burning a hole in your pocket. However, seeing as GoPro has a whole host of devices in its portfolio, including action cameras like the Hero 6, 360-degree cameras like the Fusion, as well as smaller, inexpensive devices like the Session, we're including a number of options that will also cover the entire gamut, so irrespective of which GoPro camera you have in mind, you'll very likely find an alternative for it on our list. Without any further ado then, let's check out the 13 best GoPro alternatives in the market right now.
Best GoPro Action Camera Alternatives You Can Buy
1. AKASO V50 Pro Action Camera
The AKASO V50 Pro action camera is one feature packed GoPro alternative you might want to consider. This is an action camera that features a 2" touch display, supports 4K at 30FPS video recording with advanced EIS and captures 20MP photos. All that is great but what makes this action camera a great buy are the unique features. First of all, this is a pretty compact and lightweight action camera weighing in at just 80 grams with a battery inside. Secondly, it has features like the diving mode, which filters the red light under water, and since the camera comes with a water proof case in the box, you can take it for a swim. There are a lot more features here, like wireless app control, an adjustable view angle lens that has four different settings up to super wide-angle, support for timelapse, slow motion, wind noise reduction, long exposure and more.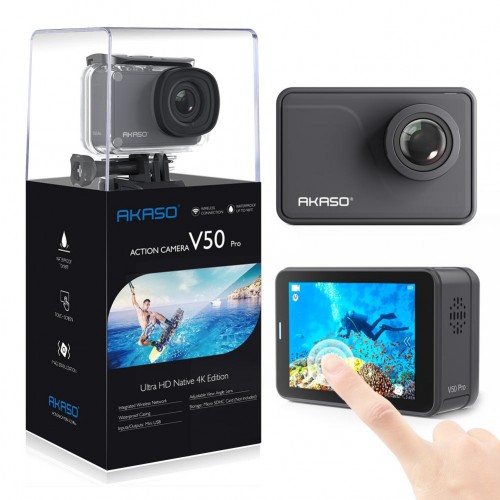 The AKASO V50 Pro action camera is available on Amazon for $119 and it's a great deal because it comes with all the accessories you are going to need. The package includes two 1,100mAh batteries for the action camera, a waterproof case, a remote control, a bicycle stand, a 10x mount, a 2x helmet mount, five tethers, a protective backdoor and more. Yes, the V50 Pro has you covered when it comes to features and the accessories, so if you are looking for a feature packed and affordable GoPro alternative, the AKASO V50 Pro should be a good bit.
Buy from Amazon: ($119)
2. Garmin Virb Ultra 30
The Gramin Virb Ultra 30 is the flagship action camera in the Garmin lineup that also includes relatively more pocket-friendly devices like the Virb XE and the Virb X. The Virb Ultra 30 look fairly similar to GoPro's Hero line of action cameras, and comes with a 12MP image sensor that can record 4K videos at up to 30fps. It also comes with 3-axis image stabilization, a 1.75″ touchscreen on the back as well as a viewfinder to see what you're recording. The device also comes with Garmin's proprietary G-Metrix technology that allows the device's high-sensitivity 10Hz GPS and other sensors to capture performance data like speed, elevation, heart rate and g-force. Talking about other sensors, the device also comes with an accelerometer, a gyroscope, an altimeter and a magnetometer (compass).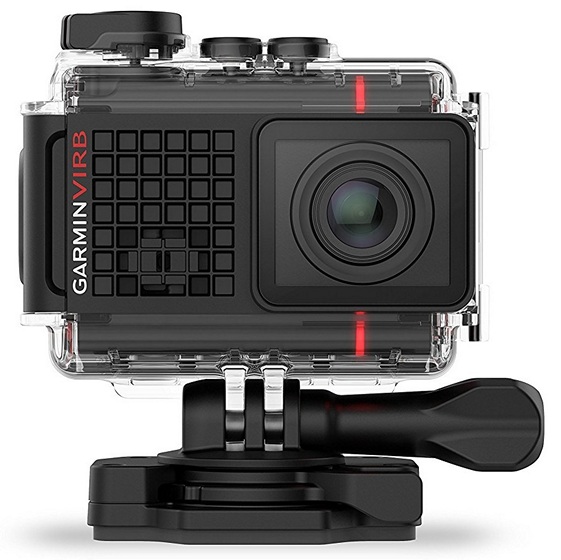 The Virb Ultra 30 also comes with voice-control and has a high-sensitivity microphone for the purpose. Wireless connectivity on the device includes Bluetooth, Wi-Fi and ANT+. The on-board Li-ion battery is rated at 1,250mAh, and can apparently last for up to 1 and a half hours according to the promotional material found on Garmin's website. The device also comes with a waterproof case that allows it be used under water up to a depth of about 40 meters.
Buy From Amazon: ($399.99)
3. Sony FDR-X3000/R Action Cam
Sony's flagship action camera, the FDR-X3000, may not necessarily be the market leader in its segment, but offers one critical feature that you won't get with the GoPro Hero 6 – OIS (Optical Image Stabilization). The FDR-X3000 is one of the best GoPro alternatives in the market right now, although, unlike the GoPro devices that look more like small boxes with a lens affixed on one side, it looks more like a sized-down camcorder than anything else. The device comes with a 12MP Exmor R CMOS sensor with ZEISS lens. It can shoot 4K videos at up to 30fps and super slow-mo videos at up to 240fps, but only if you're willing to live with 720p resolution.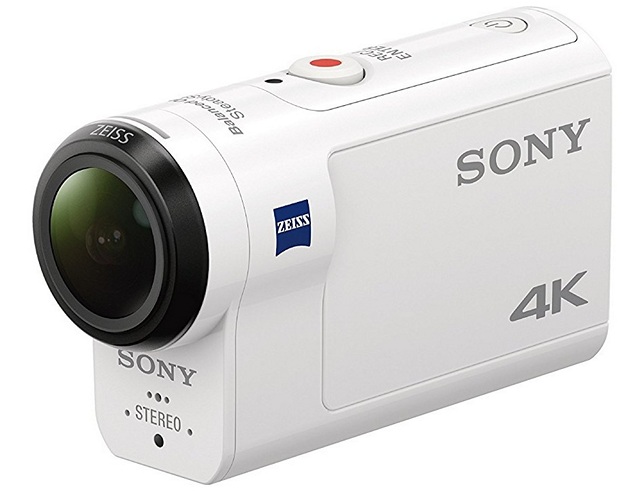 The Sony FDR-X3000 comes with built-n Wi-Fi, Bluetooth, NFC, GPS, HDMI, USB and microphone jack, and has 3x rec. lights and adjustable beep volume for better control. There's also an 'R' version that comes with a LiveView Remote – the RM-LVR3 – which connects to the camera via Bluetooth, allowing it to be controlled remotely. The camera also comes with a splash-proof design, but there's also a waterproof case that allows it to be used at up to 197 meters under water.
Sony also makes the HDR-AS50 action camera, which is priced nearly half as the X3000 but brings almost the same features. The only areas where it lags behind the X3000 or X3000R are the smaller focal range, and limitation of Full HD videos to 60fps, while the 120fps mode is only available in HD (720p) videos.
Buy From Amazon: ($368) 
4. SJCAM SJ8 Pro Action Cam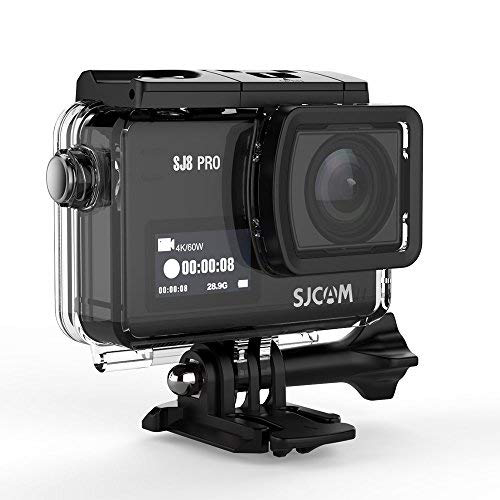 SJCAM's SJ8 Pro has been upgraded over the SJ7 Star and comes with key upgrades over the previous version. The most attractive and welcome addition is that of support for 60fps recording in 4K. The SJ8 Star now has a 2.3-inch touchscreen and although the upgrade over the 2-inch display on the SJ7 is a minor one, the smaller bezels give it a more modern look. Moreover, the front now also has a display on the front too, to inform you about the recording time, recording mode, and available space.
The SJ8 action camera comes with built-in dual-band Wi-Fi and using the waterproof case, you can take it for a swim with you. It can be submerged in water for a depth of up to 30 meters (100 feet). The SJ8 Star also has a bigger, 1200mAh battery compared its predecessor and uses gyro-based stabilization to ensure the videos are unshakable as your enthusiasm. The SJCAM app comes in handy when you wish to remotely control the camera as well as for automatically backing up captured media can to your phone.
Buy From Amazon: ($219.90)
5. Drift Ghost 4K
Designed and marketed by U.K.-based Drift Innovation, the Drift Ghost 4K is yet another cool GoPro alternative that was launched recently as a significant upgrade over its predecessor, the Drift HD Action Camera that was released back in 2011. While its predecessor could only shoot 1080p videos at 30fps, the Drift Ghost 4K, as its name suggests, can do 4K UHD videos at up to 30fps. The camera comes with the 12MP Sony IMX117CQT 1/2.3 CMOS sensor with 4GB NAND Flash and 8GB DDR3L (low-voltage) memory. The device also comes with dual-band Wi-Fi connectivity over 2.4GHz and 5.8GHz.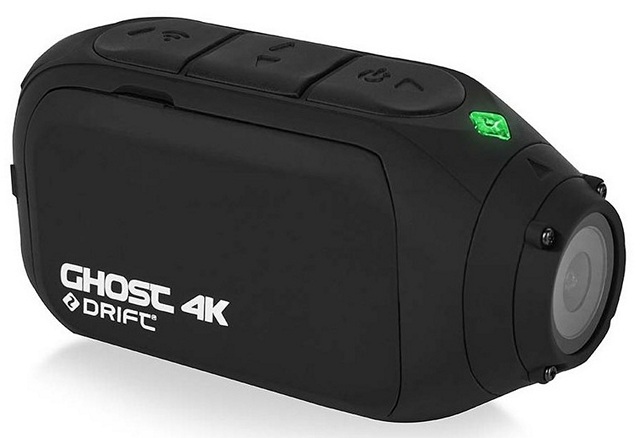 The Ghost 4K features dual microphones to reduce wind noise and has video stabilization to minimize blur in photos and videos. The device also comes with a modular design that allows users to snap-on an additional LCD screen or external battery packs, giving users more control over how they want to use their camera. The device can also be connected with the Drift Lite app that lets you control it remotely. The Drift Ghost 4K carries a built-in 1,500mAh battery with an additional 500mAh battery pack included with the retail pack.
If you want something a bit cheaper with the same benefits like the same waterproof and modular design, long battery life, the benefit of a rotating lens, the Drift Ghost X for only $99 can also be a worthy choice. You would, however, have to compromise in terms of video quality as the Ghost X maxes out at 1080p at 30 fps while 60 fps recording is only available at 720p.
Buy From Amazon: ($249.99)
6. Olympus TG-Tracker
Olympus may be a well-known name for photography enthusiasts, but the company only recently entered the action camera market with the TG-Tracker that stands out from the crowd of me-too action cameras with a rugged and stylish design. The device also got the specs and features to match those looks, making it a serious GoPro alternative. The devices features an 8MP sensor that's paired with an f/2.0 lens to capture fast action with crispness and clarity. At 204-degree angle of view, the lens is also wider than the GoPro Hero 5 Black, which has a maximum angle of view of around 150 degrees. The camera can shoot 4K videos at 30 frames per second (fps), but 1080p is capped at 60 fps.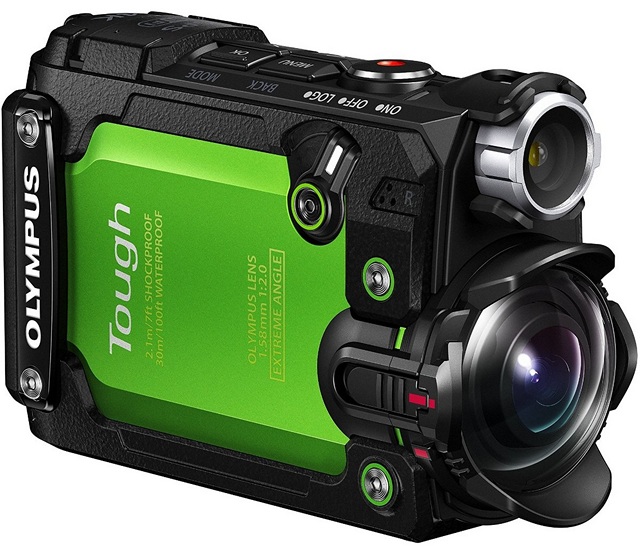 There's also 5-axis electronic image stabilization (EIS) to reduce blur and camera shakes. There's a 1.5" tilt-out LCD monitor to make it easier for users to compose shots while on the move, and a front LED headlight of 60 lumens to make it possible to shoot in the dark. The dveice also comes with Wi-Fi connectivity, is waterproof up to a depth of 100 feet, and has 5 built-in sensors including, GPS, magnetometer (e-Compass), accelerometer, thermometer and barometer. Overall, the tough design, waterproofing and good quality photos and videos make the TG-Tracker a great action camera, especially when you take into account its price-point.
Buy From Amazon: ($199)
7. Veho Muvi K-Series K2 Pro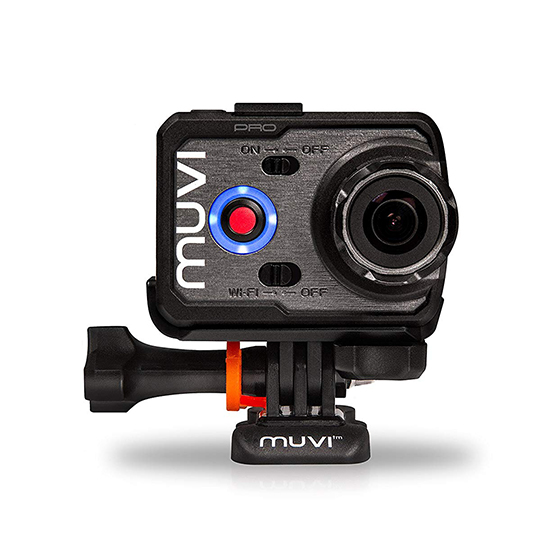 Veho Muvi K2 Pro 4K is the latest addition to the company's K-series of action cameras and noticeably the most powerful one. The camera is capable of shooting 4K video at only 15 fps but you get 60 fps shooting at 1080p as well as 12 0fps at 720p. The K2 Pro sports a 12-megapixel sensor for still photography and comes with a smart LCD display inside the box package which hooks on to the action camera. Besides the LCD display, the Veho Muvi K2 Pro comes with a score of accessories within the box including a protective case, tripod mounts, adhesive pads, lens protector, decals, lanyards, and a USB cable.
The K2 Pro uses a 1500 mAh battery, which is claimed to last for up to three hours of continuous recording. Moreover, with the Muvi K-Series apps for Android and iOS, adventurers can download captured videos and images over Wi-Fi, or view and even share a live video directly on your social media. The Veho Muvi K2 Pro is packed with additional features like the automatic recording when the inbuilt gyroscope sense any change in the gravity, making it one of the desirable GoPro alternatives.
Buy From Amazon: ($114.95)
8. AKASO V50 Elite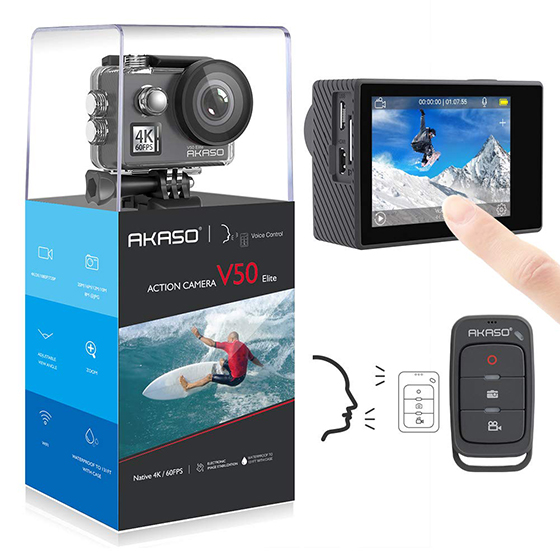 AKASO V50 is a new addition to the company's portfolio of action cameras and brings 4K shooting at 60 fps to the table. Besides 4K, it shoots in a variety of resolutions including 2.7K at up to 60 fps, 1080p at up to 120 fps, and 720p at up to 240 fps. Besides this, the AKASO V50 Elite can capture 20-megapixel still shots. What helps us count it among the greatest GoPro alternatives is its support for voice commands, which let you operate the action camera without touching it. For noisy environments, you may, instead, use the remote control included in the box.
If you prefer using a camera in a conventional manner, there's a 2-inch IPS touch display. Further, you can adjust the viewing angle of the lens and change between wide, medium, and narrow fields of view. For those who love to swim, AKASO V50 Elite is a great option for capturing life underwater and can bear with any abrasion from water for a depth of up to 131 feet or 40 meters. The only slightly disappointing bit may be the lack of optical image stabilization but it comes with Advanced EIS which should help you keep the videos defy the vibrations of adventure and adrenaline rush. Besides these features, the AKASO V50 also features mini HDMI and direct Wi-Fi sharing but there's no option to relay live videos.
If you're fine with letting go of recording at 60 fps, you can save some bucks by picking up the AKASO Brave 4 ($79.99) . It supports wide-angle shots at up to 170° but the 4K recording is restricted at 24 fps.
Buy From Amazon: ($139.99)
9. AKASO EK7000 4K Action Cam
Last, but definitely not the least, we have the undisputed king of the inexpensive action cameras – the AKASO EK7000. The device costs barely $75 on Amazon, but comes with a list of features that belies its price. It's got a 12-megapixel sensor that's paired with a 170-degree wide-angle lens, and can shoot 4K videos at 25fps. The camera supports Wi-Fi and HDMI connectivity and, comes with 2 rechargeable 1,050mAh batteries, each of which is said to record videos for up to 90 minutes. The device features a 2″ LCD display and, is waterproof up to 100 feet.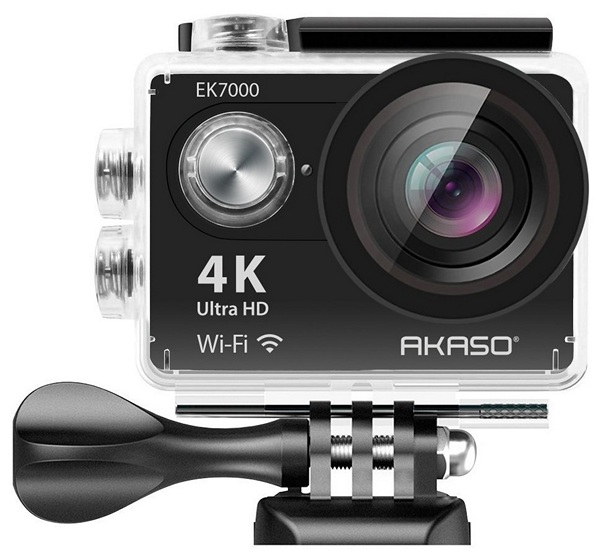 The EK7000 ships with a 'Wireless Wrist Remote' that makes it convenient to control the camera, frame shots or record video remotely via Wi-Fi. The camera also offers a burst mode that shoots photos at 30 frames per second, while a time lapse mode shoots photos automatically at set time intervals from 0.5 to 60 seconds. All things considered, the EK7000 is very likely the best, time-tested, inexpensive GoPro alternative if there ever was one.
Buy From Amazon: ($59.99)
10. Polaroid Cube+
Polaroid Cube+ offers the rich features of a great and reliable action camera in a much smaller form factor. It comes in quirky colors and a tiny cubic forge. The small camera is too cute to be a hardcore action camera and is more suitably a lifestyle action camera. However, it comes with image stabilization and the ability to live stream videos over Wi-Fi, which makes it a worthy GoPro alternative.
The Polaroid Cube+ supports up to 1440p videos at 30 fps and can capture at Full HD resolution at 60 fps. Besides videos, it takes 8-megapixel images and comes with a 600mAh battery that can last for over 100 minutes of continuous high definition recording. Polaroid also offers a variety of accessories such as the waterproof and shockproof casing, a variety of mounts, and a protective cover to give you the confidence of taking the Cube+ on adventures.
Buy From Amazon: ($116.25)
11. Xiaomi YI Lite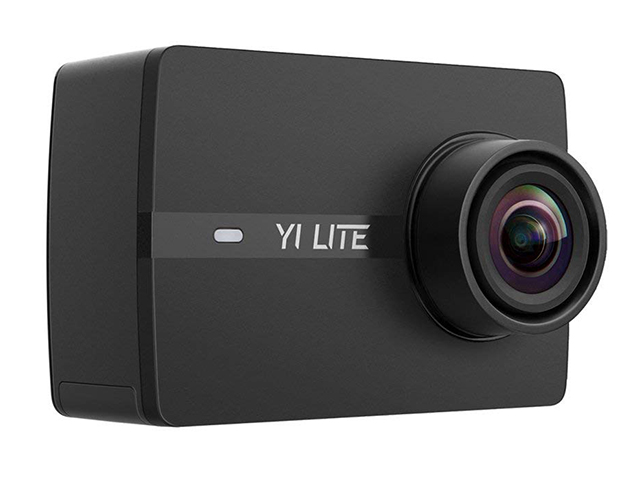 If you've found Xiaomi's YI 4K+ ($339.94) action camera to be an attractive option but are cash-strapped, the YI Lite can be a good choice. Despite being priced at one-fourth of the YI 4K+, the YI Lite comes with 4K recording at 20 fps, and support for Full HD videos at 60fps, thanks to the Sony IMX206 sensor. The Xiaomi-backed action camera is equipped with dual-band Wi-Fi and Bluetooth to let you control the camera remotely and to share the captured media using a smartphone.
The power-packed and pocket-friendly YI Lite can also capture images at 16MP and features EIS to keep the images still. There's a 2-inch touch display for I/O and the inbuilt battery can capture videos at 1080p continuously for over two hours. Lastly, to have more control over your shots, you can also set individual image quality parameter to capture good-looking shots irrespective of the ambiance.
Buy From Amazon: ($60.99)
360-degree GoPro Fusion Alternatives
The aforementioned GoPro alternatives offer much of the same features and functionality as the GoPro Hero 6 at cheaper price-points, which means none of them are actually capable of shooting 360-degree videos unlike the recently-introduced GoPro Fusion that currently sits on top of the GoPro food chain. While the Fusion is yet to start shipping (it's currently up for pre-order and will start shipping in November), many people who've had the chance to play around with it have come back suitably impressed. However, it's not the only premium consumer-level 360-degree action camera in the market, so in case you want something you can buy right now, here are the 2 best GoPro Fusion alternatives that you should consider:
12. Garmin Virb 360: Best Professional GoPro Fusion Alternative
If the SJ360+ is on the affordable side of things, the Garmin Virb 360 is at the other end of the spectrum. It's rugged, it's waterproof, it's bigger, it's heavier, and it comes with features that even the GoPro Fusion can only dream. If you thought the ability to shoot 4K videos on the Fusion was cool, the Virb 360 is on another planet altogether. The device can snap 15MP images and shoot 5.7K videos at 30fps, although, un-stitched. It can also shoot standard 4K videos at the same frame-rate with in-camera stitching. The device also has 4 built-in microphones to capture 360-degree audio, as well as '4K spherical stabilization' to ensure smooth videos regardless of camera movement.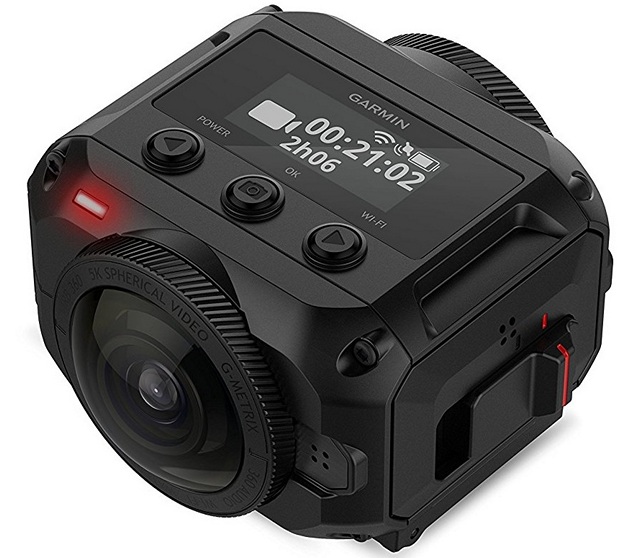 In terms of hardware, the Garmin Virb 360 ships with 2x 1/2.3-inch 12MP CMOS sensors, and has built-in GPS and GLONASS. It is also compatible with Garmin's proprietary G-Metrix technology that displays data overlays in 360-degree augmented reality. Another cool feature of the camera is that it can be controlled through voice, with "OK Garmin" being the trigger words. Sensors include GPS, accelerometer, barometer, gyroscope and magnetometer (e-compass), while wireless connectivity features include Wi-Fi 802.11 b/g/n, Bluetooth and ANT+. The device carries a 1,250mAh battery that is said to shoot more than 1 hour on a single charge.
Buy From Amazon: ($799.99)
13. Insta360 ONE X: Best Consumer-level GoPro Fusion Alternative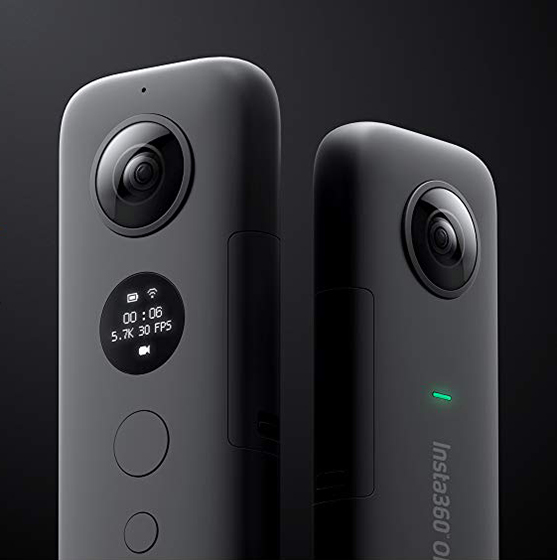 Midway between price-effectiveness and best features, the Insta360 ONE X supports up to 360-degree video recording at up to 5.7K. With the additional support of 50 fps recording, the videos turn out to be very smooth and satisfying. If you want stunning and cinema-quality video clips in slow motion, the ONE X supports 3K video recording at 100 fps. It is equipped with 210-degree dual fisheye lenses along with a Sony sensor.
Furthermore, the ONE X features FlowState Stabilization for Gimbal-like stability and super-smooth and stabilized hyperlapse videos. For direct transfer to smartphones, the camera features support for 5GHz Wi-Fi with a maximum of 50MBps speed. Additionally, the camera can not only take great videos but also shoot 18-megapixel circular photos and correction options to mask the official selfie stick and make it invisible.
Buy From Amazon: ($399.95)
SEE ALSO: 20 Best GoPro Accessories for 2019
Like These GoPro Alternatives?
GoPro cameras are some of the best that money can buy, but if you do sniff around, there are enough deals to be had that can get you either similar devices at much lower price points or higher-spec devices at similar price-points. Since offerings from unknown manufacturers are always a risk, we have largely restricted ourselves to recommending products from reputable vendors, such as Garmin, Olympus and Xiaomi (YI), all of whom offer great GoPro alternatives at pocket-friendly prices to satiate your hunger for the best action camera.