Email has stuck with us since the dawn of the internet. Many services came to disrupt the classic Email, but none succeeded. Emails have carved a protected space inside the world of internet for themselves. They have passed the test of time and are here to stay. It's an established fact that we cannot eliminate emails, but what we can do is to try to use services which help us manage them in a way that we do not completely lose our minds. The stock Gmail app in Android is good enough for casual users, but it does not pack the functionality which can ease the workload of pro users. If the stock Gmail app works for you then you should not look anywhere else. However, if you crave for something extra, here are the 10 best email apps for Android you should try:
1. Alto-Email
If you know even a little bit about the history of emails, you will know that AOL was the first company to implement it for the masses. The "You have got mail" voice is still one of the most recognized tag lines of all times. Alto has been developed by the same AOL company. Considering their experience, it's not hard to imagine them building a good email client. With the launch of Alto, they have done just that. The app follows a very modern and fluid design language which is really beautiful. The app even makes a boring task like scrolling through your email enjoyable. The scrolling animation is just so satisfying.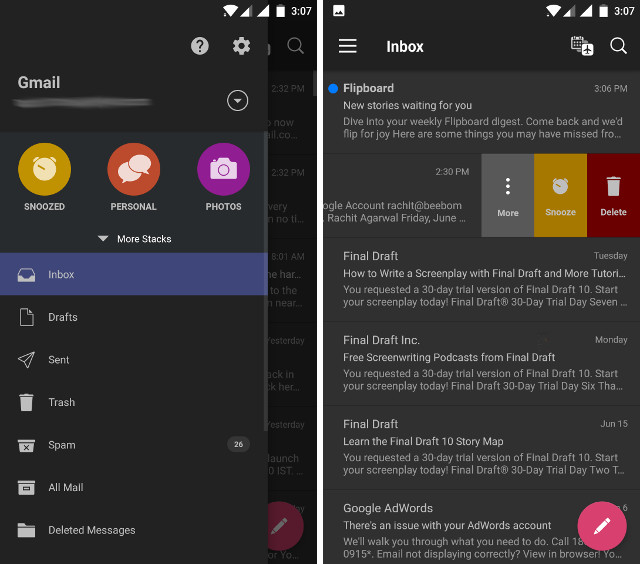 When it comes to features, Alto's set is inferior to none. It has a beautiful dark theme which pairs well with the all over design. It shows your emails in a card-style layout. Swiping left to right on a card will reveal several options such as snooze, archive, and delete among others. These options are also user customisable. One unique feature is the calendar tab, which shows you all your upcoming events and the current weather. You can even add events directly from there.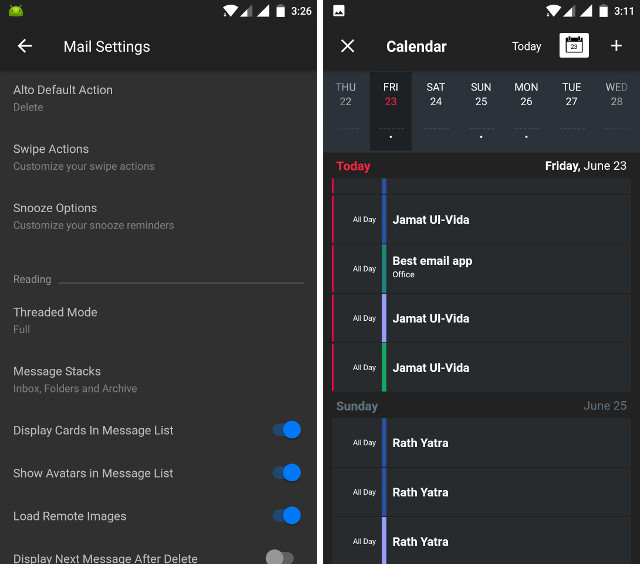 I really love this integration as I do not have to leave my email app to create an event. While creating the event you can even invite other people to join you. But all these features will mean nothing if the app does not sync your email on a real-time basis and sync it does. The sync is crazy fast. I received email notifications faster than my Gmail app could provide me. For me, Alto has become my daily driver and the one to beat.
Install: (Free)
2. Inbox By Google
I would like to make a declaration up front, I have a love and hate relationship with the Inbox app. For some months, I will make it my default email app and love it to death, for others I will just hate using it. My favourite feature of this app is the mail pinning feature. I keep all the emails I need to get back to, in the pinned app category. Other awesome features include mail bundles, which as the name suggests create a bundle for the emails coming from the same source. The smart bundles for Trips, Purchases, and Finance also work pretty well.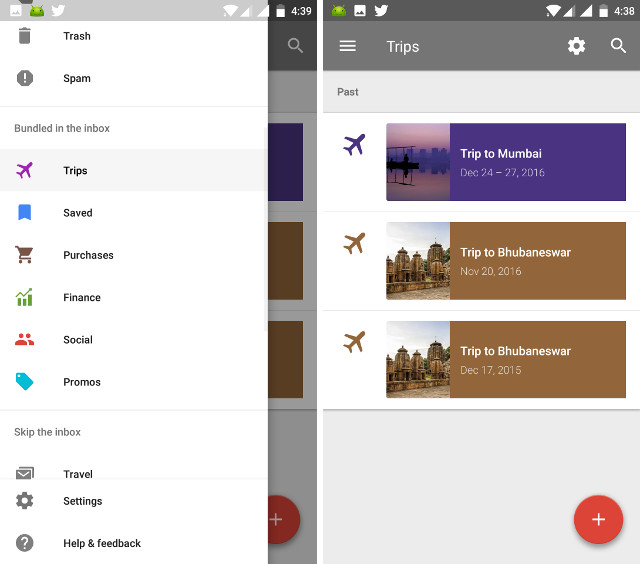 Inbox's approach to email management is a little bit different, and it will take you some time to get used to it. If you are willing to invest that time, this can be the app for you.
Install: (Free)
3. TypeApp
TypeApp is definitely a fun email app. I want to start with telling you guys that I am not a fan of its UI choices, but your opinion may differ. Okay, now to the good stuff. It supports multiple accounts and switching between them is the easiest of all the apps on the list. While snoozing a mail, it gives you a lot more options, a feature I really love. What I like most about the app are the mail icons it assigns to your emails, depending upon whether they have been snoozed or marked read or unread. For example, the snoozed mail shows you a clock icon. The app also supports dark mode which is always a plus in my books. If you are looking for an app, which can show a lot more information in the same area, this one is for you.
Install: (Free)
4. Newton
Newton, which was previously known as CloudMagic alienated its users when it changed its name and adopted a paid subscription model. I understand that feeling because even I used to use this app a lot. But, the app is so good that it deserved a place on this list. The app's tagline does not mislead its users, it does supercharge your email. First of all, it is crazy fast. Every action happens as soon as you tap on the screen. Secondly, it packs a lot of features which are missing in other email clients.
The features include read receipts for your emails (just like WhatsApp), Undo Send, Sender Info and much more. You can schedule emails, snooze them and deal with them in a batch mode if you wish so. If not for its pricing, I would tell you that this is the app to get. The yearly subscription is just crazy expensive for a mail app. If you are someone who really needs these extra features and you can pay for it, go ahead, you won't be disappointed.
Install: ($49.99/year)
5. Nine Mail
If you are looking an email app to handle your business emails, Nine Mail is the best app you can get on Android. Being a true business-oriented app, it only supports business email providers such as Office 365, Exchange Servers, Outlook and G Suite. Personal emails like Gmail is not supported. I like the idea of keeping a separate app just for your business needs. That way, your work emails are available to you separately, making your inbox a little less cluttered. Okay, let's talk about the app itself. The app has a very colourful and beautiful UI with an option to choose the dark mode. You can swipe on the email cards to show different functions. One thing Nine does differently than any other mail app I have used it that it implements full swiping gesture. You do not have to fumble between a half swipe, you can swipe fully to show the options and select the one you want.
It also has nifty filter menu, inside which you can filter emails by attachment, importance, invitations, and much more. The app also comes with an inbuilt calendar, task-creator, and contact manager. They all live innocuously in the bottom layer, coming up only when you need them. The sync is crazy fast and the UI is buttery smooth. If you are looking for a business email client app, this is the one for you. The best part is that Nine doesn't save your passwords or emails on the cloud. Everything is saved on your device itself, making it one of the more secure apps out there.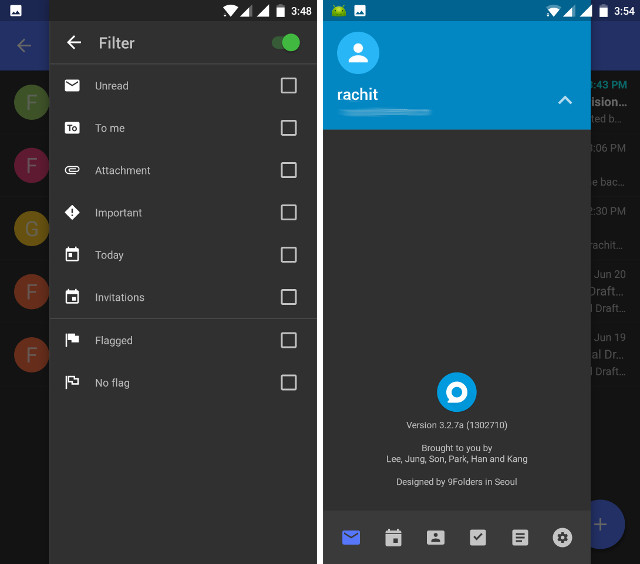 Install: (14 Days Trial – $9.99)
6. Microsoft Outlook
If you are using Windows PC, you know that Outlook is one of the best email clients. After all, it has been developed by Microsoft itself. Outlook for Android is also as good as its Windows counterpart. It handles all the basic things like syncing and sorting of emails pretty well. The app is fluid and never stutters. It also has an inbuilt calendar. I really love the files page where you can see all your attachments. But probably the best feature is that it integrates with all the major cloud services like Google Drive, One Drive, and Dropbox. This allows you to attach files directly from the cloud storages into the emails. You no longer have to download the files. The app is simple and easy to use. It is best for someone looking for a simple yet trusted email app on Android.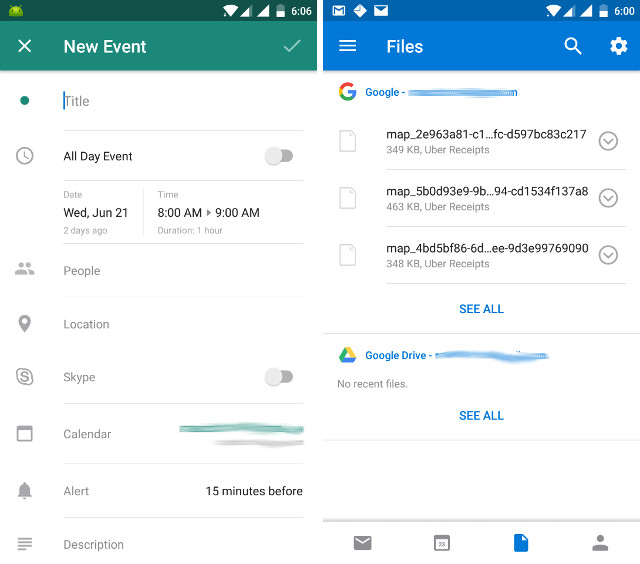 Install: (Free)
7. Email by EasilyDo
This one is pretty straight forward. Think of it as a cross between Gmail and Inbox. It brings the best of both the worlds. Your email feed is shown in a simple card view, with gesture support to perform different functions. However, it also makes use of the Inbox's smart bundles and intelligently hides them in the sidebar which you can access by swiping from left to right. I think this is a good approach, as Inbox's mail feed is what confuses users the most. Email by EasilyDo totally eliminates this problem. Apart from that, the app is responsive, fluid and syncs emails on time. It is definitely a smart and easy to use email app.
Install: (Free)
8. MailDroid Pro
If you like to customize your apps to your heart's desire then this is the app for you. I am personally not a fan of the either the app or its UI. Frankly, the UI seems pretty old. But, the app is really powerful. You can customize every aspect of the app. Hence, there's also a learning curve associated with the app. Your emails are shown chronologically, with each day's mail separate by a block which I think is a nice touch. I personally cannot see myself using this app, but it might be right for you. You can check out the free version which is supported with ads. If you like it then you can buy the pro version which removes ads and adds some extra functionality.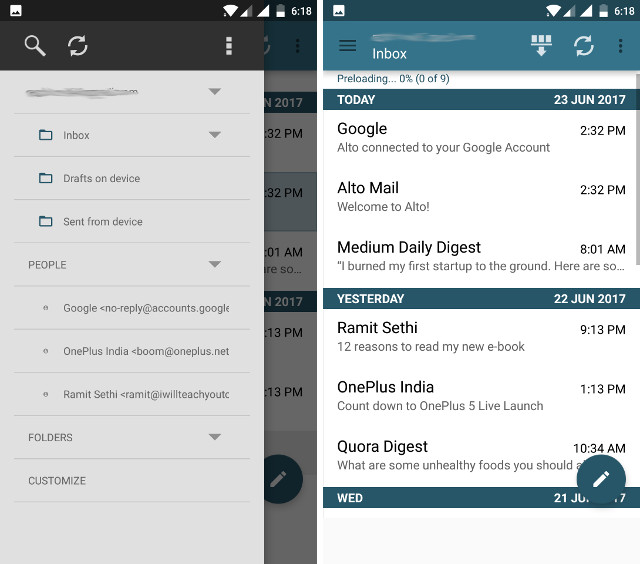 Install: (Free / $6.99)
9. Aqua Mail
Aqua Mail is one of the simplest mail apps out there. There's no bling and no extra features. You get a simple interface which shows all your emails in a card format. You can swipe to perform gestures and that's pretty much it. It has a dark mode which is always a plus in my account. The apps UI is fluid and responsive. However, it does take a little more time to sync your emails than the other apps on this list. The free version of Aqua Mail supports up to two different accounts. If you want to sync more than two accounts, you will have to pay for the pro version of the app.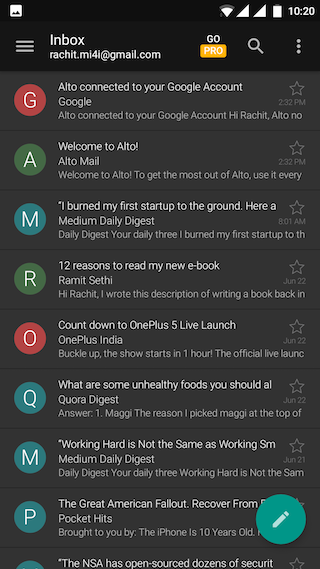 Install: (Free / $4.99)
10. Blue Mail
I do not know who has copied whom, but the Blue Mail app is the exact replica of Type App, with the only difference being some small changes in the UI. Seriously, even the setup process is the same. You see the exact same pages while setting up both the email clients. So much so that I was confused for a moment if I was trying out the same app. So, everything I said about the Type App stands true for this one too. If you do not believe me just look at the screenshots and match them with the ones in Type App. Try both of them and see which one do you like.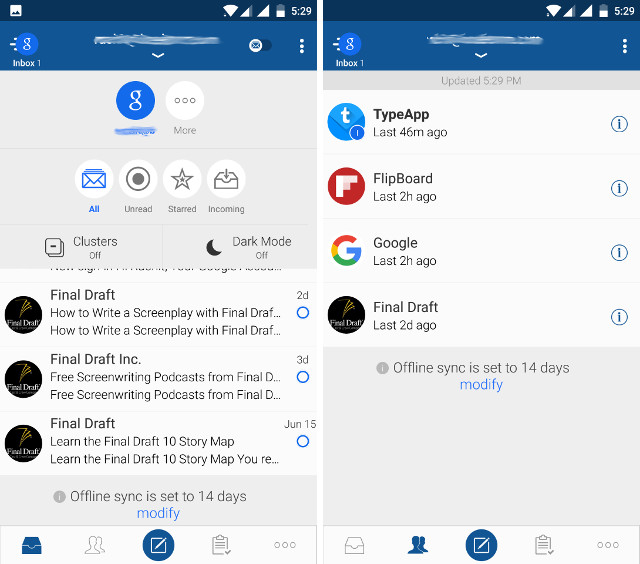 Install: (Free)
SEE ALSO: 10 Best Android Utility Apps You Should Use
Supercharge Your Email With The Best Email Apps for Android
Managing emails can take a lot of your time. You need to set a process which helps you deal with them in an efficient manner. It is important if you want to remain productive. These apps will help you in setting that process and keep following it. Mailbox count zero is the goal here. So, try out these email apps on your Android smartphone and tell us which one is your favourite. Drop your views in the comment section below, we love to hear them.