Reading books on my iPad is one of my favourite things to do when I'm on the go, or sometimes even when I'm winding down after a long day (that, and playing some strategy games). To be honest, I usually prefer reading paper books instead of digital copies of books, but that's a rant for another day. The big benefit of eBooks is that I can carry hundreds of books in one iPad. And if you have a collection of eBooks that you want to read on your iPad and are looking for the best apps to do so, well, look no further. Here are 12 best free ePub readers for iPad and iPhone you can use in 2023.
Best ePub Readers for iPad and iPhone (2023)
There are plenty of options out there for anyone looking to read ePubs on their iOS devices, and almost any of them should be good enough for most people. However, in case you're looking for some more advanced features, or something that the other apps don't offer, we will be looking at some more advanced ePub readers as well.
As always, you can use the table of contents to skip over to any app that you find interesting.
1. Books
First off, I would definitely recommend that you give the Apple Books app a try for sure. It's pre-installed on your iPad, which means it's right there ready to go.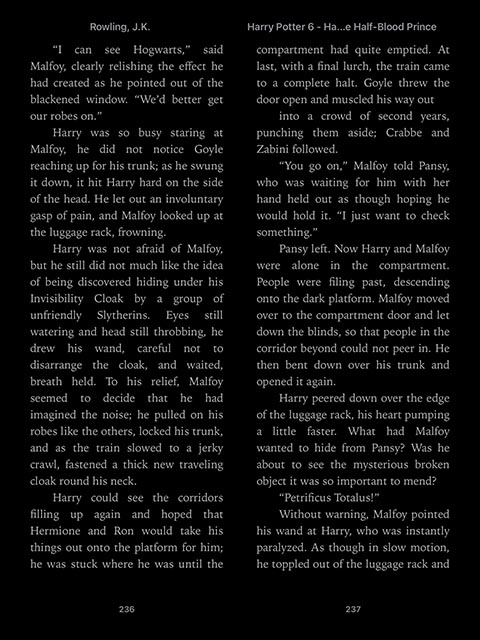 It comes with its own store where you can find books to download and read. Plus, you can obviously sync your own ePub files to the iPad and read them in the Books app as well. The app offers a pretty clean interface with no unnecessary design flourishes, which is great.
Plus, you get a nice dark mode as well, which is perfect for reading at night. There's also a nice page turning animation within the app to give it a more realistic feel. However, you can obviously choose to stop this animation from happening as well.
| Pros | Cons |
| --- | --- |
| Already available on iPad and iPhone | Can't connect to external ePub libraries such as Calibre and others |
| ePub support | |
| Clean design and no ads | |
2. Marvin 3
If Books wasn't the app you were looking for, you should definitely give Marvin a try. Marvin 3 is a widely popular eBook reader for iPad and iPhone. The app brings support for reading DRM-free ePub books. Plus, if you like reading comics and manga, it also supports CBR and CBX comics on your iPad which is great.
Marvin also offers a bunch of extra features that you'd not find in the Books app. You can side-load your own fonts, integrate it with GoodReads, and a lot more. It also offers a Karaoke feature for speed-reading, whole book page numbering, photo explorer, and a fully customizable multi-column mode among a host of other features.
| Pros | Cons |
| --- | --- |
| support for ePub, CBR and CBX | Hasn't been updated in a long time |
| Karaoke feature for speed-reading | Not entirely free, some features are paywalled |
| Customizable | |
| Integrates witih Calibre, OPDS, and other libraries | |
Download Marvin 3 from the App Store (Free, Rs. 449 for premium features)
3. KyBook 3
Yet another one of the best ePub readers for iPad you can check out is KyBook 3. Similar to Marvin, this app also offers a load of features that eBook aficionados will definitely appreciate. For one, the interface here is clean which is something I always appreciate.
Moreover, KyBook offers support for OPDS catalogs and you can choose which catalogs you want to connect with from the Catalog section in the navbar.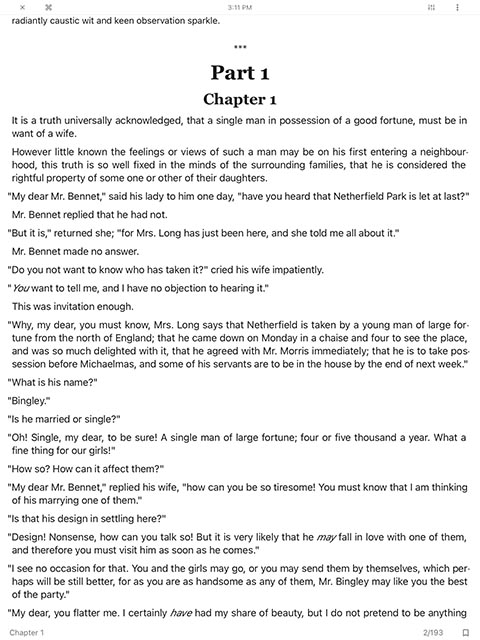 When you're reading a book, you can choose from a variety of page turn animations, or stick with the default infinite scroll setting if that's what you prefer. You also get support for dark mode in the app, along with a bunch of other themes to choose from.
Instead of limiting itself to ePubs, KyBook supports, cbr, cbz, cbt, fb2, mobi, kindle (azw3), and pdf formats as well. So no matter what it is you're trying to read, you should be able to open it in KyBook 3 without any issues.
| Pros | Cons |
| --- | --- |
| Support for a wide range of formats | Reading interface could be better |
| OPDS catalog support | Ads (can be removed with subscriptions) |
| Support for Calibre servers | Lot of pro-features are behind subscriptions |
Download KyBook 3 from the App Store (Free, offers subscriptions)
4. MapleRead
MapleRead is another great ePub reader for iPhone and iPad that is aimed at people who are looking for a really customizable experience with their eBooks.
The app offers features like changing font sizes in ePub files, as well as setting separate fonts for headings and paragraphs. You can also edit the layout of pages, change themes from day to night, and more. There is support for highlighting, collecting vocabulary, and changing the page turn animations.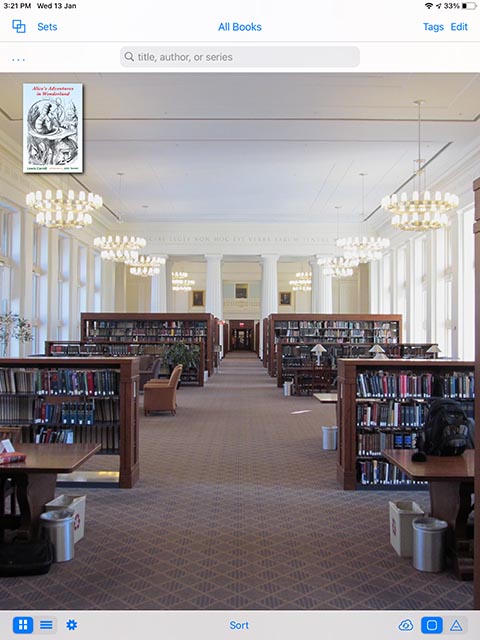 MapleRead also offers a bunch of additional gestures that you can customize as per your requirements. Moreover, it supports OPDS catalogs, similar to KyBook 3. You can also sync your books with the app using a PC, or the Files app on your iPhone and iPad.
However, unless you buy a paid version of MapleRead, you are limited to 5 books on the app. Another thing I don't like much here is the interface which is just dated.
| Pros | Cons |
| --- | --- |
| Lost of customization | Free version is limited to life-time limit of 5 books |
| OPDS catalogs | Interface and design look dated |
Download MapleRead from the App Store (Free, offers pro upgrade)
5. Gerty
You should also check out Gerty for your ePub reading needs. You can use Gerty if you're looking for a free app with features like auto-scrolling on your eBooks. Gerty can also tell you how much longer it will take you to finish a chapter while auto-scrolling.
Gerty also offers an interesting feature called a placeholder book. This is something you can use as a placeholder in your Gerty library for books that aren't in your device but are actually physical books that you own. This way, your Gerty library can represent your entire reading collection, both physical and digital. It's pretty cool.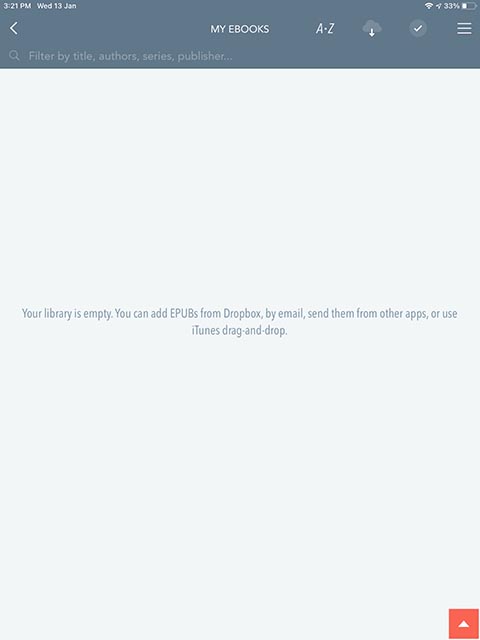 The app also offers reading stats, support for dark mode, export options and a lot more. The only issue I see here is the interface which can be a little confusing to understand.
| Pros | Cons |
| --- | --- |
| Auto-scrolling eBooks | Interface could be better |
| Placeholder books | |
Download Gerty from the App Store (Free)
6. Scribd
Scribd is an app that doesn't need any introduction. It's been widely referred to as the Netflix for Books and for good reason. The app offers an almost limitless supply of eBooks and audiobooks for you to read for a monthly subscription.
Scribd isn't an ePub reader in the typical sense because you can't sideload your own ePubs on this app to read them. However, if you're an avid reader, Scribd should definitely be on your iPad and iPhone for reading eBooks.
It also offers a handy Snapshots feature that provides you with crucial talking points from non-fiction books so you can get a gist of them without reading them in their entirety which is pretty cool.
| Pros | Cons |
| --- | --- |
| Huge catalog of books to read | No sideloading |
| Audiobook support | Subscription only, no free tier |
Download Scribd from the App Store (Free to download, requires subscription)
7. Bluefire Reader
You can also check out Bluefire Reader if you want paid ePub readers for iPad and iPhone that can read DRM protected Adobe content along with the usual ePub and PDF support.
The app supports highlights, annotations, and bookmarking as well, so you can read multiple books at the same time and use bookmarks to keep a track of your progress if you like.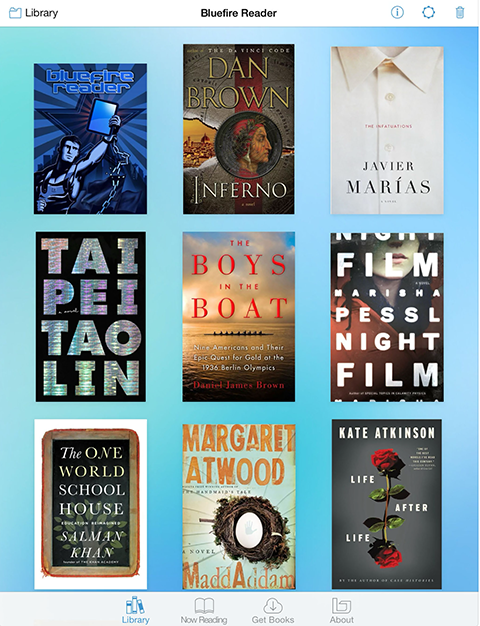 As I mentioned before, this is a paid app, but if you're looking for features such as batch import of ePubs from the iPad Files app, or support for iTunes file sharing etc, this is definitely an app you can consider using.
| Pros | Cons |
| --- | --- |
| Support for DRM protected Adobe files | Paid only |
| Highlight, annotate, and bookmark support | |
Buy Bluefire Reader from the App Store (Rs. 349)
8. Google Play Books
If you love using Google apps, or if you're already in the Google ecosystem courtesy your Android phone, this is an option you should consider. Google Play Books is one of the ePub readers for iPad and iPhone that will let you read your eBooks on your iPad or iPhone as well as on your other Android devices.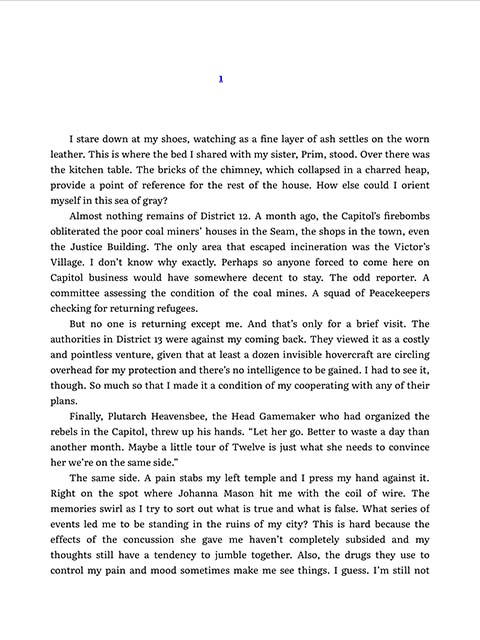 Since Play Books comes with its own store of eBooks and audiobooks to choose from (sort of similar to Scribd, but not really), it also doesn't let you sync your own ePubs to read on the app. If you have a pre-existing ePub library, this isn't the app for you.
It also won't let you use external servers like a Calibre server or an OPDS catalog to get eBooks from.
| Pros | Cons |
| --- | --- |
| Sync across Android and iOS | No support for sideloading ePubs |
| Catalog of both audiobooks and ebooks | No Calibre or OPDS support |
Download Google Play Books from the App Store (Free)
9. Kindle
Kindle readers from Amazon are one of the most popular eBook readers out there, and the Kindle app can let you read eBooks on your iPad and iPhone as well. You will need to sign in with an Amazon account, however.
The app needs basically no introduction because it's pretty much the first eBook reader that comes to mind. The reason this isn't at the top of the list is because it doesn't support ePub files. Instead, you will have to convert your ePubs to AZW3 or MOBI files to read them on the Kindle app.
It's still really good though, with enough reading features to satisfy most users, as well as a dark and light mode so you don't have to strain your eyes at night. Plus, you can obviously get books from Amazon when you need more reading material.
| Pros | Cons |
| --- | --- |
| Huge catalog to choose from | No support for ePub files |
| Supports adding other eBooks | |
Download Kindle from the App Store (Free)
10. Kobo Books
If you're more of a Kobo reader person than a Kindle person, there's a Kobo Books app as well. Once again, since this is both an eBook reader and store app, you won't be able to side-load just any ePub file you have here. However, you can look through the huge catalog of books available from the app.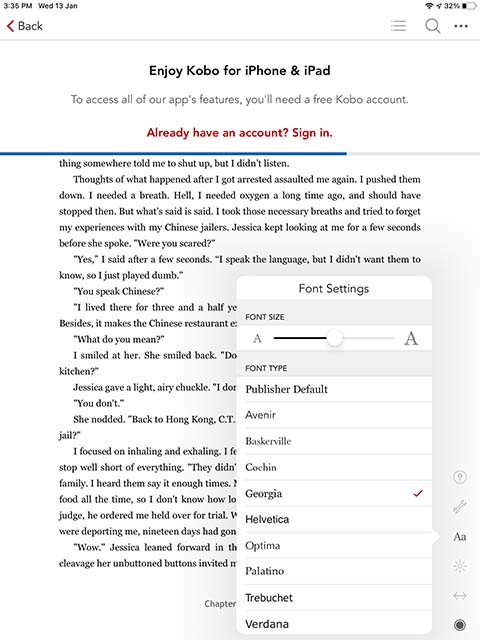 There are both free and paid books here, and what's more, you can start reading the free ones without creating an account as well. There are a bunch of features, including a dictionary that pops up when you long press on a word along with features like page transition animations, reading themes, and a variety of fonts to choose from.
| Pros | Cons |
| --- | --- |
| Clean design | No support for adding external ePub files |
| Start reading without an account | |
| Built-in dictionary | |
Download Kobo Books from the App Store (Free)
11. PocketBook Reader
Another great eBook reader for your iPad, PocketBook Reader offers pretty much every feature you can ask for in an eBook app. It supports over 26 different file formats, including the most popular ones such as MOBI, EPUB, FB2, PDF, DJVU, and more. Plus, if you're a comic book lover, you'll be really happy to know that the app also supports CBR and CBZ formats for all your comic book reading needs.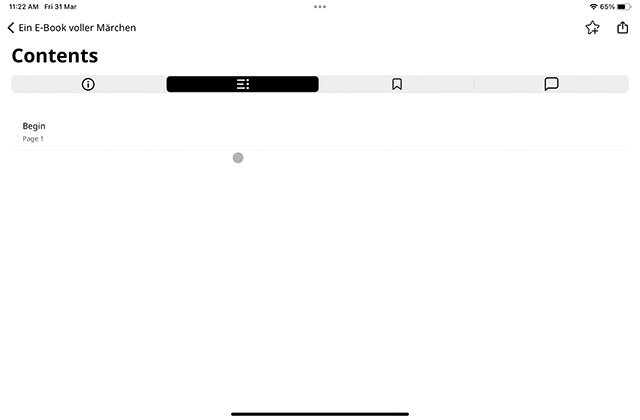 Apart from that, you can sync your eBooks from Google Books and Dropbox. It also supports OPDS catalogs so you can easily access network libraries on your iPad, and a ton of personalisation options. The app can open Adobe DRM protected books as well.
| Pros | Cons |
| --- | --- |
| Support for 26 book and audio formats | Can sometimes encounter issues opening some files |
| Can open Adobe DRM protected files | |
| Support for OPDS catalogs | |
Download PocketBook Reader from the App Store (Free)
12. Epub Reader
The very aptly named "Epub Reader" is another eBook app you can check out. The app comes with a relatively simple UI, but it does look at tad outdated when compared to some of the other offerings on this list. However, when it comes to features, Epub Reader doesn't drop the ball. It supports opening CHM, EPUB, PDF, and RTF files so most of your needs should be covered. However, while the app does support formats such as CBZ and CBR as well, it unfortunately doesn't offer support for MOBI files.
On the other hand, Epub Reader can open compressed files in the ZIP, RAR, 7Zip, and TAR formats as well. You can take notes while reading your favourite books, add bookmarks, customise the font size for comfortable viewing, and more. Plus, you can add your eBooks using the web browser or via iTunes file share as well.
| Pros | Cons |
| --- | --- |
| Support for popular eBook formats | No support for mobi files |
| Can open compressed files as well | No OPDS catalog support |
Download Epub Reader from the App Store (Free)
Bonus: Use Overdrive to Borrow eBooks from Libraries
A lot of libraries these days offer their books as digital copies to members. If you've been a library goer (like me) and you miss borrowing books from the library and reading them, you should check out Overdrive. This isn't strictly an ePub reader for iPad or iPhone, but it's close.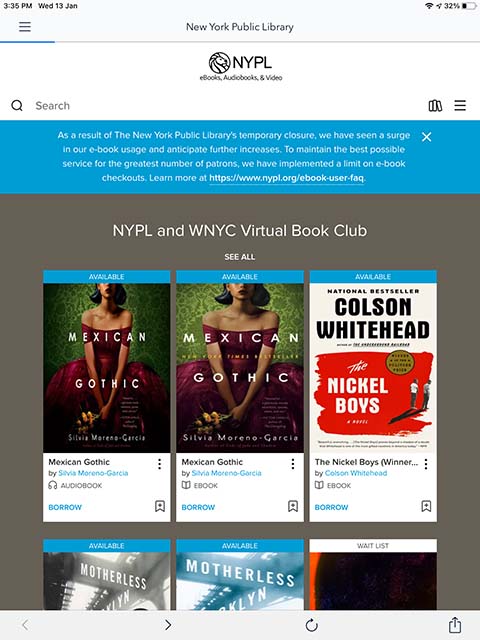 This free app allows you to add library systems to your catalog and read books from their collection. Obviously, you will need to be a member of the library you're trying to borrow books from, but this is a great way to support your favourite libraries, while also getting access to their collection of books and novels.
Download Overdrive from the App Store (Free)
Best ePub Readers for iPad to Get Your Reading Fix
There are a lot of eBook readers out there, however not all of them support ePub files. Take Kindle for example, it's one of the most popular eBook readers but it only supports AZW3 formats and MOBI formats. However, there are ePub readers that support those formats too, making them a better choice for reading apps on your iPhone and iPad.
So, which app are you planning on using for reading ePubs on iPad and iPhone? Let us know in the comments below.
---
Load More