As an audiobook app, "Audible" represents the gold standard in the seemingly crowded market. With over 400,000 audio programs from well-known publishers, broadcasters, and entertainers, the world's largest producer of downloadable audiobooks is a one-stop-platform for bibliophiles. While almost everything about this feature-rich app sounds pretty good, the expensive price tag that stands at $14.95/monthly makes it a bit too far-fetched for normal users. Moreover, as compared to some of the noted rivals, its user interface is a bit confusing. So, whether you are looking for a reasonably good audiobook app at a much lower price or willing to have access to tons of audiobooks without having to spend any bucks at all, we have dished out the best Audible alternatives which you would love to try out in 2019.
Best Audible Alternatives You Can Try
It's always better to take a close look at needs before exploring options:
Which Audiobook App Would be Better for You?
Let's put it straight, the choice of your favorite audiobook app entirely depends on two main aspects: your reading taste and budget. If you are a bibliophile, look for the apps that have both a massive library and offer books in a wide range of genres. But if you listen to audiobooks only once in a while, go for the cheaper or free alternatives to Audible. In the following roundup, we have picked a variety of apps so that both passionate and casual audiobook listeners can find the right app that can seamlessly fit into their needs. With that said, let's explore the best apps like Audible!
List of Apps Similar to Audible
1. Kobo Books
"Kobo Books" is the sort of app that has always been one of my top picks (and a personal favorite) for many reasons. First and foremost, the app has a good enough audiobook library which always seems to have exciting items waiting for your attention. The second, the app has got an elegant-looking interface which makes for an excellent audiobook listening experience. As a bibliophile, that's exactly what you would like to have to enjoy listening to your favorite books to the fullest.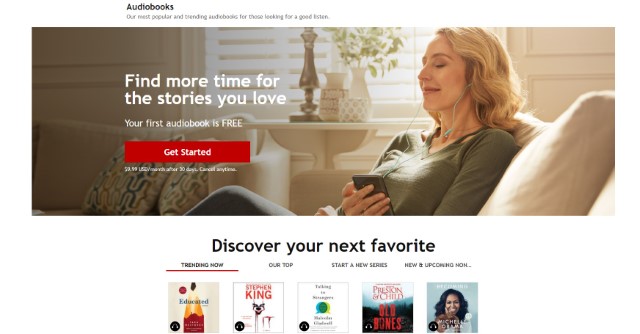 Lastly, the Kobo Books offer a cheaper price than Audible. At just $9.99/month, it is considerably cheaper than the latter. Also, Kobo Books  lets you buy additional credits which means you can buy more audiobooks at the cheap price of $9.99 which is just awesome.
For the folks who like to customize their audiobook apps, they would appreciate several notable features that make for a more personalized experience. Oh yes, it has also got a super handy night mode so that you can explore your collection comfortably at night. Considering its better pricing strategy along with its customiziability, this one is one of the best audible alternatives that you can use right now.
Pros: 
Good enough library of audiobooks
Elegant-looking interface
Better pricing strategy
Cons: 
Recommendations aren't up to the mark 
Doesn't offer much original content as Audible
Platform Availability: iOS and Android
Pricing: 30-day free trial, $9.99/month 
Visit: Website 
2. OverDrive
If you are student or a valid member of a supported library, then Overdrive can help you listen to your favorite audiobooks for free. Over 30,000 libraries worldwide use Overdrive to provide their users with an easier book lending platform. To take advantage of Overdrive, you need to have a valid account with a participating library, school, or any institution. Once you are approved, you can listen to all the audiobooks titles that are on offer for free.
Besides, you also get the option to share the suggestions about the books you would like to listen to. What's more, you can create a wishlist of all of your favorite books and be able to return titles with ease. As titles are returned automatically, you don't have to worry about late fees. Just like Audible, OverDrive is also available on a wide range of platforms like iOS, Android, Windows and more. So, if you are hunting for a free alternative to Audible to listen to great audiobooks you should check out Overdrive.
Pros: 
Over 30,000 libraries supported
Create a wishlist of all the books
Use the app for free
Cons: 
The audiobook library is not that extensive
Popular books have a long waiting period
Platform Availability: iOS, Android, Windows, macOS, Chromebook, Kindle Fire HD, and Chrome Web Store 
Pricing: Free
Visit: Website 
3. Google Play Books
No matter what suits your taste better, keeping "Google Play Boofks" out of sight when you want to have the best Audible alternatives would be nothing but blunder. Though the app always had arguably the largest collection of ebooks (as of 2013, over 5 million), the tech giant has slowly but steadily compiled a colossal library of audiobooks.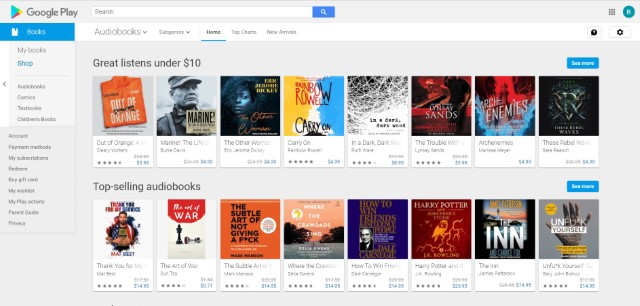 When it comes to personalization, "Google Play Books" leaves Audible behind in the race. The app keeps a track of what interests you the most or the sort of content that always catches your attention first and offers recommendations accordingly. Thus, every time you want to read or listen to something great, you can easily find the desired book.
While exploring the library, you can also take notes that are automatically synced with Google Drive. Therefore, you can seamlessly collaborate with your audiobook buddies. Just like Audible, Google Play Books also offer audiobooks in multiple languages. The best part about Google Play Books is that since it's already configured to your region, it offers better local language options.
Talking about the audiobook library, since Google doesn't mention the number of available titles like Audible, I went ahead and search for 20 of my favorite titles. I found them on both the services, so there was no problem there. So, I don't think you should have any problems in that regards here. Overall, I found the Google Play Books to be quite powerful and consider it to be one of the best Audible alternatives on the market.
Pros: 
Better user interface (less clutter)
No subscription pricing
Books are always under heavy discounts
Cons: 
No original titles like Audible Originals
Sometimes you have to buy books at full price as there is no monthly credit system like Audible
Platform Availability: iOS, Android, Chrome, and Web
Pricing: No subscription pricing (You have to buy books individually)
Visit: Website 
4. Scribd
Boasting an ever-growing collection (one million titles) of e-books, audiobooks, magazines, and more, "Scribd" has always been one of the best audiobook apps in the market. So, you shouldn't be surprised to see it in this coveted lineup. Whether you have a penchant for science fiction or love to explore travel, the app offers bestselling and popular audiobooks in a wide range of genres just like Audible.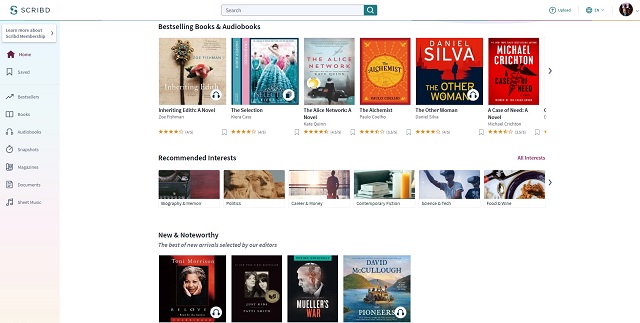 If Audible claims to have an exceptionally intuitive UI, Scribd is not behind in the battle either as it also has got pretty impressive user-interface that offers plenty of customization. Therefore, you can ideally personalize this audiobook app to suit your taste better. Based on your convenience, you can also customize the narration speed. And if you have a habit of listening to your favorite books at night, do not forget to set a sleep timer so that the app automatically stops playing audiobooks at the set time.
Like Audible, Scribd allows you to download audiobooks as well so that you can comfortably listen to your favorite books even offline. As someone who prefers more personalization, I have found the latter a touch better. It allows you to make notes and also create cool annotations. Moreover, you can even customize the font size and choose a nice background color to bring some fun elements into the mix.
As for price, Scribd comes at $8.99 that is a lot cheaper than Audible. Overall, if you are looking for a cheaper Audible alternative without compromising on quality or the number, it can certainly be a smart pick.
Pros: 
Pretty impressive user-interface
Offers bestselling and popular audiobooks in a wide range of genres
Customize the narration speed
Set sleep timer
Cons: 
Restrictions on some titles 
Platform Availability: Android, iOS, and Web
Pricing: 30-day free trial, $8.99/month 
Visit: Website 
5. Audiobooks
If your priority lies with nothing but top-notch audiobooks, you shouldn't miss out on this audiobook app that has long been a strong competitor to Audible. Having a pretty solid library of over 150,000 titles, the app has got both the high quantity and quality to win you over. Aside from offering tons of audiobooks in a variety of genres, the app also provides a great collection of kids and family-friendly audiobooks. So, if Audible's catalog doesn't seem to live up to the expectation of your family, I would recommend you check it out.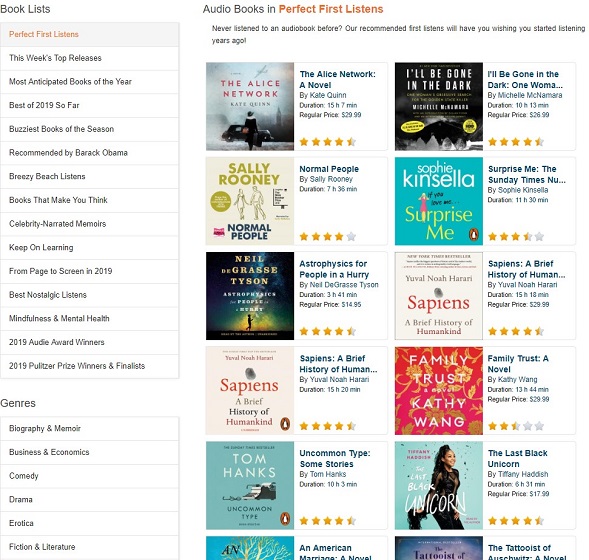 Beyond the impressive library, Audiobooks also stacks up nicely against Audible as far as personalization is concerned. For instance, you can ideally customize the interface, use sleep timer and also download your favorite items to catch up with them at your own pace. Apart from audiobooks, the app has also got a huge roster of podcasts (over 700,000). So, if you are searching for a similar app like Audible that can let you listen not only audiobooks but also podcasts, you would be hard-pressed to find a better option. I bet.
As for price, both Audible and Audiobooks are neck and neck. Though the high price slightly puts it at a disadvantage position and also away from the reach of the mainstream.
Pros: 
High-quality audiobooks in a variety of genres
Provides a great collection of kids and family-friendly audiobooks
Over 700,000 podcasts 
Cons: 
Platform Availability: iOS and Android
Pricing:  $14.95/month 
Visit: Website 
6. AudiobooksNow
When it comes to offering a compelling price-to-value proposition, "AudiobooksNow" can outshine many of its opponents including the much-vaunted Audible. So, don't forget to try it out if you want to have the best of both worlds: great collection of audiobooks (over 120,000 titles) and a much lower price.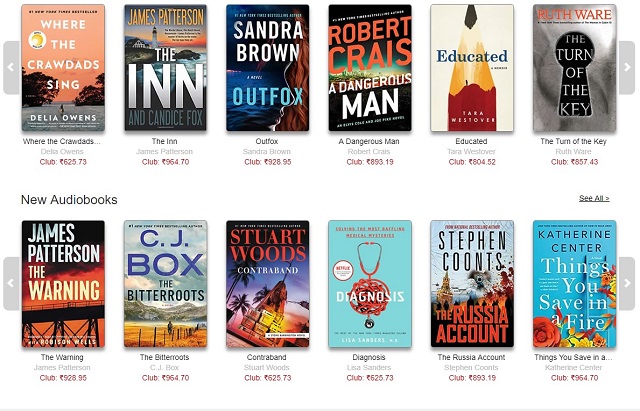 The app provides notable bestselling titles in both fiction and non-fiction. Like Audible, it also allows you to fine-tune the interface for an enhanced listening experience. For instance, you get the option to set a timer, choose your preferred speed and also download audiobooks for offline listening. Furthermore, it also suggests books based on what you enjoy listening so that you always have something nice to catch up during a fun-loving road trip or a long commute.
When it comes to pricing, AudiobooksNow handles it a little differently from Audible. Instead of using the Audible credit system which gives you access to a free audiobook every month, AudiobooksNow allows you to buy a book every month at 50% off. You can also combine different books and club them to buy them at discounted price. While Audiobooks Now call it a simpler pricing system, I find the Audible's pricing easier to understand.
That being said, this is a really good Audible alternative so you should definitely check it out. And who knows, you might even like its pricing strategy better.
Pros: 
Over 120,000 titles
Bestselling titles in both fiction and non-fiction
Competitive price 
Cons: 
May not suit those who want to explore several different genres 
Platform Availability: iOS, Android, Nook, Kindle Fire, and Web
Pricing: 30-day free trial, $4.99/month 
Visit: Website 
7. Apple Books
If you are deep into the Apple ecosystem and are looking for a reasonably good audiobook app that can rival Audible on most fronts, look no further than Apple Books. The app is not only feature-packed but also robust enough to cater to your audiobook listening or book reading needs. Whether it's a large selection of mysteries or the ever-increasing catalog of thrillers, it has you fully covered pretty much like Audible.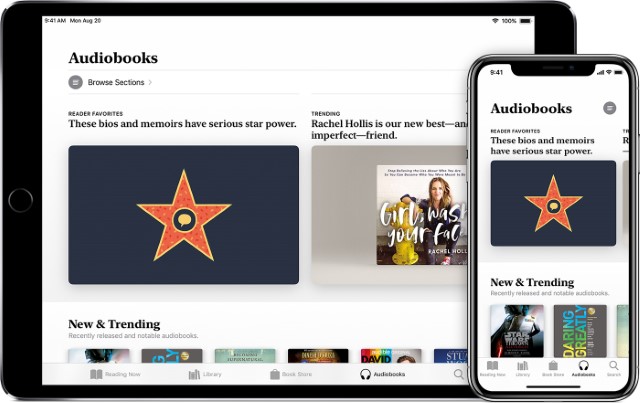 Not to mention, the app also provides curated collections depending on what interests you the most. To help you easily keep track of the books that are trending, the app has a Top Charts section where you can access all the popular books and audiobooks. As someone who always likes to have plenty of customization, I must say that Apple's offering seems to be up to the mark as compared to Audible.
The app lets you organize your library in a way that works best for you. What's more, unlike Audible, it keeps a close watch on your listening/reading and offers better insight. Moreover, it also motivates you to enhance your reading habit. Finally, I also love the clean user interface of the app. If you are an Apple user, then this might be the best Audible alternatives for you – whichever way you look at.
Pros: 
Curated collections
Help you improve your reading habit 
Plenty of customizations
Cons: 
Restricted to Apple ecosystem
No original content as Audible Originals
Platform Availability: iOS and macOS
Pricing:  No subscription required (Buy your books as you go)
Visit: Website 
8. Downpour
For a seamless audiobook listening experience, you can't go wrong with "Downpour".  Just like most of its counterparts including Audible, it has also got an appreciable library of over 80,000 titles which promises to have something unique for everyone. The app offers some of the finest classics such as Pulitzer, Nobel, Man Booker, PEN/Faulkner, Hugo, and National Book Award winners which would be an excellent pick for those who have rich taste.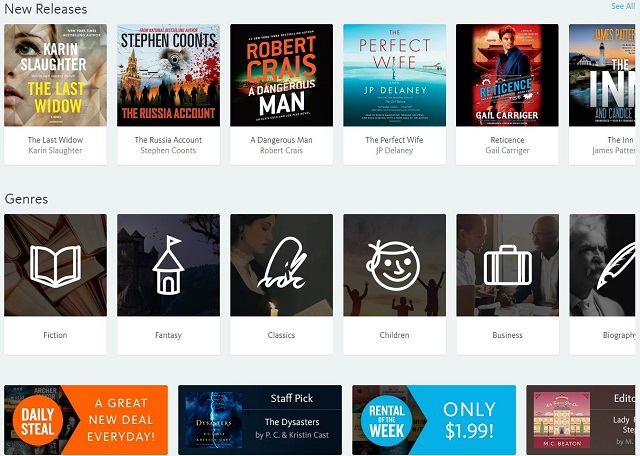 Aside from the fairly good catalog, the app has taken care of the basics pretty well. For instance, you can create your wishlist of items that you would like to listen to later. Ensuring the audiobooks stay in line with your taste, it enables you to fine-tune the speed and also offers a fully integrated sleep timer so that you can fall asleep with your favorite story.
Furthermore, there is also an option to add a quick note so that you don't forget important parts. In a nutshell, Downpour is a fairly good alternative for the folks who are fond of the world's great classics.
Pros: 
Over 80,000 titles
Offers some of the finest classics
Create your wishlist of items
Cons: 
Don't have as big a library as some of its noted rivals 
Platform Availability: iOS, Android, and Web
Pricing:  $12.99/month 
Visit: Website
9. Libby
Well, if you have loved OverDrive, chances are pretty high that you may also like "Libby" which is from the same company. Just like its sibling, it is also blessed with a mammoth collection of ebooks and audiobooks. And, if you succeed in getting a valid card of a library, you will have access to tons of books to read and listen to. To ensure your audiobook listening never comes to an unexpected halt, the app (like its famous counterpart) lets you download all of your favorite audiobooks.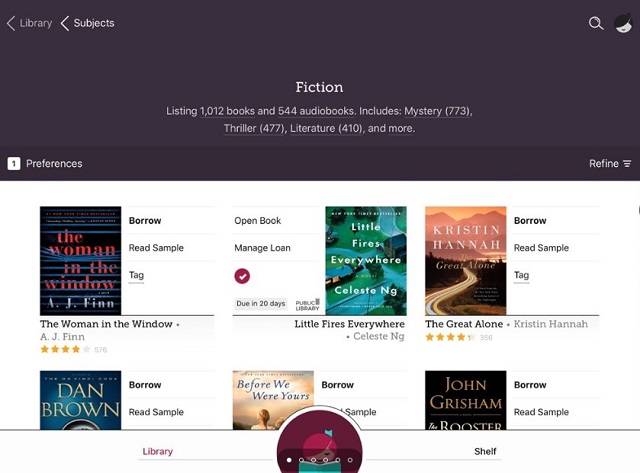 On the customization front, Libby has got the adorable features to hold the fort against Audible. So, if you always look for a personalized experience, it won't disappoint you. When it comes to synchronization, it's up to the task. Everything from your loans to bookmarks to reading positions is synced across the devices so that you can seamlessly move from one device to the other without giving a long break to your audiobook listening. Moreover, you can make the most of it without doling out many bulks which makes it a much better option for the folks who find Audible rather expensive.
Pros: 
Personalized experience
Free to use
Good user interface 
Waiting time for popular titles
Cons: 
Must need a valid library card
The audiobook library is smaller
Platform Availability: iOS, Android, and Windows 
Pricing:  Free 
Visit: Website 
10. eStories
As someone who has an insatiable penchant for fiction, "eStories" has looked really impressive to me. So, if you are also charmed by fiction, I would recommend you to keep it in mind. The app lets you choose from more than 110,000 fiction and non-fiction audiobooks which have got both variety and quality to compete with Audible on many fronts.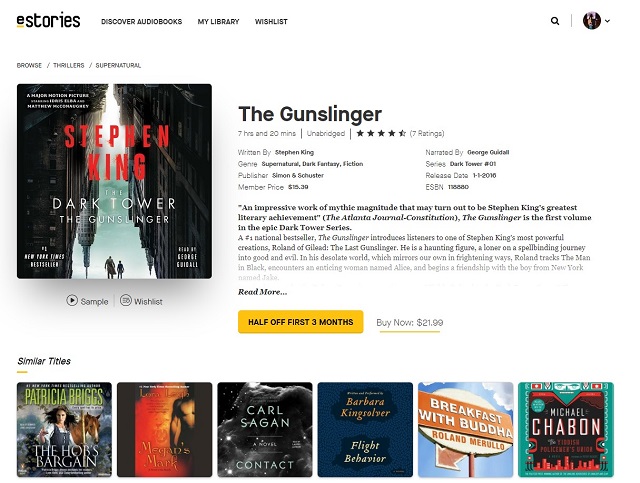 As most audiobooks are DRM-free, you have the option to download books and play them on any MP3 players – which is yet another plus from a flexibility point of view. It also adds several new releases weekly so that your queue always looks rich.
Quality-wise, eStories' new releases are more than decent, though they aren't at par with Audible's offerings. But there is one department where I find it more user-friendly – unlimited free audiobook cloud storage that lets you store your books. So, if are in search of an app that can let you create a huge collection of audiobooks, it should be your pick.
Pros: 
More than 110,000
Offers new releases every week 
Unlimited free audiobook cloud storage
Cons: 
Lacks seamless experience 
The app feels a bit clunky 
Platform Availability: iOS, Android, Amazon FireTV, Chromecast, Apple TV, and Roku
Pricing: 30-day free trial, $11.99/month
Visit: Website 
11. LibriVox
Though nowhere near as versatile or popular as Audible, "LibriVox" is worth checking out, especially when you want to have a fairly good library of audiobooks at your disposal without spending any bucks. The company claims to have over 50,000 audiobooks including the best-sellers in several different genres novels, history, biography, short stories, poetry and more in well over 30 languages.
As compared to Audible's interface, LibriVox looks a bit less appealing. Besides, it also doesn't seem to offer much customization. As for the quality of audiobooks, they aren't always great. However, you are guaranteed to get them all for free due mainly to thousands of volunteers who produce books with a lot of passion.
Overall, the company produces around 1000 items in a year, which may not be a big number for die-hard audiobook lovers but they would certainly be more than enough for normal audiobook listeners. Considering all the pros and cons, LibriVox has got enough quality to find a safe place in your roster of free Audible alternatives.
Pros: 
Over 50,000 audiobooks
Produces around 1000 items in a year
Support more than 30 languages 
Cons: 
Many audiobooks are too old
Audiobooks lack the premium quality that Audible offers
Platform Availability: iOS, Android, and Windows
Pricing: Free, in-app purchases available 
Visit: Website 
12. storytel
Frankly speaking, I have specifically chosen "storytel" for Indian users who are in quest of an affordable Audible alternative. The app has a solid library of thousands of audiobooks and ebooks in multiple languages including English, Hindi, Marathi, Bengali & Urdu. As for variety, storytel is just up to the mark, though it can't compete with what Audible has to offer.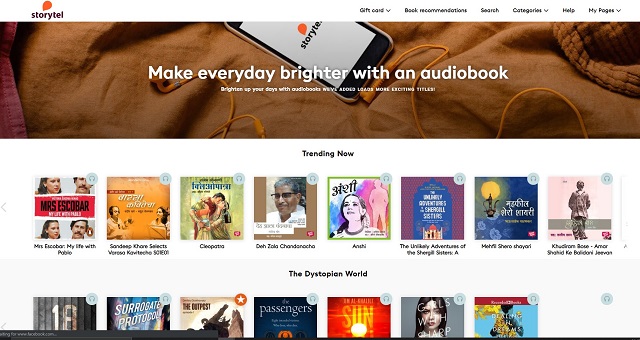 Interface wise, it looks pretty clean and provides very helpful personal recommendations. Users can adjust listening speeds, make important notes and also share the recommendations with others. There is a "Kids Mode" so that children can explore the entire collection and pick out their favorites. Moreover, it also offers offline functionality to make sure seamless audiobook listening continues even when there is no internet connection.
Pros: 
Thousands of audiobooks and ebooks in multiple languages
Kids Mode
Offline functionality
Cons: 
Platform Availability: iOS, Android, Windows, and web
Pricing:  14-days free-trial, Rs. 299/month
Visit: Website 
SEE ALSO: 15 Best Free Music Apps for Android and iPhone
Pick Out the Best Audible Alternatives
Hopefully, your long hunt for a similar app like Audible has finally come to an end – on a good note. With so many impressive options at the disposal, choosing the right one for your great audiobook listening experience shouldn't be a big deal. Now that the deal is done, let me know your pick and the things that you have found adorable in it.