Smartphone cameras are ever evolving and while they cannot match up to DSLR standards yet, they are coming close. Among the various camera technologies that have arrived in various smartphones in the recent past, the most impressive of them all is the dual camera tech. While dual camera setups have been part of older smartphones like LG Optimus 3D and HTC One M8, it's only now that dual cameras are part of many smartphones. So, if you have been wondering about the best phones that pack in a dual camera, we have you covered. Here is a list of the 7 best dual camera phones you can buy:
1. Apple iPhone 7 Plus
When Apple unveiled the iPhone 7 and iPhone 7 Plus, the Cupertino giant put a lot of emphasis on the cameras in the new iPhones, especially the iPhone 7 Plus. The device features a 12 MP wide-angle camera with 6-element lens, f/1.8 aperture and a Telephoto camera with f/2.8 aperture, which offers 2x optical zoom that results in some great photos. It comes with a portrait mode, which lets you capture DSLR-like portrait shots with the bokeh effect. There's also Optical Image Stabilization, Quad-LED True Tone flash and 4K video recording support.
Overall, the iPhone 7 Plus is the best camera phone you can buy right now. It takes some great shots & videos and it's one of the best smartphones you can buy right now. However, as it's with the iPhones, it is quite pricey.
Buy: (starts at $769)
2. Huawei Mate 9
The Huawei Mate 9 has been here for quite some time now but it has garnering a lot of news, thanks to being the first flagship Huawei smartphone to launch in the US and of course, the Amazon Alexa integration. The Huawei Mate 9 is a solid device and it packs in some impressive dual cameras by Leica. The camera setup features a 20 MP monochrome and a 12 MP RGB lens, with f/2.2 aperture, OIS, BSI CMOS, dual-tone LED flash, and Laser & Depth autofocus sensor. So, yes, there's a lot of stuff packed in, and that results in some great bokeh and low light shots. And since it has a dedicated monochrome camera, it also captures some great B&W photos. There's also 4K video recording support and top of the line specs, which makes the Mate 9 a great smartphone camera offering.
Buy: ($599)
3. Huawei Honor 6X
The Huawei Honor 6X is one of the best budget smartphones out there and it packs in a decent dual camera setup. There's a 12 standard lens and a 2 MP lens for depth perception, with Phase Detection autofocus and an LED flash. Thanks to dual cameras, you can take photos with a bokeh effect on the Honor 6X. The camera app in the device also features a wide aperture mode, which lets you choose from an aperture range of f/0.95-f/16. On the video front, it is limited to recording only 1080p videos but in this price range, that's the best you can get. Other than the cameras, the Honor 6X packs in some great specs for its price and if you are looking for a great phone with dual camera and an affordable price tag, the Honor 6X should be a good buy.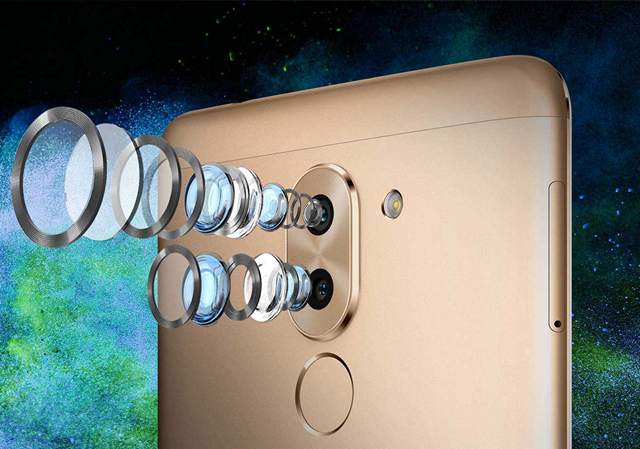 Buy: ($249.99)
4. LG V20
The LG V20 is another popular smartphone that packs in dual cameras. The high-end smartphone from the South Korean maker packs in a standard 16 MP sensor with f/1.8 aperture along with an 8 MP wide-angle sensor with f/2.8 aperture, which lets you capture photos in 135-degree perspective. The dual camera setup not only lets you capture wider frame but also better low light shots. That's not all, as the device also packs in advanced OIS, laser autofocus and a dual-tone LED flash. Plus, the V20 comes packed with various editing tools, manual controls in the camera app, so you can make the most out of the camera.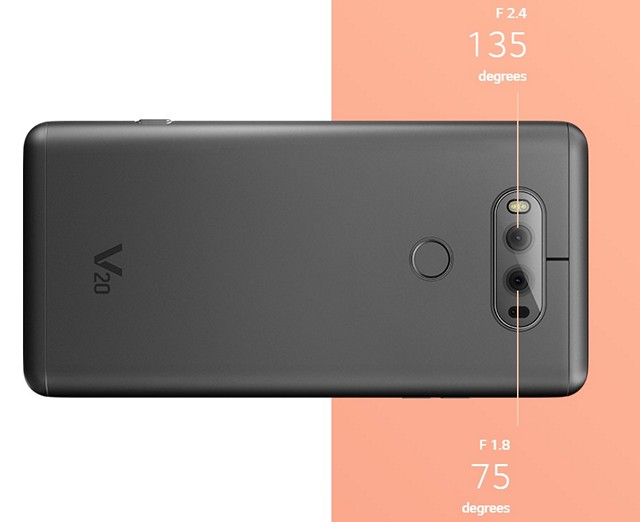 There's 4K video support and the device packs in some great audio recording capabilities. It features three mics and four digital-to-analog converters, which result in great clear 24-bit sound recordings. Then, there's the cool secondary display, which sweetens the deal.
Overall, the LG V20 is the phone to get, if you are looking for a dual camera Android smartphone with great audio recording capabilities. The LG G5 also packs in dual cameras, but with the LG G6 upcoming, it's a bit outdated.
Buy: ($799.99)
5. ZTE Blade V8 Pro
The ZTE budget smartphone is the most affordable smartphone with a dual camera. It features a 13 MP + 13 MP camera setup, with phase detection autofocus and dual LED flash. Thanks to the dual camera setup, the device offers great shutter speeds and lets you capture photos with the much loved bokeh effect. You can even adjust the bokeh effect, as per your desire and since one of the cameras is a monochrome sensor, there's a monochrome mode as well. Also, there's the option to control the brightness of LED flash from 7 different levels. The device also lets users change the aperture to capture a wider or narrower frame, which is cool. The photos taken from the Blade V8 Pro are great, considering the price and it also supports 4K video recording.
Apart from the cameras, the ZTE smartphone is a solid smartphone with some great specs, making it a great value for money offering. To sum things up, the ZTE Blade V8 Pro is the perfect dual camera smartphone to get, if you are on a tight budget.
Buy: ($229.99)
6. Asus Zenfone 3 Zoom
The Asus Zenfone Zoom garnered a lot of attention, thanks to its camera and its successor, the Asus Zenfone 3 Zoom is no different. The new smartphone announced at CES 2017, betters the Zenfone Zoom in almost every aspect. In fact, the device is packed with great camera advancements. The device features two 12 MP cameras: one is a wide-angle lens, with f/1.7 aperture and Asus' SuperPixel technology, which lets you capture some amazing low light photos and the other is a camera lens that offers 2.3x optical zoom. You can easily switch between both the cameras or you can combine them to get depth-of-field aka bokeh effect in portrait photos.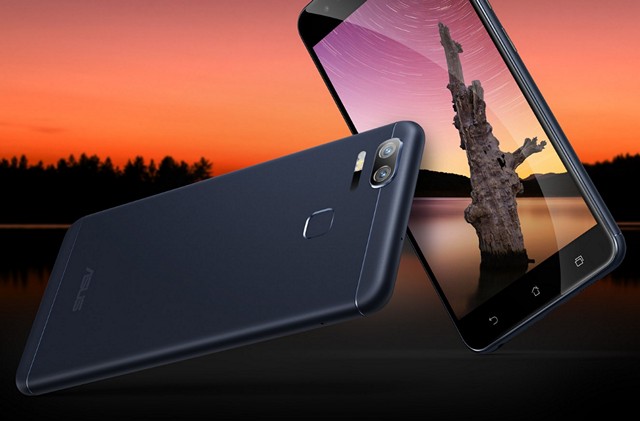 There's also phase & laser detection autofocus, OIS & EIS, RGB color correction sensor, 4K video recording support, 6-element lens and a dual-tone LED flash. The company claims that Zenfone 3 Zoom captures better photos than the iPhone 7 Plus and while the specs do make us believe that, we'll have to see if it's indeed true, as the device is supposed to be launched later this month. Apart from the cameras, the Zenfone 3 Zoom is a decently powered device but obviously, the focus here is on the cameras. We'll suggest you to wait for the device because it does promises to offer some great camera performance.
Buy: (Upcoming)
7. Lenovo Phab 2 Pro
Chances are, you've heard of the Lenovo Phab 2 Pro, the first Google Tango enabled phone and while it does not pack in dual cameras in the traditional sense, it does pack in an additional camera unit. Along with the 16 MP camera sensor that features phase detection autofocus and dual-tone LED flash, there's a wide-angle camera with a fish-eye lens  to support the device's motion tracking system. While the secondary camera is not used to capture photos, it does come in handy with various augmented reality apps. However, if you'd rather get a dual camera phone that captures photos with both the lenses, you can get Lenovo Phab 2 Plus, which is pretty much identical to the Phab 2 Pro, but for the Google Tango hardware.
Buy: ($449.99)
SEE ALSO: 18 Essential Smartphone Accessories You Can Buy
The Best Phones with Dual Cameras You Can Buy
You must have noticed that we have given phones like Huawei P9 and Xiaomi Redmi Pro, that pack dual cameras, a miss. Well, that's because their successors, the Huawei P10 and the Redmi Pro 2, are rumored to be arriving soon. The conclusion is, all things considered, the aforementioned smartphones are definitely the best dual camera phones you can buy right now. So, which dual camera phone are you going to buy? Which one is your favorite? Let us know in the comments section below.