For the past few years, Augmented Reality has been a dream but it's finally becoming a reality (no pun intended). The Pokemon Go game became a rage, with people appreciating its AR mode and now, Lenovo has come out with its first Google Tango smartphone, dubbed the Lenovo Phab 2 Pro. Google Tango has been a project that the folks over at Google's Advanced Technology and Projects group have been working on for the past few years but it's only now that the project has seen the light of day in full fledged form. So, if you have always wanted to see how dinosaurs would look like standing next to you or if you want to see if a sofa you want to buy fits in your space or not, well, Google Tango has you covered.
The Lenovo Phab 2 Pro is the first Google Tango smartphone and it's the only one you can buy right now (the Asus Zenfone AR arrives in Q2 2017). The device has been making a lot of headlines, all thanks to the moniker, "the first Tango device". However, the device is indeed a risk for Lenovo because there are a lot of questions around the device, as well as Tango. Is Google Tango ready for prime time? Is the Phab 2 Pro a revolutionary AR device? Should you buy the first Tango phone or wait for a more refined product? Well, we are sure you want to know how the first Tango phone fares. So, let's find out everything in our review of the Lenovo Phab 2 Pro. Let's begin, shall we?
In The Box
Before we starting talking about the device itself, let's take a look at the in-box contents of the Lenovo Phab 2 Pro:
The Lenovo Phab 2 Pro
microUSB cable
Charger adapter
JBL earphones
Quick Start and Warranty guides
While the Lenovo Phab 2 Pro box does look unique, the contents inside are pretty generic and something that we're used to seeing in most smartphones. The inclusion of JBL earphones is certainly a nice touch though.
Lenovo Phab 2 Pro Specifications
| | |
| --- | --- |
| Dimensions | 179.8 x 88.6 x 10.7 mm |
| Weight | 259 grams |
| Display | 6.4-inch of Quad HD (2560x1440p) resolution |
| Processor | 64-bit Octa-core Qualcomm Snapdragon 652 processor |
| RAM | 4 GB |
| Storage | 64 GB, expandable up to 128 GB |
| Cameras | 16 MP rear camera with dual-tone LED flash and laser detection autofocus, 8 MP front-facing camera. Google Tango module (a wide-angle camera and an infrared emitter) |
| Battery | 4,050 mAh |
| Sensors | Fingerprint scanner, proximity, gyroscope, compass, accelerometer |
| Connectivity | WiFi dual band 802.11 a/b/g/n/ac, Bluetooth 4.0, Dual SIM, microUSB 2.0 |
| Price | $499 |
Design and Hardware
Talking about the design and build of the Lenovo Phab 2 Pro, the first thing you will notice when you first take the device in your hands in the enormous size and heft of the device. With its massive 6.4-inch display and metal unibody design, the Phab 2 Pro is by no means, a pocket-friendly device. If you thought the iPhone 7 Plus, Pixel XL or even the Nexus 6P are huge devices, well, think again.
The Lenovo Phab 2 Pro looks and feels like a beast. It measures 179.8 x 88.6 x 10.7 mm and weighs in at a hefty 259 grams. If you plan on using the Phab 2 Pro as your daily driver, be ready to look very absurd when you are talking on the device.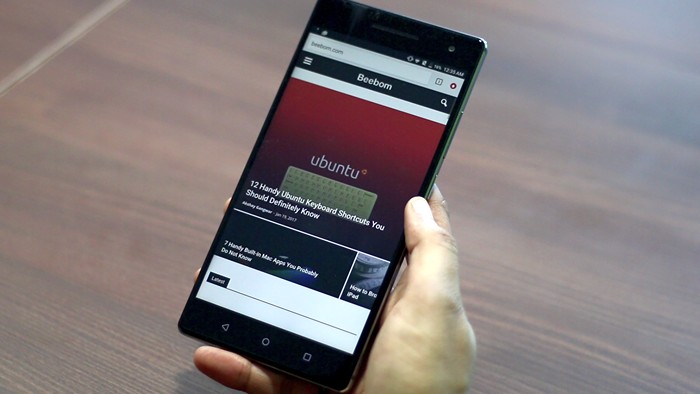 If you forgive the substantial weight and size of the device, the Phab 2 Pro looks like most other Lenovo smartphones out there. The front features a full slab of Gorilla glass, with 2.5D curved edges. On the bottom, there are the three navigation buttons and the top features a multi-color LED, an 8 MP camera, earpiece and proximity sensors. The left side of the device features the SIM and microSD tray, while the right side features the volume rockers and the power/lock button. On the bottom, there is the microUSB port along with the speakers and the top features the 3.5 mm headphone jack. While I like the fact that there's the 3.5 mm jack, I would have preferred the USB Type-C port instead of the now ageing microUSB port.
The rear of the device is where the most action lies. It features the Tango logo (along with Lenovo's), fingerprint sensor, the huge depth perception sensor and a rectangular bar that packs in the dual-tone flash, the IR emitter and the 16 MP camera. The Tango module features a couple of cameras. One packs in an infrared emitter to determine the distance from objects while the other is a wide-angle camera with a fish eye lens to support the device's motion tracking system.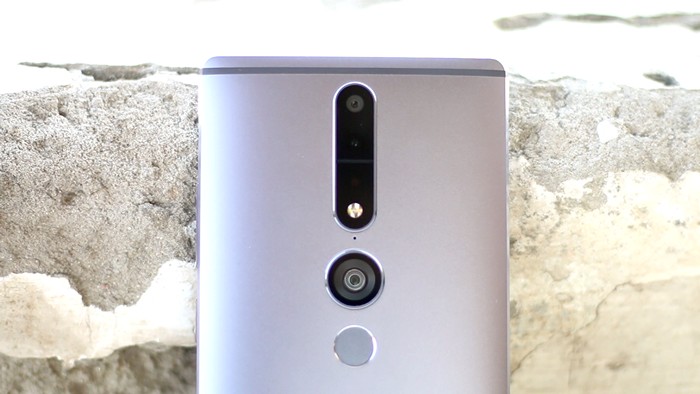 When it comes to the looks, the Lenovo Phab 2 Pro looks like a premium device, thanks to chamfered edges and a brushed metal aluminium back with antenna bands. Also, the device might be gigantic but it is easy to hold due to its slightly curved back. It's available in two versions: Gunmetal Grey and Champagne Gold. We have the Gunmetal Grey version with us and it looks amazing. If you can get past the massive size and bulk of the Lenovo Phab 2 Pro, you will find a smartphone (or phablet) that looks great.
Display
With so much focus on its AR capabilities, we are glad that Lenovo has incorporated a huge 6.4-inch IPS LCD display of Quad HD (2,560 x 1,440p) resolution. On paper, it seems like a great display but I wasn't too impressed by it. While the text and everything else looks crisp and sharp, the display isn't very bright (425 nits at maximum brightness), which would have been understandable had it been an AMOLED display.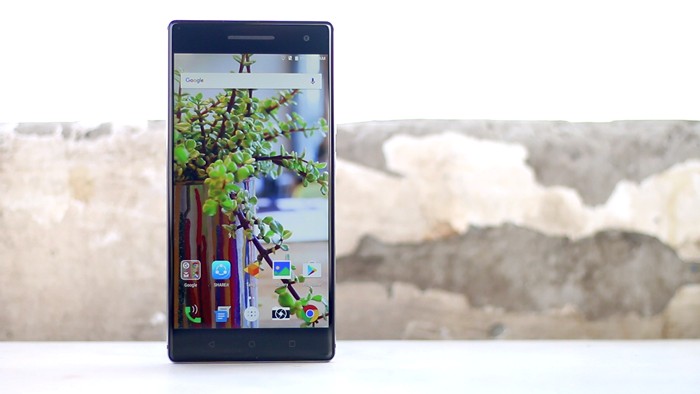 When you compare it other LCD packing devices like the iPhone 7 or even the AMOLED-packing Pixel, the brightness just falls short.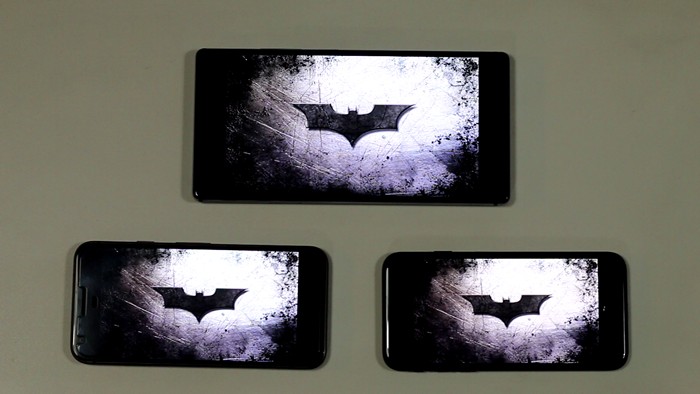 On the brighter side of things, viewing angles are great and the color reproduction is good but if you are a fan of AMOLED displays, you'll miss the vibrant colors. Having said that, since it's an "assertive" IPS LCD display, you can customize the hue and colors in the display settings of the device. To sum things up, the display on the Lenovo Phab 2 Pro does not really match flagship standards but it's still pretty decent.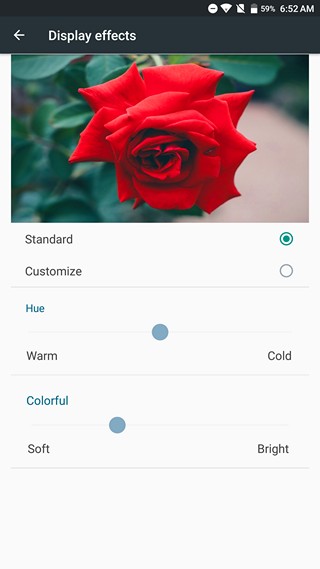 Google Tango
Google Tango has been in works for more than a couple of years now and it's supposed to revolutionize Augmented Reality on smartphones.The technology identifies objects in the real world along with depth and their dimensions to better overlay 3D objects in the real world. So, how is the Google Tango experience on the Lenovo Phab 2 Pro?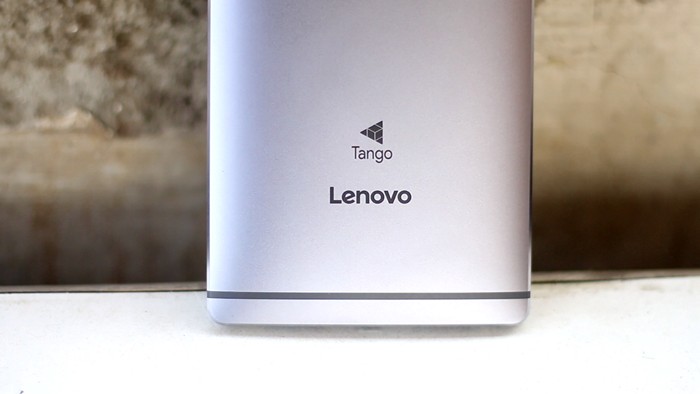 When you first set up the Lenovo Phab 2 Pro, you are greeted with the "Discover Tango" screen at the end, which introduces you to the Tango experience through a demo that  shows you how the tech uses depth perception, area learning and motion tracking to
overlay 3D objects in the real world. Phab 2 Pro also comes with the Tango app pre-loaded, which is home to the various Tango-enabled apps. The device comes with 3 apps pre-installed.
There's the Measure app, which as the name suggests, lets you measure length, height and even volume of objects. You can even take pictures of the measurements you make. The accuracy of the app is debatable but it's still a good example of how AR can come in handy.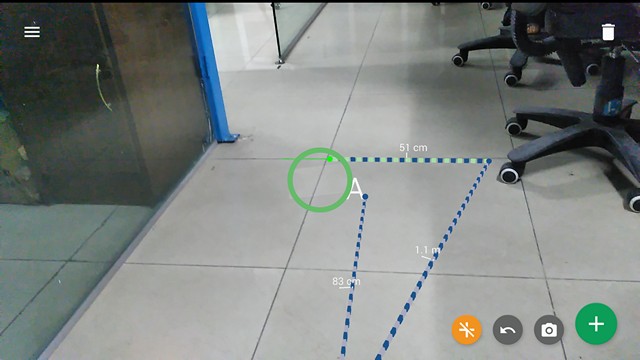 Another pre-installed app is Amazon Product Preview, which as of now, only lets you see how certain TVs will look in your wall. It works great and you can even buy one of the TVs from the same page. The third pre-installed app is the Lenovo AR Camera, which lets you put AR pets alongside you.
Other than that, there are around 35 Google Tango-enabled apps on the Play Store. There are fun games like Ghostly Mansion, in which you are ghost exploring a 3D mansion. Some cool apps like Solar Simulator, which brings various objects from the space into your living room. There are also various apps that let you see how a furniture looks or fits in your house. As of now, the number of apps isn't great but the number should increase in the near future, with more Tango devices upcoming.
When it comes the experience, Google Tango is amazing when it works. The technology is still fairly budding and so, inaccuracies are understandable. Having said that, Google is certainly on the right direction and we hope the company continues to innovate on the AR front.
The Android Experience
The Google Tango platform is definitely the USP of the Lenovo Phab 2 Pro but it's important to know about the Android experience, if you are shelling out 500 dollars. I haven't really been a fan of Lenovo's Android skin and so, I was pleasantly surprised when I found out that the Lenovo Phab 2 Pro features an Android build that is mostly stock. Sure, there are some elements that remind you that this is a Lenovo device, like the notification shade & app drawer UI, different icons when compared to stock Android, bundled apps like SHAREit, McAfee Security, AccuWeather, its very own Gallery and Camera app etc. However, the interface is mostly stock, which is something I definitely love about the device.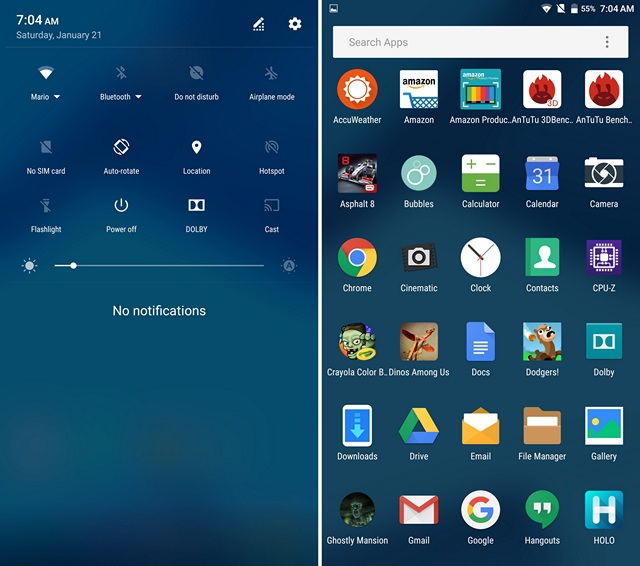 While it looks like stock Android, Lenovo has added a few of its very own options and features. For instance, there's Lenovo's Smart Assist, which brings features for one-handed usage, double tap to wake, Smart Reduce (reduces ringtone volume when you pick up a call) etc.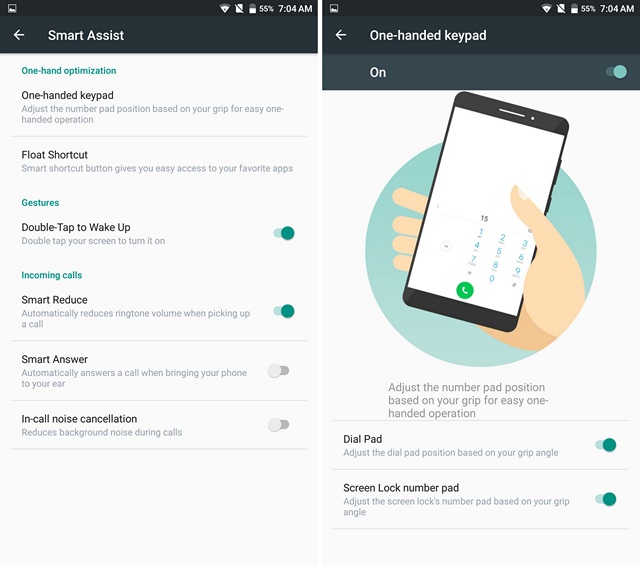 All is not good though. The device comes with Android 6.0.1 Marshmallow, which is a shame, considering Android 7.0 Nougat has been here for quite a few months now. Nougat's features like multi-window would have really enhanced the experience on the Phab 2 Pro. While we can expect the update to arrive sooner or later, it would have been much better had it come with Android 7.0 Nougat out of the box.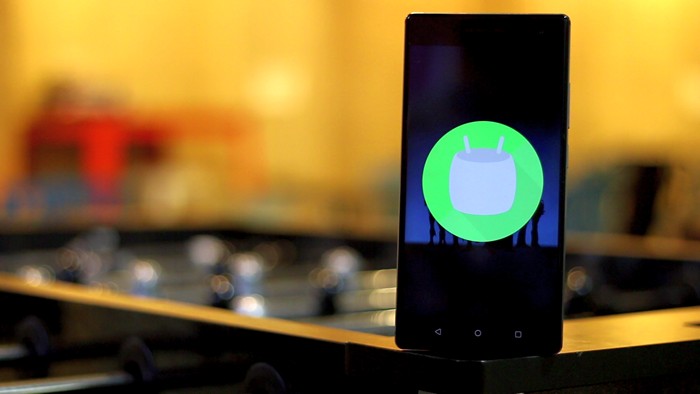 Cameras
The cameras are an essential to showcase the Google Tango AR platform and thus, the Lenovo Phab 2 Pro features some power-packed cameras, at least on paper. On the front, the Lenovo Phab 2 Pro features an 8 MP camera, while the back features a 16 MP camera with laser detection autofocus and a dual-tone LED flash.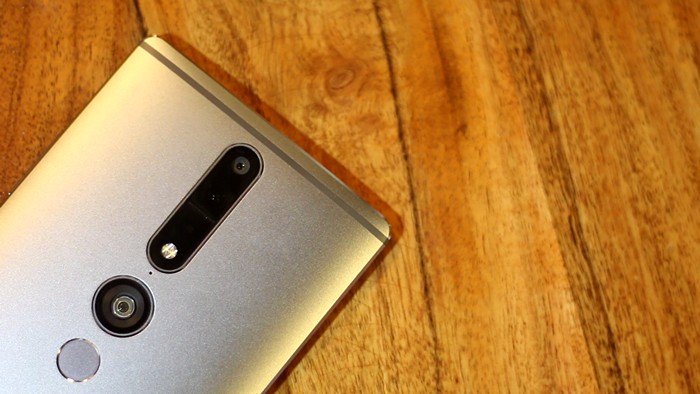 Talking about the rear camera first, it's surprisingly not that impressive. It does take some great shots when there's ample light but it struggles when it comes to low light photography. I'll recommend you to use the HDR mode to capture photos because it does take better photos. However, photos taken in low light or at night come with a lot of noise, and they are even a bit blurry, thanks to its focusing problems. Even with that laser autofocus module, the rear camera has its problems focusing. There's "frame lagging" too, that is, when you move the device, the camera viewfinder just takes too much time to reposition. We don't know if that's a software problem but if it is, we hope Lenovo fixes it with a software update.
The conclusion is, if you use the Phab 2 Pro camera to take shots in daytime, you will be pleased but not so much if you love taking photos in low light or at night. Here are some shots I took from the camera with HDR mode turned on: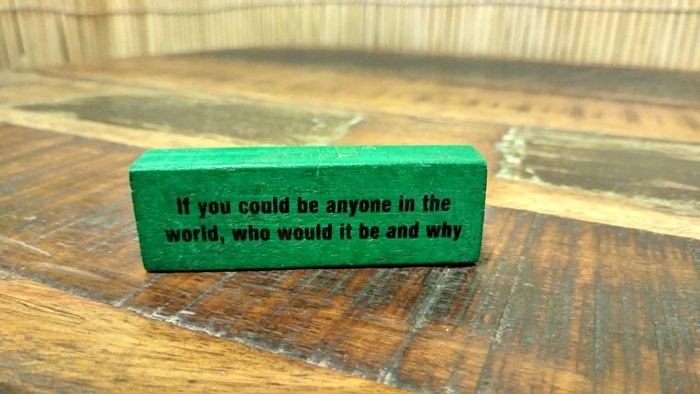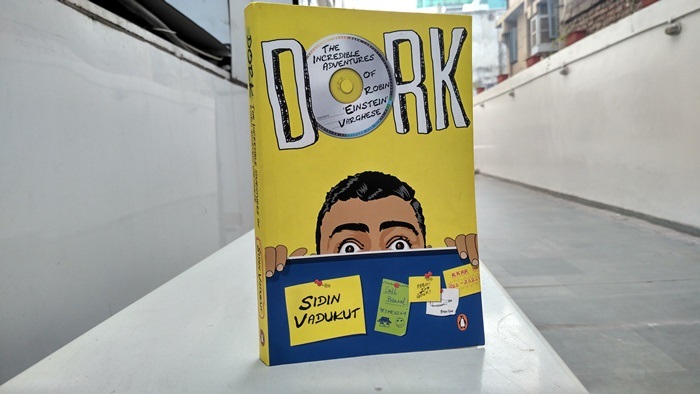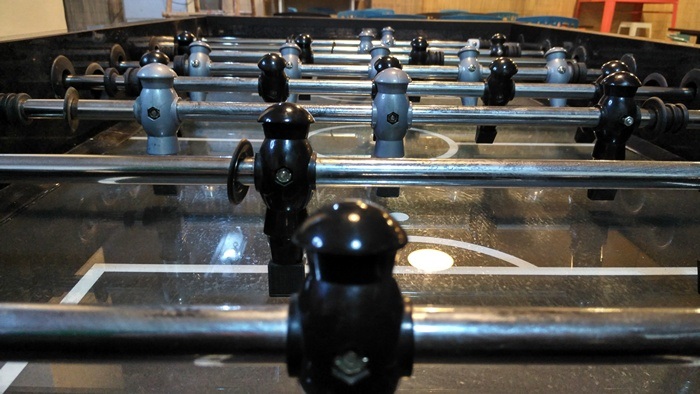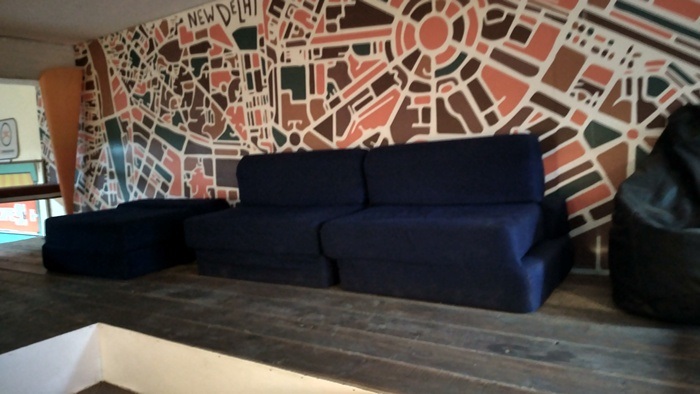 Video recording with the 16 MP rear camera isn't that impressive either. My biggest gripe is the fact that the device is limited to recording 1080p videos and considering the device packs in a QHD display, it's a shame it does not even take advantage of the display's full resolution, let alone record 4K videos. There are focusing problems but other than that the videos are.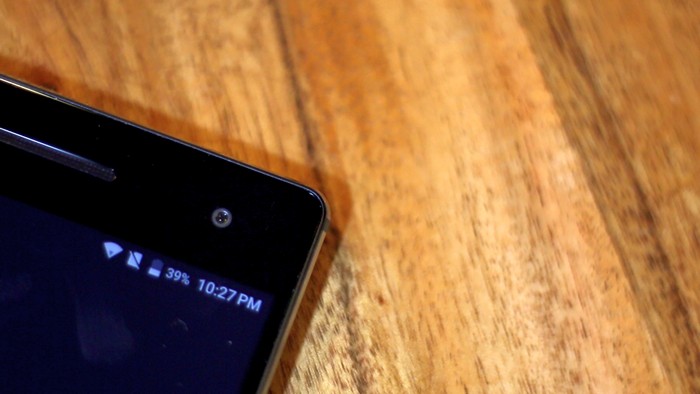 Moving on to the front-facing or the selfie camera, as people like to call them these days. The 8 MP camera does an okay-ish job, really, and the fact is, I have seen way better selfie cameras on other devices. While it takes clear photos, the colors just look a bit washed out and the camera sensor is a bit inconsistent in capturing light. Overall, the front camera on the Lenovo Phab 2 Pro should be good enough for your occasional selfie but don't expect it to take mind blowing photos. Here's a selfie our very own Devinder took: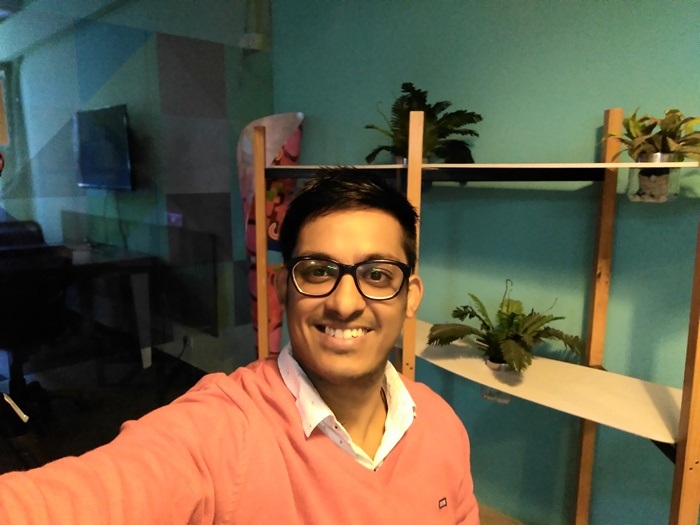 To sum things up, I find the cameras on the Lenovo Phab 2 Pro to be just average and considering the cameras have such a big role to play in AR, it's sad. Having said that, if you just want to experience Google Tango, you should be fine with the Lenovo Phab 2 Pro.
Performance
When it comes to the internals, the Lenovo Phab 2 Pro does not qualify as a very high-end device. Under the hood, the device is powered by the 64-bit Octa-core Qualcomm Snapdragon 652 processor with Adreno 510 GPU. There's 4 GB RAM for all your multitasking needs, along with 64 GB internal storage (expandable up to 128 GB).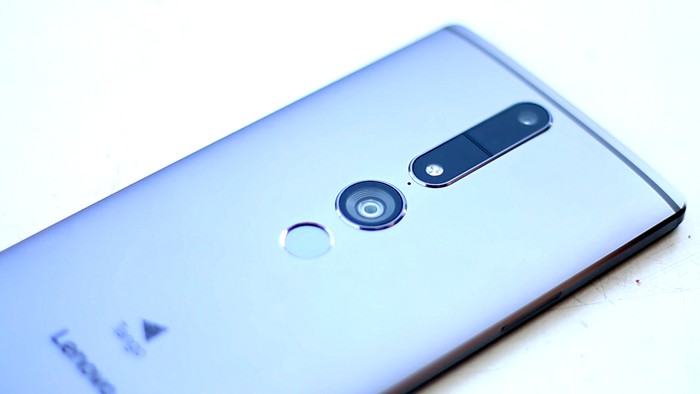 According to Lenovo, the chipset is custom designed to handle Google Tango's AR needs. If you worry about heating of your Android devices, you'll be happy to know that Phab 2 Pro has been designed in a way that the heat dissipates from outer edges of the metal frame and it's cooled down quickly, thanks to the shielding on the processor.
All of that aside, you must be wondering, how does the device perform in real life? Well, I found the Lenovo Phab 2 Pro's performance to be average. While it handles certain day to day tasks with ease, it does struggle a bit when it comes to intensive apps. For instance, I usually browse the web on Chrome, while also multitasking between Facebook, WhatsApp and Instagram and for my personal use case, the device performs decently. However, there was this occasional hiccup and dropped frame rates when it comes to extensive Tango apps and games.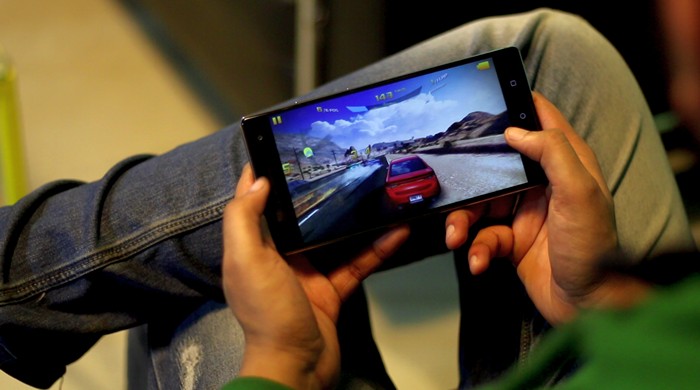 I did a benchmark of the Lenovo Phab 2 Pro in a couple of apps, AnTuTu Benchmark and Geekbench 4. Well, it did quite decently and here are the results:
Call Quality and Speakers
As I have mentioned, the Lenovo Phab 2 Pro is massive and if you plan on using it for phone calls, well, good luck with that. Having said that, I made a few calls from the device and the call quality seems decent. I could listen to the caller clearly and the caller too suggested that the voice was clear enough.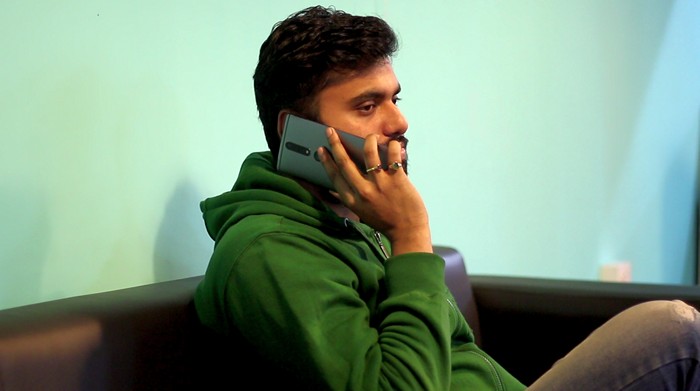 When it comes to speakers, the device packs in loud speakers, comparable to that on an iPhone 7 but it lacks the bass I would have liked. Plus, it features Dolby Atmos support, which claims to bring loudness without distortion, enveloping sound field etc. for an enhanced music experience. The Dolby Atmos app on the device brings various sound profiles, which really enhance the sound experience when you have earphones plugged in.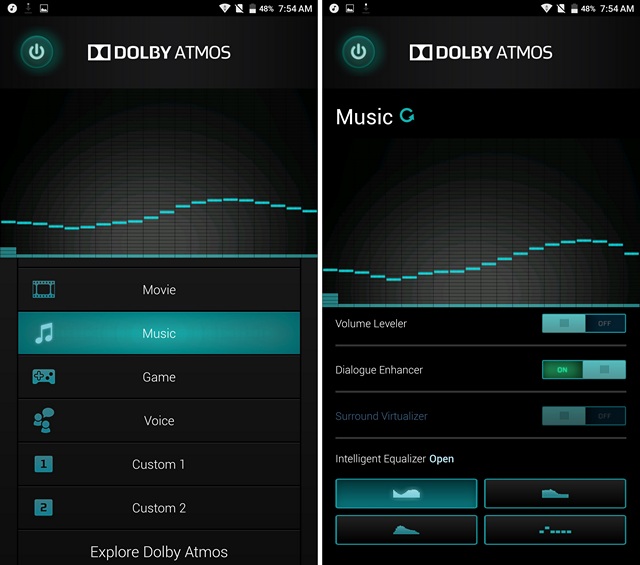 Battery Life
The Lenovo Phab 2 Pro comes with a fairly large 4,050 mAh battery, which is more than what most smartphones (even high-end ones) offer. While the advantage with a larger battery is slightly negated due to the huge display but it still performs admirably. On heavy usage, the device lasts for a day and a half. On moderate usage, the device easily lasts for a couple of days. The Phab 2 Pro does run out of battery quickly when running Tango apps.
So, if you plan to constantly use Tango apps, you can expect it to still last for around 7-8 hours. Well, the battery performance is where I find the Lenovo Phab 2 Pro very impressive.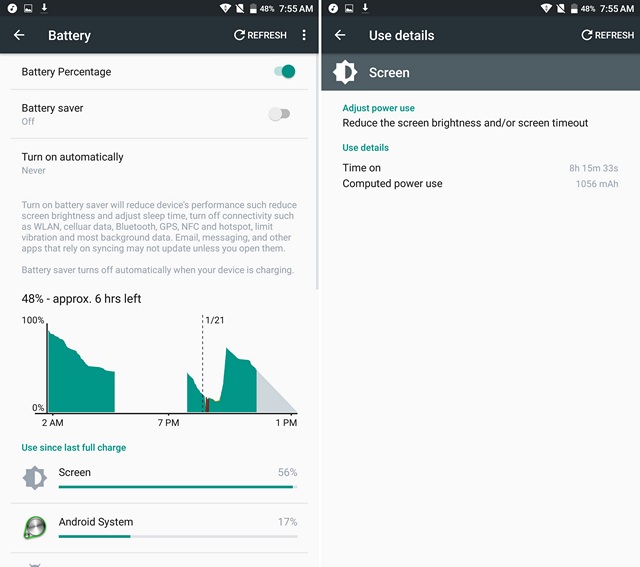 Connectivity
The Lenovo Phab 2 Pro packs in the connectivity options that we've come to expect from a modern-day smartphone. There's WiFi dual band 802.11 a/b/g/n/ac, Bluetooth 4.0, Dual SIM, USB OTG support and microUSB 2.0 connectivity. It also packs in the important sensors like fingerprint scanner, proximity, gyroscope, compass and accelerometer. Apparently, the only thing it lacks is NFC support.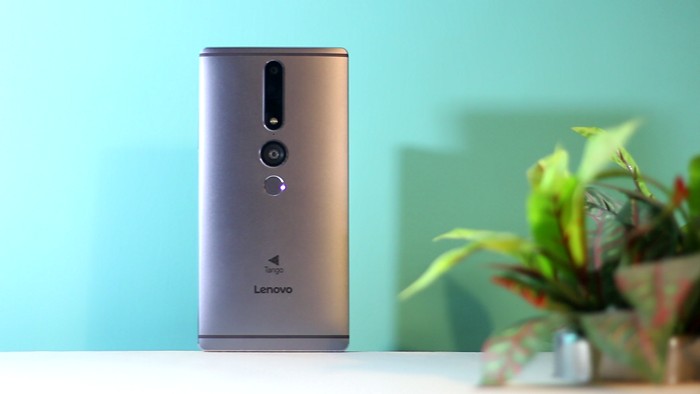 Pros:
Premium metal unibody
A look into the future with Tango
Great battery life
Value for money
Cons:
Enormous and bulky
Inconsistent performance
Average camera
SEE ALSO: 5 Best Daydream VR Apps You Should Try
Lenovo Phab 2 Pro: A Look Into the AR Future
As you must have noticed, the Lenovo Phab 2 Pro isn't without its flaws. It's a massive device, falters when it comes to performance and features an underwhelming camera but if you take into account that it's the first Google Tango phone and it's being offered at $499, you'd know that it's not really a bad deal. You are getting a decent smartphone, along with a look into the AR future. However, there are a number of other smartphones in the same price range that offer better performance. There's the OnePlus 3T, Moto Z, ZTE Axon 7 etc. Having said that, if you want to experience Google Tango and you cannot wait for the Asus Zenfone AR, you should get the Lenovo Phab 2 Pro.
Well, that is it for my Lenovo Phab 2 Pro review but I'd love to know your thoughts on the first Google Tango phone. Sound off your views in the comments section below.