If you're a gamer, you obviously know how important it is to communicate with your team members in order to have a successful game. While most multiplayer games these days allow players to communicate with each other using some sort of in-game voice-comm solution, they are usually not very great. So, if you're looking for some great chat apps that will allow you to chat with your teammates and other players in your group, here are the 7 best voice chat apps for gamers in 2020.
Top Voice Chat Apps and Services for Gamers (2020)
Having taken a close look at several voice chat apps designed for gamers, we have chosen apps that can offer seamless communication. While some apps offer basic features, others go well beyond the simple messaging experience.
So, depending on what your preference, you can use apps to stay connected with your buddies using voice, video, and even conferencing. Not just that, many voice chat services also allow you to share files so that you can hatch killer plans with ease. That all being said, let's get started with the roundup!
1. Discord
Going by the numbers, Discord is by far the most loved free chat service for gamers. The app that allows players to chat with other members in their Discord group, through voice or even text chat. Players can create a server and invite friends. The service can be used directly on the web, or players can download the app.
Since it is available as a web service, players can quickly join servers, and begin communicating. Personally, I've used Discord quite a bit while playing CS: GO, and games like Fortnite, and most of the gamers here at Beebom depend on Discord to communicate during their PUBG matches.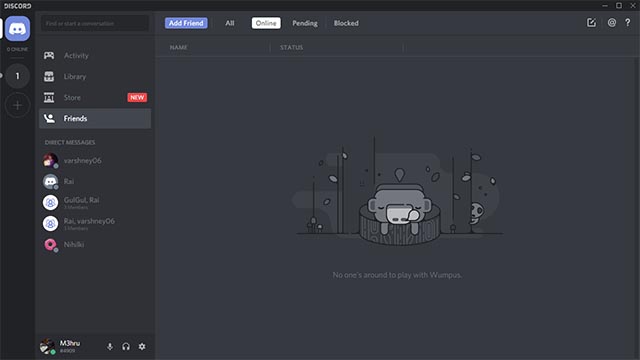 Feature-wise, Discord offers a lot. Players can create custom hotkeys, and use Discord as an in-game overlay. The overlay feature is pretty useful because it allows players to have a seamless interaction with both the game that they are playing, as well as all of the people they are communicating with, using Discord. You can also add bots to add extra features.
The service also allows players to set individual volume levels for other players, so it's easy to increase the volume for people you want to listen to and decrease it for others. Couple that with the low resource, and bandwidth usage of Discord, and you easily have a winner.
Apart from that, Discord also offers IP, and DDoS protection, so you don't need to worry about anyone DDoSing your server. Even though Discord is one of the best voice chat apps for gamers but if you don't want to go with Discord, here are some viable Discord alternatives that you can check out.
Pros:
Free to use
built-in DDoS protection
Nifty tweaks like individual volume levels for players
Support for cool and useful bots
Cons:
No self-hosted servers
Default codec might not be the best of the lot
Download (Available for Windows, macOS, Linux, Android, iOS and web)
2. Overtone
Overtone is another great voice chat app for gamers which you can use to connect with your friends while playing games seamlessly.
The app is simple to use and it's based on Vivox, one of the best-integrated voice chat service that is used by popular games like Fortnite, PUBG, League of Legends, etc. Overtone aims to bring this exclusive technology to gamers around the world, making it a great alternative for Discord.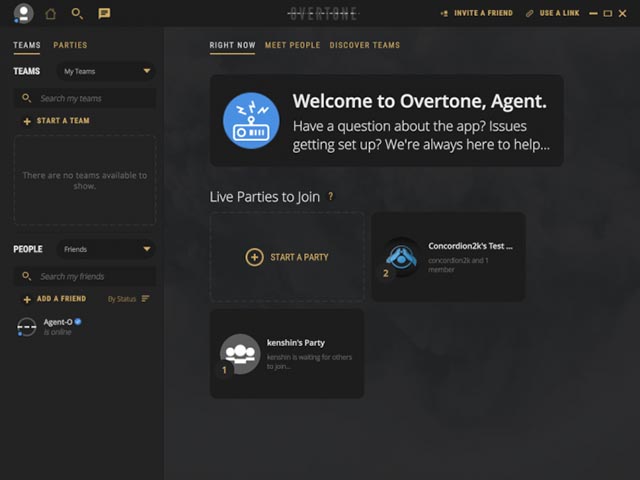 The lightweight Overtone app doesn't use a ton of your system resources and it's quite easy to set up when compared to Discord. It's absolutely free to use and includes most of the necessary voice and text chat features that you'd expect from an app like this.
On top of that, Overtone also includes a couple of social features that will allow you to connect with people who have similar interests as you and discover teams that are playing the same game. You can also run Overtone on a web browser, which is always an added benefit.
Pros:
Lightweight and easy to set up
Comes with social features to discover new players and teams
Uses Vivox voice service, which is one of the best ones out there
Cons:
Can't create teams in the web-app
Download (Available for Windows and web)
3. TeamSpeak3
If you are looking for a voice chat app that can offer you a better administrator control, give serious consideration to TeamSpeak3.
Probably the best part of this app is a range of permission options which you can use to set desired control and even manage your servers. It features a simple user-interface. Though the clean UI may not appeal to those who prefer a modern-looking design language, I don't think it would be a deal-breaker for many.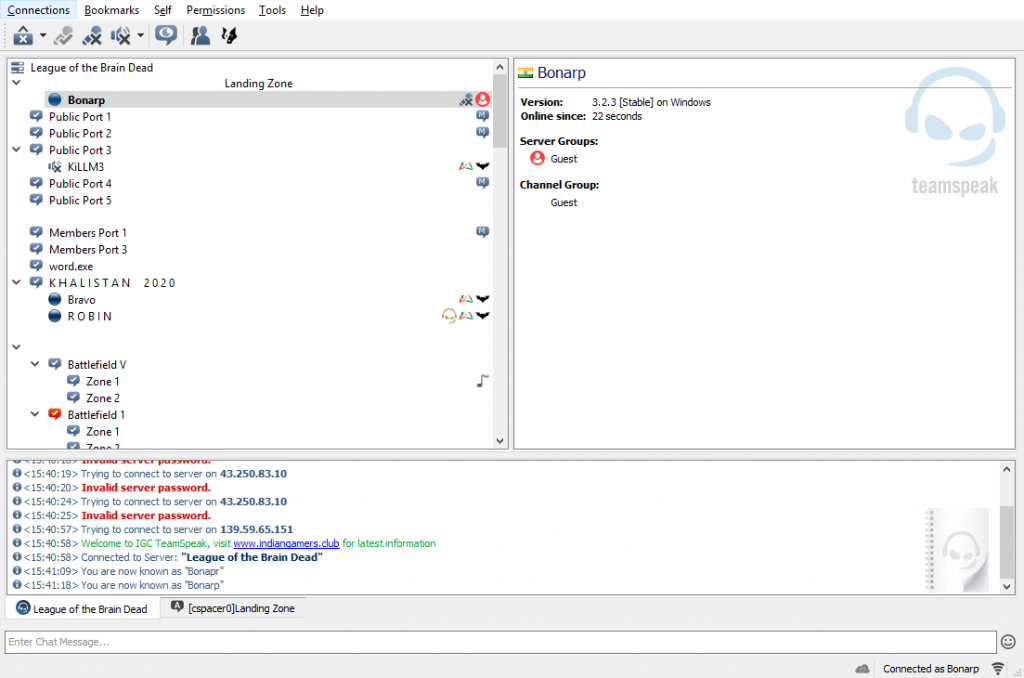 Another feature that makes TeamSpeak pretty handy is the fast file transfer which plays a key role in keeping the communication in sync. Even in terms of security, this voice chat app is up to the mark thanks to the AES encryption. Notably, it also allows you to enable server-wide encryption. Add to that the offline/LAN functionality and a customizable user interface and it becomes a complete voice chat app for gamers.
Pros:
Many permission controls
Offline/LAN functionality
AES encryption
Cons:
The UI looks less attractive
Lacks video communication
Download (Available for Windows, macOS, Linux, Android, iOS and web)
4. Mumble
Boasting always-on encryption, Mumble is one of the finest VoIP apps that gamers should try out. Thanks to the encryption, your data is always secure on the servers. Mumble supports low latency audio streaming, so you will experience minimum lags while chatting with your friends. It also supports positional sound, which gives the game you're playing a much more realistic, and immersive feel.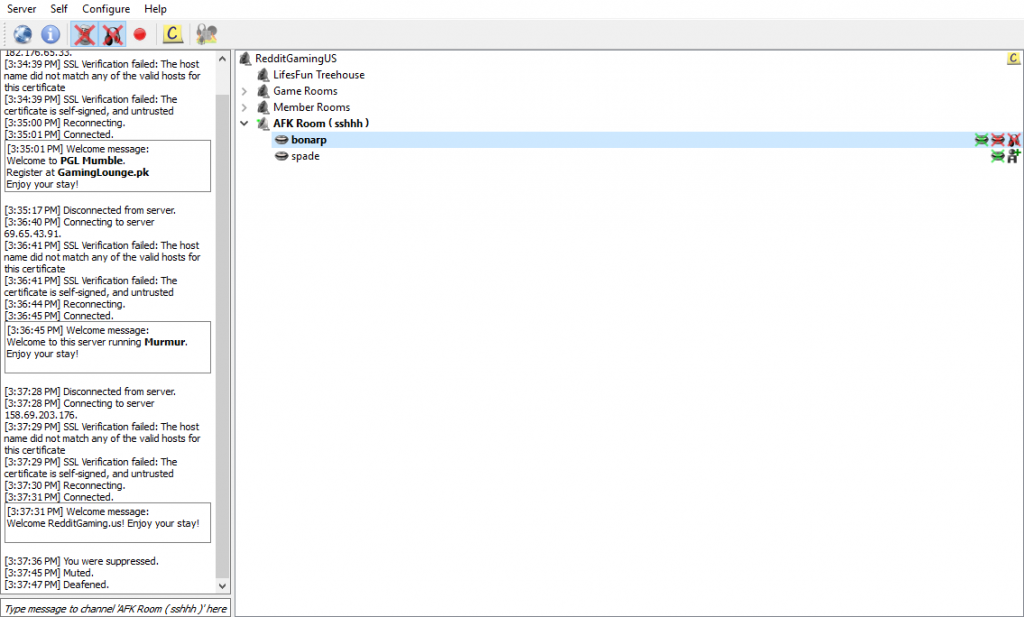 Mumble gives the server admins a plethora of user permissions, which they can use to manage, and control the users on the server, and almost every aspect of it. It also comes with an in-game overlay, like the others in this list, which can be very useful as well.
Apart from the features that Mumble already offers, players can use "Ice" middleware, to get additional features in their Mumble servers, such as web interfaces, channel viewers, authenticators, and many more. Mumble also has mobile applications that have been developed by third-party developers.
Pros:
Supports positional audio
Open-source
Encryption support
Cons:
Can be a little difficult to set up
Audio quality isn't the best
Download (Available on Windows, macOS, Linux, Android and iOS)
5. SteamChat
SteamChat is another great option that you can rely on for all your voice communication needs while playing a game. Since most of you might already have Steam installed on your system and running in the background while you're playing a game, it's a great option you can try out before installing any of the other apps on this list.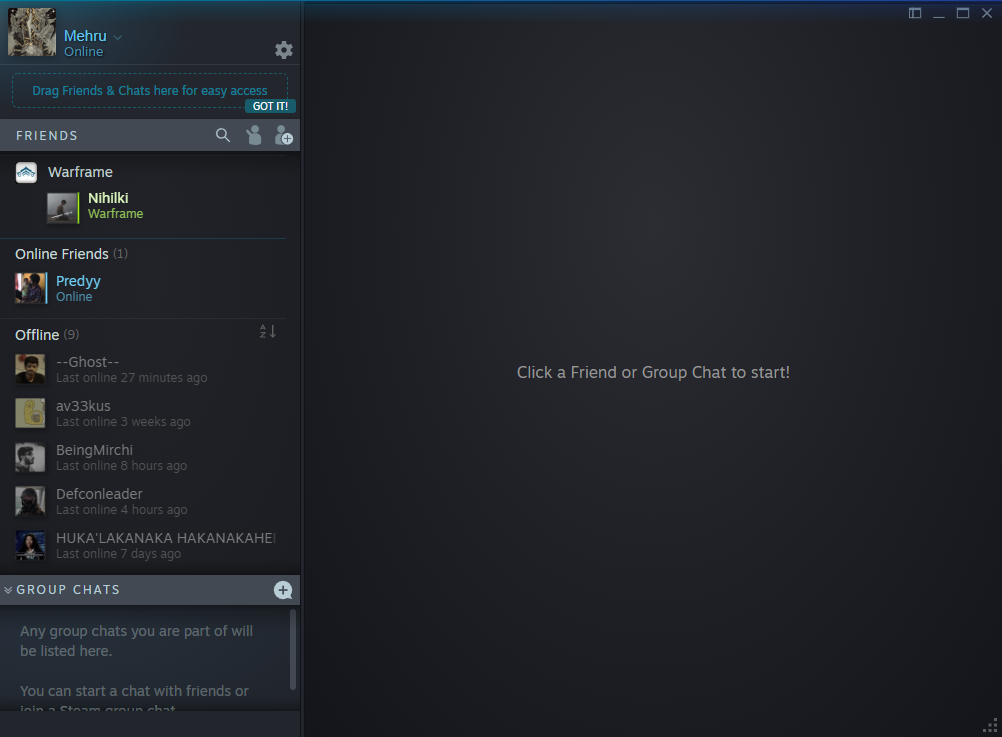 After all, if you're playing PUBG on PC, why launch a separate chat client, when Steam supports the feature itself, right? Steam's chat feature is free to use and allows you to create your own groups with friends.
SteamChat also allows users to share unique URLs which one can use to share the chat room. Chat administrators also get the privilege to set roles for members, giving them the ability to kick other members, manage group information and set chat restrictions. Furthermore, SteamChat also has a web client, which you can use if you don't already have Steam installed on your system.
Pros:
Supports grouping friends by games
Has a web-client
Cons:
Voice quality isn't on par with options like Overtone
Download (Available on Windows, macOS and Linux)
6. RaidCall
Raidcall is a free VoIP service that you can consider for using as your in-game chat app. One of the great things about this service is that is really light on system resources. You can run this app, and you wouldn't notice much of a difference in the performance of your system while gaming.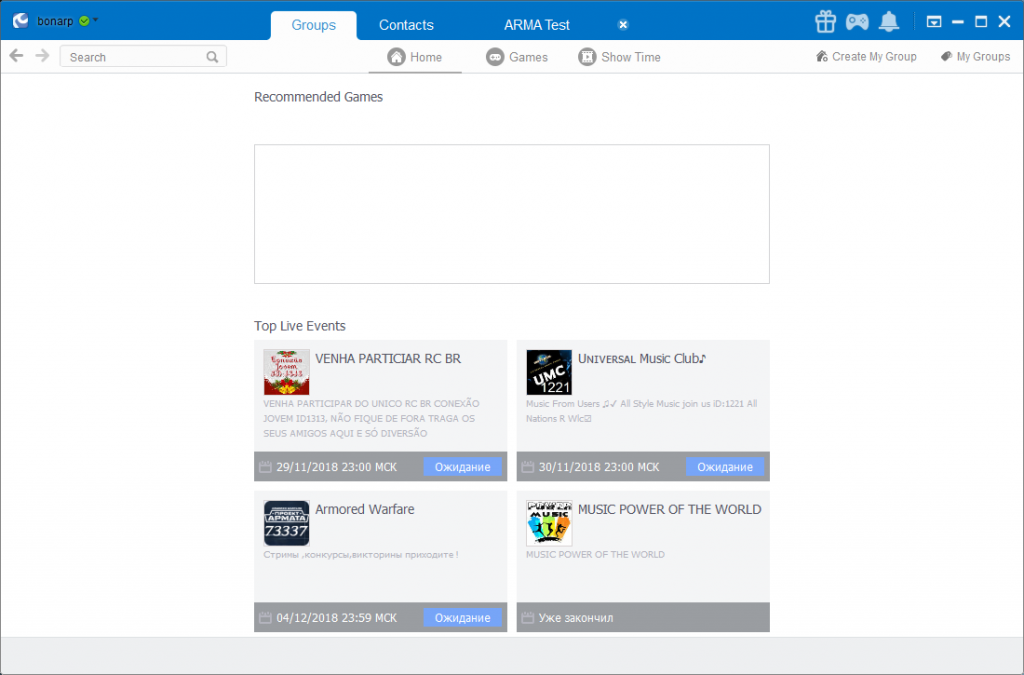 However, the biggest feature of this service, is that it can support up to 100k users in the same Raidcall group. Raidcall is widely used by players of games like Dota, so if that's the game you're into, maybe give RaidCall a try before other apps on this list.
The sound quality is good, and it also comes with additional features, such as voice recording, noise reduction, poll, announcements, and a lot more. Users can use Raidcall to transfer files, keep chat records, share YouTube videos, etc. Raidcall servers support themes and emoticons for customization. Also, if you're streaming a Twitch video, you can still use Raidcall to chat at the same time.
Pros:
Very light on resources
Supports up to 100k users in the same group
Great for Twitch streamers
Cons:
UI isn't the best
Doesn't support individual volume adjustments for players
Download (Available on Windows, macOS, Linux, Android and iOS)
7. Element
Featuring a modern-looking design, Element doesn't take long to win attention. The app offers free unlimited voice and video conferencing to let you communicate with your friends. So, you can hatch strategies with your buddies using the preferred communication tool, and execute those plans to eliminate rivals during high-octane co-op modes.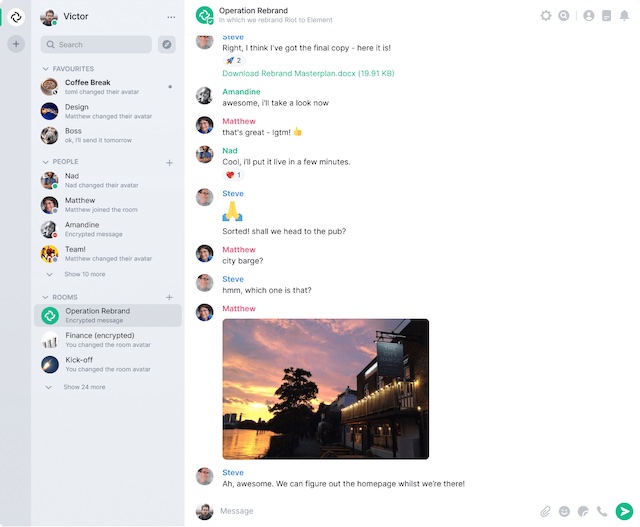 With the pretty straightforward file sharing feature at the disposal, you can share important files with your buddies. Thanks to the availability of several handy file management tools, you can keep everything organized. To ensure you don't forget an important thing, the app sends you timely alerts about things that matter to you.
Furthermore, Element is an open-source app and available across platforms. So, it doesn't matter whether you are on iOS, Android or Windows, you can use this voice chat app to communicate freely with your friends. Courtesy end-to-end encryption, it makes sure your messages stay safeguarded against prying eyes.
Pros: 
Modern-looking design
End-to-end encryption
Offers unlimited voice, video, and conferencing
Cons: 
Encryption keys management is a bit tedious
Video calling quality needs improvement
Download (Available for macOS, Windows, Linux, Android, iOS and web)
Frequently Asked Questions
Can you Talk in a Party on the PlayStation App?
Yes, you can. The app works pretty well in letting you chat in a party in the PlayStation app. (Head into the PS4 second screen app on your mobile device -> Chat Transcription from the Party menu -> create/join a party -> follow the prompts on your mobile device to chat.
What was the First Game with Voice Chat?
Metroid Prime Hunters (launched in March 2006), was the first game that allowed voice chatting through the Nintendo DS's microphone.
What is Voice Chat on Switch?
Nintendo's official voice chat solution is an app that you can download for iOS and Android device to chat with other Nintendo users. Besides, Switch also offers in-game voice chat to let you communicate with your buddies.
How do I Turn on Voice Chat on Nintendo Switch?
Nintendo provides a voice chat solution in the Nintendo Switch Online app for iOS and Android (requires Switch online subscription). While some games support the voice chat feature directly on the console with a headset, others require a separate smartphone app to allow voice chat.
Simply start the game mode that supports voice chat or tap on Start after receiving the prompt on your smartphone to turn on voice chat.
How do I Get My Microphone to Work on My Switch?
Many games work with the Switch companion app for iOS and Android. You can use the built-in mic of your phone or use the headphone jack to plug in most headsets to the Switch.
Use the Voice Chat Apps to Communicate with Your Clan
Proper team communication is an important part of winning any co-op multiplayer game, and these VoIP apps and services will definitely help you communicate with your clan more effectively. So, what chat applications do you use for communicating with your team? And what games do you guys play? Let us know your thoughts in the comments below.