There are hundred different ways of downloading almost anything from the internet, however, not every way is a legal way. Same goes for music downloads because there are thousands of sites offering free mp3 music downloads but none of them seems to have the rights or licenses for the songs they're offering for downloads. If you are the kind of person who really doesn't want to break the rules or download any illegal songs then you don't have to worry because you can still get your songs for free via legal channels.
In this article, we're going to provide you with 15 Legal and Free Music Download Websites. Keep on reading to learn more about these sites.
Best Legal Sites To Download Free Music
1. SoundCloud
SoundCloud is free and offers the largest collection of songs to hear online for free. It's an online music streaming community where users can upload songs and even popular artists share their own songs as well. You can stream as many songs as you want but in addition to streaming, SoundCloud also lets you download songs for free but not all the songs can be downloaded. If the uploader has allowed downloading of their songs only then you will see a download button right below the song. Just click on it to download the song on your device and enjoy your favorite music offline. Just to give you an example, about a month ago Calvin Harris has uploaded a track (EDC LV 2015) on his SoundCloud profile which is free to download for everyone. So, one can always expect free downloads on SoundCloud as it is a home to some of the most celebrated music artists of the world.
SoundCloud is available as an app on both Android and iOS platforms. There are numerous third-party SoundCloud apps available for Windows Phone as well.
2. Jamendo
If you want to browse through a large collection of indie songs or cover songs performed by aspiring singers then Jamendo is the perfect place for you. You can stream or download as many songs as you want from Jamendo and there's no catch. You can discover upcoming talent in the music world via Jamendo and support them by listening/downloading their songs. Many top class singers have uploaded their work on this royalty free music site and you can easily download any songs that you want with just a click. As of January 2015, Jamendo has more than 460,000 songs available for download making it one of the largest music library in the world. Also, It is available in 6 languages: English, French, Spanish, German, Italian and Polish.
Jamendo is available on both Android and iOS platform, in addition to that it's also available as an app for Windows on your PC or tablets.
3. QTRAX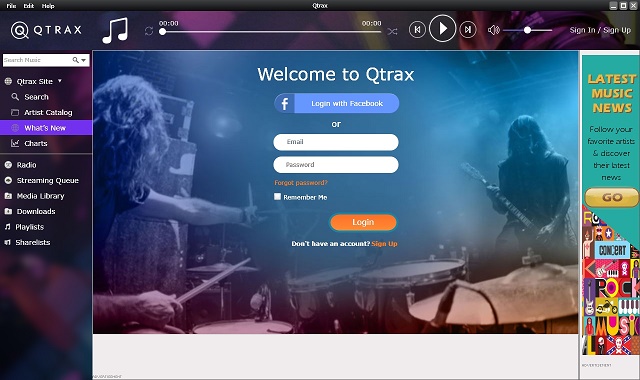 "Free Now, and Free Forever" This is the slogan being used by QTRAX, a new and free service that brings you all the latest songs from your favorite artists for free. There is no catch and you don't need any subscription to listen to your favorite songs. Just download the QTRAX player for free and start listening to your favorite artists. You can download as many songs as you want via the service and listen to them offline. Unlimited use of downloads, radio, and streaming ensures that you never run out of great songs ever.
QTRAX player is available for download on Windows. The Android and iOS apps for the service will launch soon.
4. Amazon MP3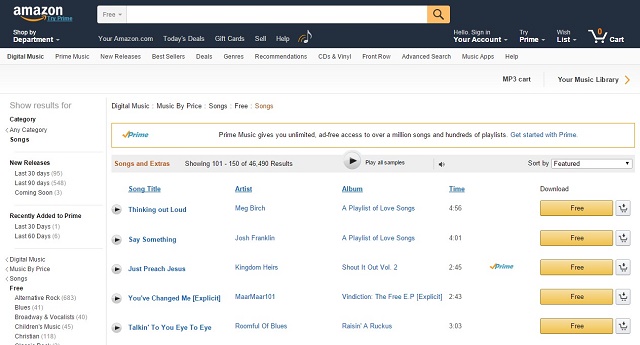 Amazon is the biggest online retailer offering a wide variety of products on the web. However, Amazon has also started offering digital products such as games and even songs. You can buy your MP3 songs directly from Amazon MP3 but you don't have to pay for the songs if you don't want to. Amazon MP3 also offers free songs for download directly from their website or their mobile apps. Amazon Music has more than 46,000 free songs available at the time of writing this article which makes it one of the largest legal free music repositories on the internet. You won't be able to find the latest songs though but there are still great songs available for free, all you have to do is search for your favorite tune. One of the best thing about Amazon Music is that they have well categorized their songs in various genres such as Alternative Rock, Blues, Broadway & Vocalists, Children's Music, Classical, Country, Dance & Electronic, Folk, Hard Rock & Metal, International, New Age, Pop, R&B, Miscellaneous, etc
Amazon Music is available as a free app on Android and iOS platforms.
5. PureVolume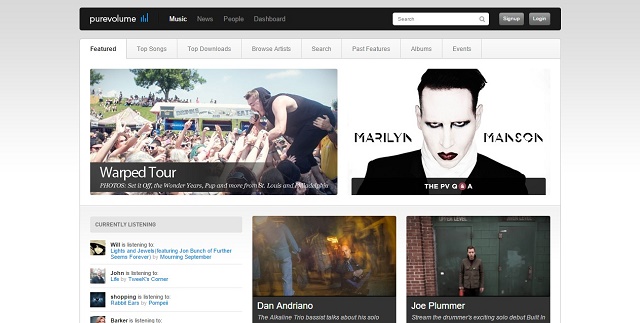 PureVolume is a community of music lovers. Artists can signup and upload their music on the site and listeners can help the artists by downloading or listening to their songs and upvoting them. Each artist has their own profile with their basic details, music, and photos. It's up to the artist to allow downloads or not, if the artist has allowed downloads then you can download their songs. Most of the artists on PureVolume have downloads enabled so you can enjoy great music for free. Some artists have only enabled online streaming for songs which means you can stream as many of their songs as you want for free but you can't download them on your device for offline usage. You can get free covers and remixes for the most popular songs as well.
PureVolume is only available as a website and there are no mobile apps available for the service.
6. NoiseTrade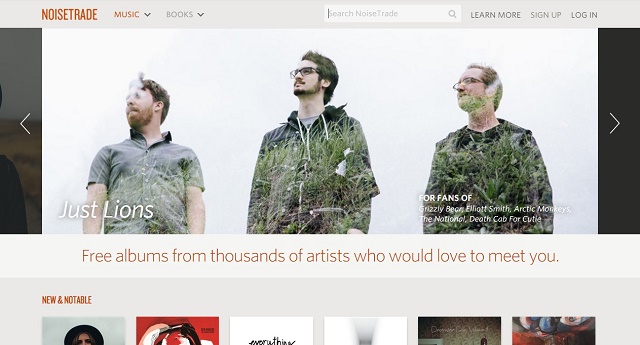 Thousands of amazing songs performed by great artists from around the world are available for free on NoiseTrade. NoiseTrade is a social network for music lover and book enthusiasts. It lets artists upload their songs for free and fans can download the songs without having to pay a single dime. If you like a certain song then you also have the ability to tip the artist a few bucks for their great work. NoiseTrade connect the artists with their fans to build a large audience for the upcoming talent. Just create a free fan account and you can start downloading any song you want with just a single click.
7. SoundOwl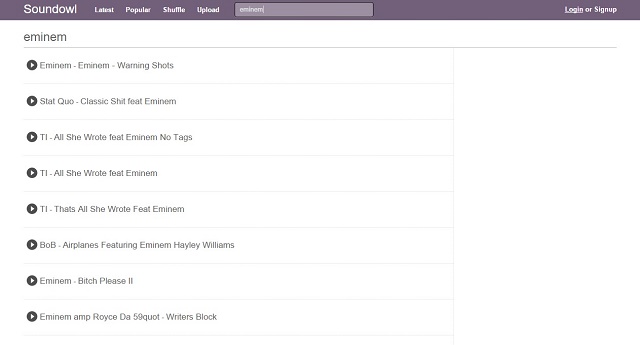 SoundOwl provides a large collection of popular songs from very popular artists and newer artists as well. SoundOwl is a simple music platform that lets artists, bloggers, and labels share their music with everyone in the world. If you feel that the site is not legal then you can read their DMCA page for their policy which clearly states that only artists who own the rights to the music can share it, everything else will be deleted. If you think that some song does not belong to the site or violates your rights then just drop them an email and it will be swiftly deleted from the site. You can stream the songs online or download them on your device easily. The Shuffle feature on the site lets you discover amazing new music automatically.
8. Free Music Archive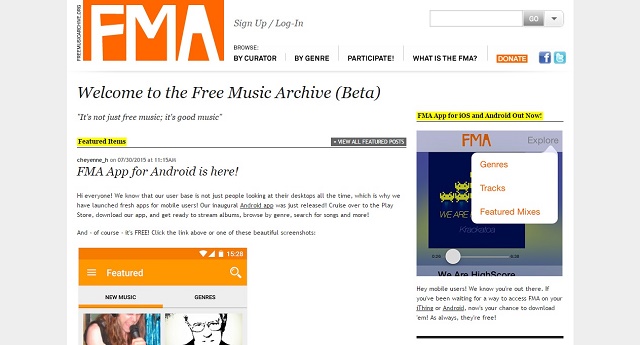 The UI of Free Music Archive (a.k.a FMA) is a bit cluttered but the site offers a vast collection of songs that you can download for free. FMA is not just any other music library where anyone can upload songs instead different music enthusiasts, labels, radio stations, curate the amazing playlists for everyone. These songs can be downloaded for free without even having to register on the site at all. FMA offers access to free music similar to radio stations. You can also contribute to the site by curating your own playlists with your personal music or from other music that you own the rights to.
FMA is also available as an app on both Android and iOS platforms.
9. Internet Archive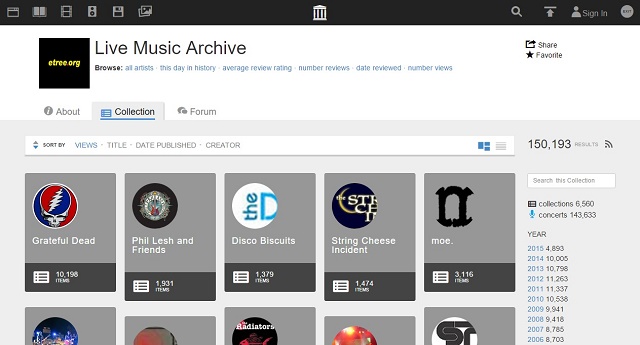 Internet Archive is the biggest archive that includes almost everything for free. From software to music, you get to download anything and everything for free on your device. The audio section on Archive doesn't only bring you free music instead it offers a lot of other audio files as well which include, audiobooks, podcasts, live music, etc. You can download amazing music and songs but you will have to search for it. The categorization is not as smooth as one would expect but you can still find some great songs if you really look for it hard enough. Create amazing mixtapes by downloading free live music or best tunes from radio channels.
10. SoundClick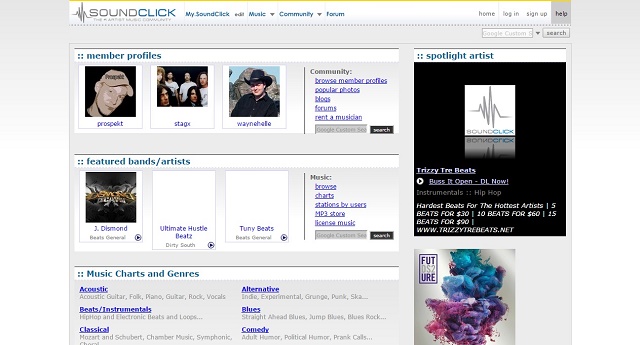 Although not as large as other music libraries, SoundClick still delivers a decent amount of free songs to quench your thirst for music. The free music mostly depends on the artists. There are thousands of established artists who are selling their songs on SoundClick, however, most of them are also giving away their songs for free. You can even buy the rights to the songs if you want but the free song should serve you well should you choose to only download free songs from the service. Most of the amazing songs are available as a free download.
11. Last.fm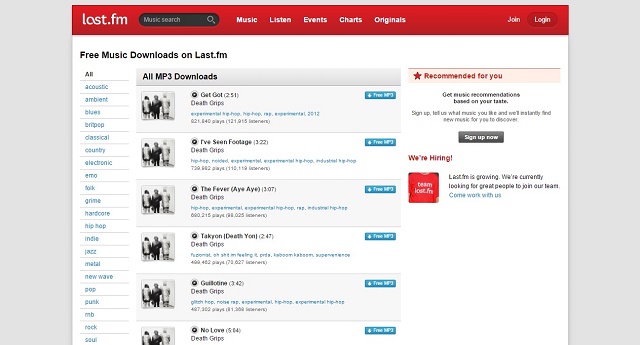 Last.fm is actually an internet radio service that brings you amazing tracks as if you were listening to a local radio station but the service also offers free MP3 song downloads for its users. The free mp3 song collection, however, is not as vast as you would expect from a service this big but you can still find some hidden gems among these free tracks. You don't need an account on the website to download free mp3 songs, just click the download button and it should download without the need to register.
Last.fm is available for Windows, Android, and iOS paltforms as an app.
12. Vimeo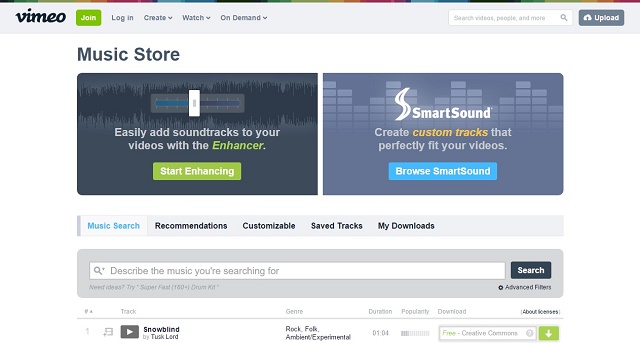 We know Vimeo is a video streaming website but that doesn't mean you can't download amazing mp3 songs from the service. Vimeo has a music store where users sell mp3 songs for a price, however, you can search for songs with "Creative Commons" tag in the advanced search to find free songs and music. All these free songs can be downloaded with a single click to your device but you will have to sign-up on the site first before downloading the free songs.
Vimeo app is available for free on both Android and iOS platforms.
13. MP3.com
MP3.com is one of the oldest MP3 sites on the internet. Despite being one of the oldest music sites on the web, MP3.com still doesn't have a song collection as big as the above mentioned sites. It doesn't mean you won't be able to find any good songs on the service but you will certainly be presented with a limited choice of free MP3 tracks compared to other music libraries. MP3.com also helps young and upcoming artists to share their work with millions of fans worldwide via the service and you can help out these artists by sharing their work with your friends via social channels.
14. YouTube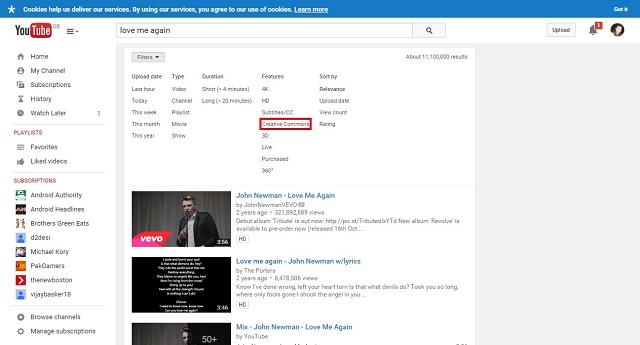 We know YouTube is the biggest site on the web when it comes to video streaming but we have put it in last because downloading songs via YouTube is not as easy as you might think. First of all, you can not download all the songs on YouTube because that would be illegal. However, you can search for songs with "Creative Commons" filter and then download those songs to your device. These songs are free to use and there are no restrictions on downloading them. Just find any video with "Creative Commons" filter and download it.
Apart from that, certain artists create mashups and cover of famous songs on YouTube and in the description they leave free download links. You can download these songs too, and it will be completely legal.
SEE ALSO: Best Free VPN Services For 2015
If you are really interested in downloading free songs legally then the above mentioned sites will allow you to download as many songs as you want entirely free of charge. If you have any other favorite sites for downloading legal free music then don't forget to share them with us in the comment below.