Going by the raw specs, Samsung Galaxy Note 20 Ultra is the smartphone to beat in 2020. Be it the beautiful 6.9-inch Dynamic AMOLED display (3,088×1,440 pixels) with 120Hz refresh rate, the vastly-improved camera with up to 50x zoom, or the ability to shoot video in a whopping 8K at 24 frames per second, the smartphone boasts top-of-the-line specs. As is the case with every such pricey investment, you need some excessories that cannot only protect it, but also enhance its powers. If that's what you are after, look no further than this meticulously compiled lineup of the best accessories for Samsung Galaxy Note 20 Ultra.
Best Accessories for Samsung Galaxy Note 20 Ultra You Can Buy
Whether you are looking for cases, screen protectors, car chargers, wireless chargers, headphones, or any other accessory for your Galaxy Note 20 Ultra, you will find them here, in this article. So, let's get started, shall we?
Best Screen Protectors for Galaxy Note 20 Ultra
No list of an accessory roundup of smartphones would be complete without screen guards. So, let's get them out of the way first up!
1. ESR
Touted to withstand up to 5 KG pressure, ESR screen protector for Samsung Galaxy Note 20 Ultra is a lot stronger than ordinary screen guards. So, if you want to safeguard the 6.9″ display against shock, keep this one in mind. Featuring a curved design, the tempered glass screen protector offers edge-to-edge defense to the screen.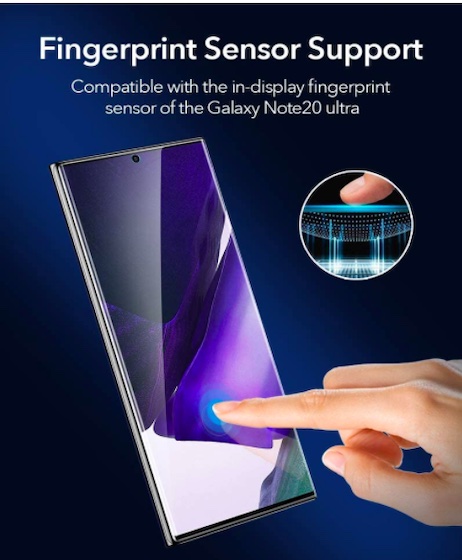 Another feature that makes ESR screen guard a notable option is the support for the ultrasonic in-display fingerprint sensor. That means unlocking the device and authenticating purchases will always be smooth-sailing.
Priced at $13.99, this tempered glass screen protector comes in two-pack, which is reasonable considering the specs.
Buy from Amazon: $13.99 (pack of 2)
2. maxboss
If you are looking for an anti-spy screen guard for your Galaxy Note 20 Ultra, give a close look at this offering from maxboss. It uses microlouver optical technology to deliver 180° privacy protection. Hence, the screen is only visible to the person who is directly in front of the screen.
With reliable privacy protection, prying eyes won't be able to take a peek at your personal information. Furthermore, it also features a 3D curved design to provide full-coverage to the display for additional safeguard against impact.
Couple that with the industry-standard harness (9H) and you have a pretty solid screen guard for your pricey investment.
Buy from Amazon: $14.99
Best Slim Cases for Galaxy Note 20 Ultra
Slim cases automatically come into play when you want to keep the elegance quotient intact without putting the shield against scratches on the back burner.
3. dbrand Grip Case
At just 2mm thick, dbrand Grip case is probably the thinnest case designed for Galaxy Note 20 Ultra (available for Note 20 as well). So, if you have set your sight on an incredibly sleek cover for your all-new phablet, look no further than it.
Crafted with high-quality polymers, the case has got enough resistance against impact and scuffs, despite having a slim casing. Notably, it delivers a trusted military-grade safeguard to your device.
With the pretty grippy exterior and tactile buttons, it has got everything covered to be an appreciable suit for the smartphone.
Buy from Amazon: $29.95
4. Spigen Liquid Air Armor
Just in case you find dbrand's offering a touch expensive for your budget, I would recommend you to give a chance to Spigen Liquid Air Armor. The case has got a slim profile and sports an anti-slip matte exterior that offers a much-improved grip to reduce accidental slip-offs.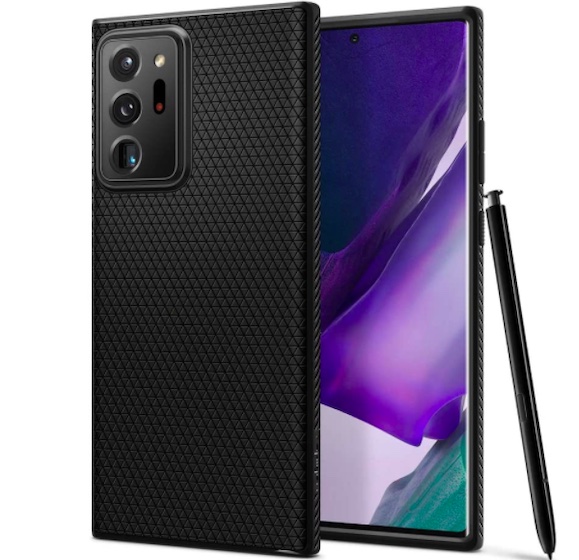 For all being a slim case, Liquid Air Armor provides a reliable military-grade protection thanks to the air-cushioned corners. So, you can bank on it to keep your expensive device protected from shock and scuffs. As for cutouts, they look on point, offering comfortable access to the ports.
Everything considered, Liquid Air Armor is one of the cheapest yet reasonably good cases for Galaxy Note 20 Ultra in the market right now.
Buy from Amazon: $11.99
Best Clear Cases for Galaxy Note 20 Ultra
Clear cases have a role to play when you want your brand-new smartphone to shoot all the attention in full glory.
5. TORRAS Diamonds Clear
Showcasing an ultra-clear design, Torras Diamonds clear case looks primed to let you Galaxy Note 20 flaunt the famed design. Made of top-quality TPU material, the case has a rubberized texture. Being pretty slim and flexible, it fits around the edges of the 6.9″ smartphone like a super comfy glove.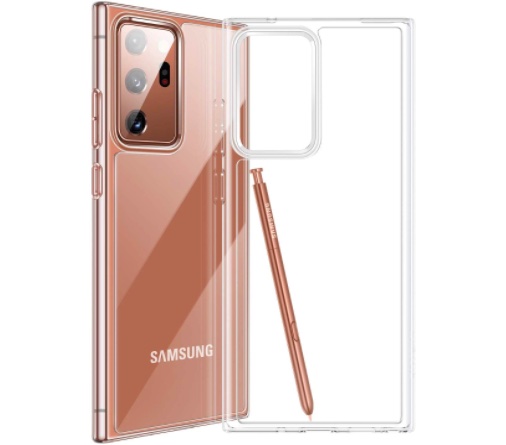 The inclusion of hard PC back adds some resistance to its armory. So, it can endure shock and also keep scuffs away. Beyond protection, Torras Diamonds clear case is anti-yellow which helps it retain transparent design for long. Courtesy the rubberized frame, it also fits comfortably in the palm.
Buy from Amazon: $16.99
6. ESR Clear Kickstand Case
If you prefer to use your smartphone hands-free, you would really appreciate having a kickstand case. ESR metal kickstand case is well-built and also pairs elegantly with the Note 20 Ultra. And with the metal kickstand at the disposal, you can position your smartphone both in the portrait and landscape modes for enhanced video calling and media watching experience.
Apart from improving your hands-free experience, ESR is also fully equipped to keep your smartphone secure from drops and scratches. The durable casing is equally complemented by the shock-resistant frame to absorb impact. Notably, it doesn't interfere with the wireless charging either.
Buy from Amazon: $18.99
Best Wallet Cases for Galaxy Note 20 Ultra
A wallet case is what you need to carry your cards, dollars, and smartphone securely when you are on the go.
7. Spigen Slim Armor CS
If you aren't a fan of a full-fledged wallet case, give serious consideration to Spigen Slim Armor CS. What makes this wallet case for Galaxy Note 20 Ultra stand out is the hidden card slot wherein you can store up to 2 cards.
Another feature that puts Slim Armor CS at the forefront of attention is the dual-layered protection powered by air cushion technology. The integration of rugged polycarbonate outer shell and the shock-absorbing yet soft TPU interior enables it to fight out the impact of drops.
Priced at $16, Slim Armor CS also comes in multiple colors including black, glossy bronze, and white.
Buy from Amazon: $15.99
8. FYY Leather Wallet Case
Should you wish to go for a full-fledged wallet case that can make a match with your professional outing, this offering from FYY would be worth checking out.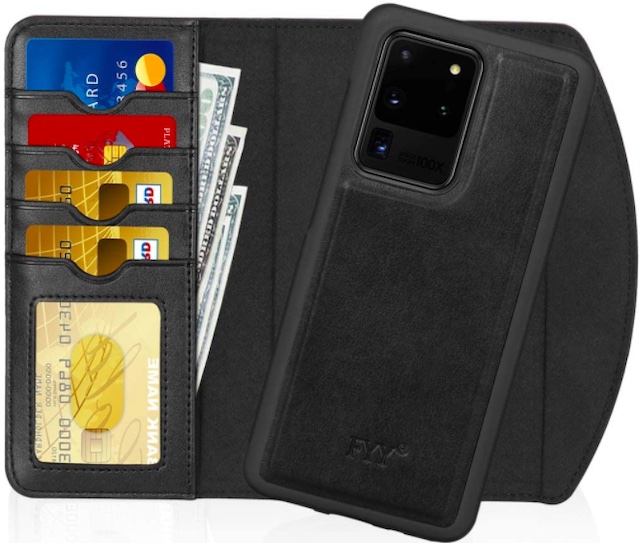 Carved out of high-grade PU leather, FYY case sports neat craftsmanship to enhance executive quotient. With the multiple slots for storing cards and a big compartment for keeping dollar bills secure, it's designed to be your complete wallet.
Being detachable, it also offers you the flexibility to remove the wallet when you don't need to carry cards or dollars. As it fully supports wireless charging, you don't need to take off the wallet cover before charging your Note 20 Ultra. Add to that the handy kickstand functionality to let you stream movies, enjoy video calling or gaming, and it leaves very little room for complaint.
Buy from Amazon: $28.99
Best Premium Cases for Galaxy Note 20 Ultra
9. Official Cases
For the folks who are on the lookout for premium cases, the official cases from Samsung appear to be the right way to go. They are made of high-quality material and come in a variety of designs.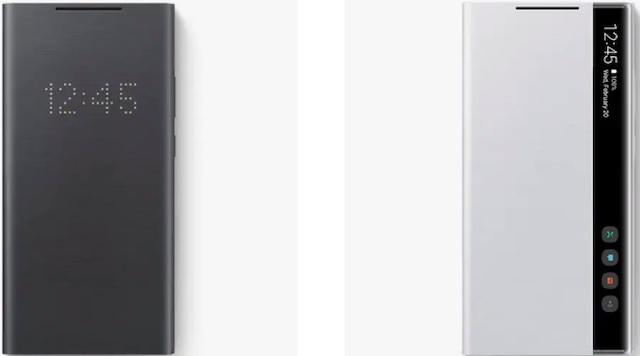 Among several options, there are three cases that have caught my eyes: Smart LED View Cover, kvadrat Cover, and Leather Cover. While the Smart LED View Cover is designed to amp up the style factor, the kvadrat and Leather covers add a professional look and feel to the smartphone.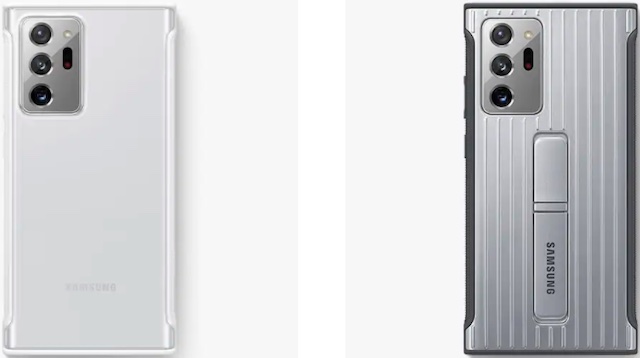 If you prefer to flaunt your smartphone, you can choose the clear case that allows the device to showcase the design. Besides, there is also a highly protective case with a built-in kickstand to let you use your smartphone hands-free.
Buy from Samsung: (price varies based on the case you choose)
Other Essential Accessories for Galaxy Note 20 Ultra
10. Galaxy Watch3
What Apple Watch is for iPhone, Galaxy Watch is for Galaxy smartphones. So, if you want a top-notch smartwatch that can get along perfectly with your Note 20 Ultra, Galaxy Watch3 should be your preferred choice.
Design-wise, Watch3 looks modern. The 1.4-inch/1.2-inch Super AMOLED display with 360 X 360 pixels (364 ppi), the screen looks pleasing. Moreover, it's quite thinner and comes with clicky buttons that are easier to handle.
Watch3 is a lot faster, packs a long battery life, and comes with some super handy health-centric features to help you stay fit. They come in two variants: 41mm and 45mm. As for the price, they start at $$329/399, which is not too high considering the high-end specs.
Buy from Samsung: $329/$399
11. Galaxy Buds Live
If AirPods Pro claims to be the best in the business, Galaxy Buds Live is not behind in the battle either. In fact, there are quite a few fronts where Buds Live can topple Apple's famed true wireless earbuds.
So, if you are toying with the idea of buying premium earbuds that can work seamlessly with your Note 20 Ultra, Galaxy Buds Live has to be your preferred choice. Showcasing an ultra-lightweight and ergonomic design, it fits comfortably in the ear.
And with the active noise cancellation, it also allows you to keep a tab on the surrounding without bringing your music drive to a halt. Priced at $169.99 (approximately Rs. 12,700), Buds Live is also affordable as compared to the true wireless earbuds with active noise cancellation from major brands such as Apple and Sony.
Buy from Samsung: $169.99
12. Anker PowerCore
A power bank is an essential accessory which you would like to have for your smartphone. Times when you are on a long journey, it becomes very helpful in letting you keep your smartphone powered up.
Anker PowerCore with a massive 20, 000mAh battery is a solid USB-C power bank. It delivers 18W high-speed charging and also comes with a reliable protection system to keep threats like overheating and short-circuits away.
In terms of design, PowerCore is lightweight and sports a pocket-friendly design for comfortable carrying. Coming in at $50, it's also not expensive either.
Buy from Amazon: $49.99
13. Cluvox Car Charger
Touted (18W output) to charge compatible devices up to 4X faster than traditional car chargers, Cluvox promises to be a reliable car charger for your Galaxy Note 20 Ultra. Equipped with multiple ports, it can charge two devices simultaneously.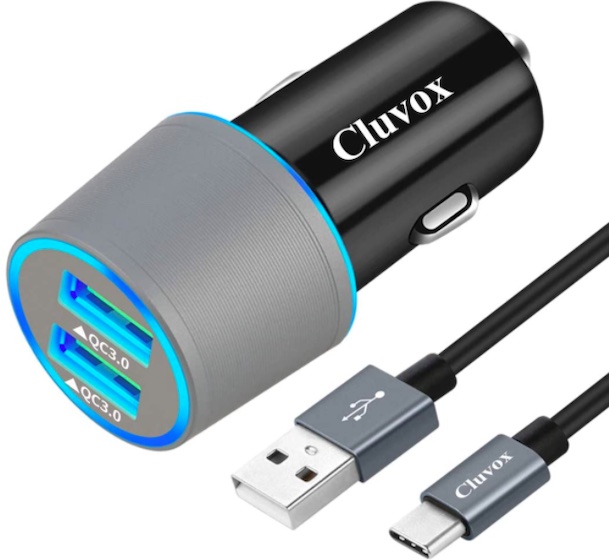 Cluvox car charger features an ultra-compact form-factor which makes it more portable. With the soft LED light, it's easy to find in the night. Priced at $13, it comes with 3.3 feet cable and durable connector that is strong enough to endure wear and tear.
Buy from Amazon: $12.99
14. VICSEED Car Mount
With a car mount at the disposal, navigating with the help of an app like Google Maps becomes more convenient. And for this exact purpose, I would recommend you to take a close look at Vicseed car mount.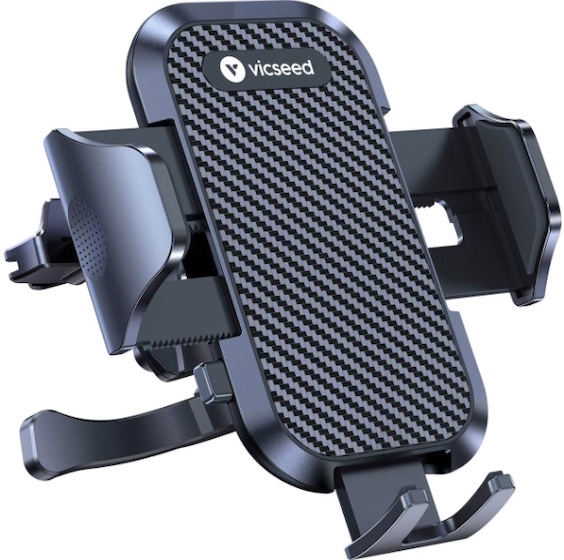 It's made of aviation-grade materials which make it exceptionally durable. With a strong phone holder, it holds your smartphone perfectly in place. Plus, the 360° rotation allows you to position your smartphone both vertically and horizontally for a preferred viewing angle.
As the bottom foot is fully adjustable, you have convenient access to power and volume buttons. Long story short, it's one of the best travel accessories for your Galaxy Note 20 Ultra.
Buy from Amazon: $19.99
15. Yootech
If your priority lies with having a complete wireless charger for not only Galaxy Note 20 Ultra but also Galaxy Watch and Galaxy Buds, do not miss out on this Yootech wireless charger.
Thanks to the 3-in-one design, it can charge up to three devices like Galaxy smartphone, watch, and buds at one go. Perfect for your peaceful bed-time charging.
With the intelligent chip inside, it also protects your devices from hazards like overheating and over-current. Being lightweight, it's easy to carry. And with the small form-factor, it doesn't take up much space either.
Buy from Amazon: $45.99
16. Selfie Stick Tripod with Bluetooth Remote from Danfer
Whether you are a selfie lover or someone who likes to have a super handy tripod to capture fascinating photos and videos, Danfer's selfie stick-cum-tripod could be a nice addition to your armory.
It's well-built and features a 225° rotatable knob for easy installation. Thanks to the anti-skid silica material, it keeps your device intact. Based on the type of shots you want to capture, you can adjust the length of the selfie stick.
Times when you may want to prevent the last-minute shake from ruining your group photos, the Bluetooth remote can come in handy. Being available for $23, it's also in the affordable category considering the 3-in-1 functionality.
Buy from Amazon: $22.99
17. Caseology Lens Protector
If you wish to offer additional safeguards to the prominent camera bump against scratches, the Caseology lens protector could be a better choice. Made of tempered glass, the lens protector can endure the impact of bumps and also keep scratches at bay.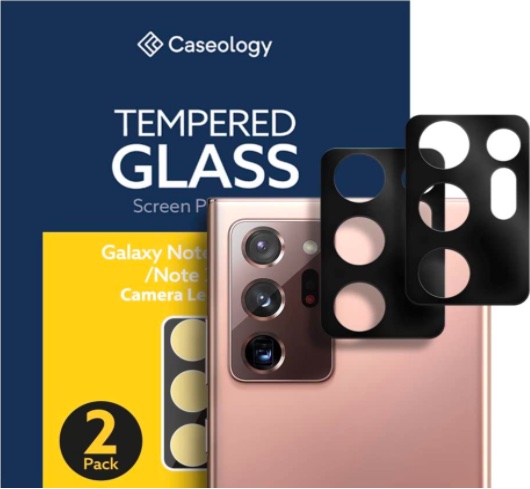 Notably, the Caseology lens protector is transparent, allowing the triple-camera lens to function without any interference. It's priced at $12 and comes in two-pack.
Buy from Amazon: $11.99
Best Accessories for Galaxy Note 20 Ultra You Can Buy
There you go! So, these are the highly-rated accessories that you can buy for your all-new Galaxy Note 20 Ultra. With such a wide range of options, it's easy to find the right contender for your specific needs. So, which one of these accessories is going to find a safe spot in your kit? We would really appreciate having your feedback in the comments below.